These Keto Peanut Butter Cup Fat Bombs are a powerhouse of flavor and nutrition packed into a healthy no-bake bite-sized low carb and sugar-free treat. Oh, and they're super easy to make!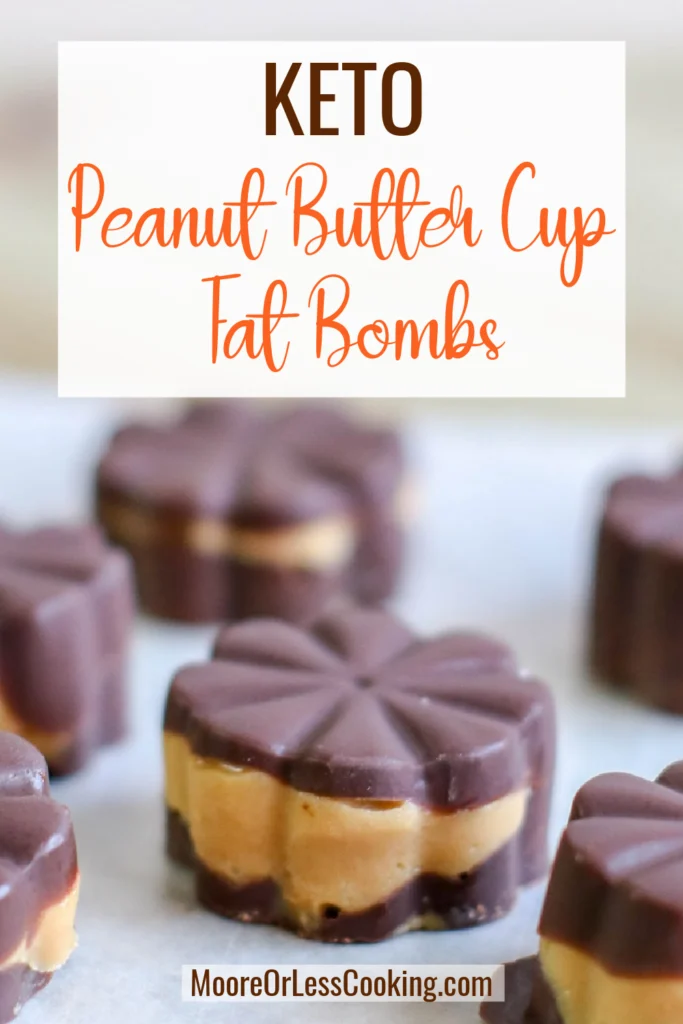 If you love Reese's peanut butter cups, you'll love these Keto Peanut Butter Cup Fat Bombs even more. Why? Because they're made with healthier ingredients that are low-carb and Keto-friendly. They're perfect for adults as well as kids when you're looking for sweet treats that are healthier.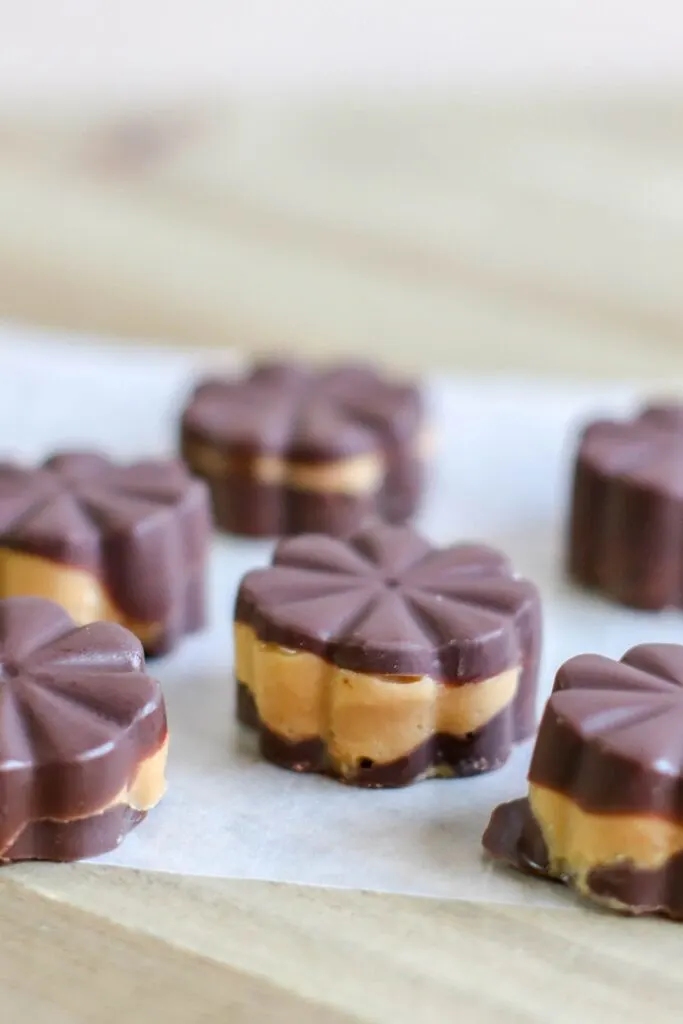 Plus, they're a no-bake recipe that you can make in adorable shapes and sizes using silicone molds, which makes them great for personalizing for parties or as seasonal treats. If you like the traditional Reese's cup look, you can do that, too.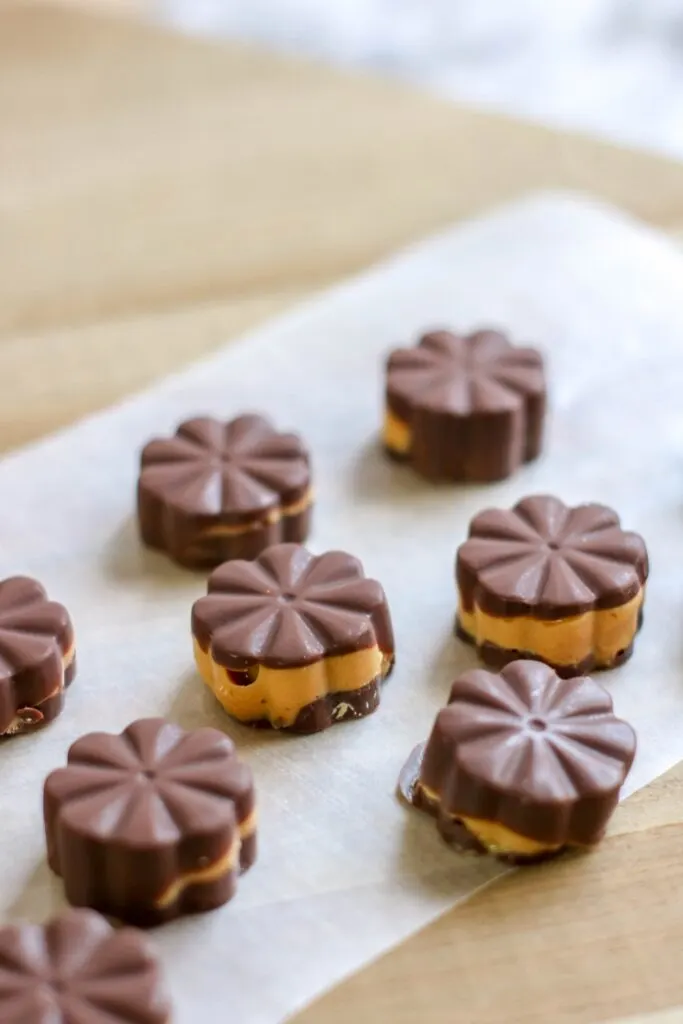 Ingredients Needed
For the peanut butter filling:
Natural peanut butter – look for sugar-free peanut butter
Swerve confectioners sweetener – this is a low-carb sugar replacement
Salt – for flavor
Vanilla extract – to enhance the flavors
For the chocolate coating:
Sugar-free chocolate chips – I use sugar-free dark chocolate chips like Lily's brand
Coconut oil – to help with the texture and glossiness
Vanilla extract – for added flavor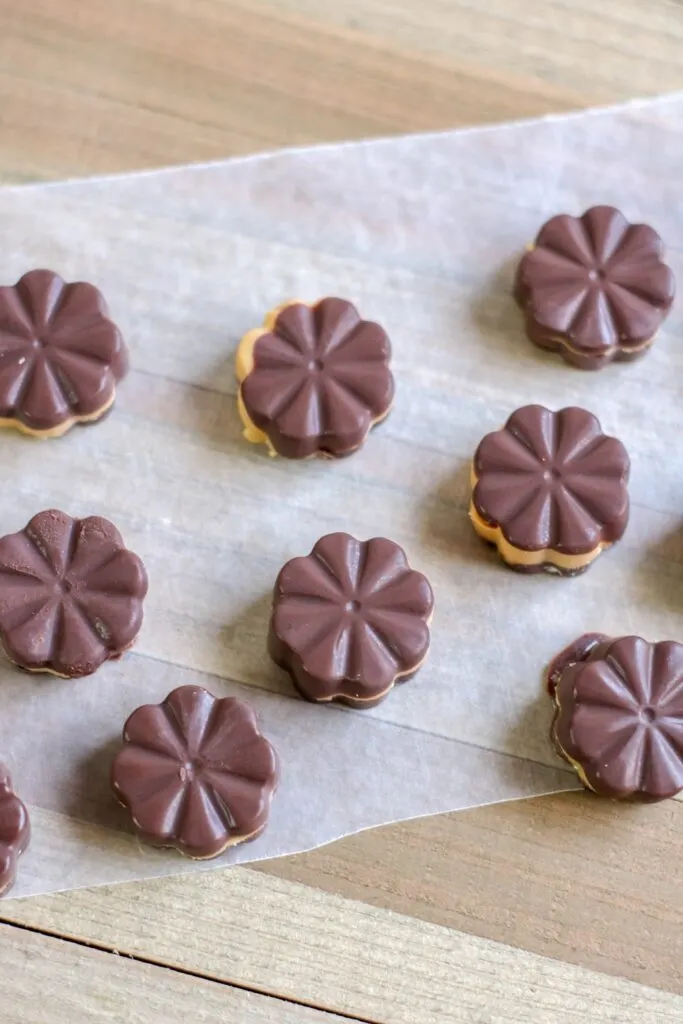 What Is A Fat Bomb?
If you're on the Keto diet or a low-carb plan, you still need to eat healthy fats such as those contained in nuts, seeds, coconut oil, and grass-fed butter. Combining healthy fats into bite-sized treats, whether sweet or savory, is a great way to consume these energy-boosting foods. So, for short, and because they're power-packed, they're called Fat Bombs.
With this recipe. sugar-free chocolate is used, as well as unsweetened natural peanut butter and coconut oil. A zero-calorie sweetener that contains no refined sugar is also used for minimal impact on blood sugar levels.
For those looking for healthier treats that help reduce hunger in between meals, fat bombs are a great snack!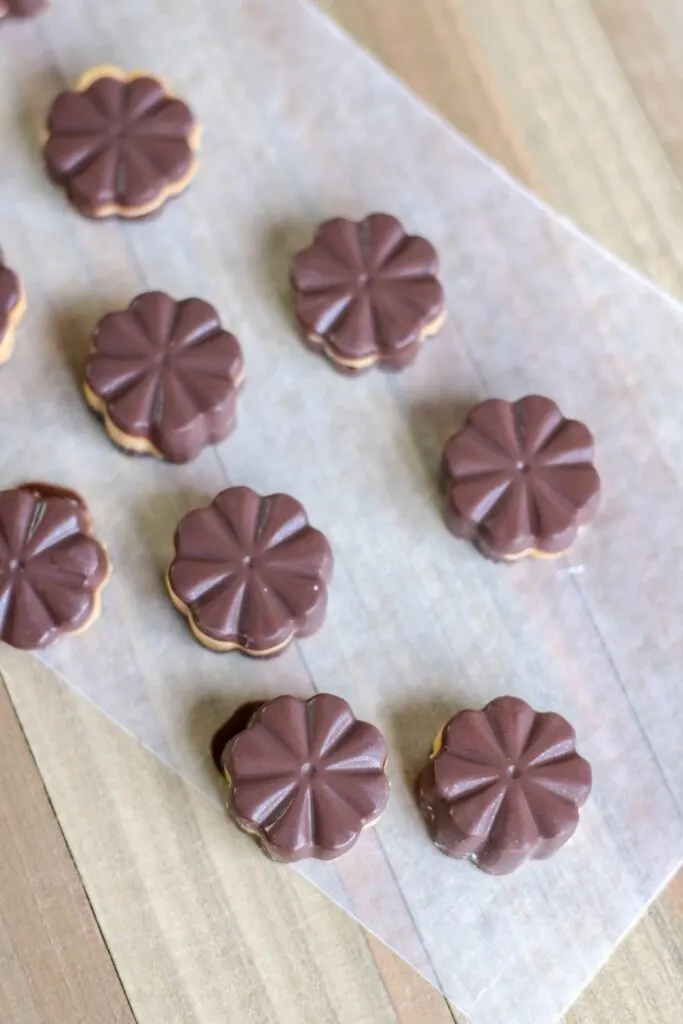 What Kind Of Chocolate Should I Use?
Here, we're using sugar-free chocolate chips. Traditional chocolate chips are loaded with sugar and are definitely not Keto or low carb. I recommend Lily's brand of sugar-free chocolate chips that are sweetened with stevia. Most larger grocery chains and health food stores will carry this brand or similar. I prefer dark chocolate chips.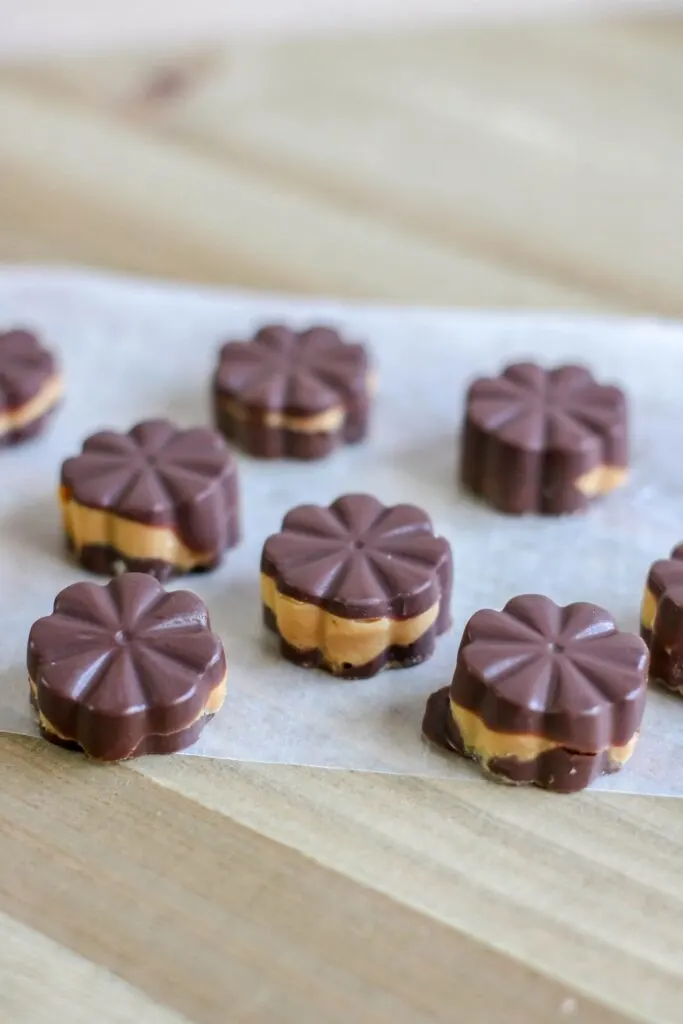 What Kind Of Peanut Butter Should I Use?
You're looking for natural peanut butter with no added sugar for this recipe. This means you'll need to check the labels to be sure the main ingredient is just roasted peanuts. Use either smooth or crunchy, although most natural peanut butter isn't completely smooth like the processed version.
Also, be aware that most natural peanut butter may have a separation between the peanuts and the oil, depending on which brand you use. This is normal. It just means that when you open the jar, you'll need to take a knife or long-handled spoon and gently and carefully stir it to combine the oil and peanut mixture.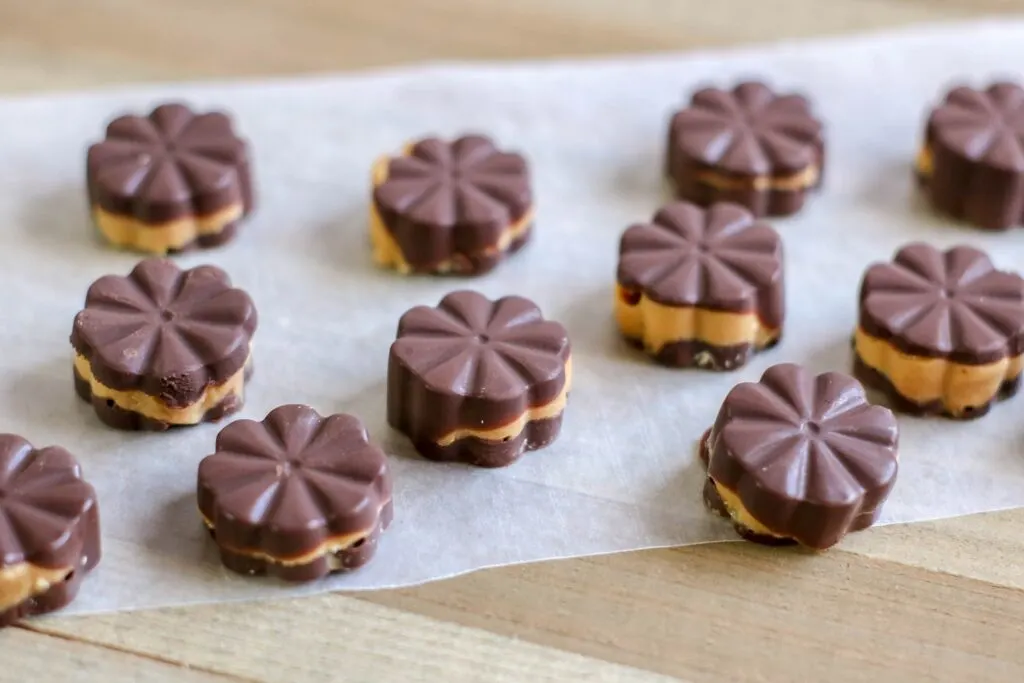 Substitutions For Peanut Butter
You can swap out the peanut butter for almond butter, sun butter, cashew butter, or macadamia nut butter for the same delicious results. Just make sure it's sugar-free.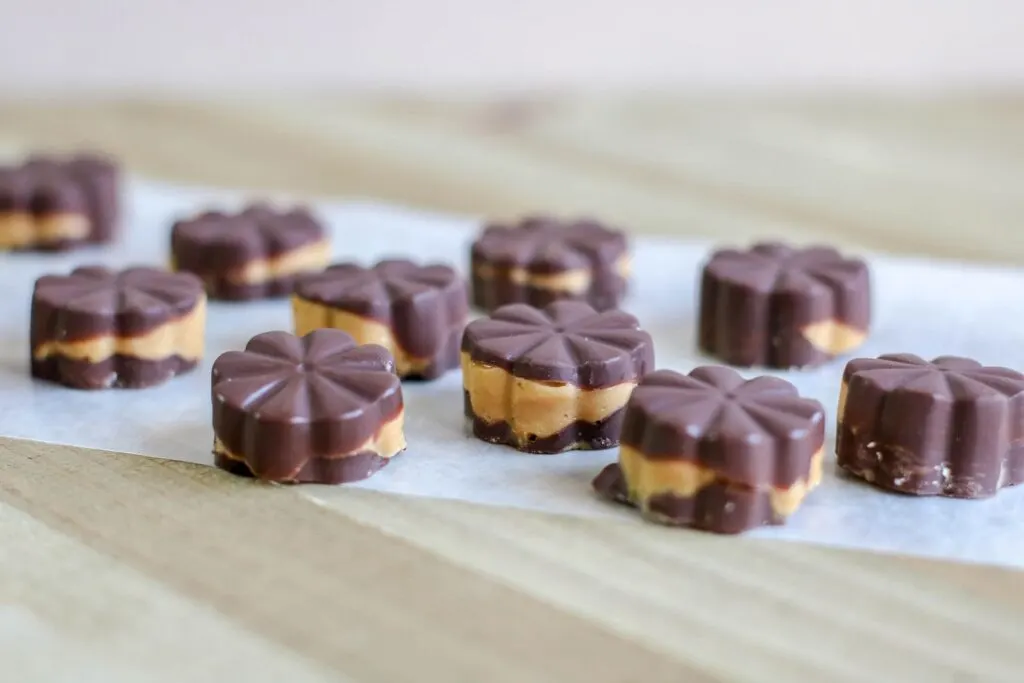 How To Store Fat Bombs
You'll need to store your peanut butter cup fat bombs in the fridge in a sealed container. They'll keep for 5-7 days in the fridge. You can also freeze them in a sealed freezer-safe container for up to 3 months. When ready to use, thaw in the fridge overnight before enjoying.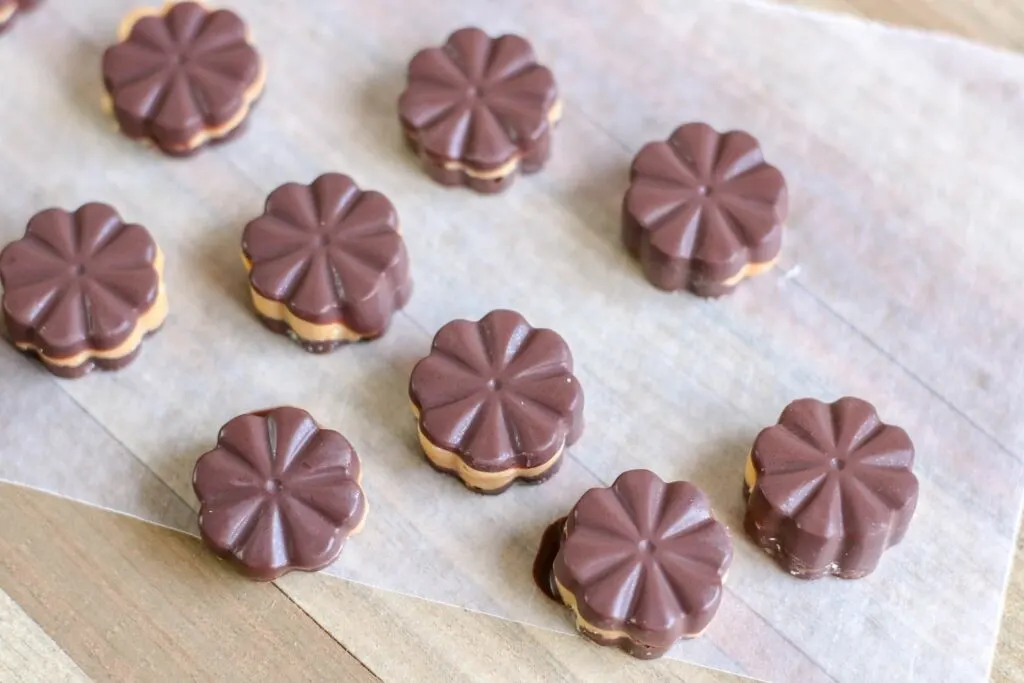 More Low Carb Sweet Treats
Low-Carb Peanut Butter and Jelly Thumbprint Cookies
Low Carb Peanut Butter Cookies
Keto Peanut Butter and Chocolate Fudge
Follow Me Here!
Leave Me a Rating if You Make These Keto Peanut Butter Chocolate Fat Bombs!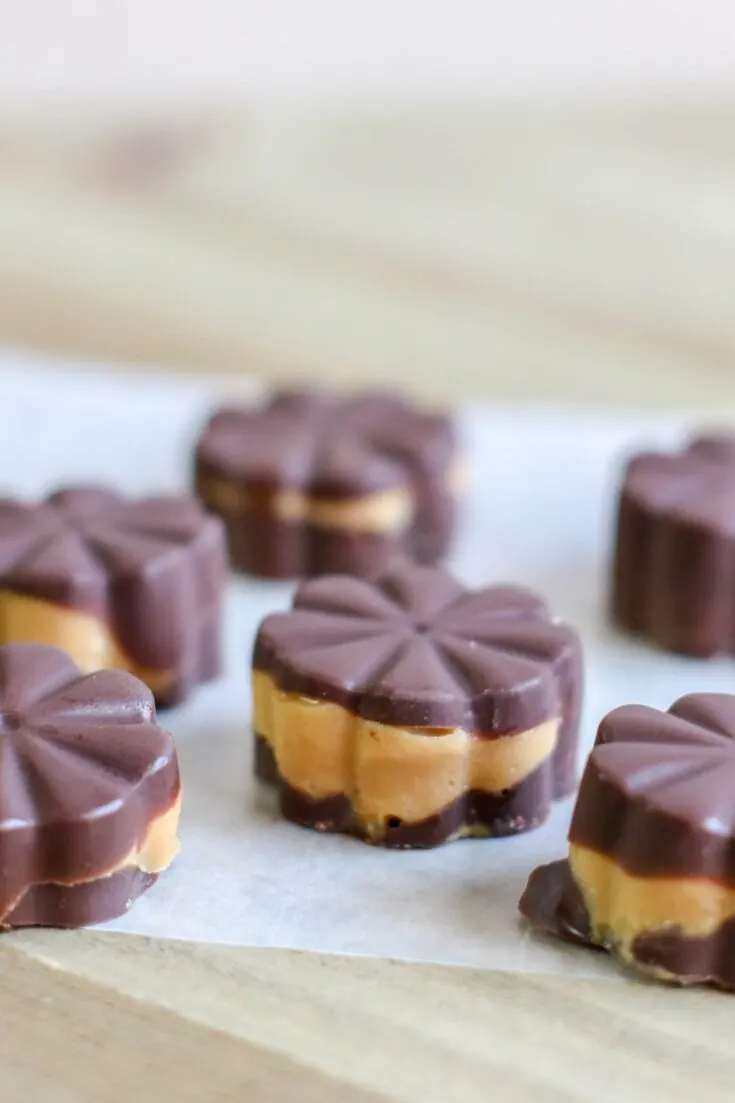 Yield:

24
Keto Peanut Butter Cup Fat Bombs
These Keto Peanut Butter Cup Fat Bombs are a powerhouse of flavor and nutrition packed into a healthy no-bake bite-sized low carb and sugar-free treat. Oh, and they're super easy to make!
Ingredients
For peanut butter filling:
⅓ cup unsweetened, natural peanut butter
1 ½ tablespoon Swerve confectioners sweetener
Pinch of salt
¼ teaspoon vanilla extract
For chocolate coating:
1 (10.5 ounce) package sugar free chocolate chips
1 tablespoon coconut oil
½ teaspoon vanilla extract
Instructions
In a medium bowl, place the chocolate chips, coconut oil, and vanilla. Microwave for 30 seconds and stir well. Continue heating in the microwave in 15 to 20-second increments and stirring well until melted.
Spoon about 1 tablespoon into candy molds (or 1 teaspoon if using smaller candy molds) and use the back of the spoon to smooth the melted chocolate around the edges. Refrigerate for 10 minutes or until chocolate has set.
In another medium bowl, add all ingredients for the peanut butter filling. Microwave for 30 seconds on high and stir together until combined.
Drop peanut butter (about 1 tablespoon for large and 1 teaspoon for small) into candy molds over the chocolate and smooth into an even layer.
Reheat chocolate if needed and then spoon over the peanut butter layer to cover.
Refrigerate until the chocolate is completely set.
Store in the refrigerator or freezer.
Nutrition Information
Yield
24
Serving Size
1
Amount Per Serving
Calories

40
Total Fat

3g
Saturated Fat

1g
Trans Fat

0g
Unsaturated Fat

2g
Cholesterol

0mg
Sodium

25mg
Carbohydrates

2g
Fiber

0g
Sugar

1g
Protein

1g
Note: This post contains Amazon affiliate links. This means that if you click on a link and make a purchase, I will receive a small commission at no extra cost to you. Thank you for supporting Moore or Less Cooking!