These adorable Mummy Meatballs will be a hit for Halloween! Seasoned meatballs are wrapped in strips of crescent rolls for a deliciously spooky mummy that's perfect for appetizers, snacks, or a main meal.
Easy to make and fun to assemble and decorate, these Mummy Meatballs are kid-friendly and perfect for Halloween parties. Kids will want to help wrap the mummy meatballs with the crescent dough "bandages" and will gobble these savory treats up once they're fully cooked. Serve them with a marinara dipping sauce for a crowd-pleasing dish.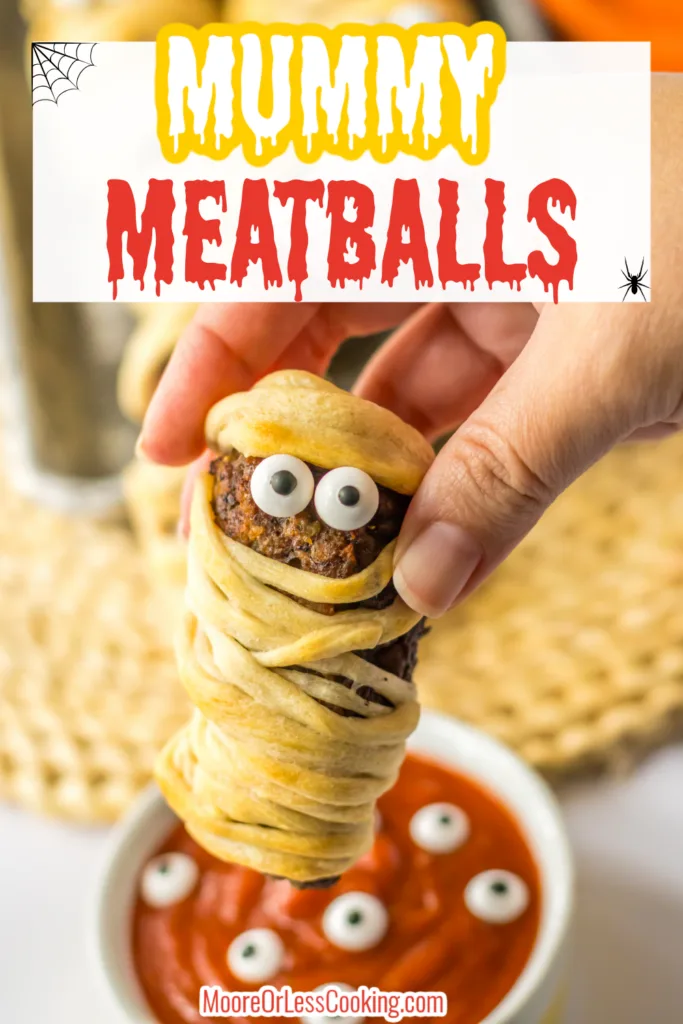 Ingredients Needed
Ground Beef – I use lean ground beef.
Breadcrumbs – to add texture and help the meatball mixture stay together.
Parmesan Cheese – to help flavor the meatballs.
Egg – to help the meatball mixture stay together.
Seasonings – Italian seasoning, minced dried onion, and garlic powder.
Crescent Roll Dough – use crescent roll sheets; they're easier to cut.
Candy Eyes – to decorate the mummies.
Marinara Sauce – for dipping, Use your favorite jarred brand.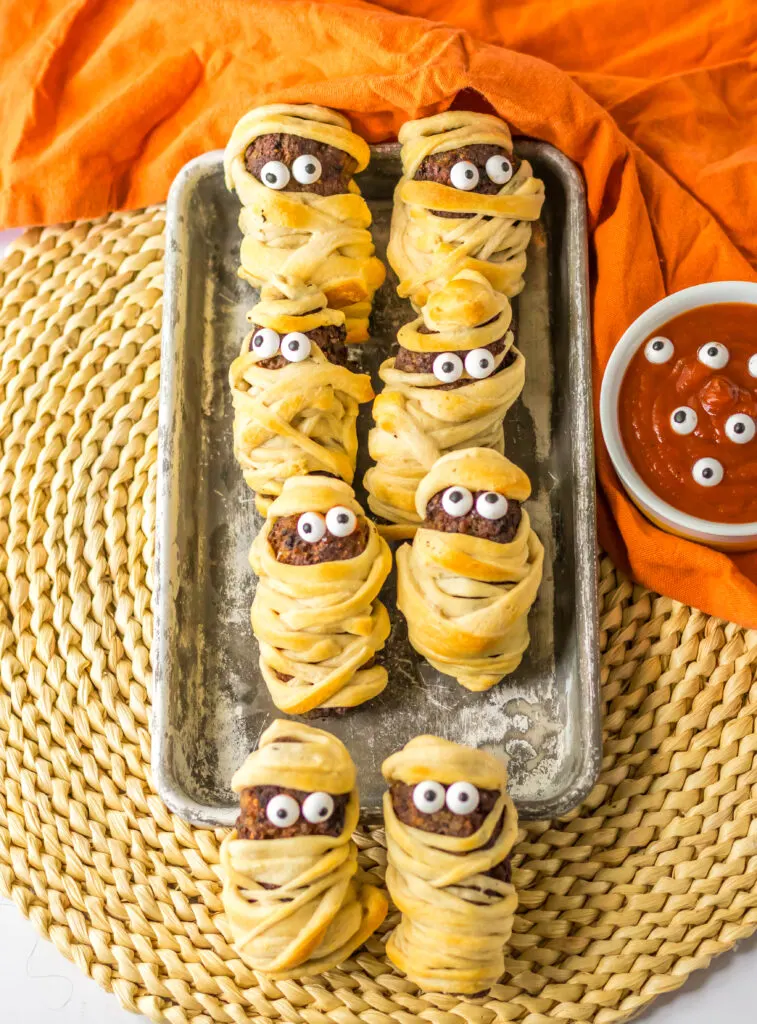 How To Make Mummy Meatballs
Note: This is a summary of the steps. Detailed instructions are in the recipe card below.
STEP 1: Make the meatball mixture by combining the ground beef, breadcrumbs, parmesan cheese, egg, and seasonings in a mixing bowl.
STEP 2: Separate the meat into 8 equal portions and roll each portion into a log shape.
STEP 3: Bake or skillet fry the meatball logs. Set the cooked meat on a paper towel-lined plate to cool slightly. Note: Don't overcook as they will continue to cook once they're wrapped in the dough and put back in the oven.
STEP 4: Slice the crescent rolls into long, thin strips.
STEP 5: Wrap the meatball mummies with the dough strips, leaving a little space at the top of each for the eyes.
STEP 6: Place the bandaged mummies on a parchment-lined baking sheet and bake in a preheated 350°F oven for 12-15 minutes until the dough is golden.
STEP 7: Once done, remove from the oven and add the candy googly eyes to each mummy.
STEP 8: Serve with warm marinara sauce for dipping.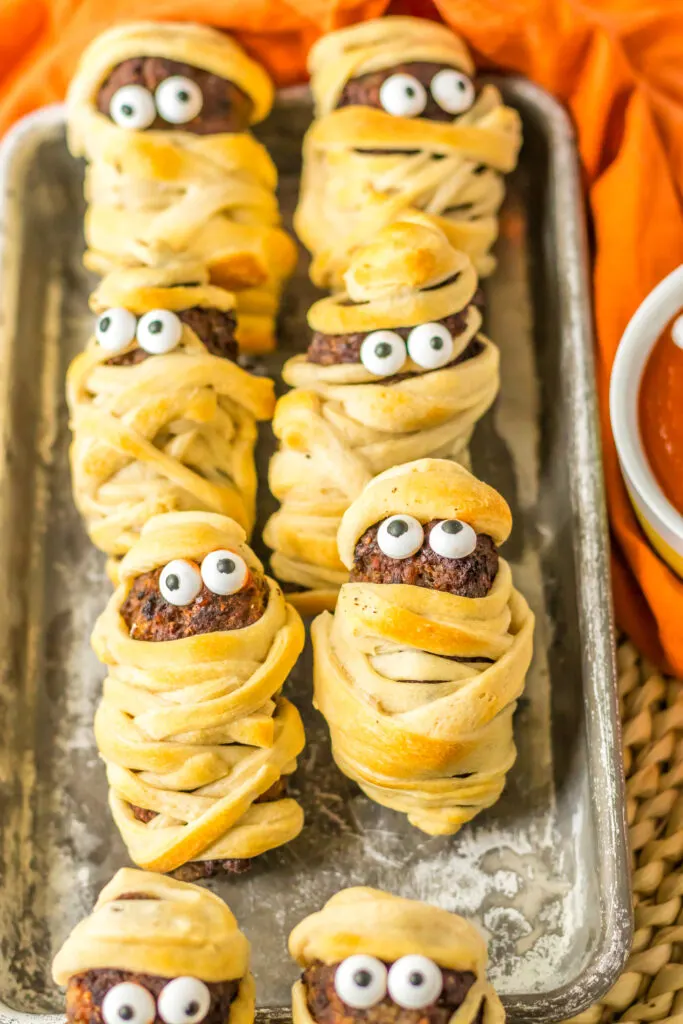 Meat Variations
While ground beef is the classic meat for meatballs, you can certainly use ground turkey, ground chicken, sausage or a combination of your favorite meats. Just season, shape, and cook as instructed in the recipe.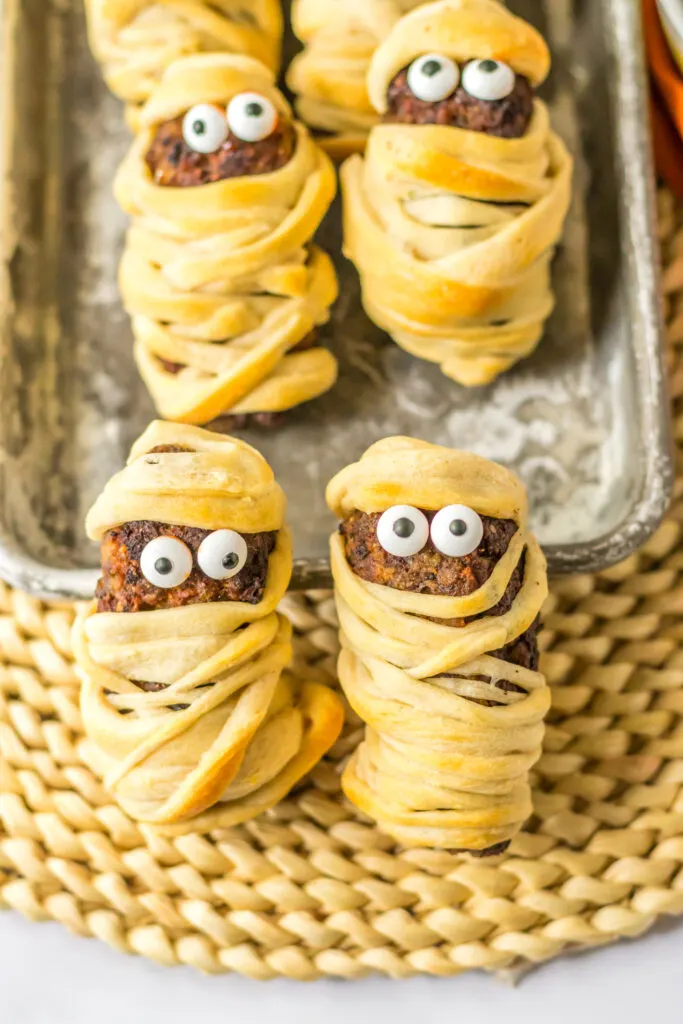 How To Bandage And Wrap The Meatball Mummies
I like to get the can of crescent roll sheets because it's one less step I have to do. If you get a roll of dough, though, you'll need to press the seams together before cutting, which is why I like the sheets.
Slice the dough into thin, long strips using a sharp knife or pizza cutter. Wrap the meatball logs with the strips, leaving space between them as you randomly overlap the dough for that classic mummy bandaged look. Be sure and leave enough room at the top of the meatball for the face and eye decoration.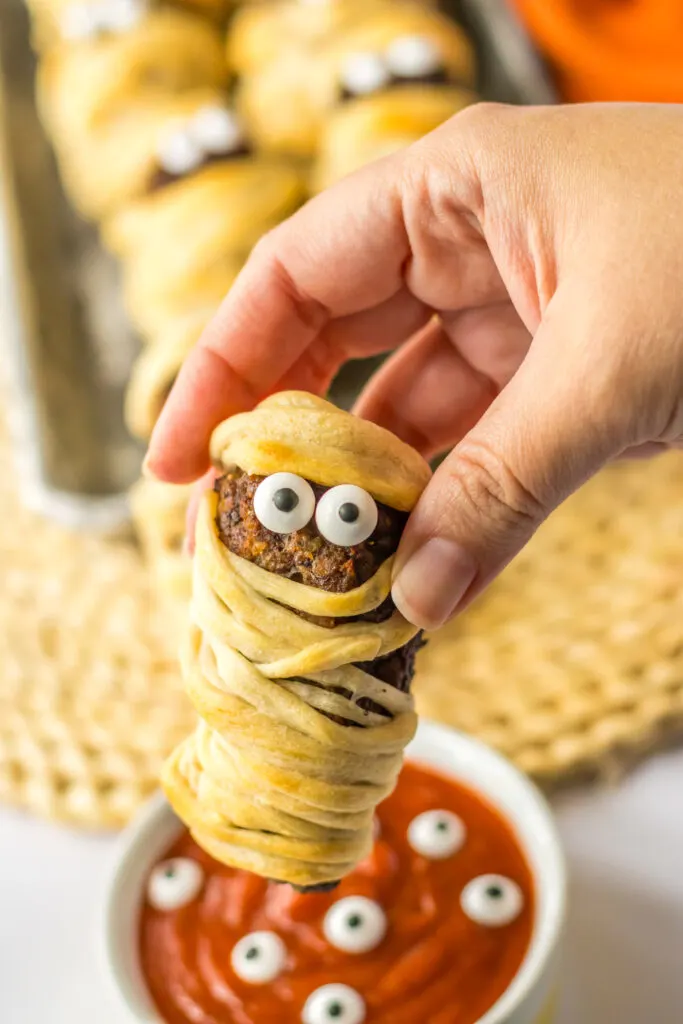 Variations For The Eyes
While this recipe calls for candy googly eyes (so cute!), you can swap them out and use sliced black olives or mini pepperonis instead. You can also dot on eyes with yellow mustard after the mummies have been fully baked.
How To Use Round Meatballs Instead Of A Meatball Log
If you prefer to make classic round meatballs instead of shaping the meat mixture into a meatball log, you can do that, too. To easily make a long-form baked mummy, you'll need three round cooked meatballs that are held together vertically by a bamboo skewer. Just slide 3 cooked meatballs on a short skewer and wrap, as the directions indicate, with the crescent roll strips. Bake as instructed.
You can also use a single-round meatball to make meatball mummy bites. Just wrap the meatball with strips of the dough, leaving room for the eyes, and bake as instructed.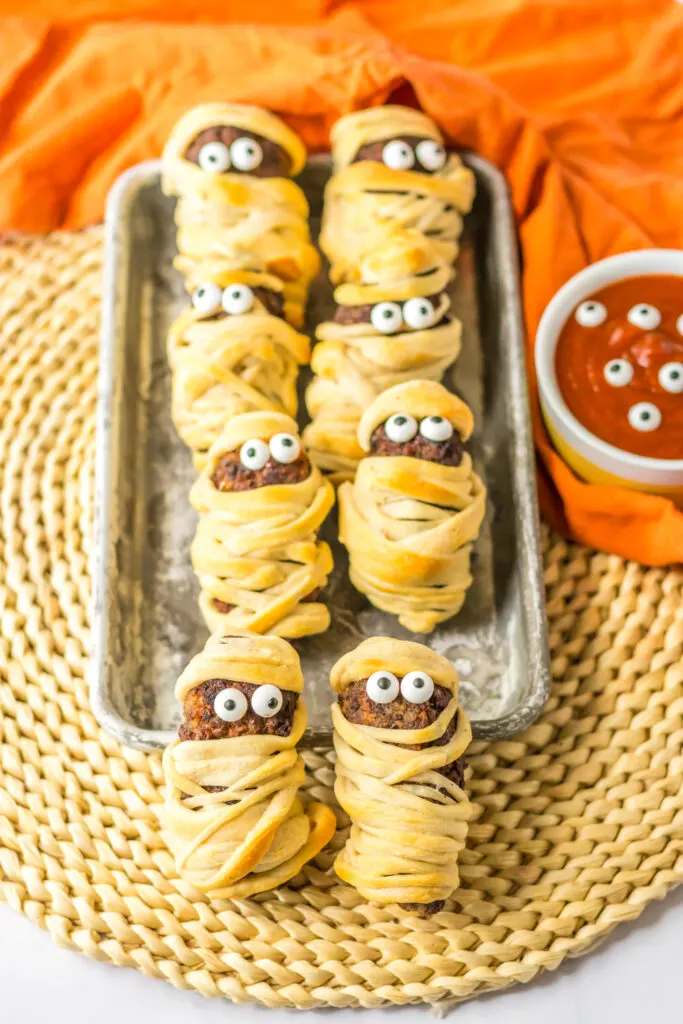 Can I Use Frozen Meatballs?
Of course. Whether you use store-bought or have homemade frozen meatballs, make sure they're thawed and cooked before assembling the mummies. If you want to make the long-form mummies with round meatballs, refer to the section above on how to use meatballs instead of a log and how to secure them so you can easily wrap them.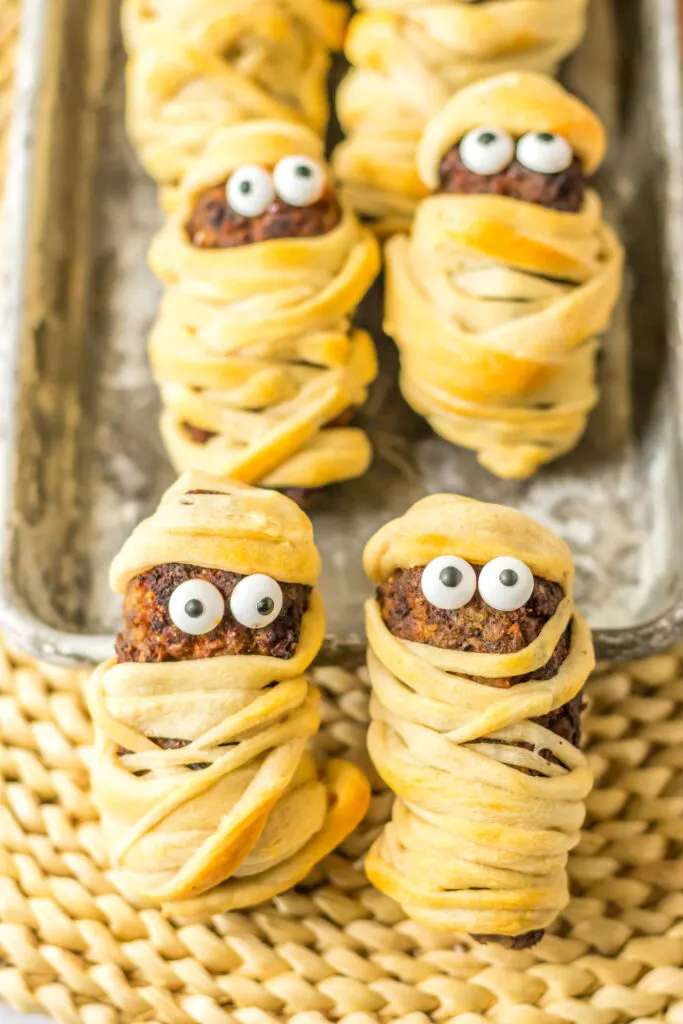 Can I Cook These In An Air Fryer Instead Of The Oven?
Sure! Bake the wrapped mummies in a preheated 375°F air fryer for 6-7 minutes until golden brown. You will probably need to cook the mummies in batches, depending on the size of your air fryer basket.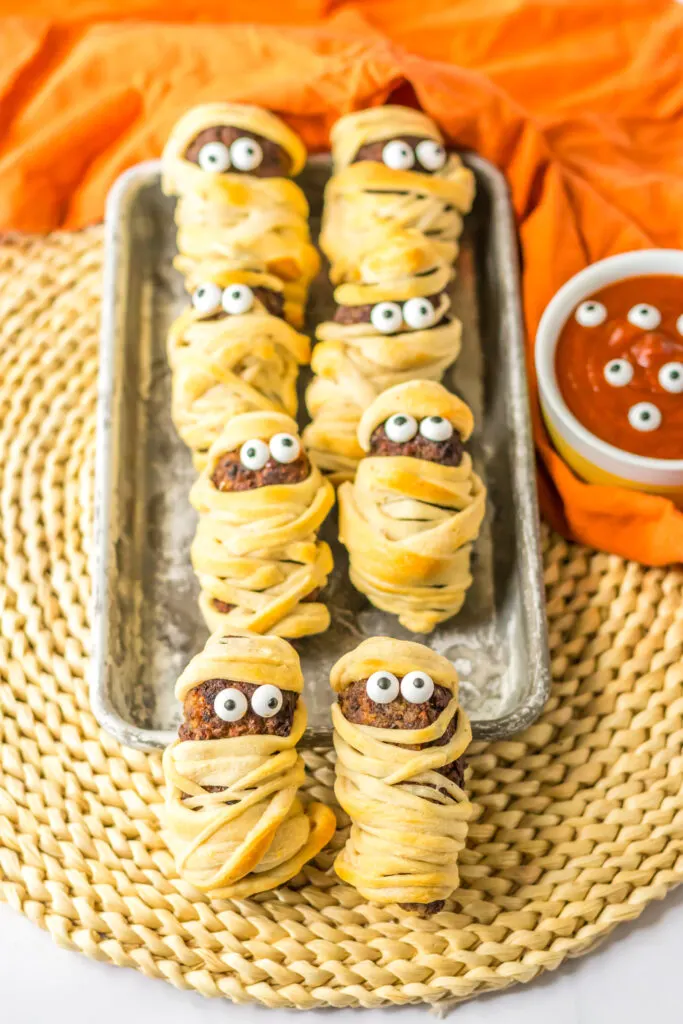 Storage
Store any cooked leftovers in an airtight container in the refrigerator for up to 2 days. You can also freeze leftovers for up to 6 weeks. Thaw before reheating in a 350°F oven for approximately 5-6 minutes or until heated through.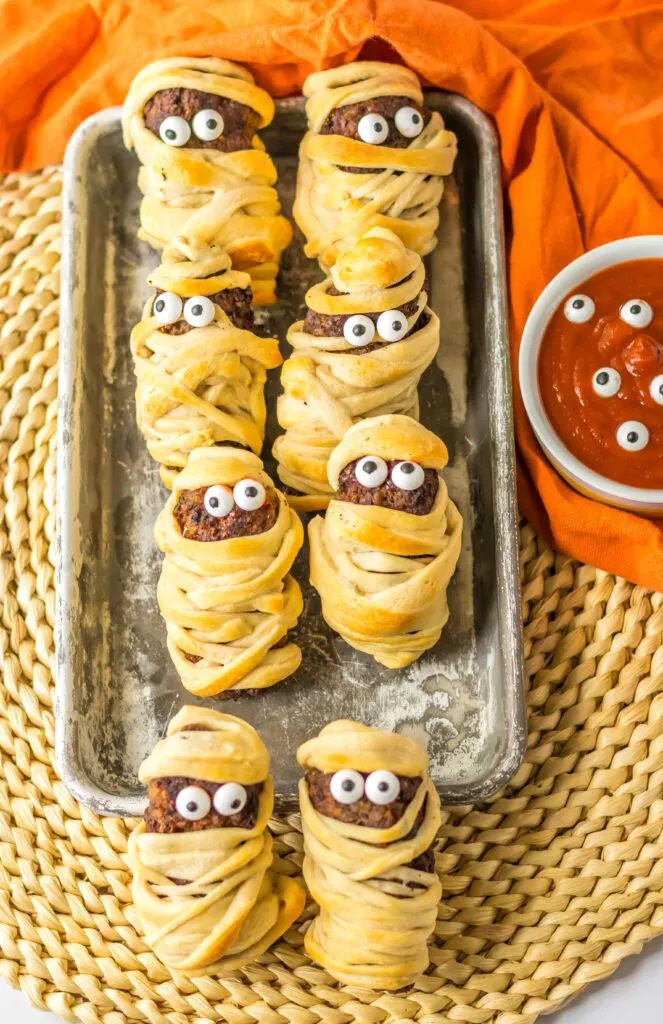 More Fun Halloween Recipes
Haloween Sugar Cookies
Oreo Spider Bites
Candy Corn Rice Krispy Treats
Mummy Hot Dogs
Halloween Spider Cookies
Halloween Purple Pumpkin Eater Punch
Halloween Pirate's Last Call Cocktail
Nettie is a wife and mother who is passionate about cooking and baking. With 5 children, Nettie insists that all meals, snacks, and desserts come together quickly! You will find a wide variety of easy yet scrumptious recipes on her viral website Moore or Less Cooking
Be sure to follow me on Instagram and tag #mooreorlesscooking so I can see all the wonderful recipes that YOU make from this site!
Check out my YOUTUBE with a free email subscription HERE and please share on FACEBOOK and PINTEREST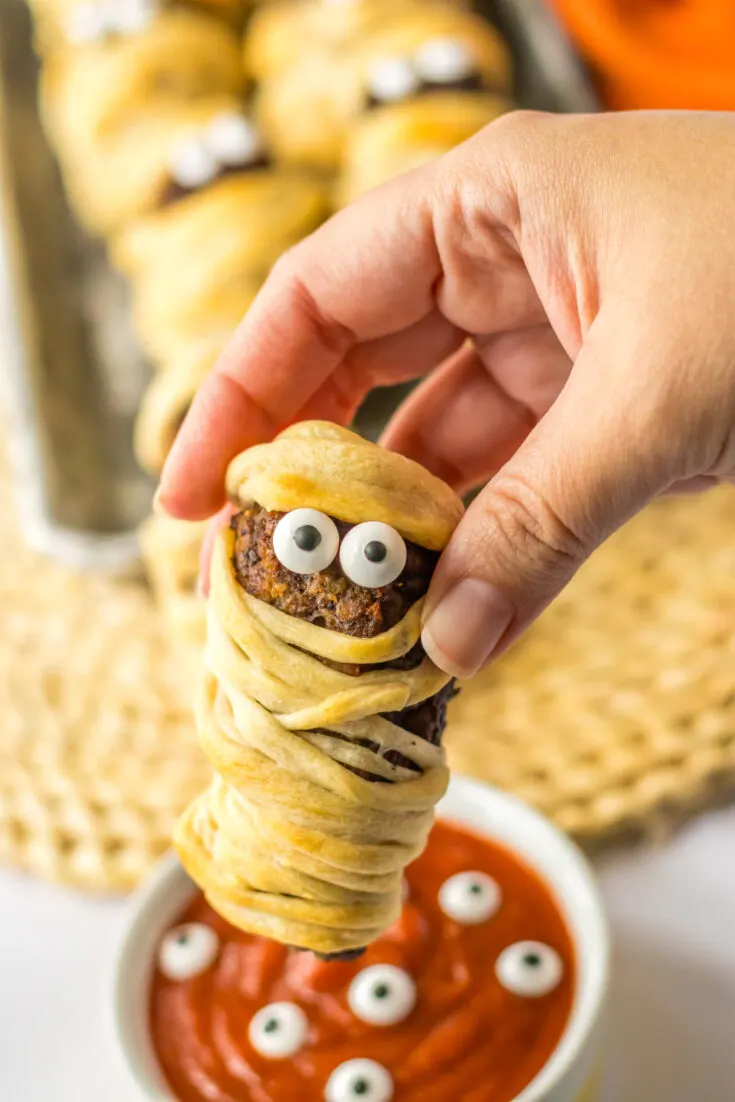 Yield:

Makes- 8
Mummy Meatballs
Additional Time:
15 minutes
These Mummy Meatballs are such a yummy Halloween recipe! Perfect for lunch, dinner, or even appetizers at a Halloween party. Ground beef is mixed with seasonings, breadcrumbs, and eggs to create a delicious meatball mixture. It's formed into mummy shapes and then wrapped with sliced crescent rolls to create that mummy look. These are so delicious dipped in marinara.
Ingredients
1 pound lean ground beef
¼ cup breadcrumbs
¼ cup parmesan cheese
1 egg
½ teaspoon italian seasoning
½ teaspoon minced dried onion
½ teaspoon garlic powder
1 (8 ounce) can crescent roll dough
Candy eyes
Marinara for dipping
Instructions
Preheat oven to 350 degrees.
In a mixing bowl combine your ground beef, breadcrumbs, parmesan cheese, egg, Italian seasoning, minced dried onion, and garlic powder.
Once thoroughly combined separate the meat into 8 equal portions.
Roll the portions into a log shape.
You can either bake or pan-fry the meat.
They will cook a bit later too so they do not need to be cooked all the way through.
I cook them on the stove in a medium skillet over medium heat for about 10 minutes, flipping once or twice.
But you can pop them in the preheated oven for about 12 minutes.
Set the cooked meat on a paper towel-lined plate to cool slightly.
Meanwhile, slice your crescent rolls into long strips.
Start wrapping your meatball mummies with the dough strips leaving out a little space for the eyes.
Place on a parchment-lined baking.
Bake for 12-15 minutes until the dough is golden.
Remove from the oven.
Using marinara sauce stick the eye onto the face while still warm.
Serve with marinara sauce for dipping.
Notes
Tips and Tricks:
Store leftovers in the fridge for 2 days.
You can use your favorite ground meat in this recipe.
Switch the seasonings around to your tastes.
You can also use diced-up olives for the eyes.
Nutrition Information
Yield
8
Serving Size
1
Amount Per Serving
Calories

318
Total Fat

17g
Saturated Fat

7g
Trans Fat

0g
Unsaturated Fat

8g
Cholesterol

79mg
Sodium

343mg
Carbohydrates

21g
Fiber

1g
Sugar

2g
Protein

20g