15 Must-Try Sensational Strawberry Recipes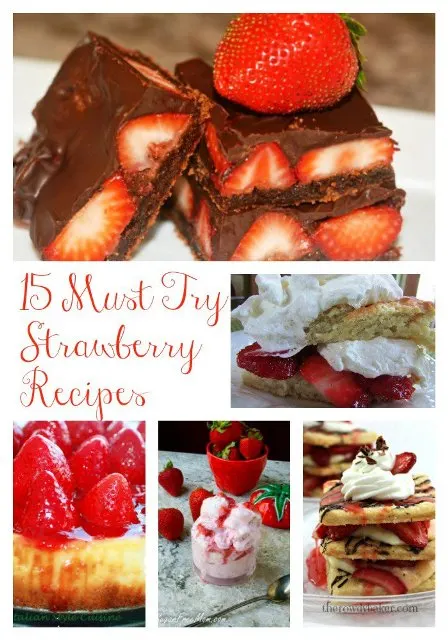 I am really loving fresh strawberries this summer. So, I bought a case of strawberries! These strawberries are the juiciest, sweetest, most delicious, ripe, ruby strawberries ever. They taste like they have sugar sprinkled on them.
After I ate about a quart of these little beauties, I was dreaming about what to make with the rest of the berries. Have you ever done this or am I the only one who dreams about recipes all day??? So, I made a strawberry pie, strawberry ice cream, strawberry shortcake and a strawberry poke cake! OH YUM!
Scroll down to find 15 Must Try Strawberry Recipes for your summer pleasure! It isn't summer without a strawberry pie, make healthy and delicious strawberry smoothies, wow your guests with a fresh strawberry cake, drool over a chocolate covered strawberry cheesecake, cool down with yummy strawberry ice cream and dreamy strawberry brownies and so many more delectable strawberry desserts.
Easy Strawberry PieEasy strawberry pie full of juicy, ripe berries in a simple buttery crust. Find Recipe Here Moore or Less Cooking
Fresh Strawberry CakeThis fresh strawberry cake features loads of ripe berries and a light whipped cream frosting…making it the perfect summer dessert! Find Recipe Here Spiced
Chocolate Dipped Strawberry BrowniesThey truly taste like chocolate dipped strawberries laying on a brownie! These don't even require a mixer! Find Recipe Here Hugs and Cookies XOXO
Low Carb Strawberry Cheesecake Swirl Ice CreamYou'd never know this strawberry cheesecake swirl ice cream is low carb and made without sugar! Find Recipe Here Sugar Free Mom
Strawberry Cheesecake Copycat Recipe Manny's Utica New YorkDense, delicious and creamy strawberry cheesecake!Find Recipe Here What's Cookin' Italian Style Cuisine
Strawberry-Yogurt PopsiclesKeep cool with these strawberry yogurt popsicles – they only have two ingredients and they're healthy! Find Recipe Here Love Bakes Good Cakes
Strawberry Crème Crumble BarsStrawberry crème crumble bars are a delicious snack filled with oatmeal and strawberry goodness. Heck, they'd be great for breakfast too! Find Recipe Here Life Currents
Strawberry Lush CakeThis no-bake strawberry dessert can be made in no time! Find Recipe Here Small Town Woman
Tropical Strawberry Torte CakeA culinary explosion of flavors and textures! Find Recipe Here The Rowdy Baker
Picnic strawberry orange ice creamIt's fun. It's sassy. It's creamy. It's velvety. It's sweet and citrusy. Find Recipe Here Ally's Kitchen
Strawberry Shortcake Poke Cake
A fun bundt poke cake using fresh strawberries puts a new spin on strawberry shortcake!

Moist, delicious yellow bundt cake with fresh strawberries poking through and a cream cheese glaze topped with fresh berries.

Find Recipe Here Moore or Less Cooking
Fresh Strawberry CupcakesFresh strawberries are in both the cupcakes and the frosting! Find Recipe Here Tampa Cake Girl
No-Bake Chocolate Covered Strawberry CheesecakeA smooth and creamy strawberry cheesecake filling is sandwiched between a shortbread cookie crust and sinful chocolate ganache. Find Recipe Here Hun, What's for Dinner?