Valentine's Day is one of my favorite holidays! Why? I love it because it celebrates LOVE!
I believe the best way to say, "I love you", is by making a Valentine's Day dessert for your sweetie pie.
Since pink and red are the official colors of the holiday, which are both colors of love, I'm sharing some incredible pink and red desserts to gift to your valentine.
Can you feel the love? There are no reservations required when you share a perfectly delicious peekaboo pound cake or a luscious angel food cake filled with cream and berries, at your own dining room table!
For inspiration, scroll down to view 17 of the best red and pink Valentine's Day desserts. With cakes, cookies, cupcakes and even candy, you will have a hard time choosing what to make first!
Angel Lush Cake
This is a delicious dessert that requires no baking if you start with a store-bought cake. Get the recipe here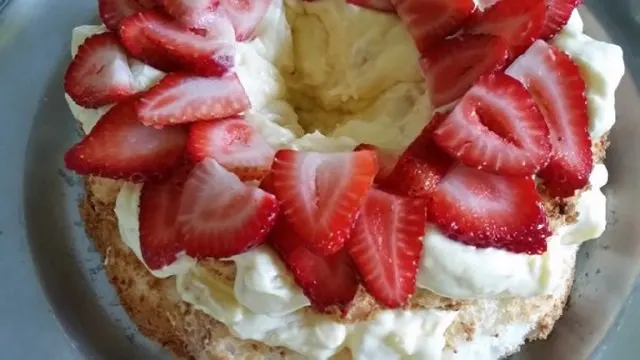 PIN IT:


Valentine's Day Peekaboo Pound Cake
Your sweetie or kids will be so surprised when you serve them this beautiful treat. Not only is it gorgeous with those pink peekaboo hearts, it is a tasty, moist pound cake! Get the recipe here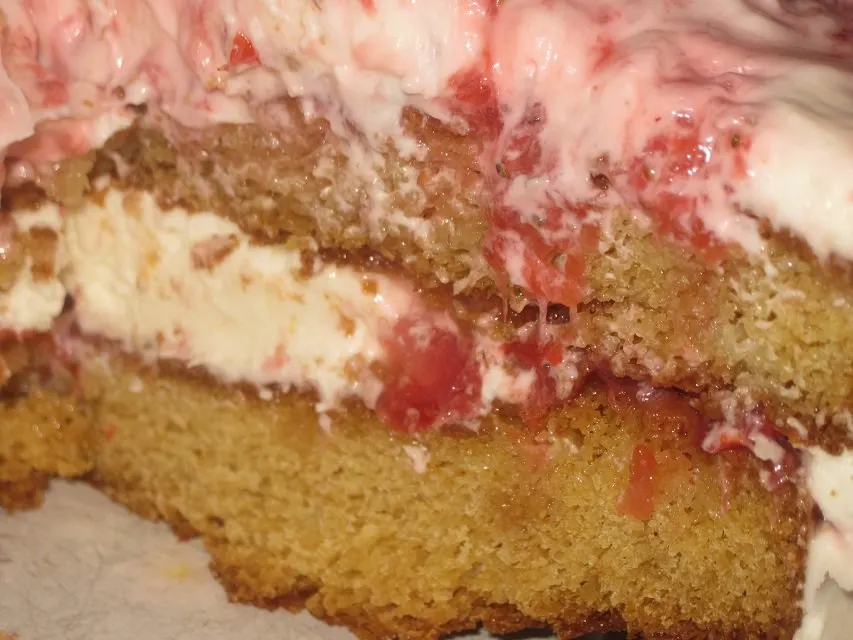 Strawberry Shortcake Birthday Cake
Better than strawberry shortcake! This is a deliciously fun cake to eat. There is a full pound of fruit in the cake, so it's bursting with berry flavor! Get the recipe here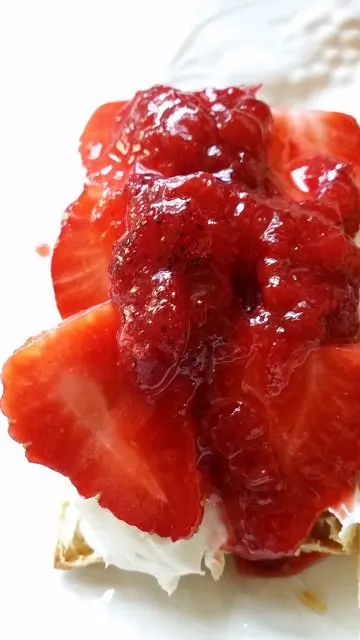 Strawberry Cheesecake Puffs
Delicate puff pastry is filled with ripe and juicy strawberries, a rich no-bake cheesecake filling and a flavorful strawberry sauce. Get the recipe here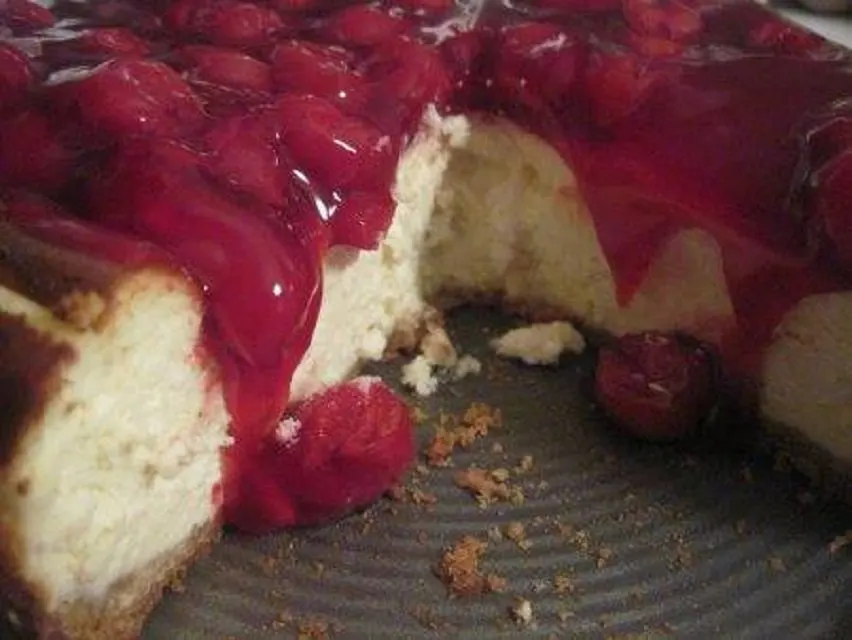 Best Cherry Cheesecake
This is the easiest cheesecake to make, and it comes out perfectly rich every time! Get the recipe here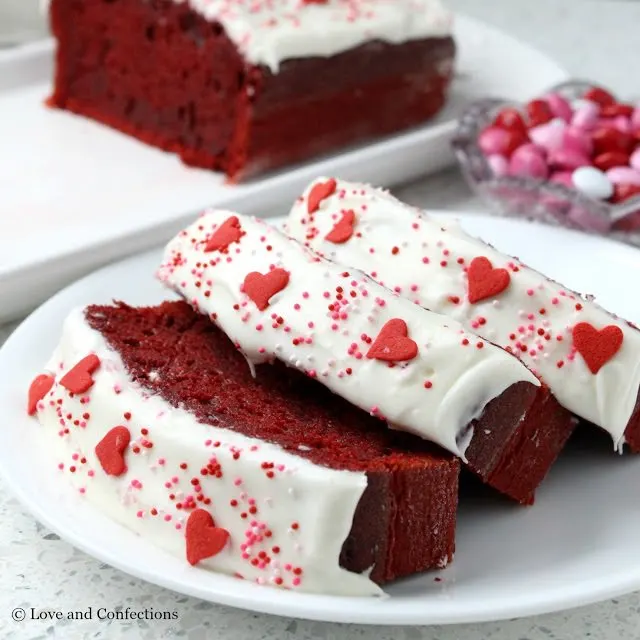 Red Velvet Pound Cake with Cream Cheese Frosting
Red velvet pound cake with cream cheese icing is easily a family favorite. Use a box mix for a shortcut and top it off with adorable sprinkles! Get the recipe here
Love and Confections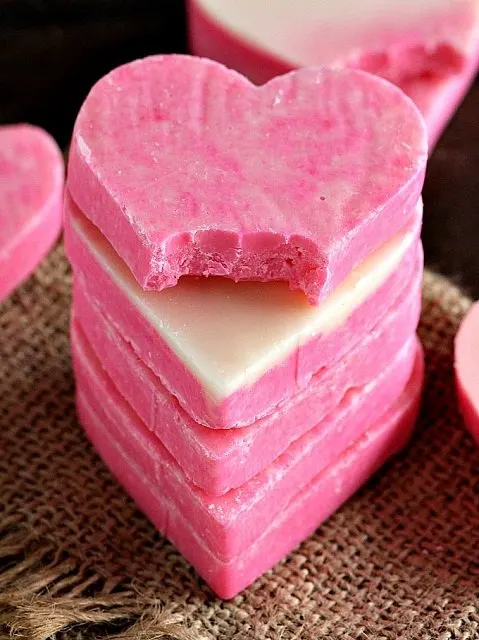 Pink White Chocolate Fudge
This festive pink treat uses just three ingredients, and in five minutes you'll have a creamy and irresistible fudge. It's also a no-bake and gluten-free recipe. Get the recipe here
Sweet and Savory Meals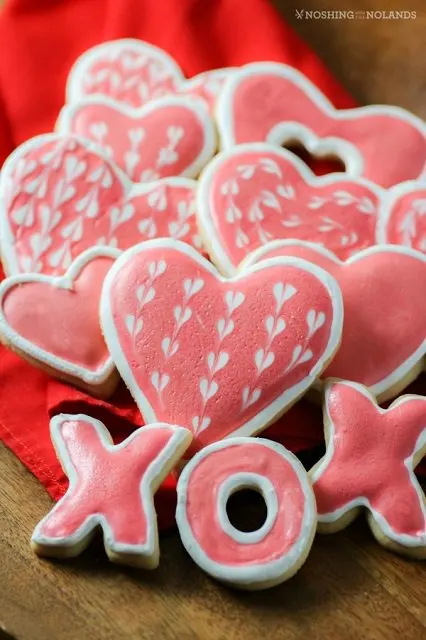 Valentine's Day Sugar Cookies
These heart-shaped sugar cookies will surely be appreciated by everyone that receives them! Get the recipe here
Noshing With The Nolands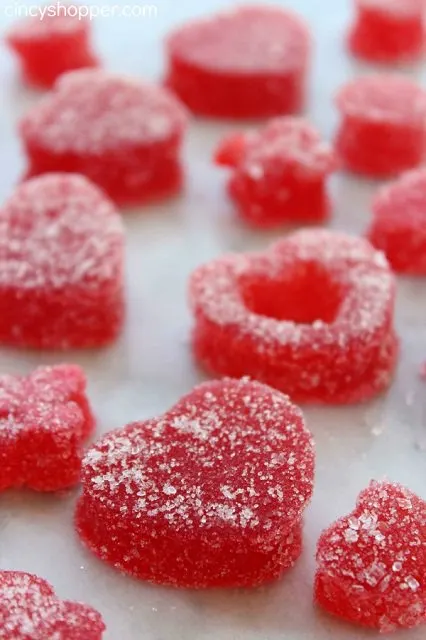 Homemade Gumdrops for Valentine's Day
If you are looking to make a sweet treat for Valentine's Day, consider making these cute homemade gumdrops. Get the recipe here
CincyShopper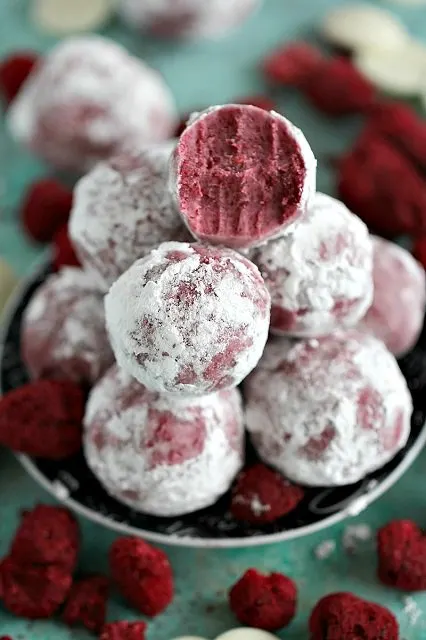 White Chocolate Raspberry Truffles
With just five ingredients, these white chocolate raspberry truffles are simple yet full of flavor, gluten-free and have a natural pink color! Get the recipe here
Sweet and Savory Meals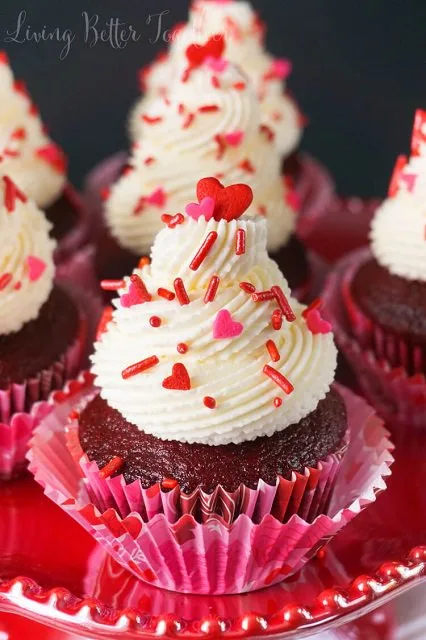 Red Velvet Cupcakes
These red velvet cupcakes are so easy to make. With a two-ingredient red velvet base and a three-ingredient cheesecake frosting, what's not to love? Whip them up for your valentine in no time! Get the recipe here
Sugar and Soul
Very Cherry Meringue Dessert
This very cherry meringue dessert is just as pretty as it is delicious. It's soft and crunchy, creamy and dreamy and is perfect for any occasion. Get the recipe here
Hostess at Heart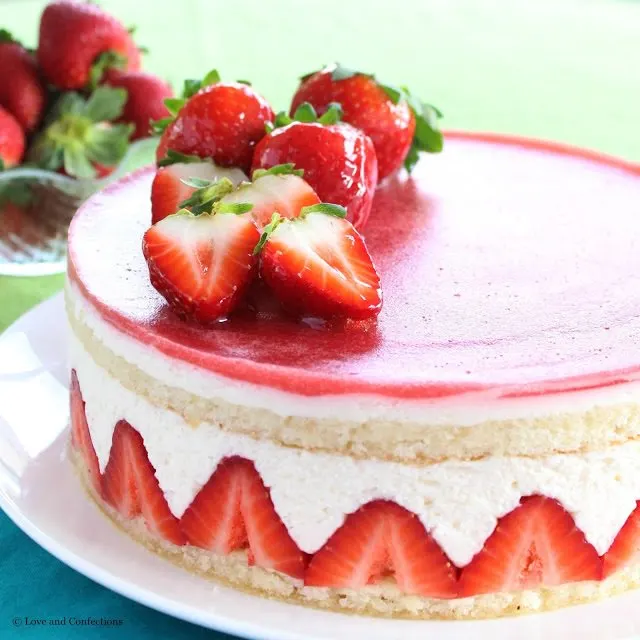 Strawberry Fraisier
Strawberry fraisier is the perfect dessert to showcase beautiful Florida strawberries. Delicate syrup-soaked sponge cake is filled with strawberries and vanilla cream. It is a feast for the eyes and the tastebuds! Get the recipe here
Love and Confections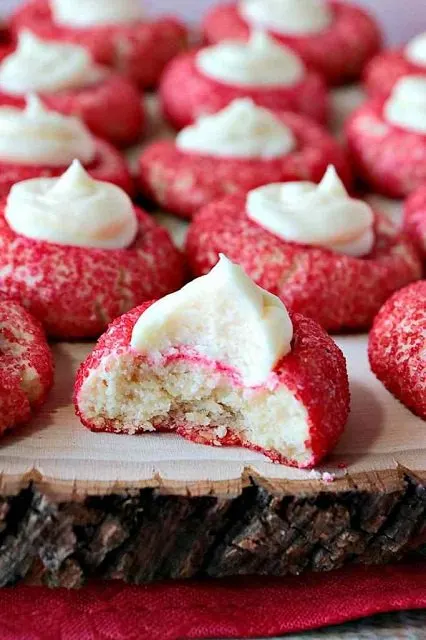 Cream Cheese Cookies with Cheesecake Filling
These cream cheese cookies are topped with a creamy cheesecake dollop, making them a delicious gift for the cheesecake lover. Get the recipe here
Kudos Kitchen by Renee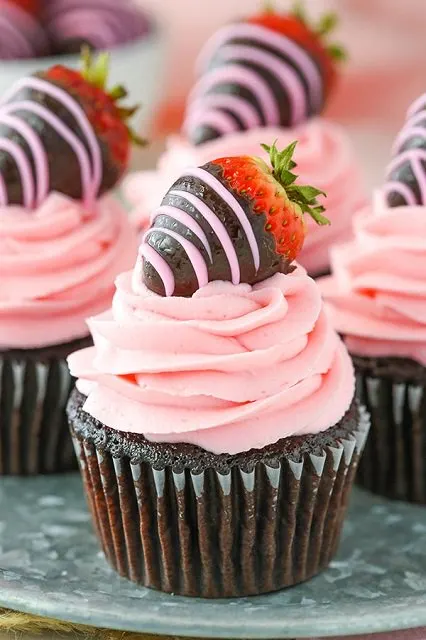 Chocolate-Covered Strawberry Cupcakes
A moist chocolate cupcake topped with a strawberry frosting and chocolate covered strawberry is perfect for Valentine's Day! Get the recipe here
Life Love and Sugar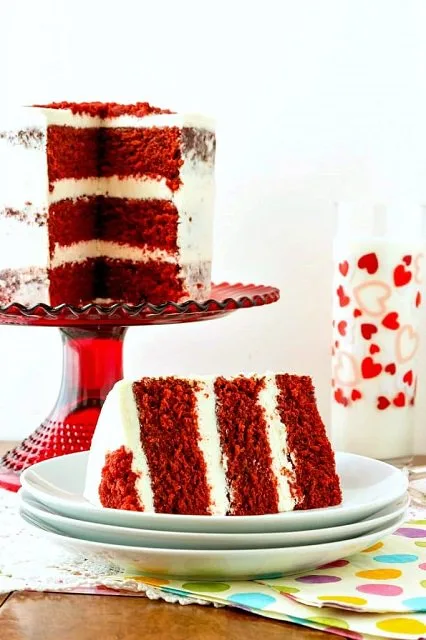 Traditional Red Velvet Cake with Ermine Frosting
This traditional red velvet cake is the one I always made at the restaurant, although we paired it with cream cheese frosting. The ermine is perfect with it, so I recommend getting to know ermine frosting if you're a red velvet cake fan. Get the recipe here
Pastry Chef Online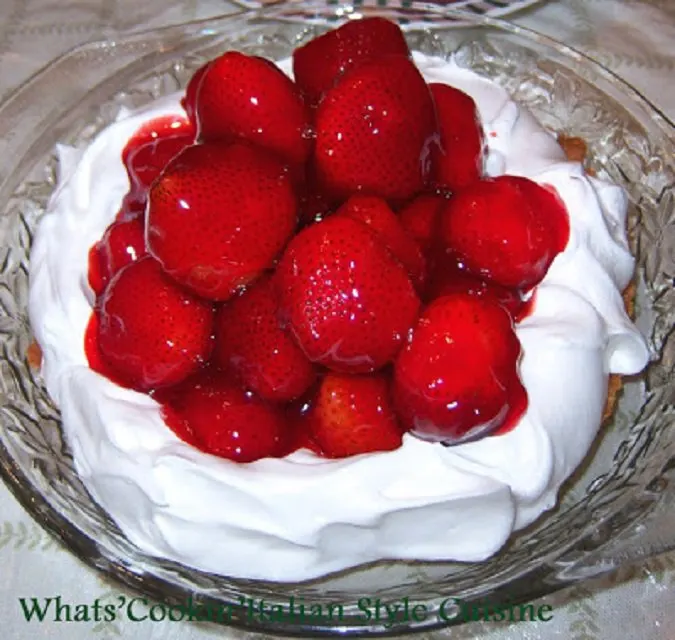 Italian Strawberry Cream Cake
This is my special treat for Valentine's Day, but it doesn't have to be a holiday to make this awesome dessert topped with fresh strawberries in a sweet glaze! Get the recipe here
What's Cookin' Italian Style Cuisine
PLEASE REMEMBER TO SHARE ON FACEBOOK
AND PIN IT!
FACEBOOK | TWITTER | GOOGLE+ | PINTEREST | BLOGLOVIN |INSTAGRAM|