Host the ultimate Christmas Brunch with these 20 scrumptious recipe ideas. You'll find delicious savory and sweet items that will be crowd-pleasers for adults as well as kids. From casseroles to waffles and from quiche to overnight french toast, you'll find a variety of seasonal flavors in this collection.
What recipes can be served at a holiday brunch?
Here, you'll find ways to include fruits like apples, cranberries, and oranges, as well as nuts like pecans and hazelnuts. You'll even find ways to incorporate eggnog, gingerbread, and cinnamon. Of course, eggs, bacon, and veggies find their way into this delectable array of brunch ideas. Dazzle your family and friends with these holiday recipes and be prepared to receive compliments for your awesome brunch menu!
What is Brunch?
A meal that is eaten later in the morning instead of eating breakfast or lunch.
Prep this potato extravaganza of a casserole ahead of time. Full of bacon, eggs, cheese, chopped veggies, and hash browns, a night in the fridge helps all these wonderful flavors mingle into a delicious breakfast that's perfect for celebrating the season.
Overnight Hash Brown Casserole by I Heart Eating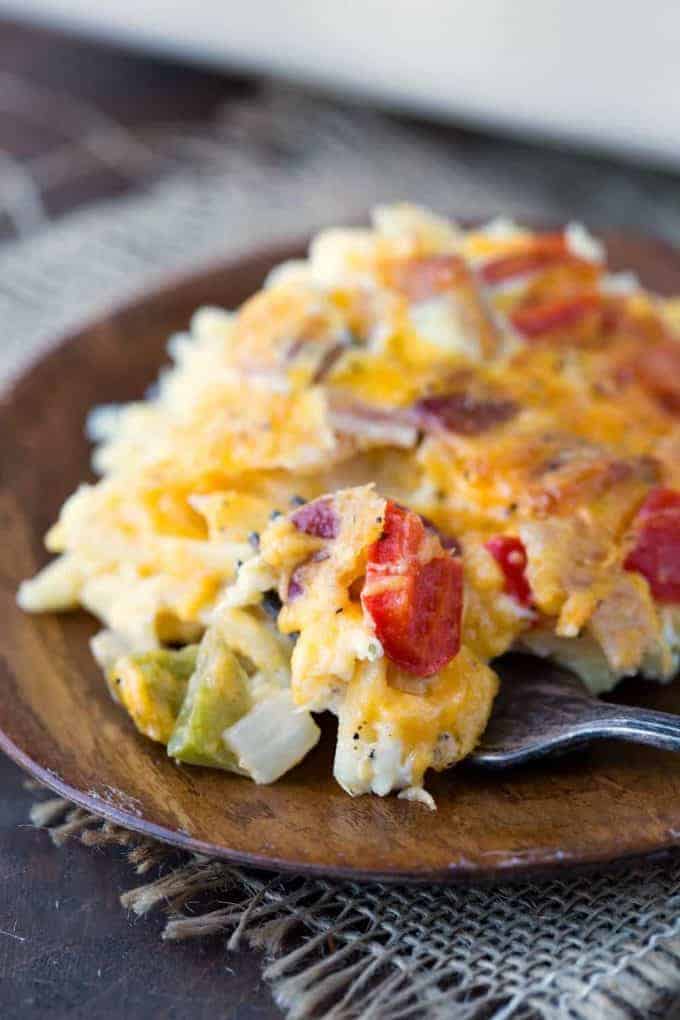 Add a little bling to the top of these festive crescent rolls that bake in just 20 minutes. Stuffed with cream cheese, white chocolate chips, and crushed gingersnap cookies, this crescent roll is a scrumptious nod to the flavors and aromas of holiday treats.
White Chocolate Gingerbread Crescent Rolls by Lemon Tree Dwelling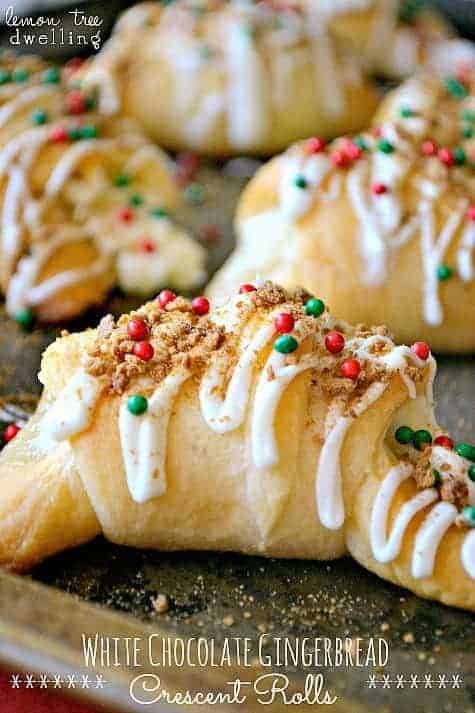 Eggnog flavors this overnight french toast casserole that's elevated with maple syrup and chai spices. It soaks for hours in the refrigerator to absorb flavors of vanilla, cinnamon, cardamon, nutmeg, ginger, and clove. it's a delicious way to enjoy eggnog.
Overnight Chai Eggnog French Toast Casserole by Joyful Healthy Eats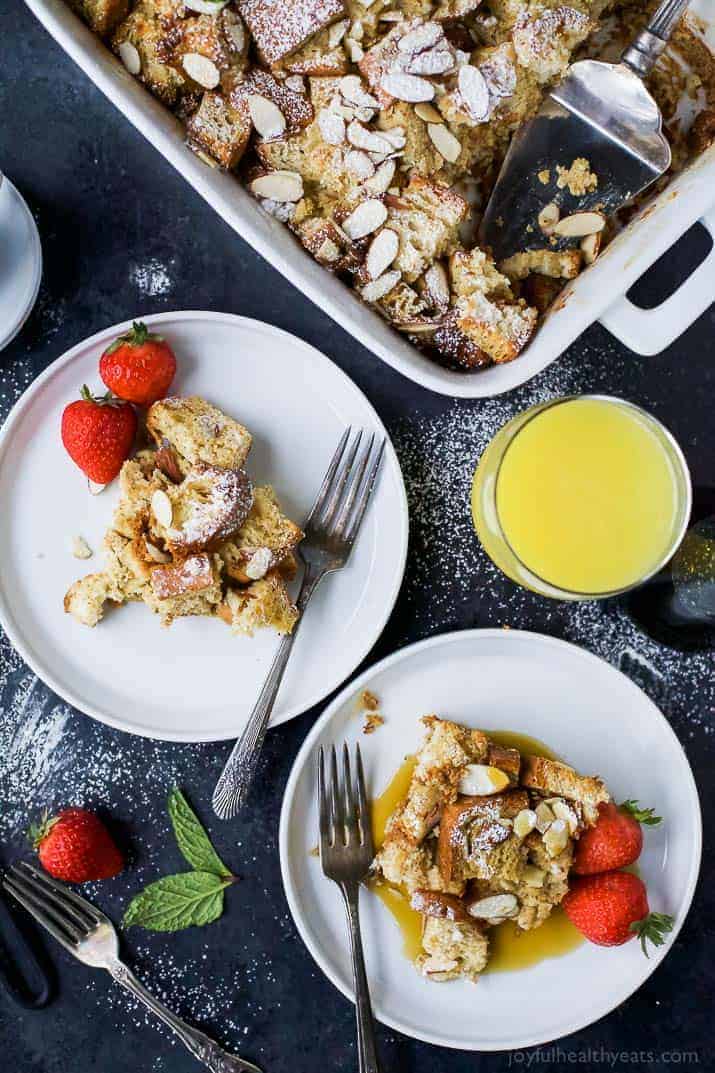 Quiche is nothing more than a savory tart, and here, you've found the easiest way to make this breakfast favorite. Just fill a baked pie crust with cooked and crumbled bacon, shredded Swiss cheese, and chopped green onions. Pour a seasoned egg mixture over it and top with more cheese. Bake, cool, and serve this awesomeness.
Quiche Lorraine by Homemade Hooplah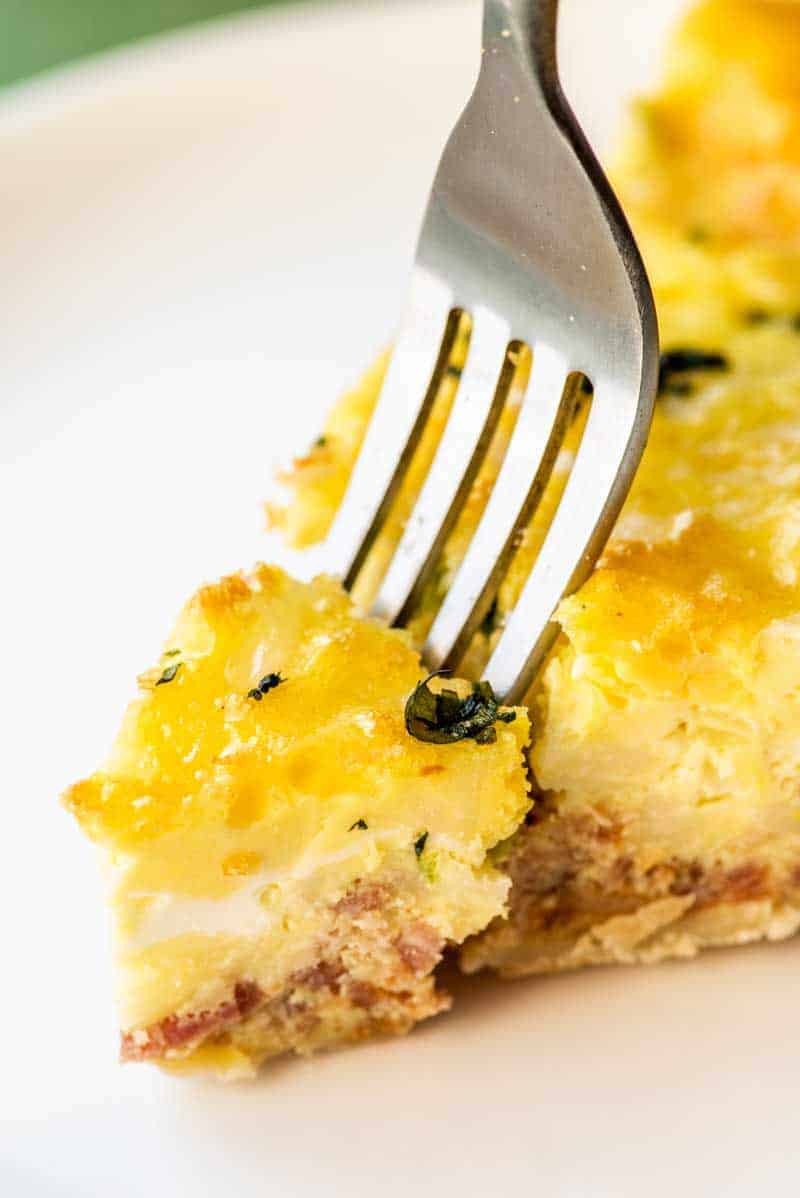 You'll have a hard time not swooning as the spicy aroma of cinnamon, cloves and nutmeg take over your kitchen as these gingerbread donuts bake. Give them a dusting of cinnamon and ginger sugar and serve to rave reviews.
Christmas Gingerbread Donuts by If You Give A Blonde A Kitchen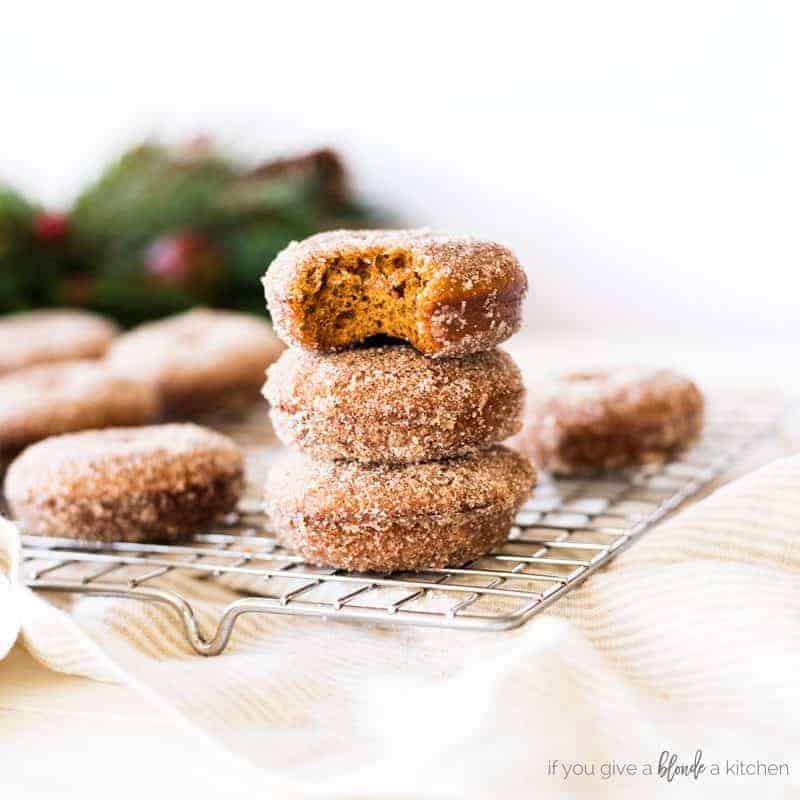 This hearty bread is filled with sausage, ricotta, and parmesan cheeses, and an egg mixture before being baked. The bread is a pizza crust that you will stuff with all the savory ingredients. It's easy to put together this impressive breakfast bread and make a hearty breakfast for the holidays.
Nana's Sausage Bread by Beyond Frosting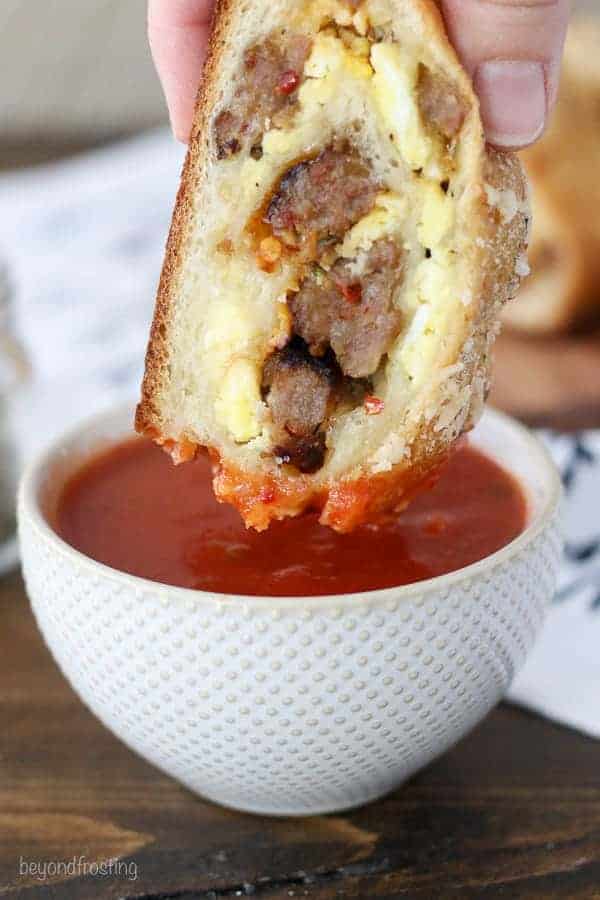 Shape your cinnamon rolls into a wreath that bakes into a luscious holiday brunch item. Filled with the traditional sugary cinnamon filling, drizzle the confectioner's sugar glaze over it before serving. Gorgeous!
Cinnamon Roll Wreath by Sally's Baking Addiction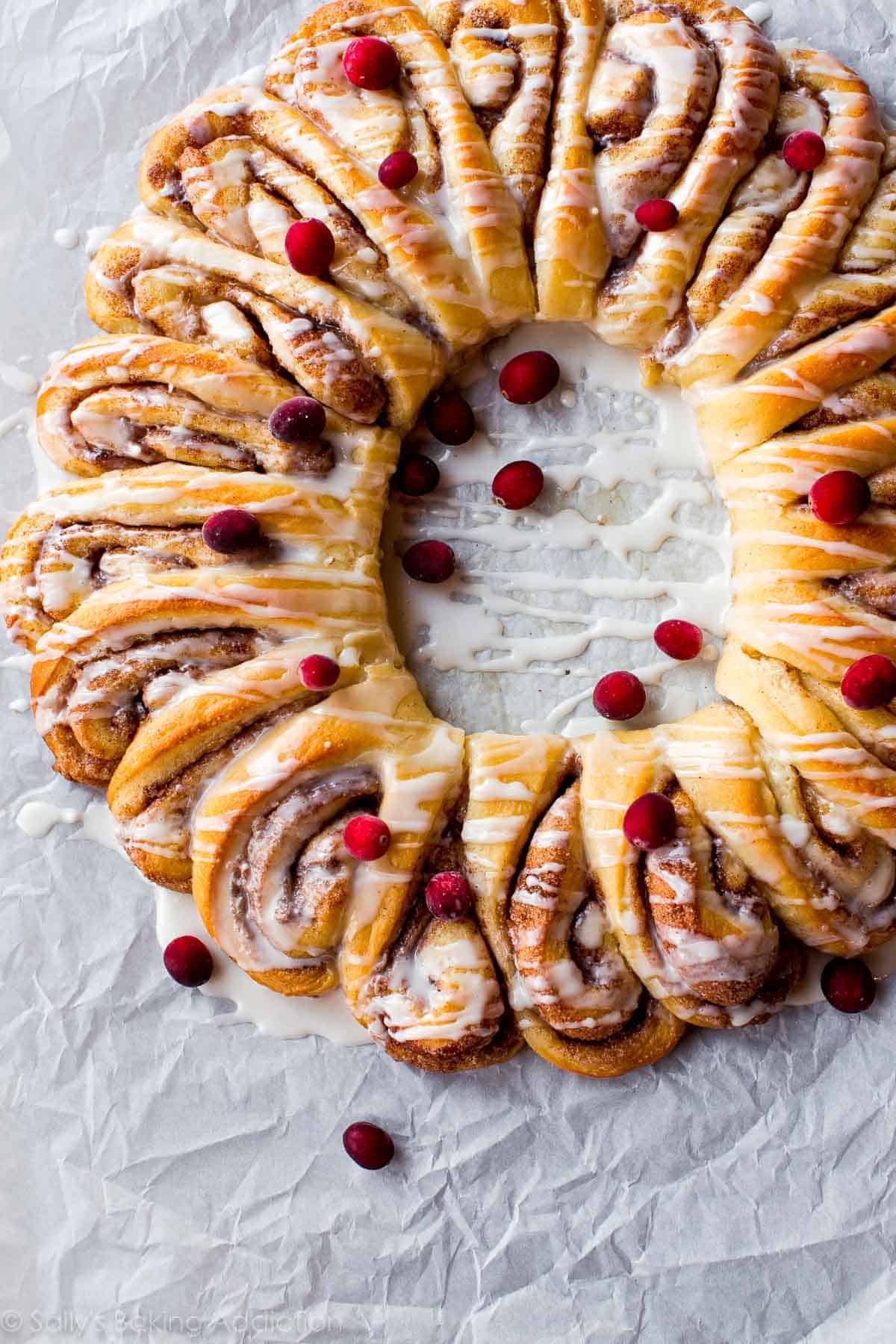 Diced apple along with granola and gingersnaps make the perfect holiday pancake ensemble. You'll love the cozy smell as these cook, making them the perfect choice for a festive Christmas morning.
Apple Gingersnap Pancakes by Climbing Grier Mountain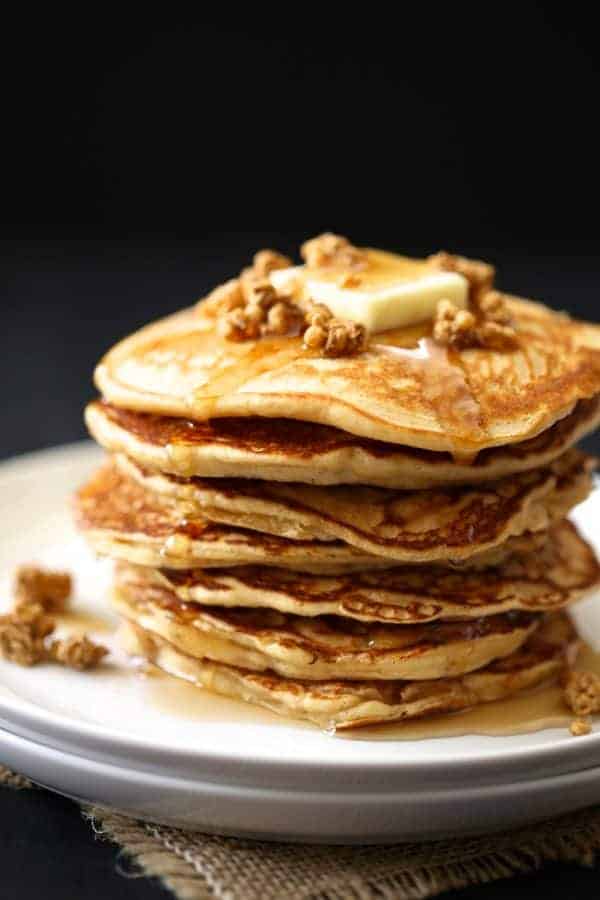 Everyone's favorite combo of ham and cheese gets a zesty flavoring from green chiles. You can put this together the night before and bake it in the oven. It's a crowd-pleaser that's kid-approved, too!
Ham And Cheese Casserole by Taste And Tell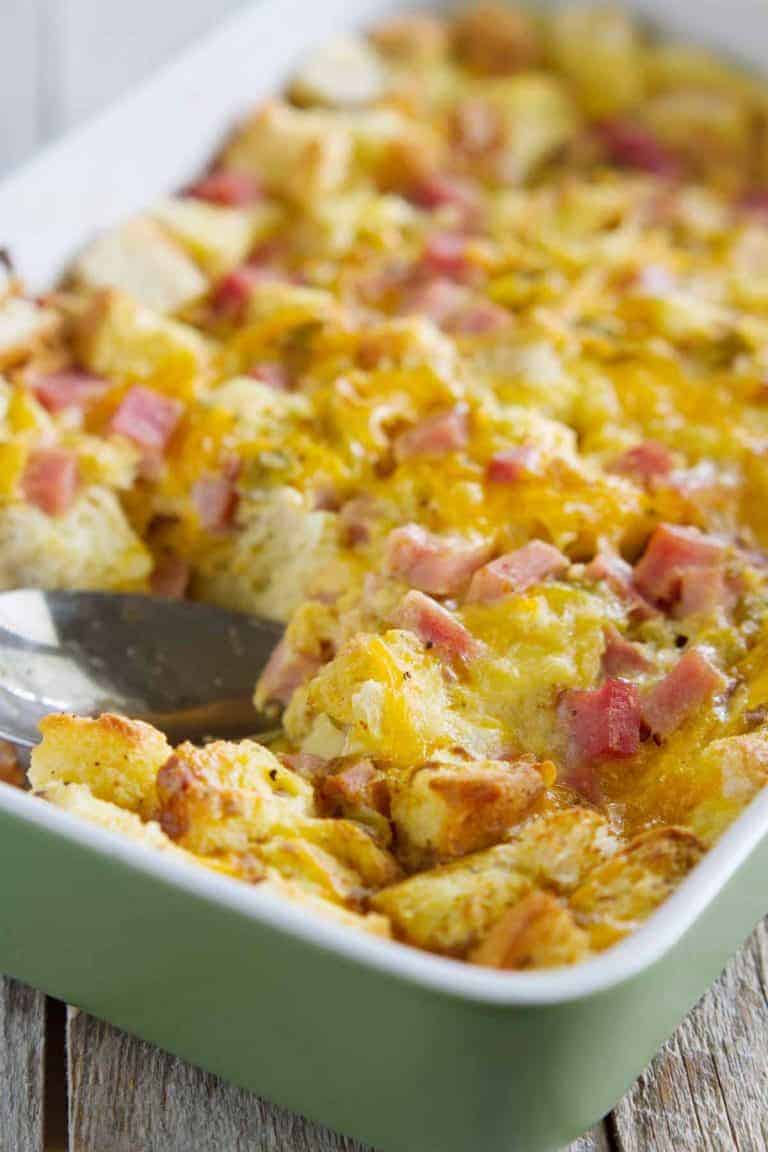 Nutella makes a scrumptious filling in this snowflake-themed puff pastry treat. Easily twist the dough to resemble a large snowflake that will be the star of your holiday brunch table. Add a dusting of powdered sugar for the ultimate wow factor.
Nutella Puff Pastry Snowflake by Life Made Simple Bakes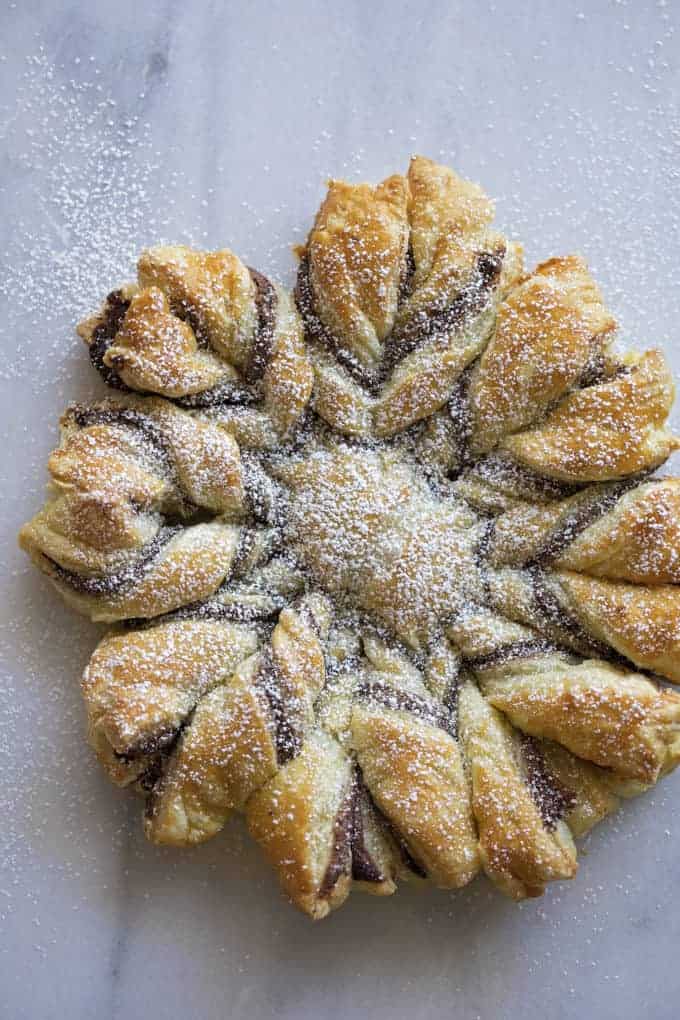 Bacon lovers will flip over this sweet and salty breakfast sensation. Cream cheese, brown sugar, and bacon become the insides of a sandwich that's submerged in an egg mixture. Fry the sandwich until golden brown. Top with maple syrup and serve. Oh, my!
Bacon Stuffed French Toast by Spicy Southern Kitchen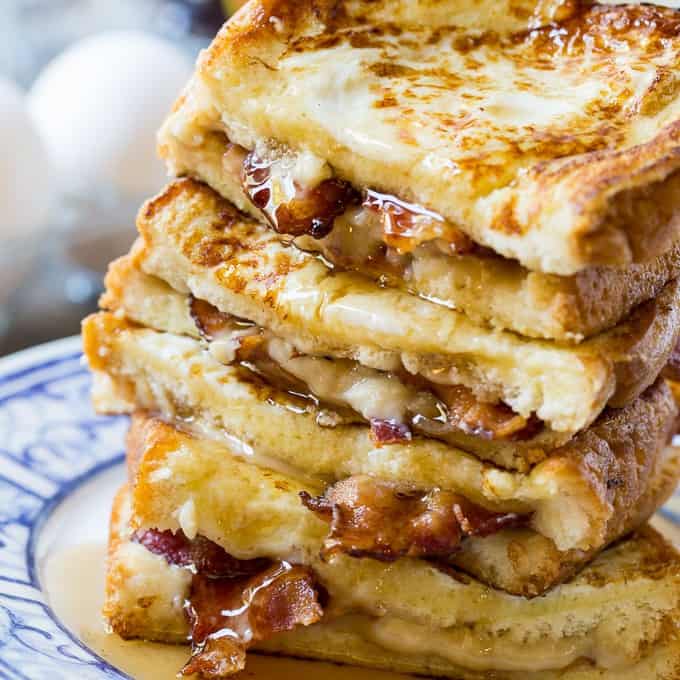 This overnight oats casserole is the perfect combo of sweet potatoes, pecans, rolled oats, and spices. Keep it vegan and let it all soak in almond milk. Mix it, refrigerate it, then bake it for a delicious brunch option for the holidays.
Sweet Potato Baked Oatmeal by Eating Bird Food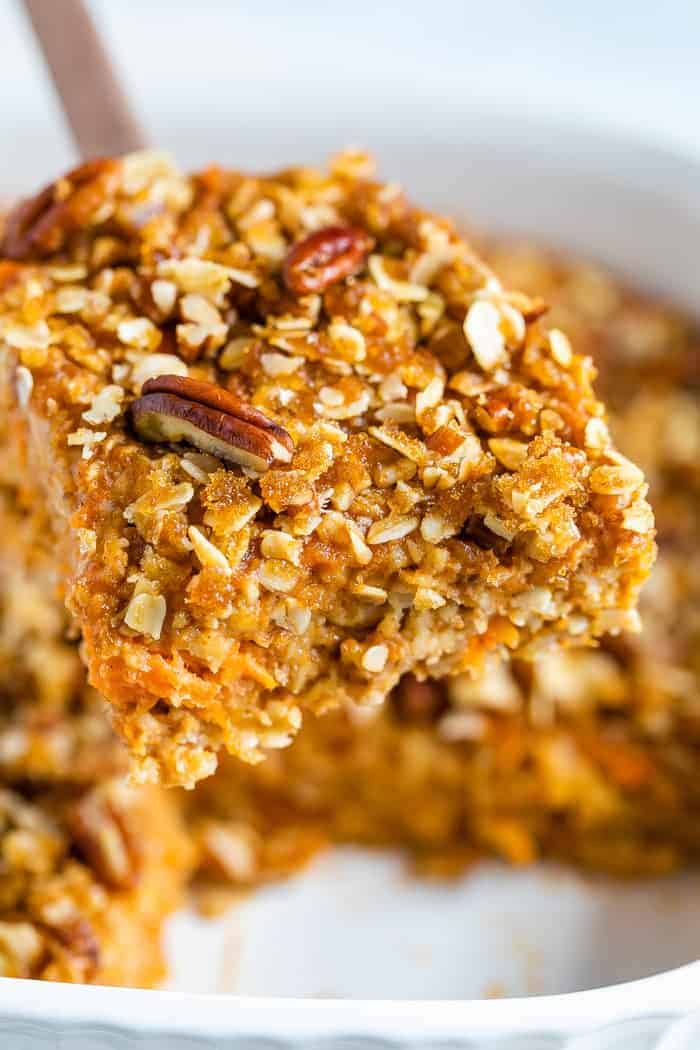 Meatless and savory, fill your enchiladas with a delicious combo of pumpkin puree, refried beans, tomatoes, and cheese. It's quick and easy, plus it's a flavor pairing that's perfect for a holiday brunch.
Vegetarian Pumpkin Enchiladas by A Mind Full Mom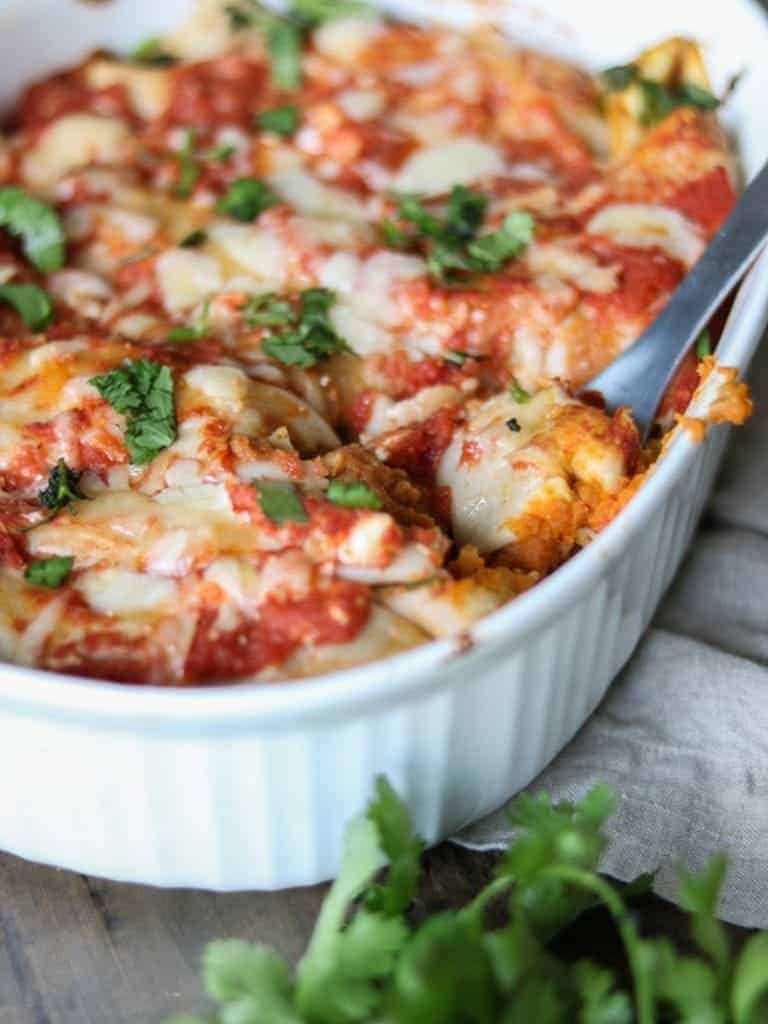 All the aromas of Christmas will be in the air when you make these gingerbread waffles. Fire up your waffle iron and make this easy batter that includes molasses, brown sugar, and gingerbread spices. These waffles are a cozy way to start Christmas morning.
One Bowl Gingerbread Waffles by Flavor The Moment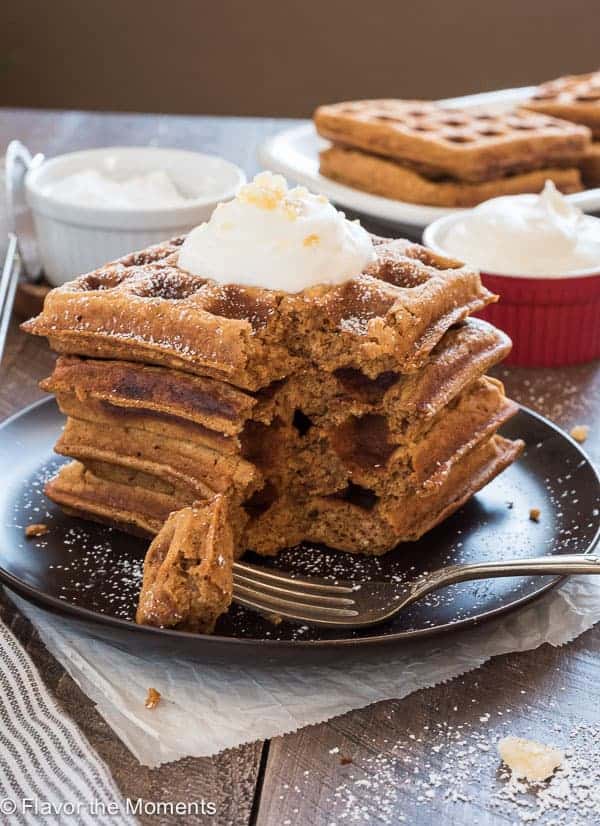 Grab your skillet and make this protein-packed breakfast full of diced sweet potatoes, peppers, sausage, onions, and sriracha. It's a beautiful presentation of colors that are brightened up by the pretty yolked eggs that are added at the end. Awesome!
Sweet Potato Hash by Well Plated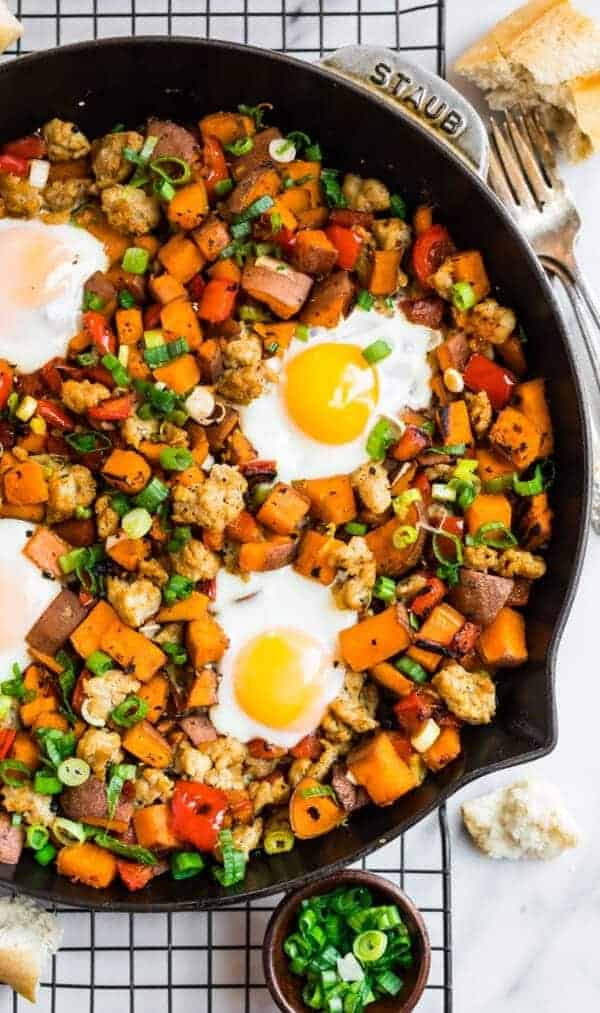 Start this one ahead of time so that it can absorb the sweet and tart flavors of orange and cranberries. Let it soak overnight before baking and topping with powdered sugar. Use orange extract to enhance the flavor and be sure to use fresh cranberries that burst with tartness. So good!
Cranberry Orange Baked French Toast Casserole by Taste And Tell Blog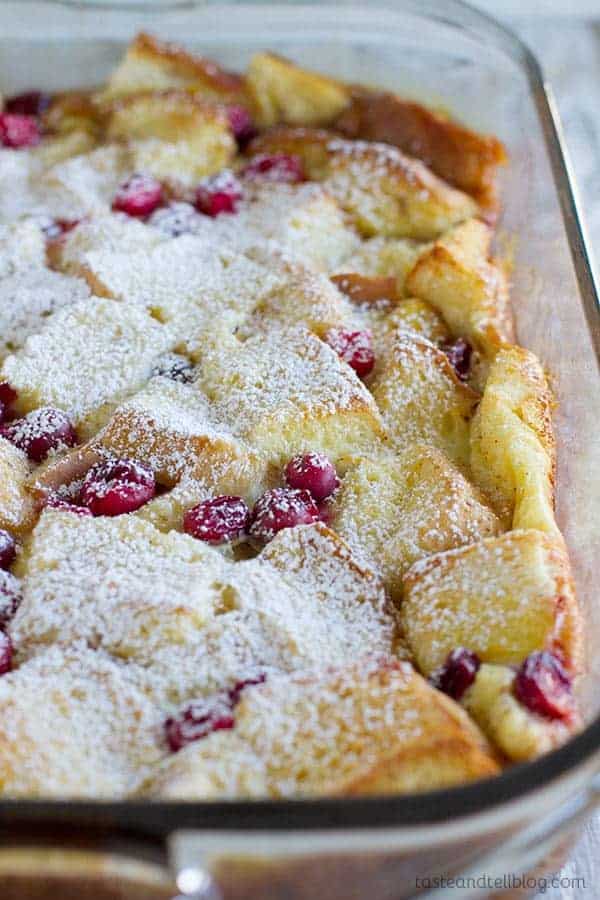 Prepare this casserole the night before and add chopped and cooked bell peppers, mushrooms, onion, sausage, garlic. Add to cubed bread and egg mixture; cover and refrigerate overnight. In the morning, slide it into the oven. It's a savory breakfast casserole that's perfect for holiday mornings.
Overnight Breakfast Casserole with Sausage, Chorizo, and Eggs by Vikalinka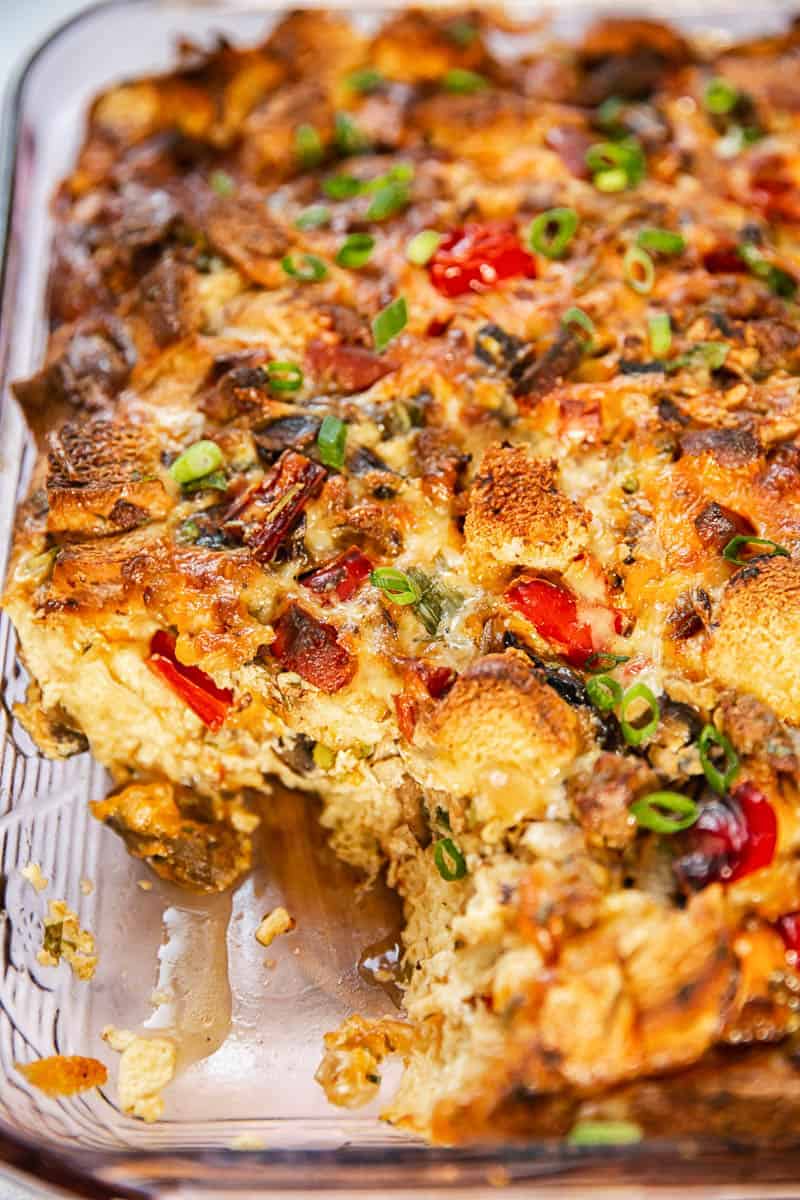 These muffins sport a double dose of eggnog, both in the batter and in the sweet glaze on top. Whip up this homemade batter quickly and top with a crumbly streusel topping. Bake and drizzle with the eggnog glaze. So delish!
Eggnog Coffee Cake Muffins by Two Peas And Their Pod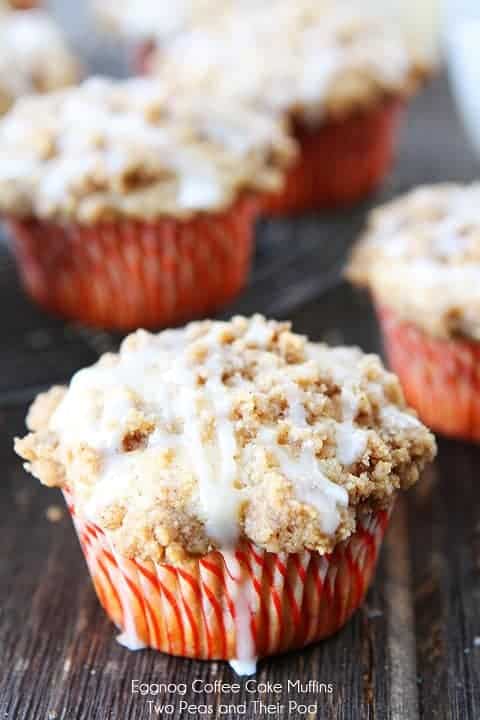 This Mexican-inspired breakfast casserole is full of whole green chiles that are stuffed with cheese and then submerged in an egg batter. Pile on more cheese and bake. Garnish with cilantro and serve for a savory breakfast.
Chile Relleno Casserole by Dinner At The Zoo
Pecans are the star of the show in these insanely delicious pancakes. The pancake batter gets an infusion of butter pecan from flavored coffee creamer for deliciousness in every bite. Maple syrup, butter, and pecans drizzled over the top make this a holiday breakfast winner!
Butter Pecan Pancakes by Crazy For Crust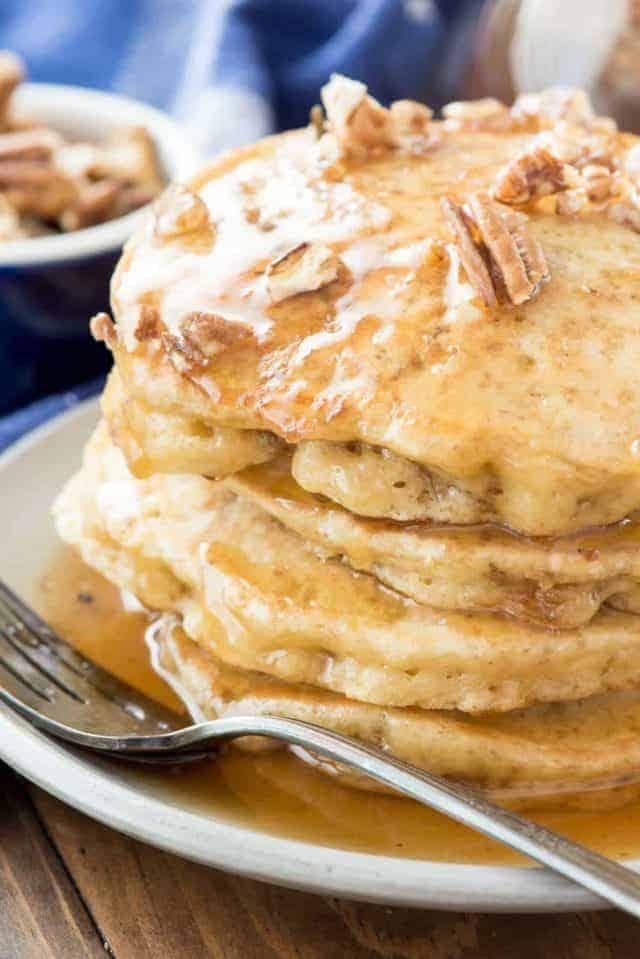 Related:
Ham and Cheese Breakfast Casserole
Easy To Make Mini Breakfast Pizzas
Bacon and Egg Stuffed Biscuit Waffles
[mailerlite_form form_id=1]
Nettie is a wife and mother who is passionate about cooking and baking. With 5 children, Nettie insists that all meals, snacks, and desserts come together quickly! You will find a wide variety of easy yet scrumptious recipes on her very popular website Moore or Less Cooking
Be sure to follow me on Instagram and tag #mooreorlesscooking so I can see all the wonderful recipes that YOU make from this site!
Did You Make This Recipe?
I would love for you to leave a rating and a comment below! How'd you do?!
Please remember to SHARE on Facebook and PIN IT!