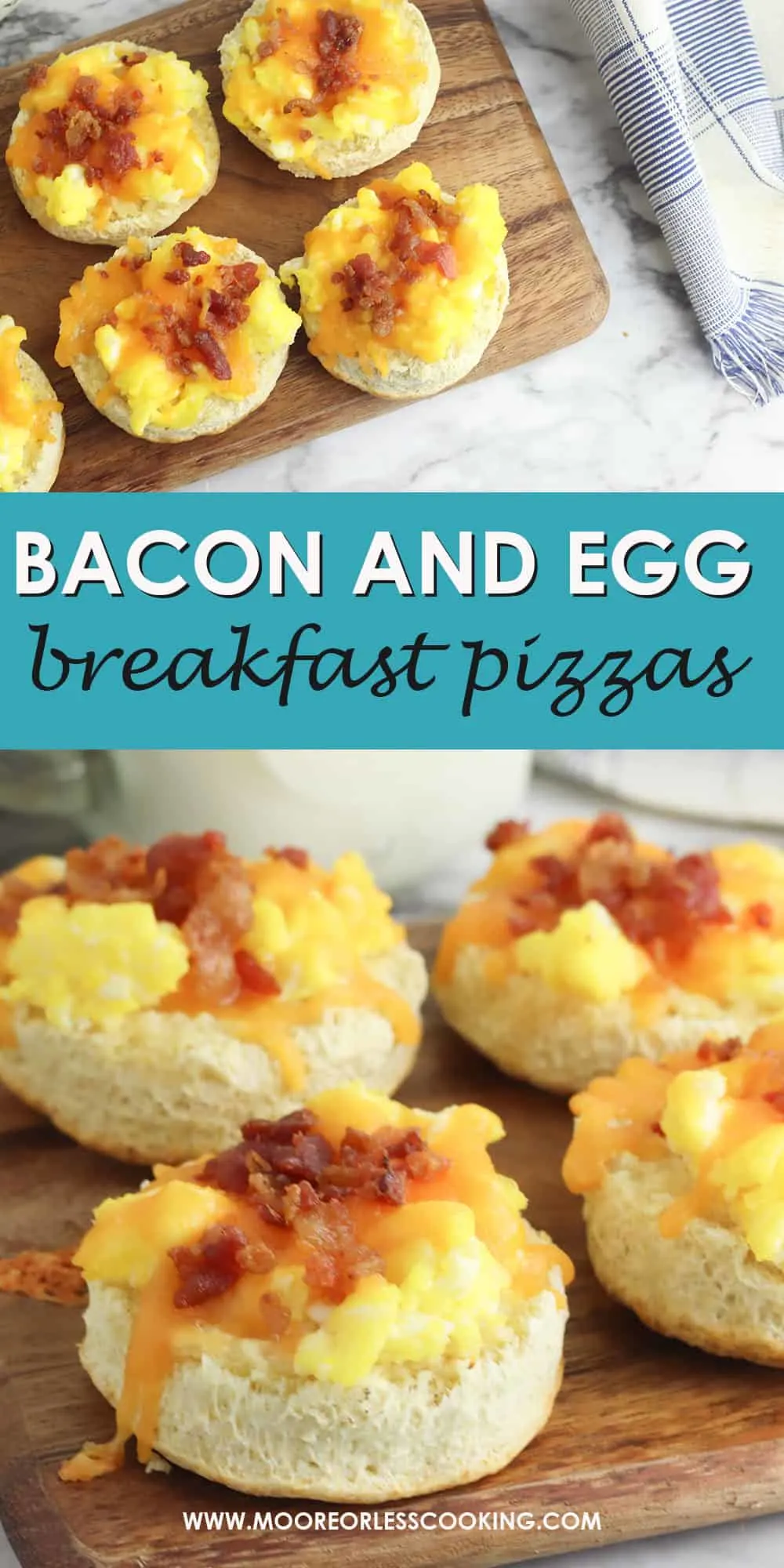 These simple breakfast pizzas are guaranteed to be popular with everyone at home because they can easily be adapted to different tastes. To make these breakfast pizzas you'll need five basic ingredients. These easy breakfast pizzas are a great way to use up leftover biscuits!
Whether your kids are home from school for the summer and want a yummy breakfast or you need an easy breakfast for a busy workday morning, it can be hard to find a delicious breakfast option everyone in the family will love.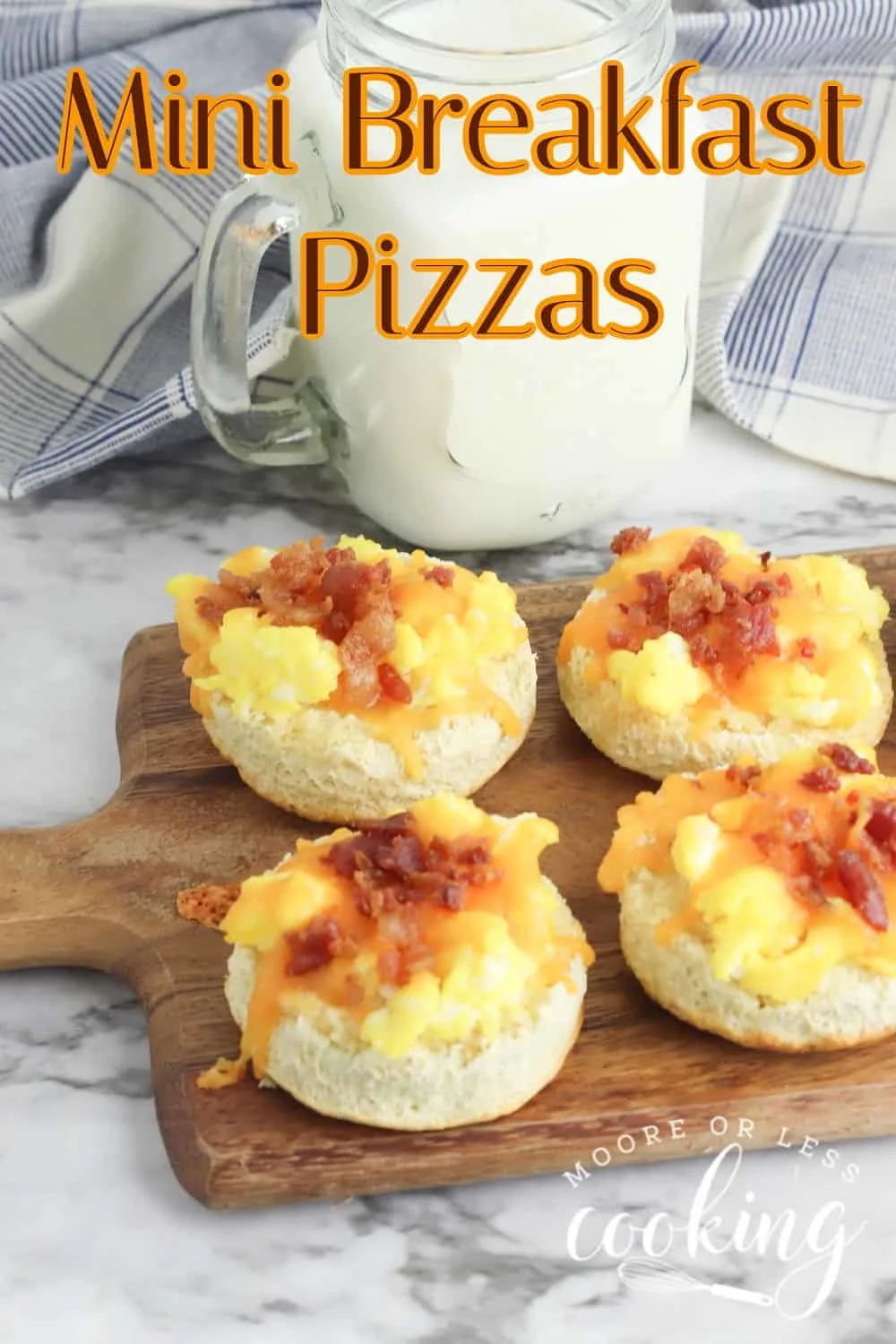 On top of being quick and easy, you need a breakfast that's packed with flavors that even the pickiest eater in your family can enjoy. If that's the recipe you're looking for, I have the perfect option for you! These easy mini breakfast pizzas are not only so simple to make, they're sure to be a hit with everyone in the family.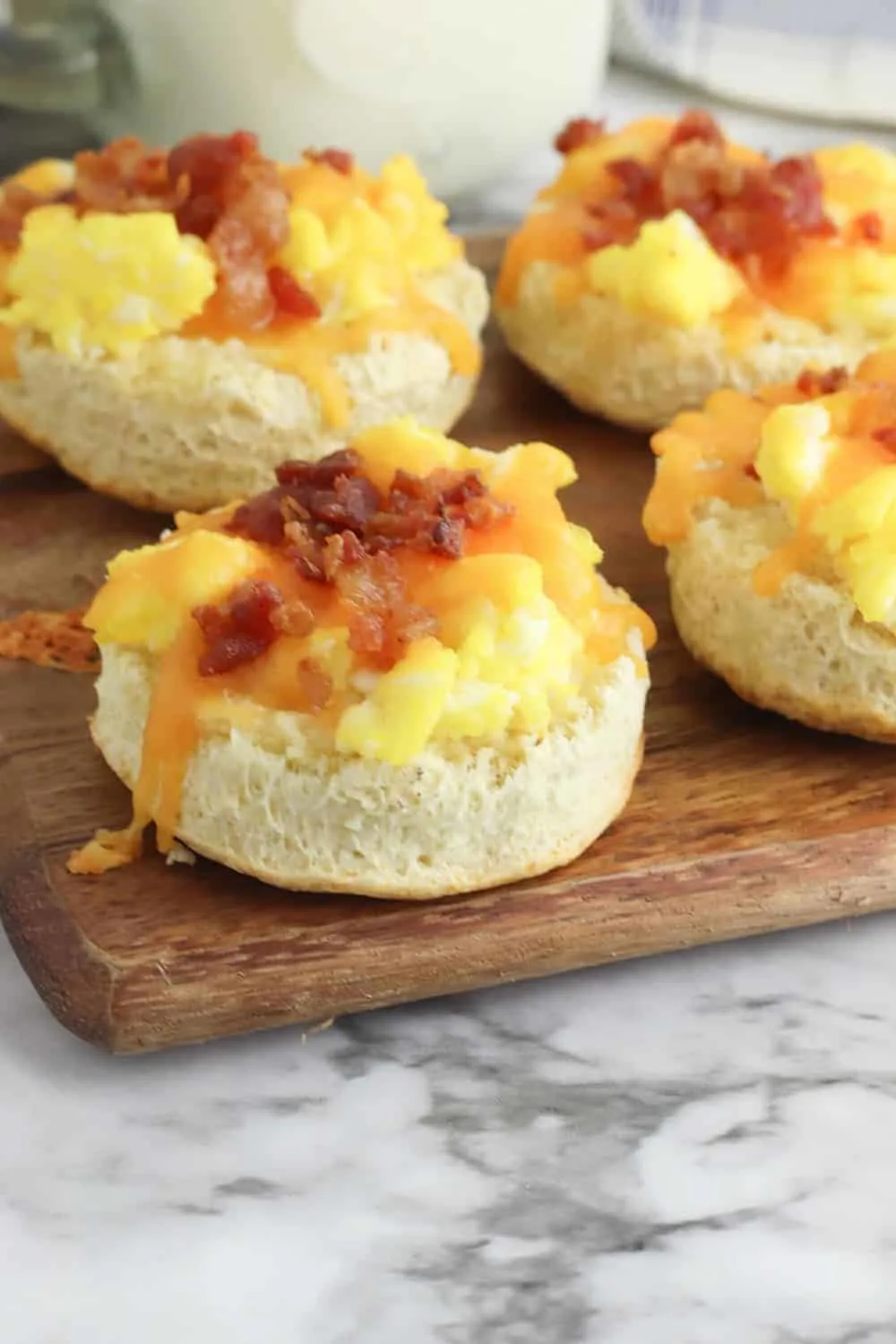 Mini Breakfast Pizza Ingredients:
Prepared biscuits

Eggs

Milk

Butter

Cheese

Toppings (we used bacon)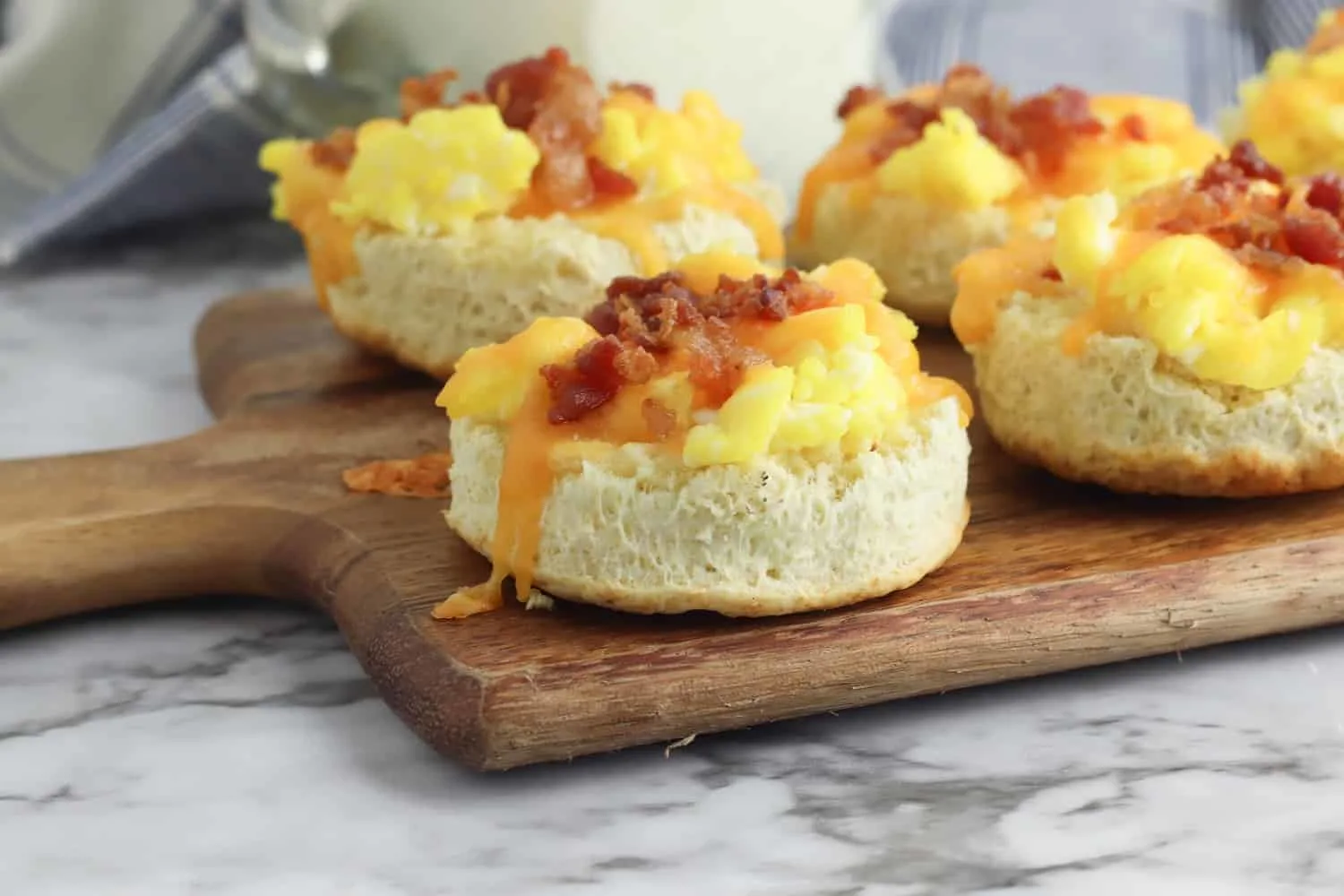 If you would like to make your own biscuits, try my Baking Powder Drop Biscuit recipe, and my Easy Low Carb Biscuit recipe is super popular as well if you are following a low-carb/keto lifestyle.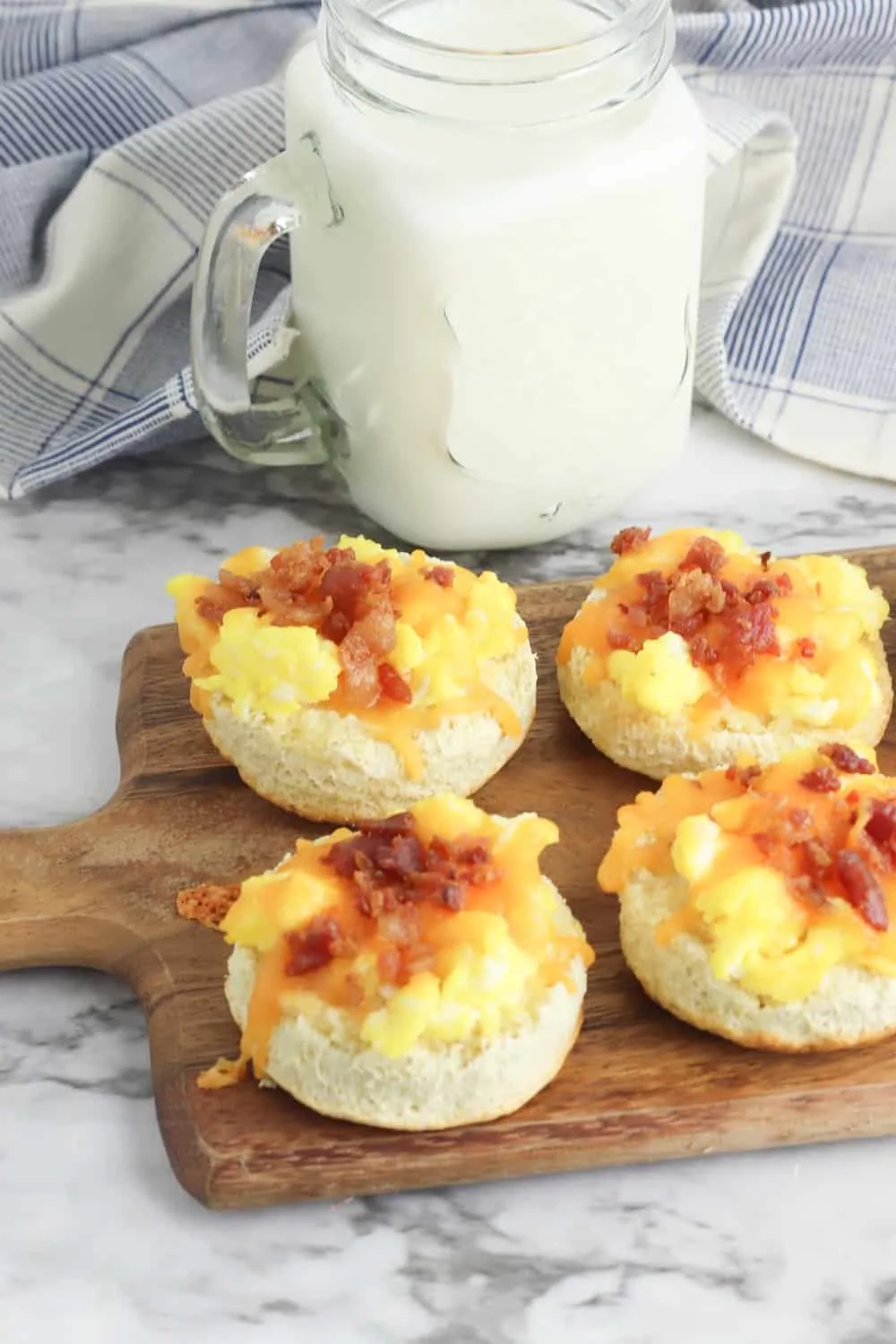 To make the pizzas, you'll need some baked biscuits, scrambled eggs, butter, and cheese. And the way you top them is totally up to you! Scroll down to see some yummy breakfast pizza variations you can make to this recipe to change it up for everyone in your family.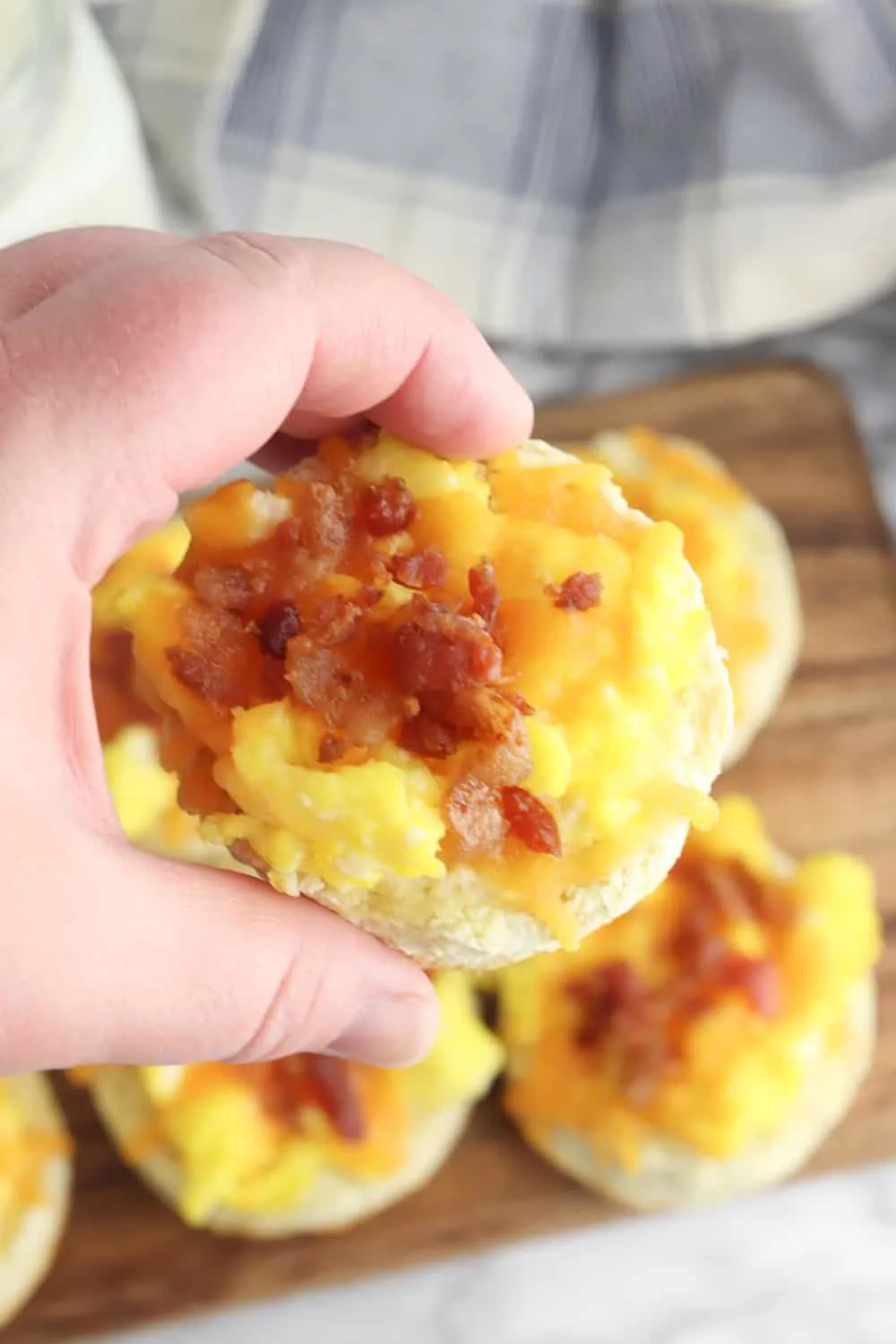 How to Make Mini Breakfast Pizzas:
The foundation of these easy mini pizzas is baked biscuits. You can use your own favorite biscuit recipe, leftover biscuits, or bake a can of pre-made biscuit dough. Whichever method you choose, bake the biscuits according to the instructions and allow them to cool.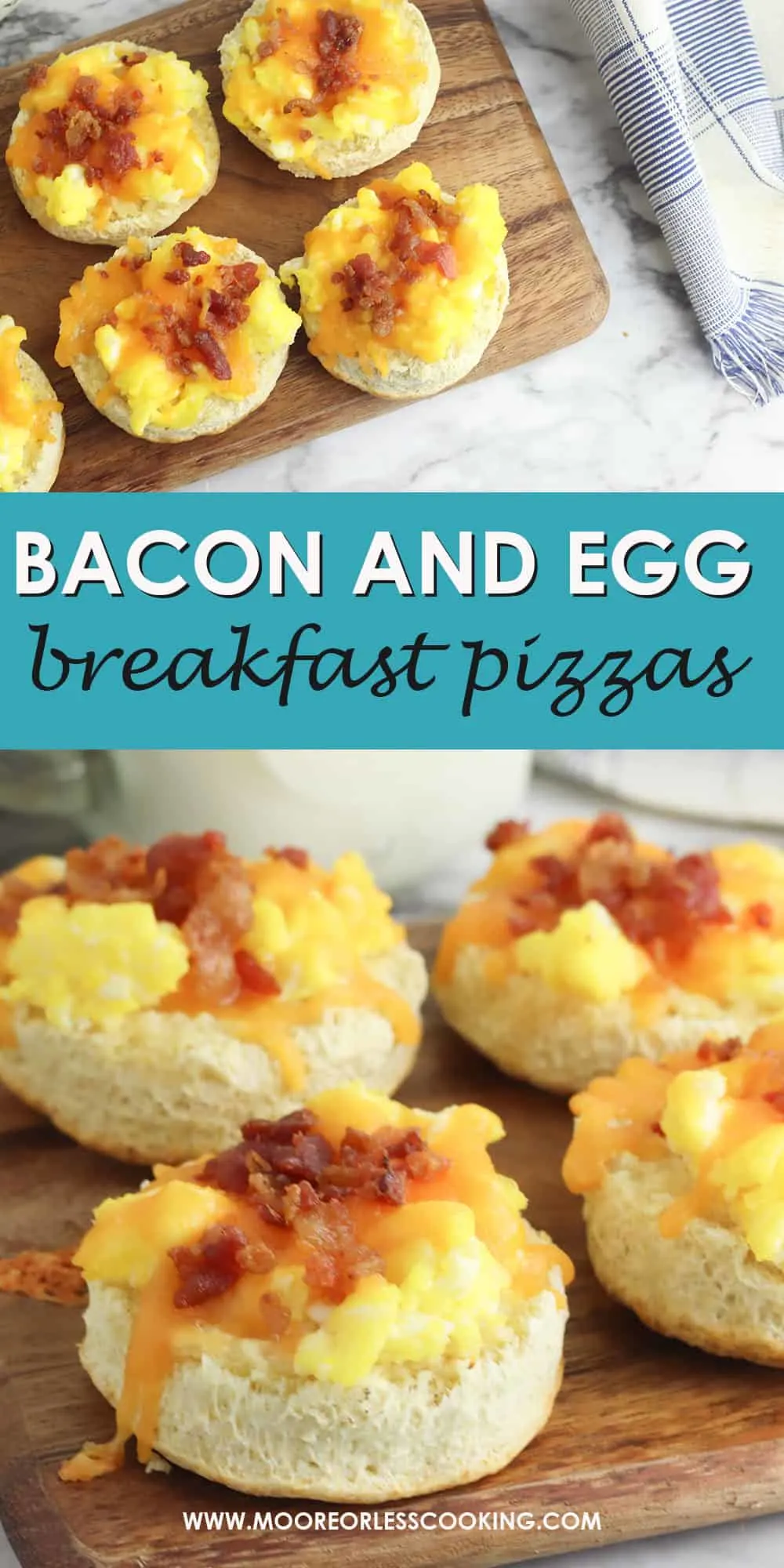 After your biscuits are cooked and cooled, slice each biscuit in half and spread a little bit of butter or margarine over the top of each slice to keep them from drying out as your pizzas bake.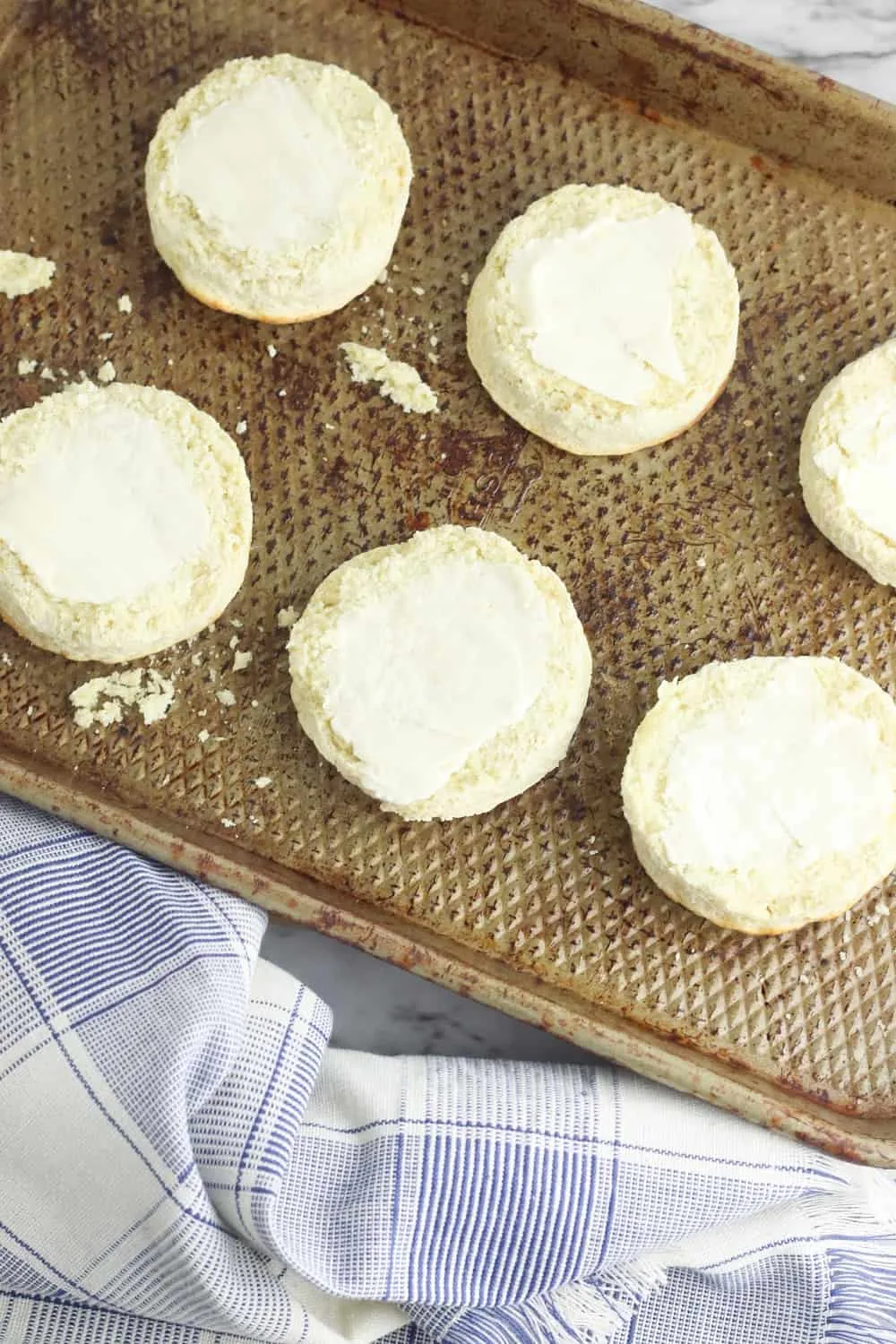 After your biscuit pizza crusts are ready to go, set them aside, and prepare your eggs. Whisk together the eggs and milk, then pour the mixture into a hot skillet coated with nonstick cooking spray. Use a rubber spatula or wooden spoon to scramble the eggs by stirring the eggs constantly as they cook. When all the eggs are cooked through, remove the pan from the heat and carefully spoon the eggs onto the top of each biscuit.
Next, top the eggs with a little bit of cheese. We used shredded cheddar cheese on our mini breakfast pizzas, but any type of cheese would work well for this recipe. You could even use sliced cheese to keep the cheese from making a mess on your pan.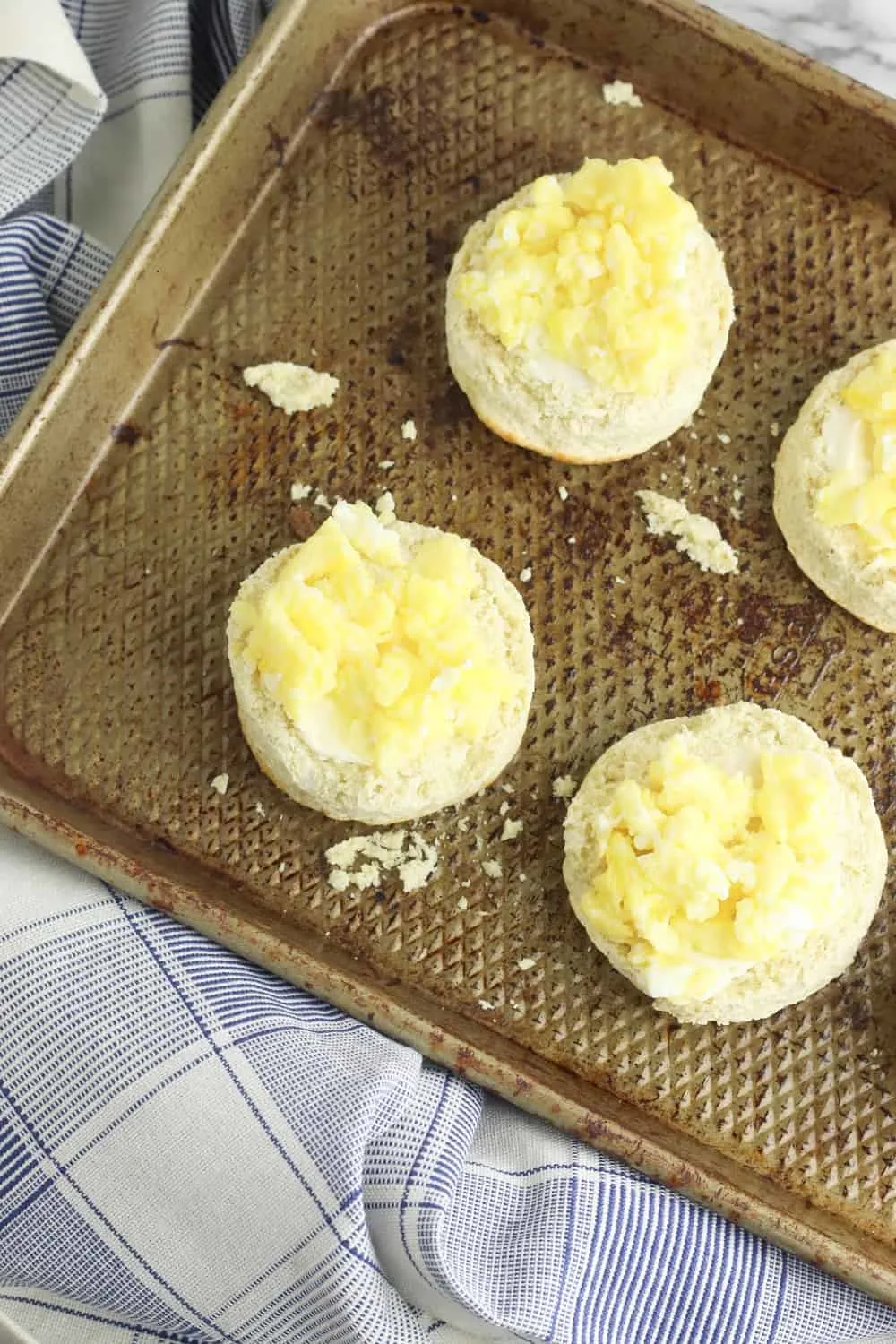 Finish by adding toppings to each of your pizzas. Chopped bacon made the perfect toppings for our mini pizzas, but there are tons of great choices for breakfast pizza toppings!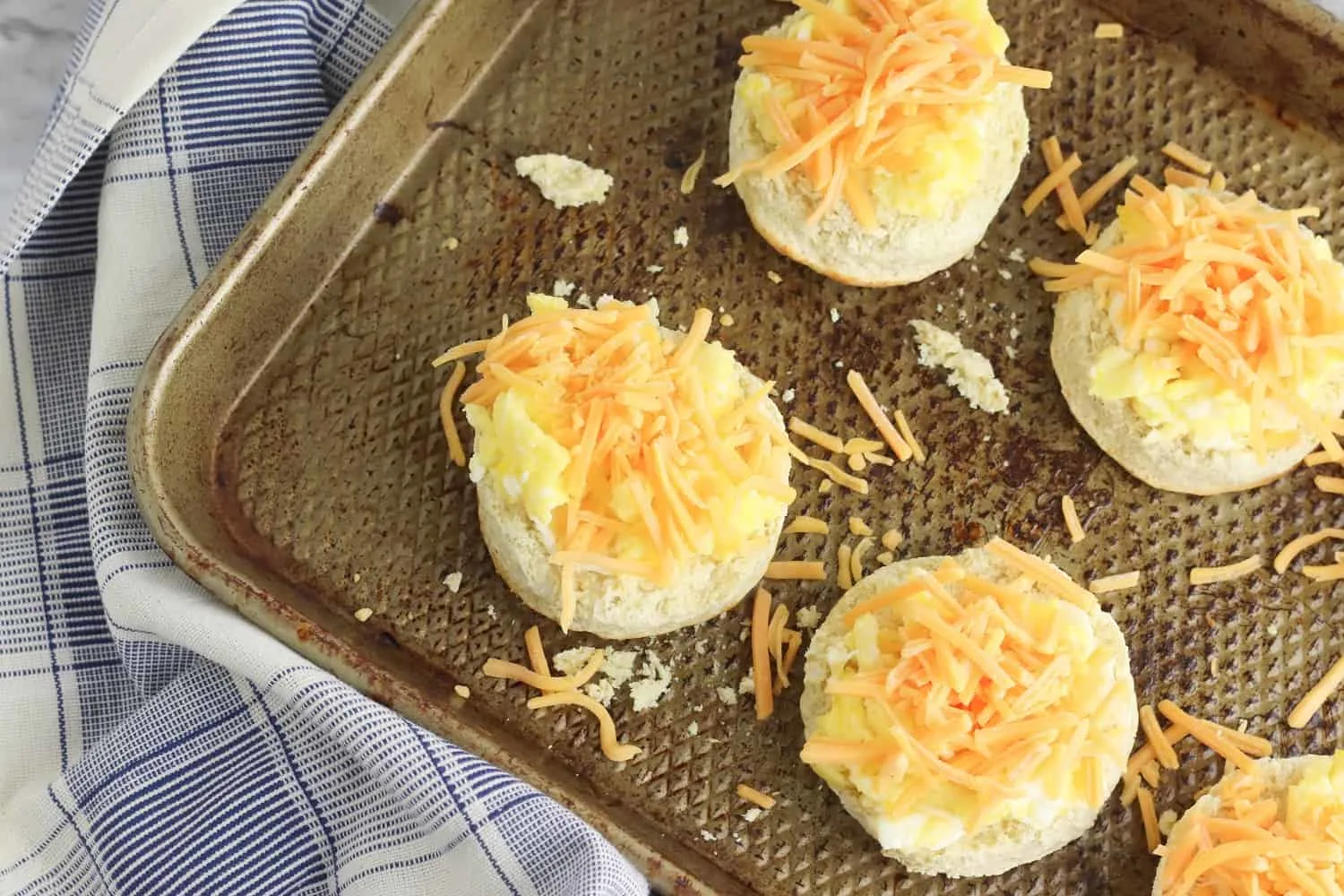 After you're finished adding toppings to your breakfast pizzas, it's time to bake them. Since all the ingredients on your pizzas are already cooked, it won't take long for them to be ready to eat. Cook your pizzas for around 10 minutes in the preheated oven – just enough time for the cheese to melt on top of each of your breakfast pizzas.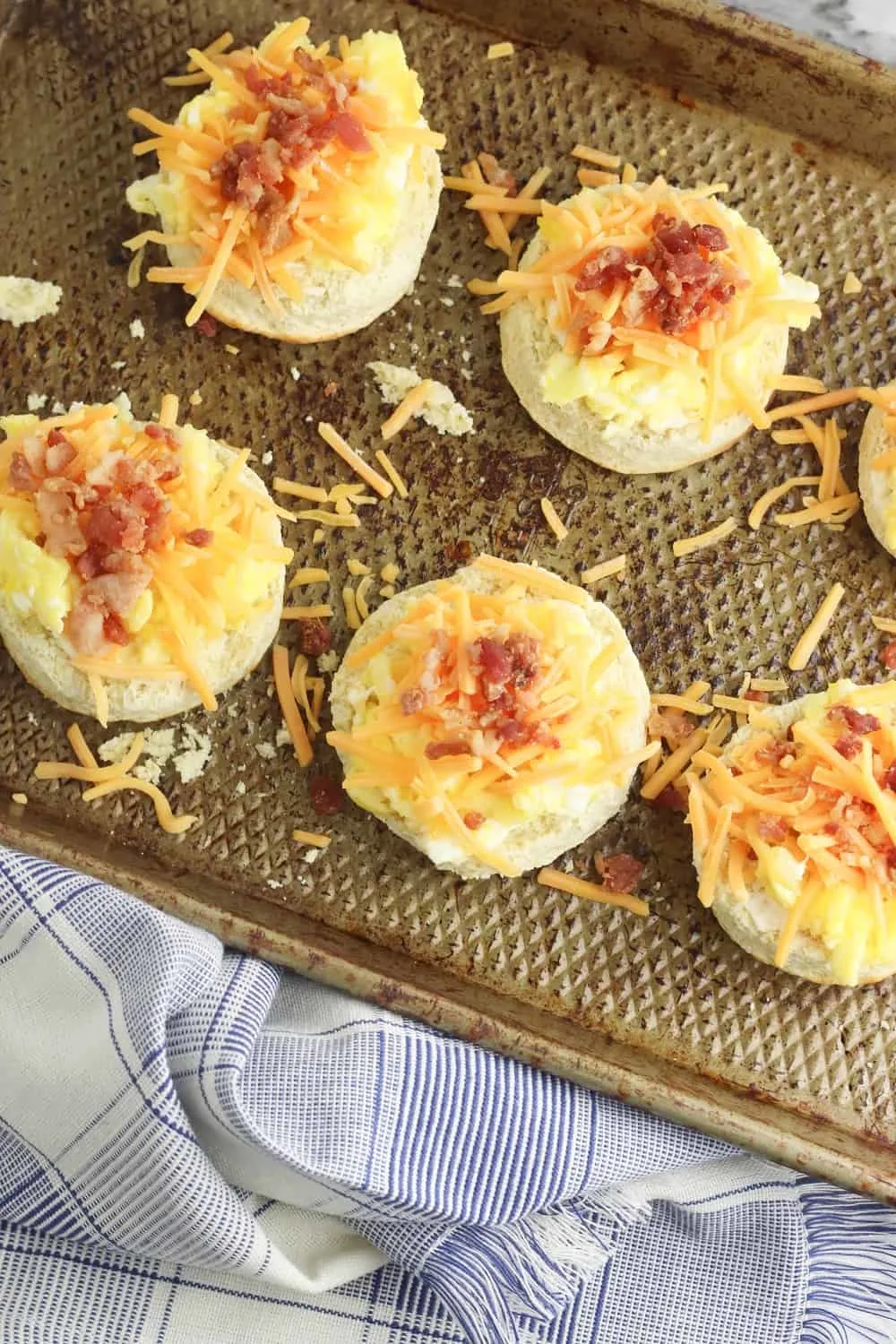 Once these pizzas are removed from the oven, they're ready to eat! And if you have any leftovers, they can easily be reheated in the oven. Just store them in an airtight container and place them on a baking sheet when you're ready to reheat them.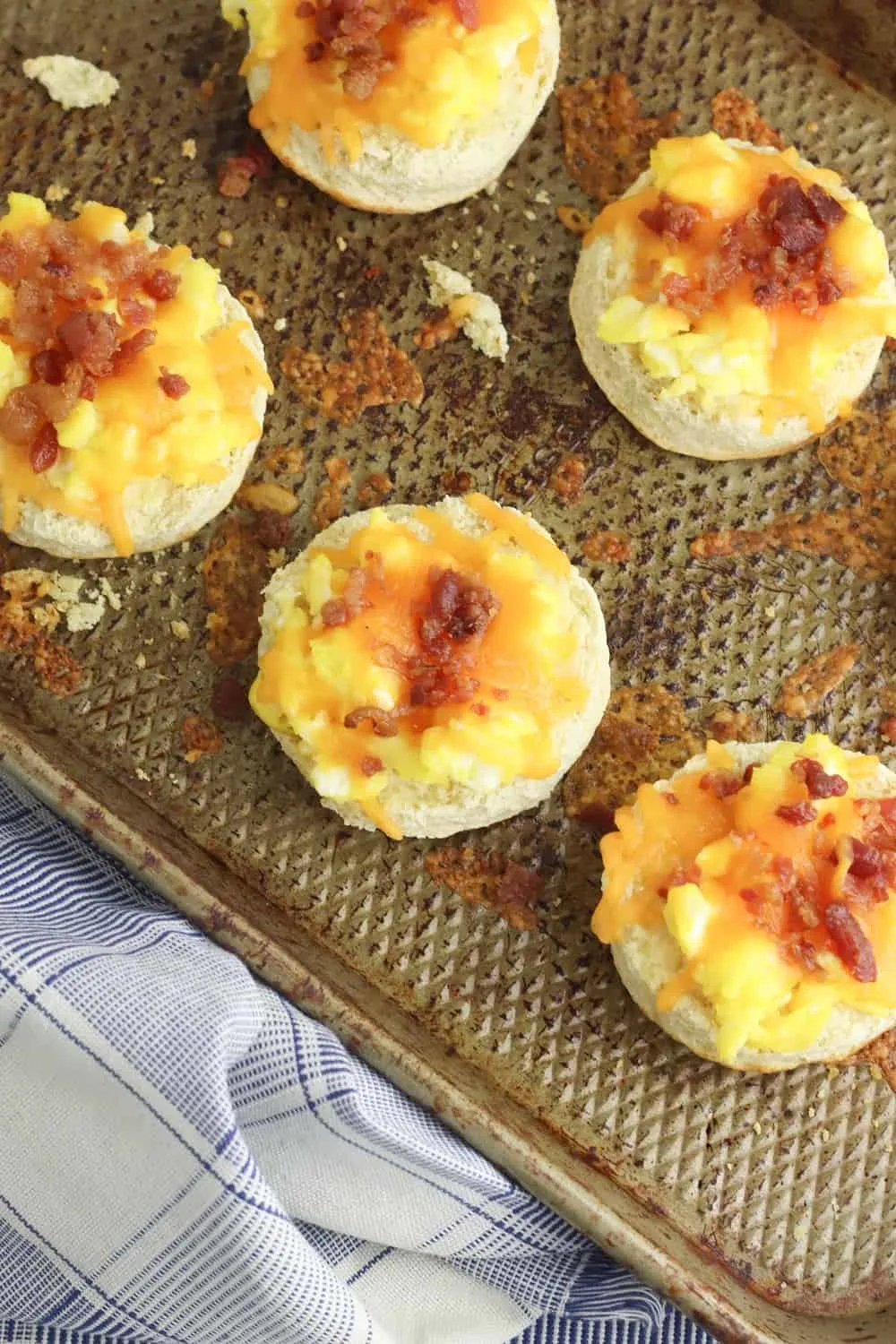 Cook the mini pizzas in a 350-degree oven for around 10 minutes to ensure all the elements are heated through before eating. Your mini breakfast pizzas can also be frozen and reheated in the microwave!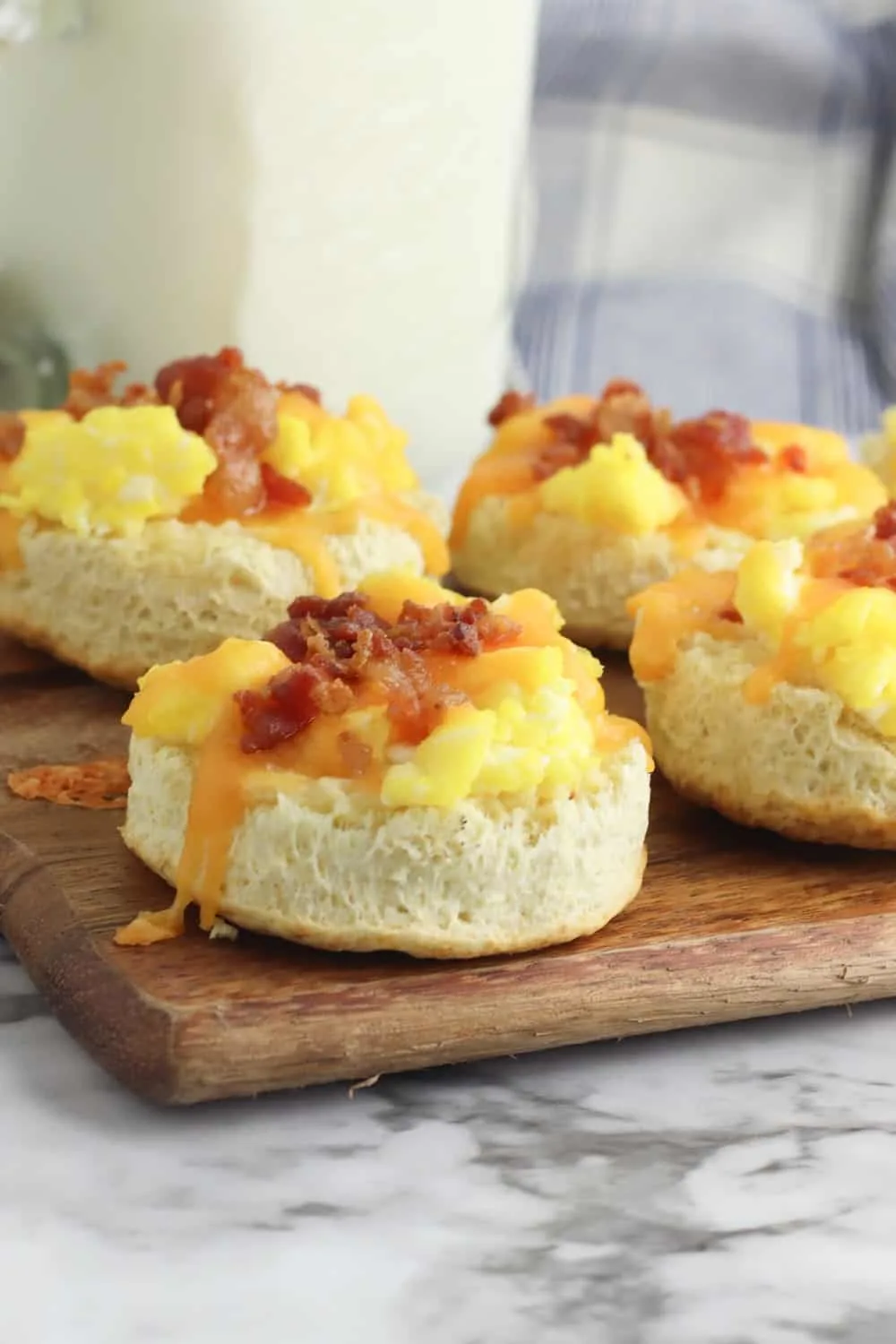 Can these Mini Breakfast Pizzas be frozen?
Just place the cooked pizzas on a cool baking sheet and put the sheet in the freezer. When the pizzas are frozen, transfer them to an airtight container or freezer back. Place in the microwave for around two minutes to thaw out the pizzas.
Breakfast Pizza Variations:
Once you have the base of the mini pizzas prepared, the possibilities for this recipe are endless! There are so many different variations you can make to these mini breakfast pizzas, like:
Sausage pizza

. Swap out the crumbled bacon for crumbled breakfast sausage for a yummy twist to this easy breakfast recipe.

Meat pizza

. Keep the bacon and add sausage, ham, and/or Canadian bacon to the top to add even more meaty goodness to your family's breakfast.

Veggie pizza

. You can top your breakfast pizzas with diced peppers, mushrooms, onions, or spinach for a healthier version of this fun breakfast treat.

Cheese pizza

. Do you have kids at home who don't like meat or veggies? Add some extra flavor to these breakfast pizzas with more cheese. Use Monterey Jack Cheese to add some gooiness to the top of the pizza or spice things up with pepper jack cheese on top of the eggs.

English muffin crust

. Don't have any baked biscuits on hand? Swap out the biscuits for English muffins! Simply slice the English muffins in half, top them with butter, eggs, cheese, and toppings, and bake them according to the recipe instructions for a different take on these mini breakfast pizzas.
More Breakfast Recipes:
Nettie is a wife and mother who is passionate about cooking and baking. With 5 children, Nettie insists that all meals, snacks, and desserts come together quickly! You will find a wide variety of easy yet scrumptious recipes on her very popular website Moore or Less Cooking
Be sure to follow me on Instagram and tag #mooreorlesscooking so I can see all the wonderful recipes that YOU make from this site!
Check out my YOUTUBE with a free email subscription HERE and please share on FACEBOOK and on PINTEREST
Follow Mooreorlesscooking on FACEBOOK | TWITTER | PINTEREST | BLOGLOVIN |INSTAGRAM
Did you make this recipe?
I would love for you to leave a rating and a comment below! How'd you do?!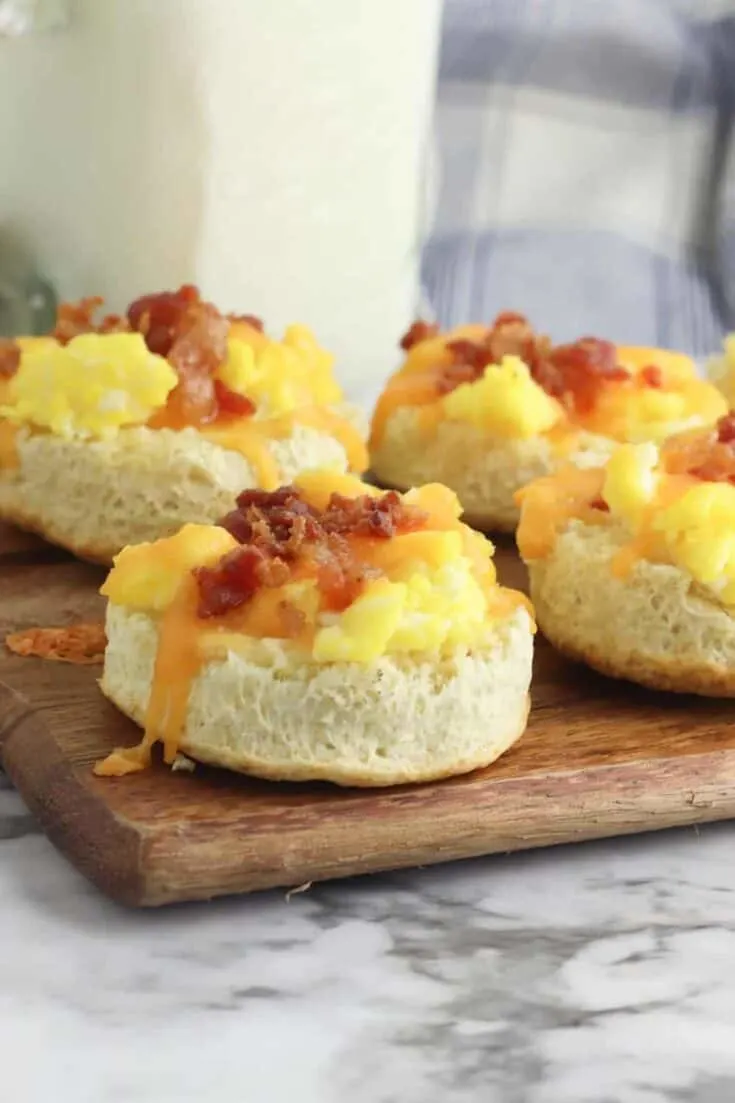 Yield:

16 mini pizzas
Easy To Make Mini Breakfast Pizzas
These simple breakfast pizzas are guaranteed to be popular with everyone at home because they can easily be adapted to different tastes. To make these breakfast pizzas you'll need five basic ingredients.
Ingredients
8 eggs
¼ cup milk
8 strips of bacon, cooked and chopped
Instructions
Preheat oven to 350 degrees.
In a large bowl, whisk together the eggs and milk. Heat a large skillet over medium heat.
When the skillet is warm, spray with nonstick cooking spray and add the egg mixture. Cook until scrambled, stirring constantly. Break the eggs into small bits and set aside.
Slice each baked biscuit in half and place each half on a baking sheet.
Spread butter over the top of each biscuit.
Top each biscuit with scrambled eggs.
Sprinkle cheese over the top of the eggs.
Top each pizza with chopped bacon.
Place the biscuits in the preheated oven and bake for around 10 minutes, until the cheese is melted.
Recommended Products
As an Amazon Associate and member of other affiliate programs, I earn from qualifying purchases.
Nutrition Information
Yield
16
Serving Size
1
Amount Per Serving
Calories

128
Total Fat

10g
Saturated Fat

5g
Trans Fat

0g
Unsaturated Fat

4g
Cholesterol

114mg
Sodium

237mg
Carbohydrates

3g
Fiber

0g
Sugar

0g
Protein

7g