These Best Carrot Cake Cookies with Cream Cheese Frosting are incredibly light and fluffy. Fully loaded with carrots and coconut, then topped with dreamy cream cheese frosting.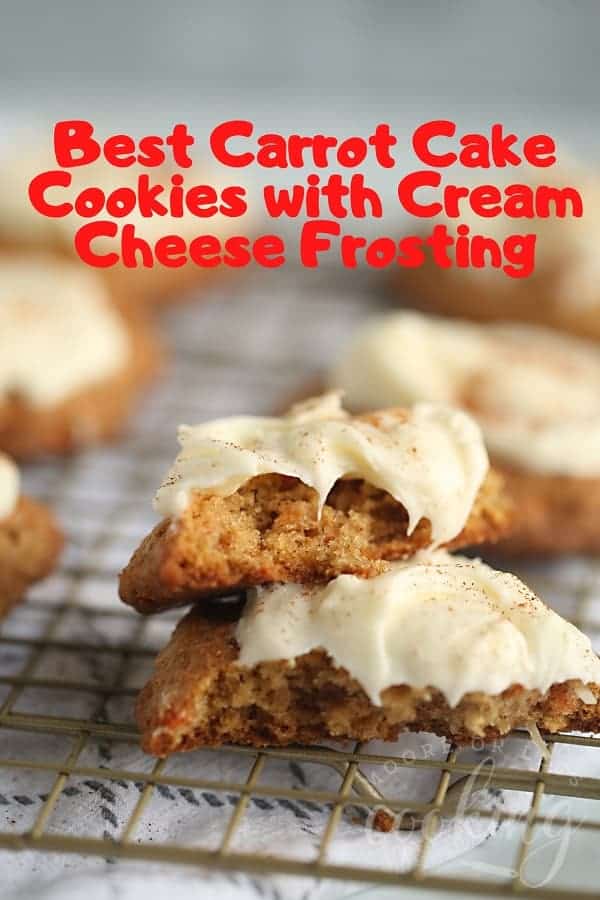 Spring means all things Carrot Cake. With 5 kids in our home, there are a lot of birthdays and spring parties. We have a lot of requests for Carrot Cake's birthday cakes. I have taken those unresistible classic flavors of carrots, cinnamon, and cream cheese and turn them into a cookie. Even better with a Cream Cheese Frosting. We think this cookie tastes just as delicious as our Carrot Cake and it is the perfect delivery device for my Cream cheese Frosting.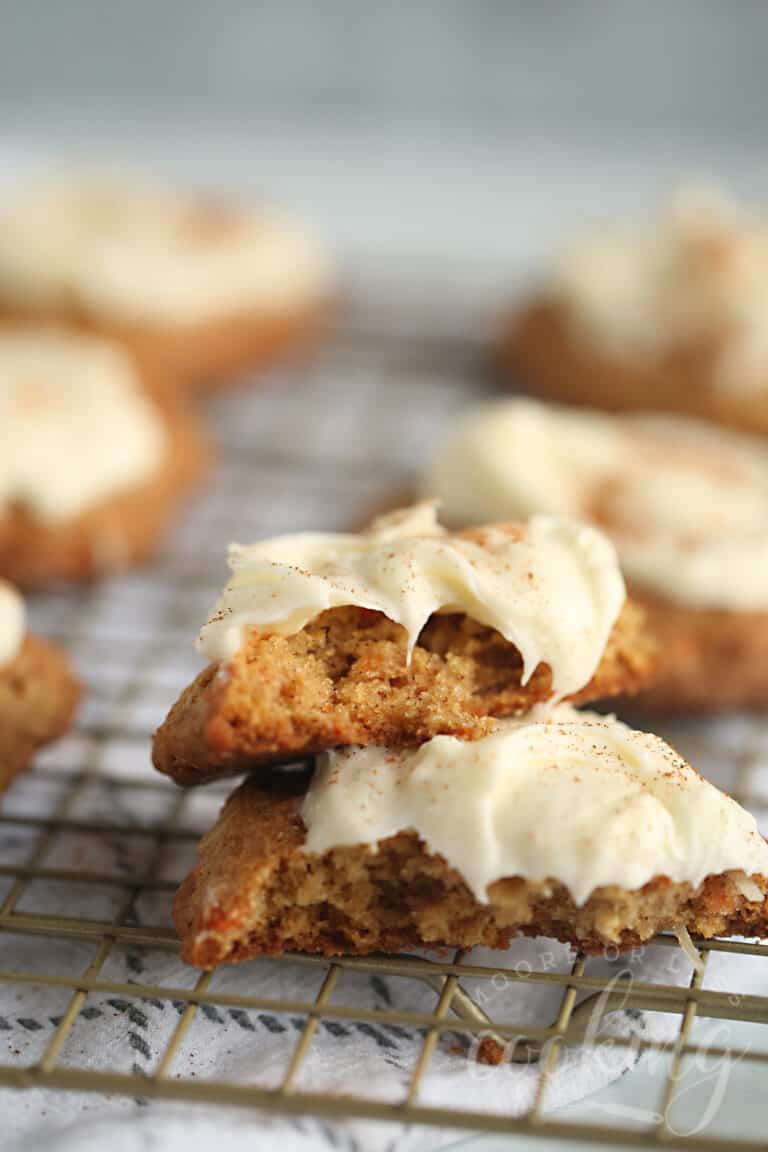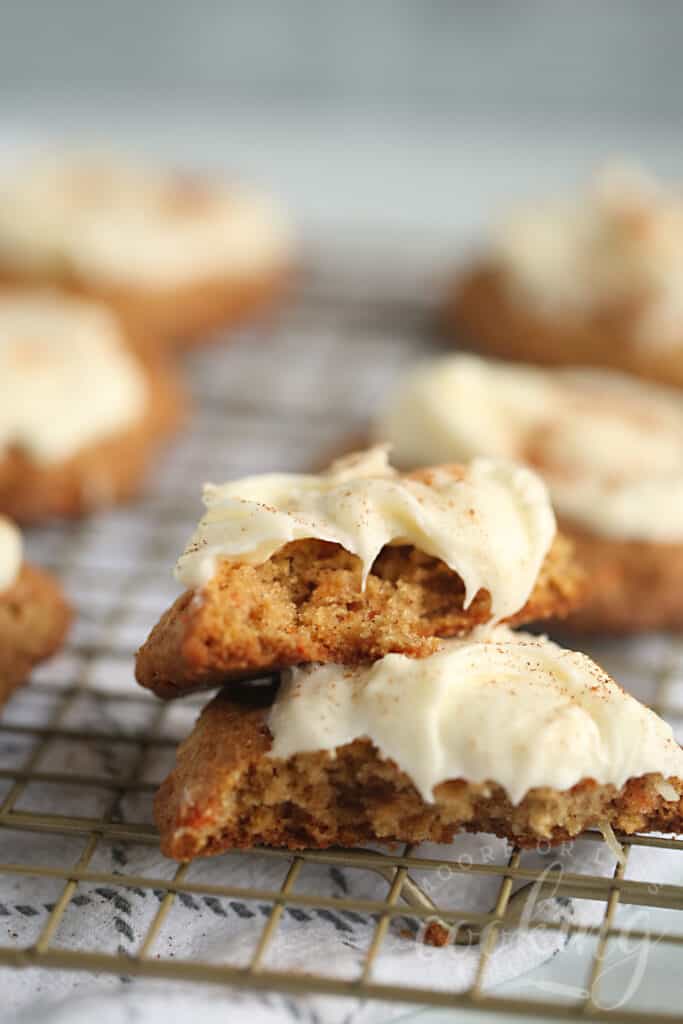 This cookie has the perfect amount of carrots, oats, and coconut and a delicious amount of spice. I promise you that you won't be able to eat just one cookie.
Carrot Cake Cookies Ingredients:
1 stick of butter, 1/2 cup
¾ cup Brown Sugar
1 tsp vanilla extract
1 egg
1 ½ cup Flour
1 tsp Baking Soda
Pinch of Salt
1 tsp Cinnamon
1 cup finely chopped carrots
½ cup quick-cooking oats
⅓ cup shredded coconut
Best Cream Cheese Frosting Ingredients:
½ block Cream cheese
½ cup Heavy cream
½ stick Butter
2 cups Powdered sugar (more or less for desired consistency)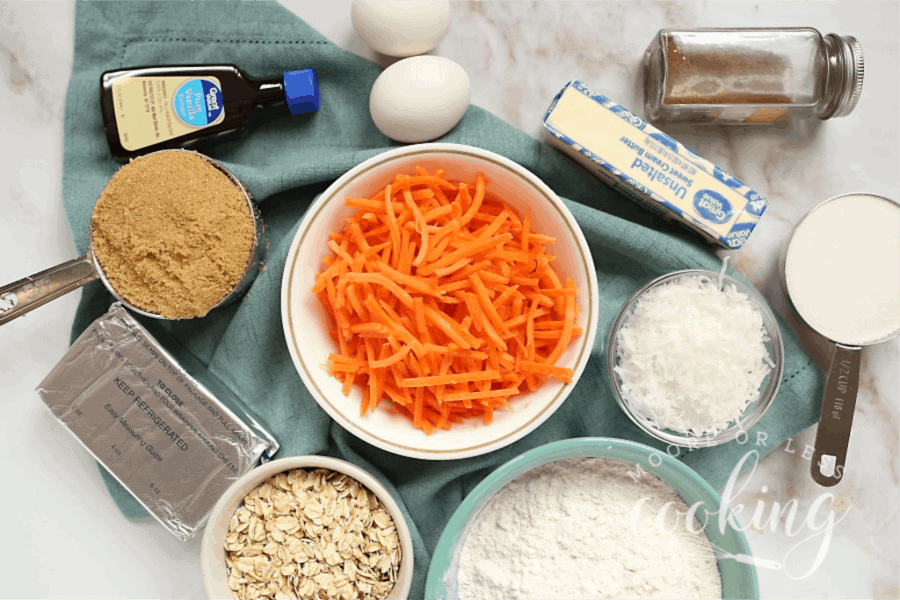 Beat butter and brown sugar together until smooth, then beat in the vanilla and egg.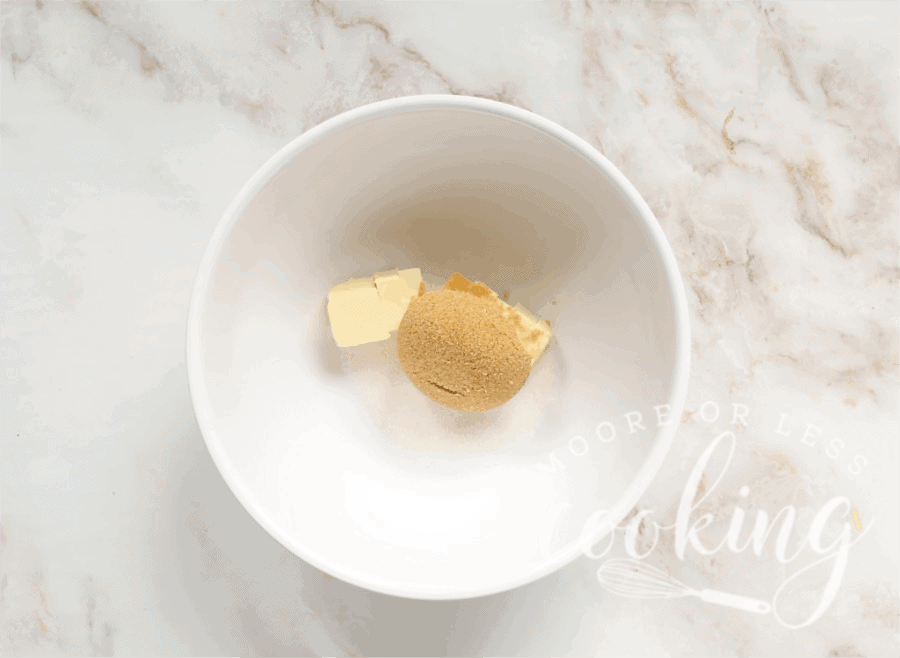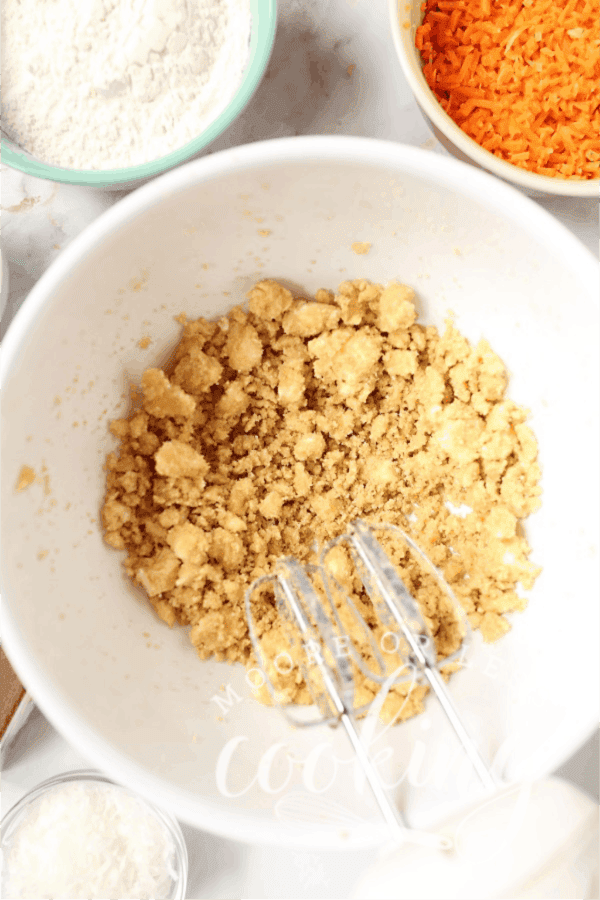 Beat in flour, baking soda, salt, and cinnamon until fully incorporated.
Stir in carrots, oats, and coconut to combine, then scoop out and form into 1 – 1 ½ inch balls.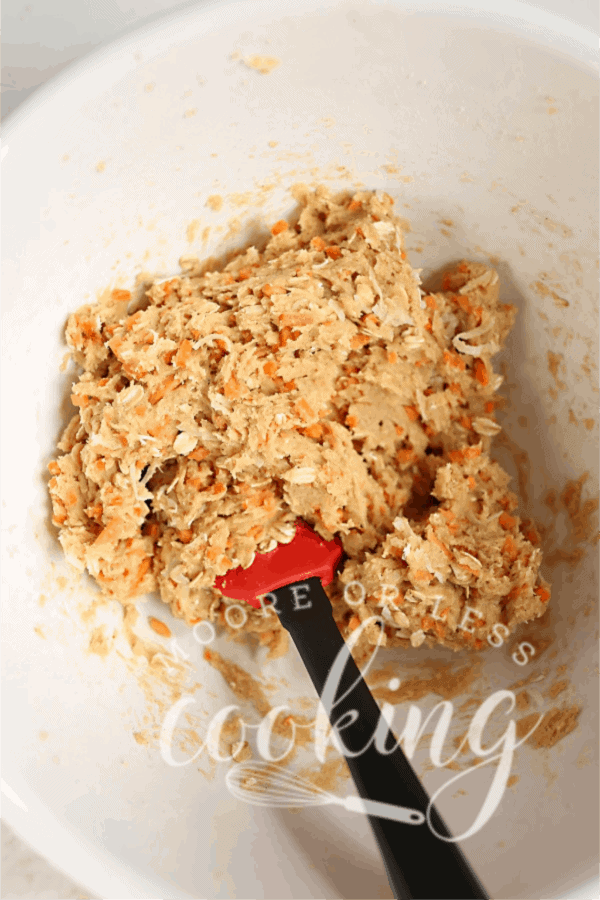 Set balls on a lined baking sheet, and cook at 350 degrees for around 15 minutes. Make sure to let the cookies cool before frosting.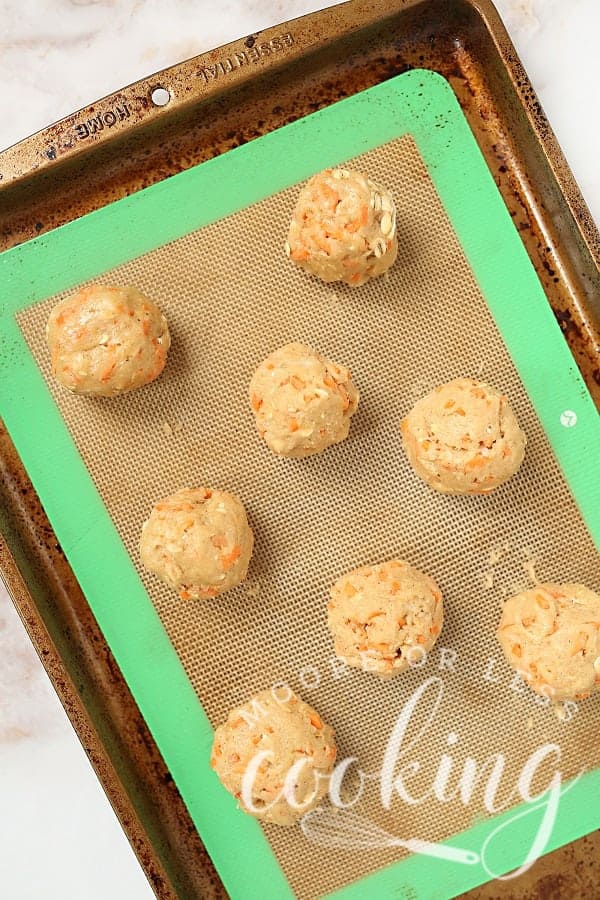 To make the icing, beat together cream cheese, heavy cream, butter, and powdered sugar until smooth. Spread all over cookies and sprinkle with a bit of cinnamon.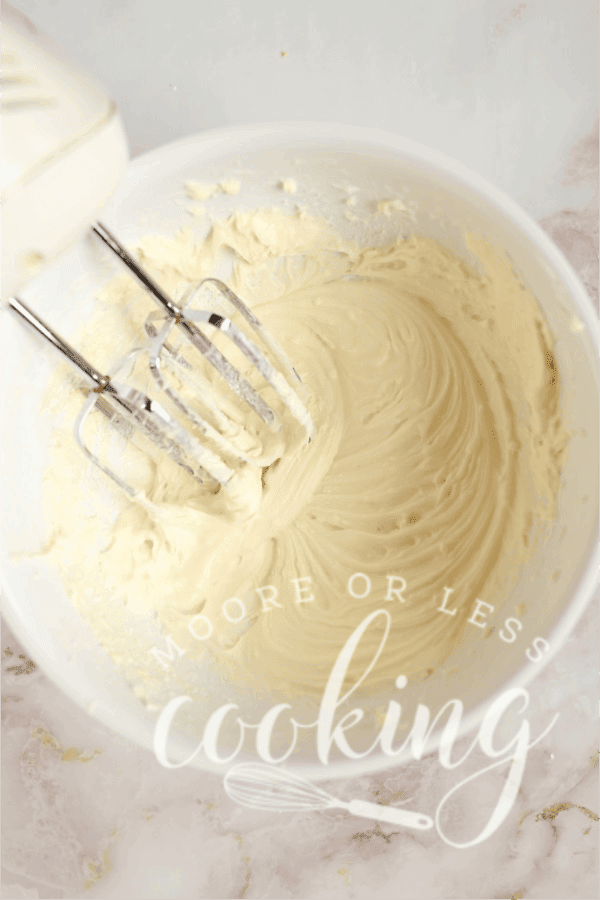 Spread frosting over the cooled cookies.
I may have tried a couple just to be safe 😉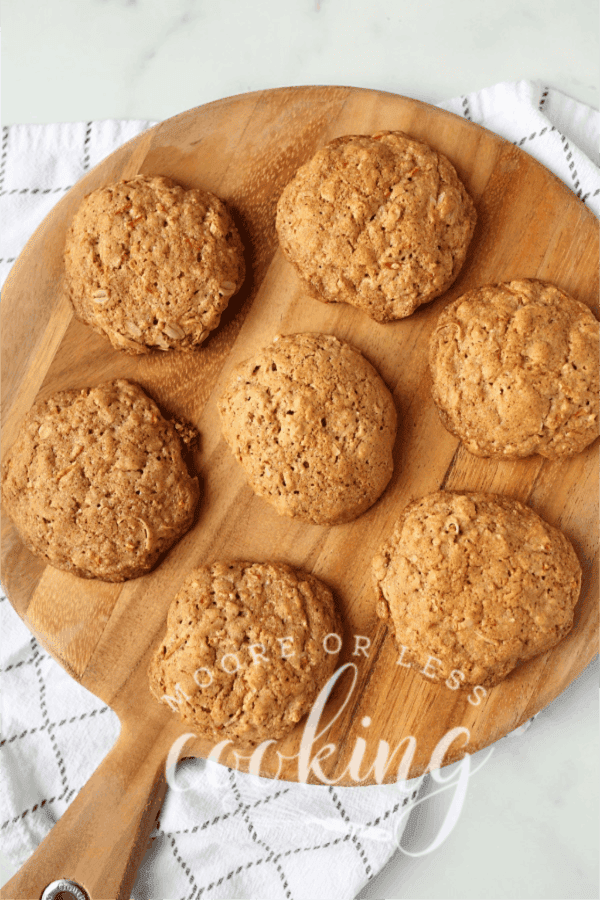 The cookies are really delicious and even more incredible with this Best Cream Cheese Frosting!
CAN CARROT CAKE COOKIES BE FROZEN?
Yes, you can freeze frosted or unfrosted Carrot Cake Cookies.
Place the frosted or unfrosted completely cooled cookies on a baking sheet without touching.
Place the baking sheet in the freezer and freeze cookies until solid.
Wrap each cookie individually in plastic wrap and add to a freezer bag and seal.
When ready to eat, remove the desired amount of cookies from the freezer bag then remove from plastic wrap so condensation doesn't form.
Let Carrot Cake Cookies thaw on the counter for 15-20 minutes.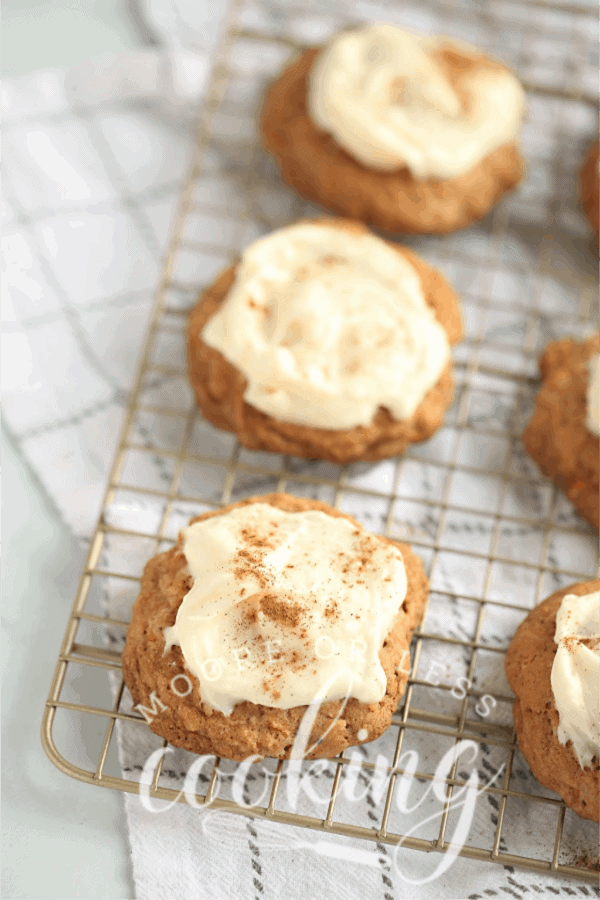 These cookies are so incredibly delicious! Make sure to share them with a friend!
TIPS FOR MAKING CARROT CAKE COOKIES
Like I always say when baking, let your butter and eggs come to room temp. As in all cookies (unless they call for melted butter) never microwave your butter or your cookies will spread too much when baked. The butter should be slightly softened at room temperature and will soften as needed while you beat it.
You will get better results when using the small holes on a box grater to grate the carrots.
Do NOT use pre-grated matchstick carrots. These carrots are too thick for this cookie recipe and the matchstick carrots do not release that much moisture like freshly grated carrots do.
Use quick oats or make your own. Old-fashioned whole rolled oats will not work in this recipe. It will make the batter too dry. Make your own own quick oats by pulsing whole oats in your food processor 5-8 times or until they resemble the consistency of quick oats. EASY!!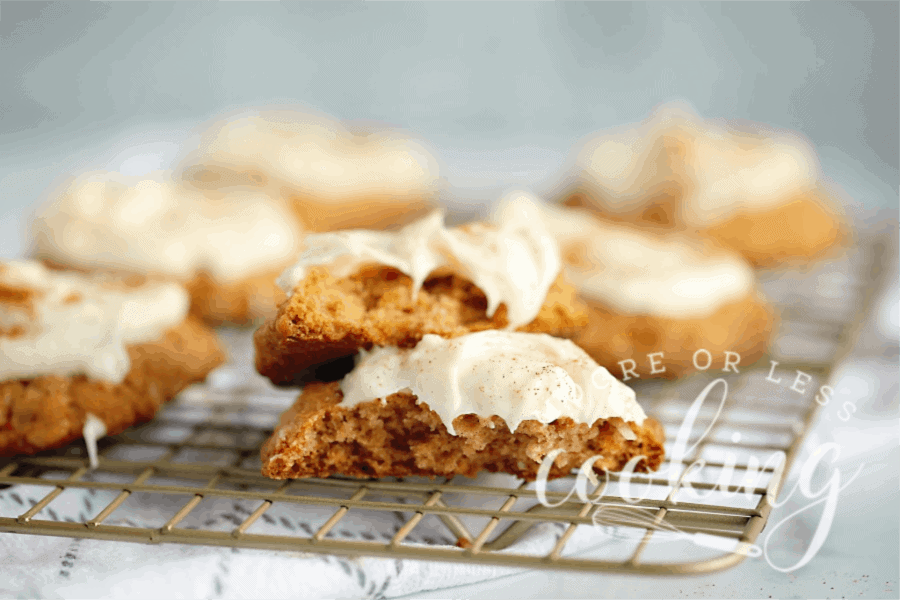 Use a cookie scoop. This is a way easier method for making sure that the cookies are all the same size and bake in the same amount of time. For this recipe, I used a 1 1/2″ or 1 1/2 tablespoon cookie scoop. If you have a different size, that is totally fine, just adjust baking time accordingly. You don't want raw or burnt cookies.
Bake the cookies on parchment-lined baking sheets or use non-stick mats. Your cookies will definitely stick otherwise and parchment/non-stick mats make for easy cleanup. I like the parchment paper that is precut, I also love my non-stick mats.
Flatten Cookies. These cookies won't flatten very much when baked (unless your butter is too soft), so give them a little help and press down a little with your fingers to help flatten or use a measuring cup to flatten.
A perfect cookie for Easter or any Spring celebration!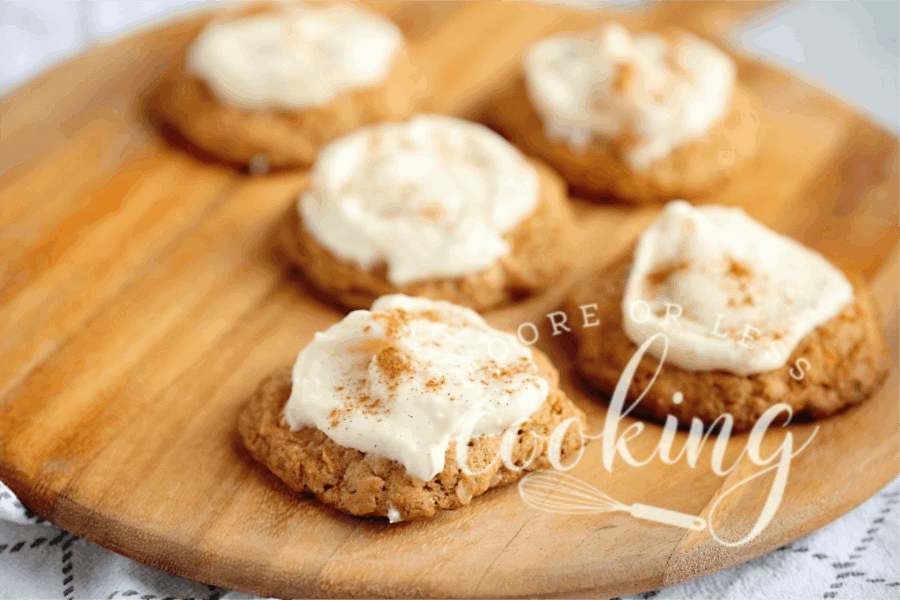 Bake cookies just until edges are golden. The key to soft, chewy cookies is to not overbake them. Take care to remove the cookies from the oven when the edges are slightly golden and the center is set but slightly underdone. They will continue to bake to perfection as they cool. I know some friend's ovens get hotter than others, make sure to check your oven temperature by placing an oven-proof thermometer and then adjust accordingly.
Do NOT microwave butter or cream cheese for Cream Cheese Frosting. This will make your frosting too thin and runny. Let the butter and cream cheese soften at room temperature or it will be too runny. If it is runny for whatever reason, place it in the refrigerator to set a bit.
More Carrot Cake Recipes:
More Cookie Recipes:
Please remember to share on Facebook and save this roundup to Pinterest.
WANT TO TRY THESE Best Carrot Cake Cookies with Cream Cheese Frosting?
PIN IT NOW!
FIND ME ON PINTEREST FOR MORE GREAT RECIPES!
Be sure to follow me on Instagram and tag #mooreorlesscooking so I can see all the wonderful recipes that YOU make from this site!
Grab a free printable copy of our Best Carrot Cake Cookies with Cream Cheese Frosting recipe:
If you like this Best Carrot Cake Cookies with Cream Cheese Frosting recipe, rate it! We'd also love to hear your thoughts in the comments below.
Nettie is a wife and mother who is passionate about cooking and baking… especially when easy meals are involved! With 5 children, Nettie insists that all meals, snacks, and desserts come together quickly! You will find a wide variety of easy yet scrumptious recipes on her very popular website Moore or Less Cooking
Follow Mooreorlesscooking on Social Media: FACEBOOK | TWITTER | PINTEREST | BLOGLOVIN |INSTAGRAM|YOUTUBE
Yield:

24 cookies

Best Carrot Cake Cookies

Additional Time:

5 minutes

These Best Carrot Cake Cookies with Cream Cheese Frosting are light and fluffy. These cookies are full of carrots and cinnamon and topped with a delicious cream cheese frosting.

Ingredients

Cookies:
1 egg
Cream Cheese Frosting:

Instructions

Beat butter and brown sugar together until smooth, then beat in vanilla and egg.
Beat in flour, baking soda, salt, and cinnamon until fully incorporated.
Stir in carrots, oats, and coconut to combine, then scoop out and form into 1 - 1 ½ inch balls.
Set balls on a lined baking sheet, and cook at 350 degrees for around 15 minutes.
Cool before frosting.
To make the icing, beat together cream cheese, heavy cream, butter, and powdered sugar until smooth.
Spread over cookies and sprinkle with cinnamon.

Recommended Products

As an Amazon Associate and member of other affiliate programs, I earn from qualifying purchases.

Nutrition Information

Yield

24 cookies

Serving Size

1 Amount Per Serving

Calories

177

Total Fat

9g

Saturated Fat

6g

Trans Fat

0g

Unsaturated Fat

3g

Cholesterol

30mg

Sodium

123mg

Carbohydrates

23g

Fiber

1g

Sugar

15g

Protein

2g