Yum




We are a braces- free family! I haven't made any caramel, popcorn treats because someone in our family couldn't eat them, they would be a braces nightmare! But those days are behind us and chewy sticky treats are here!
These Chocolate Covered Caramel Popcorn Balls are an easy treat to make and they got rave reviews from my testers! I sent them to school and work and everyone loved them!
Pop some popcorn and add melted caramel!
Stir caramel and popcorn with a spoon until all of the popcorn is coated with caramel. That caramel is hot! Don't touch it with your fingers and taste it like I did, third degree tongue burn!
After a couple minutes, make some popcorn balls. Coat hands with Pam Cooking spray or butter and grab some caramel popcorn, shape with hands to make a ball. This recipe makes ten popcorn balls.
Place a candy stick in each popcorn ball. makes it easier to dip in chocolate.
Melt chocolate chips in a microwave safe dish, roll popcorn balls in chocolate.
Decorate with festive sprinkles! It's Halloween now soon I decorated with black and orange, but you can switch up the colors for any holiday!
I used Chocolate Cookie Icing to make the decorative loops. We had a great time decorating these delicious popcorn balls and couldn't wait to eat them!
Make them for your Halloween Party!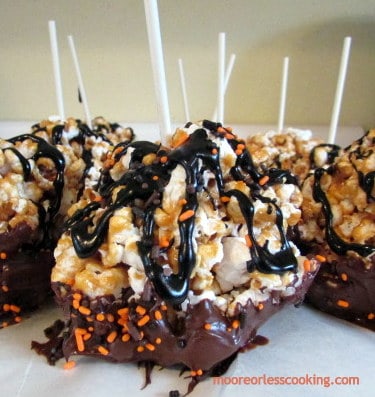 Yield:

10 Popcorn Balls
Chocolate Covered Caramel Popcorn Balls
Ingredients
14 cups popped plain popcorn, 1 cup un-popped popcorn
1 (14 oz.) package Caramel Candies, unwrapped
4 tablespoons butter, softened
10 lollipop sticks
1 (12 oz.) package semi-sweet chocolate chips, melted
Orange and Black sprinkles for decorations
Black Cookie Icing
Instructions
Pop the popcorn.
Place the popped popcorn in a large bowl. Take out kernels. Set aside.
Put the unwrapped caramels and butter in a medium-sized saucepan; cook over medium-low heat and stir until melted and smooth.
Remove from heat and pour over popcorn.
Mix until all the popcorn is well coated. Let stand for a couple of minutes to cool.
Place chocolate chips in a microwave bowl, heat for 30 second intervals, stir, until chocolate is melted and smooth.
Grease your hands with Pam Cooking Spray shape the popcorn into the size of a ball.
Stick a lollipop stick in each popcorn ball and dip each popcorn ball into melted chocolate, then roll in sprinkles.
Place on waxed paper until chocolate is set.
This recipe is part of our Candy Series!
Make sure to check out these wonderful recipes!
Tampa Cake Girl Snickers Overload Cheesecake
Hun, What's for Dinner No Bake Peanut Butter Cheesecake Pops
The Rowdy Baker MACADAMIA NUT EYEBALLS
Cooking From A Stay At Home Mom Spider Crunch Bites
LINKED UP: