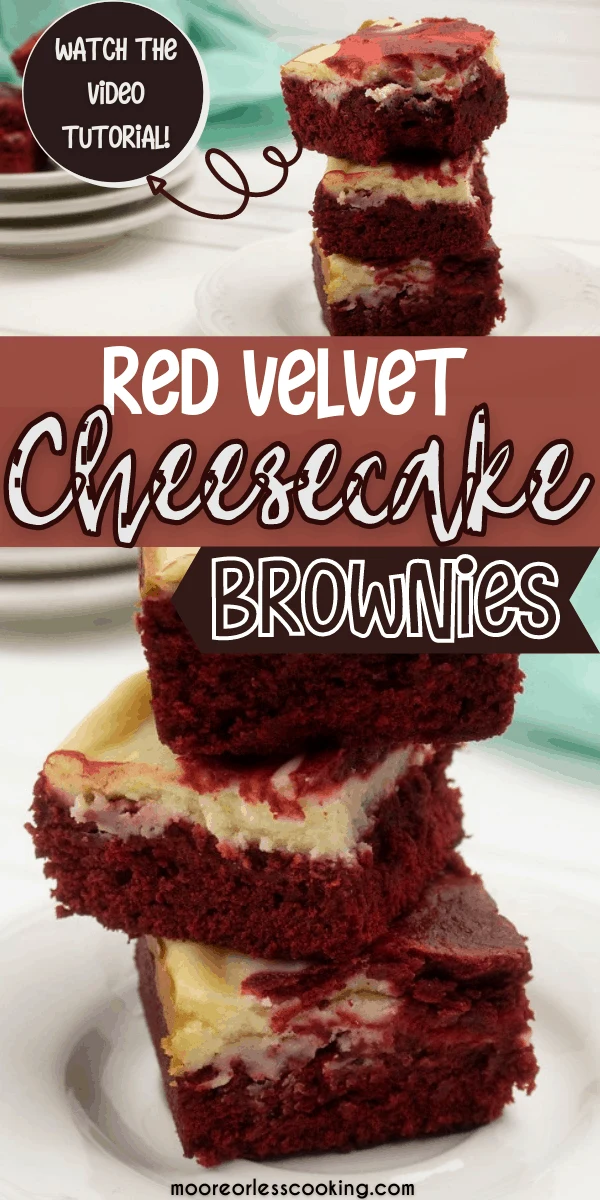 Red Velvet Cheesecake Brownies
Bite into one of these decadent Red Velvet Cheesecake Brownies and taste the perfect combination of chocolate with a sweet cheesecake topping that's lightly swirled into the brownie. It's positively swoon-worthy!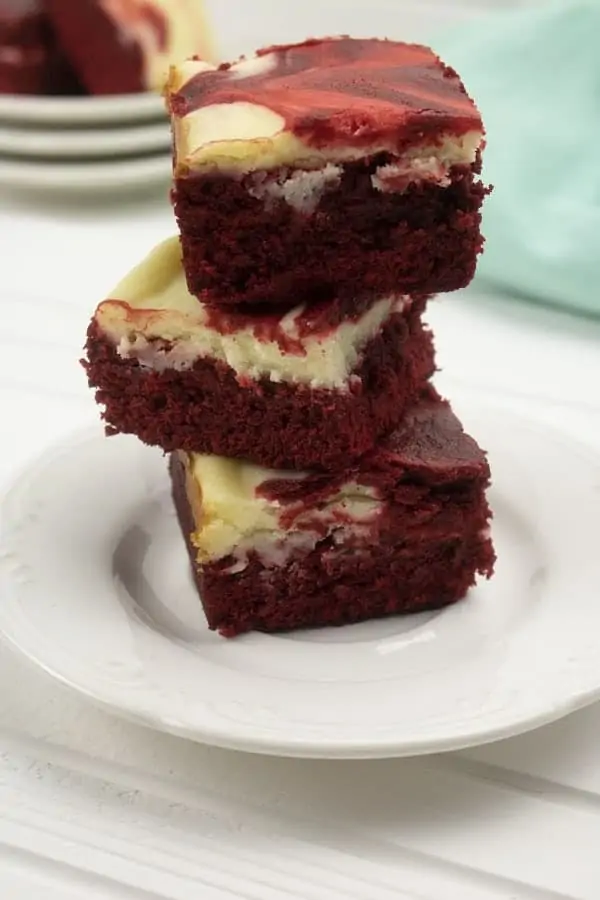 These impressive Red Velvet Cheesecake Brownies are everything you love about red velvet cake, brownies, and cheesecake, combined into a beautiful and delectable dessert. These rich and buttery red velvet brownies are the perfect holiday sweet treat to make for Christmas or Valentine's Day. They would even work on the 4th of July! When you need a luscious dessert that's not only stunning to look at, make these Red Velvet Cheesecake Brownies.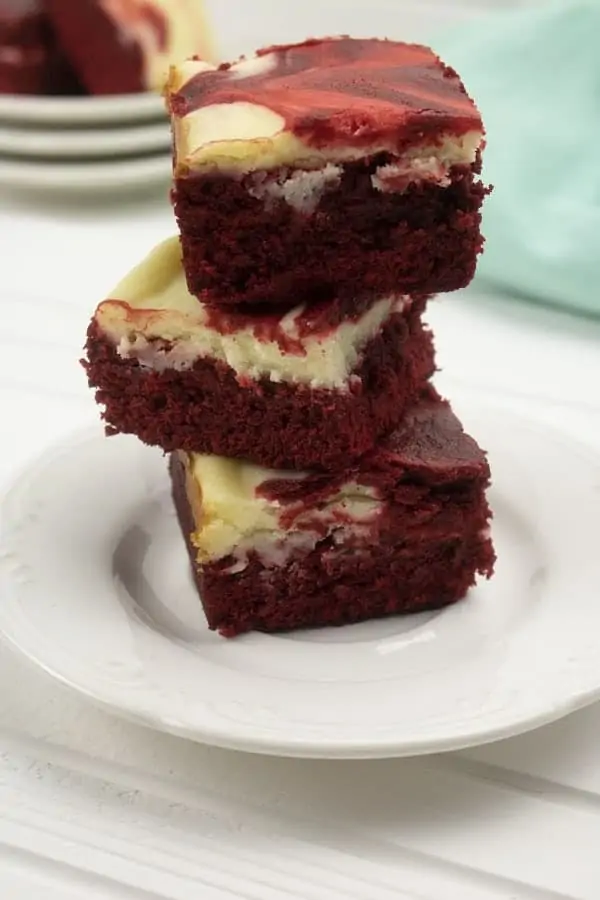 What is red velvet?
Red velvet is a term used to describe a batter that is part Cocoa chocolate and part vanilla but with a tangy taste thanks to buttermilk in the batter. On top of that, the batter has red food coloring added to it for a rich and colorful effect. Red velvet desserts are often frosted with a sweetened cream cheese which pairs perfectly with the delicious flavors in the batter.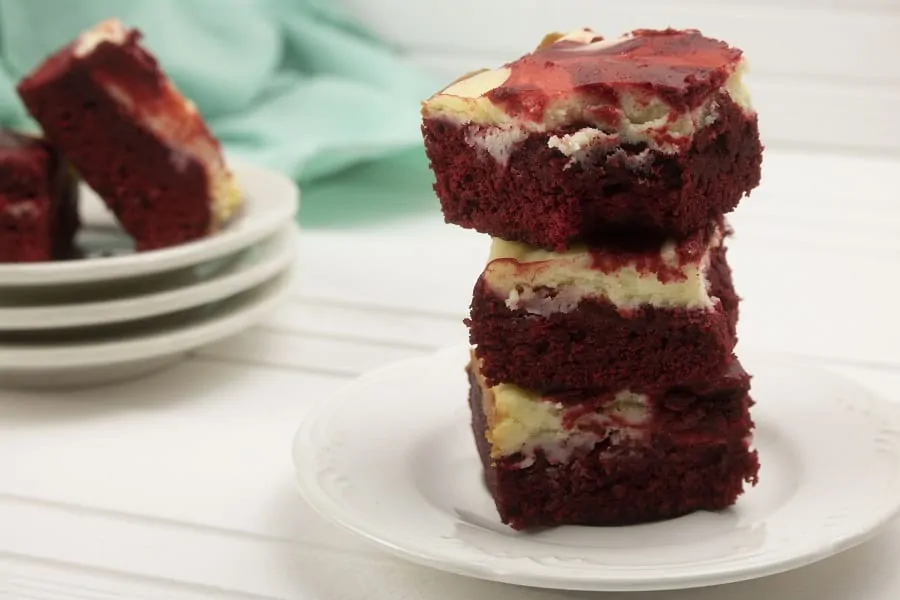 Is this recipe complicated?
No, this recipe is straightforward and it uses common pantry items. If you've never made red velvet desserts before, don't worry! This recipe will walk you through the simple process. The cheesecake swirl on top is easy to create, too. You can have this batter in the oven in about 10 minutes, from start to finish.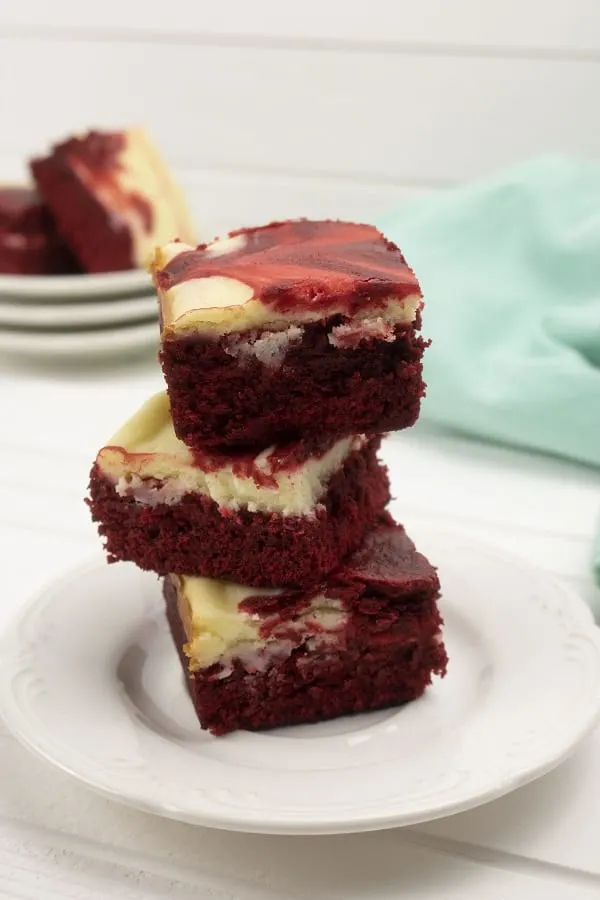 What ingredients do I need to make these Red Velvet Cheesecake Brownies?
The specific measurements for each ingredient listed here can be found further down in the recipe card.
Unsalted butter
Sugar
Brown sugar
Vanilla extract
Eggs
Unsweetened cocoa powder
Salt
Red food coloring
Buttermilk
White vinegar
Flour
Cream cheese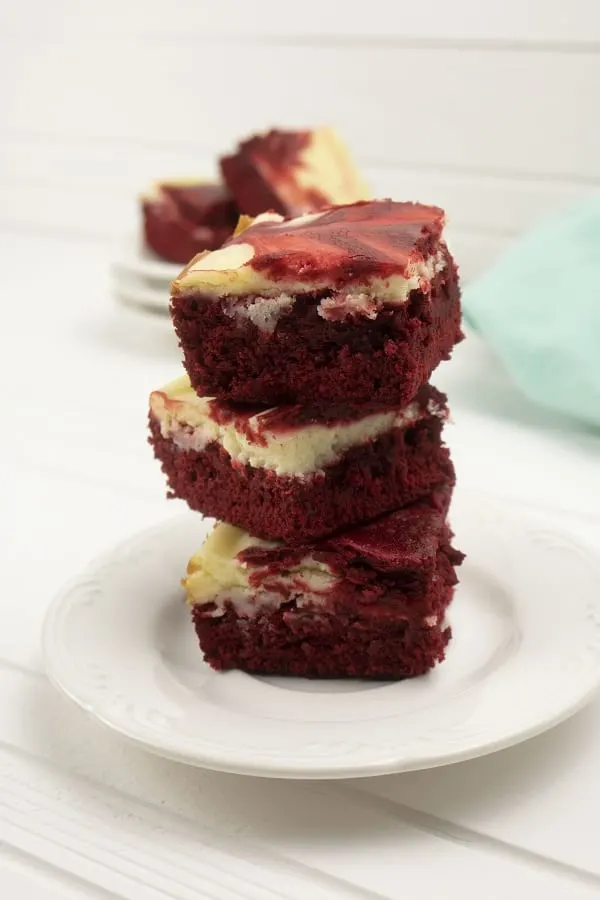 Here's how to make these Red Velvet Cheesecake Brownies
Preheat your oven to 350 degrees Fahrenheit. Go ahead and prepare an 8×8 metal pan by lining it with parchment paper and lightly spraying it with nonstick cooking spray.

In a glass bowl, melt a stick of butter in the microwave, Whisk in by hand, the white and brown sugars, vanilla extract, eggs, unsweetened cocoa powder, salt, red food coloring, buttermilk, and white vinegar. When that is mixed, add in flour and combine well. Set the bowl aside and move on to making the cheesecake mixture.

Grab your handheld mixer and a clean bowl to make the cheesecake. Beat the softened cream cheese with sugar and egg until smooth.

Pour most of the brownie batter into the pan, reserving about a cup for later. Now spread the cheesecake mixture over the top of the brownie batter. Take the reserved brownie batter and pour that over the cheesecake layer.

Using a knife, insert it about halfway into the batter and gently swirl the top batter and cheesecake layers together to create a marble effect.

Bake the brownies for approximately 35 minutes. Let cool completely before slicing and serving.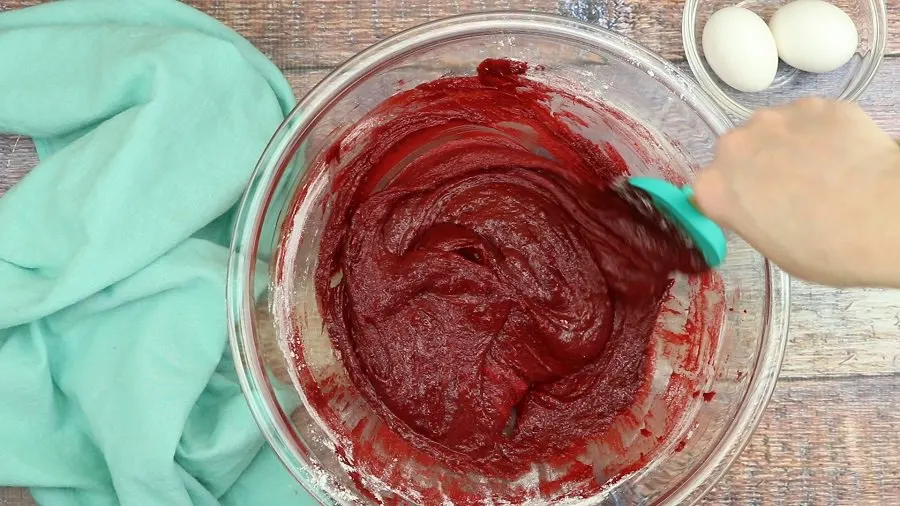 Tips for making these Red Velvet Cheesecake Brownies
Have all the ingredients at room temperature. Go ahead and set your butter, eggs, and cream cheese on the counter in advance to reach room temperature.

Use red gel food coloring rather than liquid food coloring. The gel will give you a more saturated hue than the liquid. Also, with the liquid, you would need to use more coloring to try to achieve a pretty tone. Go with the gel.

Don't skip adding the vinegar just because you think the buttermilk will do the trick. You need buttermilk AND vinegar to achieve the acidity in the batter. The vinegar will help develop the flavor that red velvet desserts are known for.

If you want a fudgy brownie, use a little less flour. More flour equals a more cake-like texture while less flour means a more dense and fudgy texture.

Don't over swirl the top. You want the pretty marble effect to show on the top when baked, so swirl gently and stop before you think you should.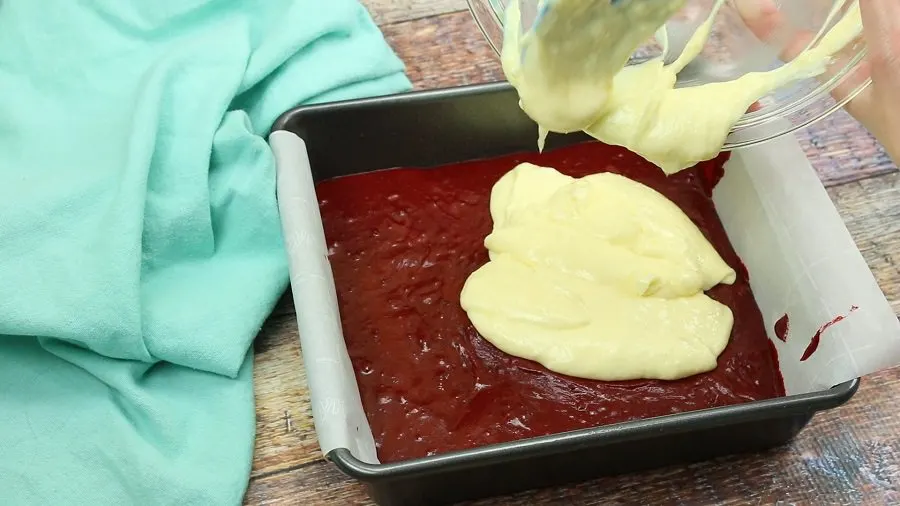 How to store these Red Velvet Cheesecake Brownies
Because of the cream cheese content, these brownies should be stored, tightly covered, in the refrigerator. Only store them on the counter, tightly covered, if they will be eaten within 24 hours.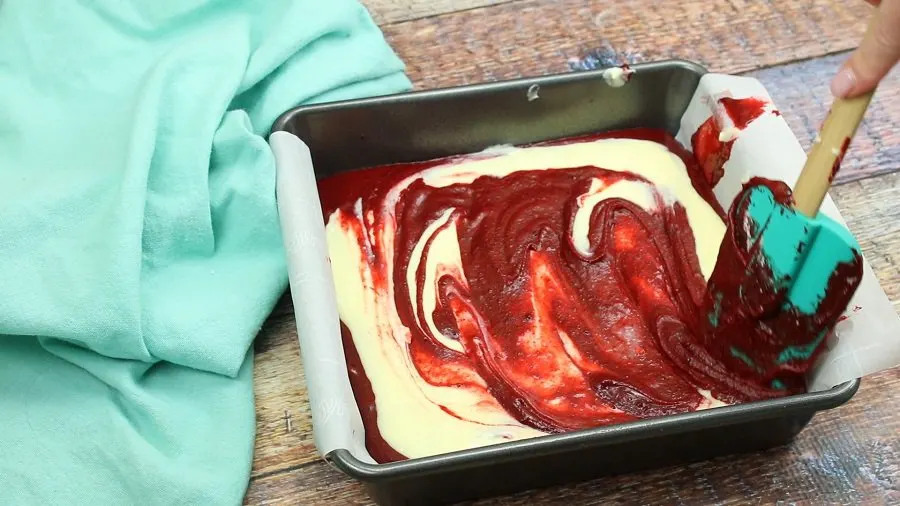 Are these Red Velvet Cheesecake Brownies freezer-friendly?
Yes, they are. Make sure and wrap each individual brownie in plastic wrap and then tightly in foil. You can store these in the freezer for up to 2 months. Defrost in the fridge.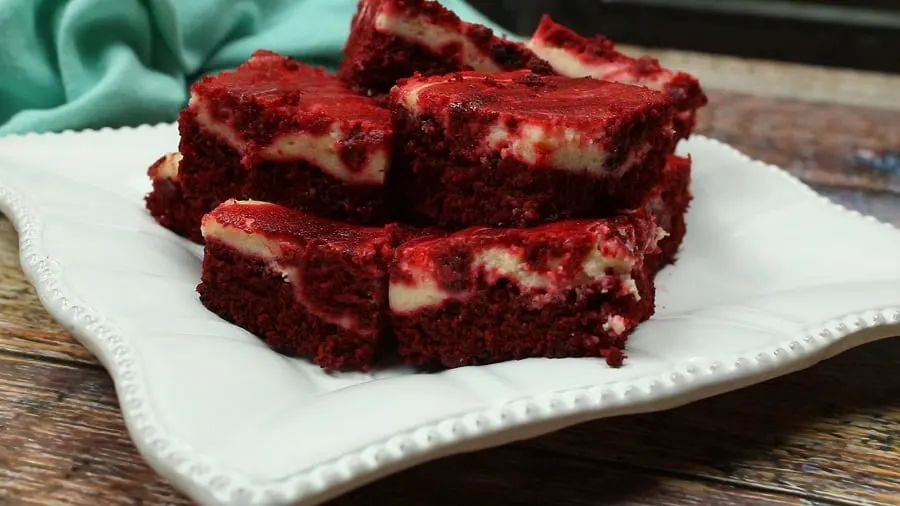 From its vibrant red color to the marbled swirl of the cheesecake, your friends and family will appreciate these outrageously delicious and gorgeous Red Velvet Cheesecake Brownies. Deceptively simple to put together, these red velvet brownies are destined to become one of your favorite desserts to make.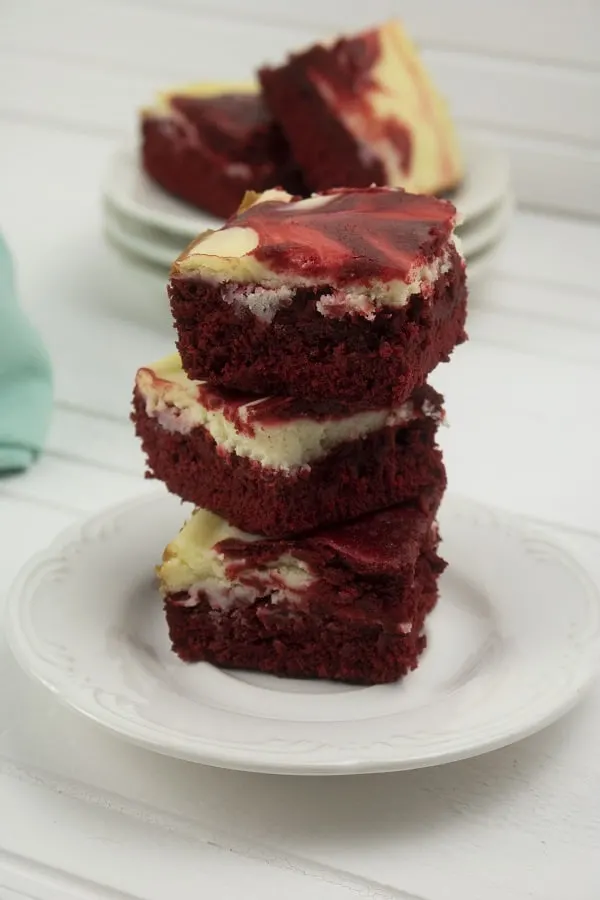 Related Recipes
Chocolate Ganache Holiday Brownies
Nettie is a wife and mother who is passionate about cooking and baking. With 5 children, Nettie insists that all meals, snacks, and desserts come together quickly! You will find a wide variety of easy yet scrumptious recipes on her very popular website Moore or Less Cooking
Follow me on FACEBOOK and PINTEREST
Be sure to follow me on Instagram and tag #mooreorlesscooking so I can see all the wonderful recipes that YOU make from this site!
Did You Make This Recipe?
I would love for you to leave a rating and a comment below! How'd you do?!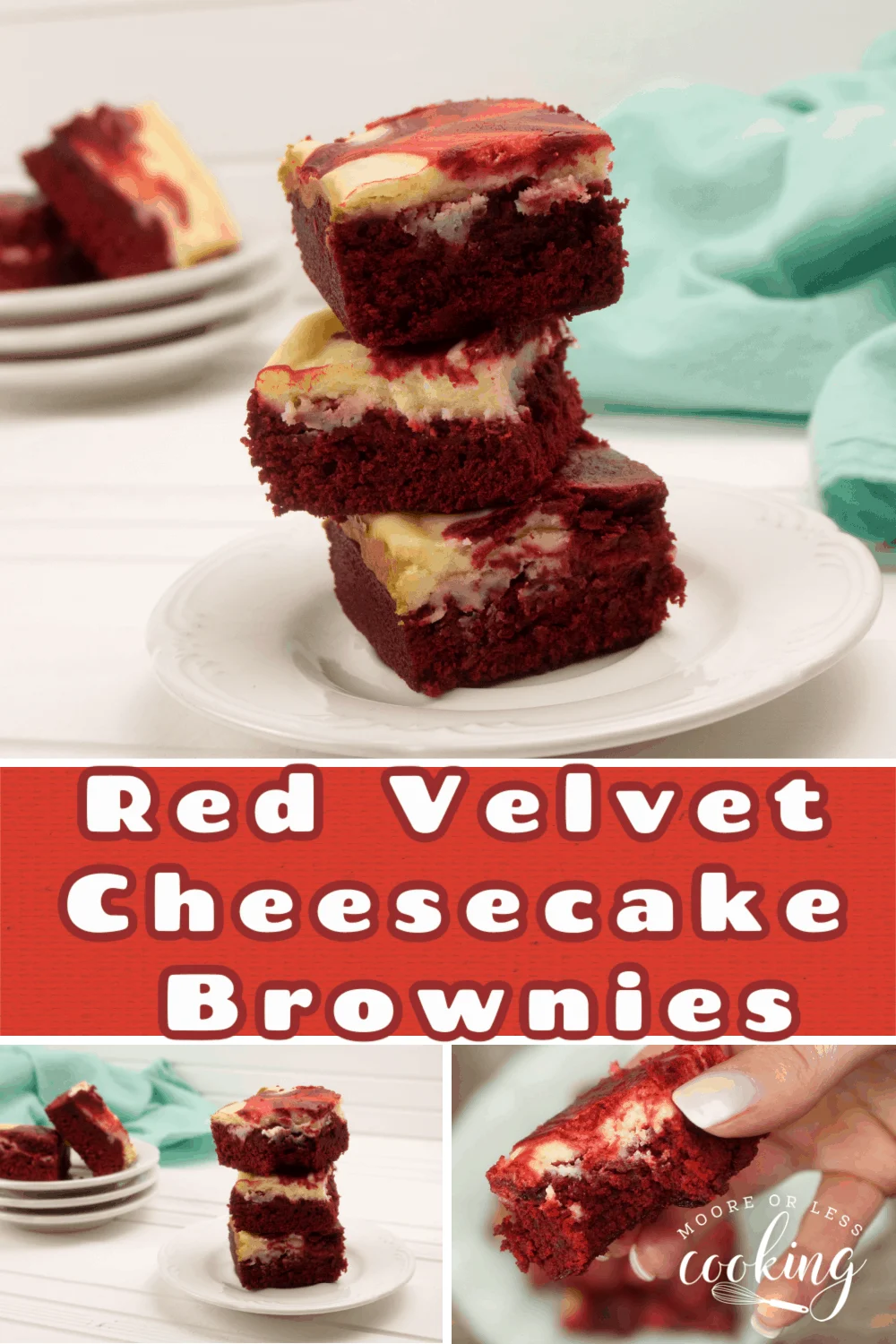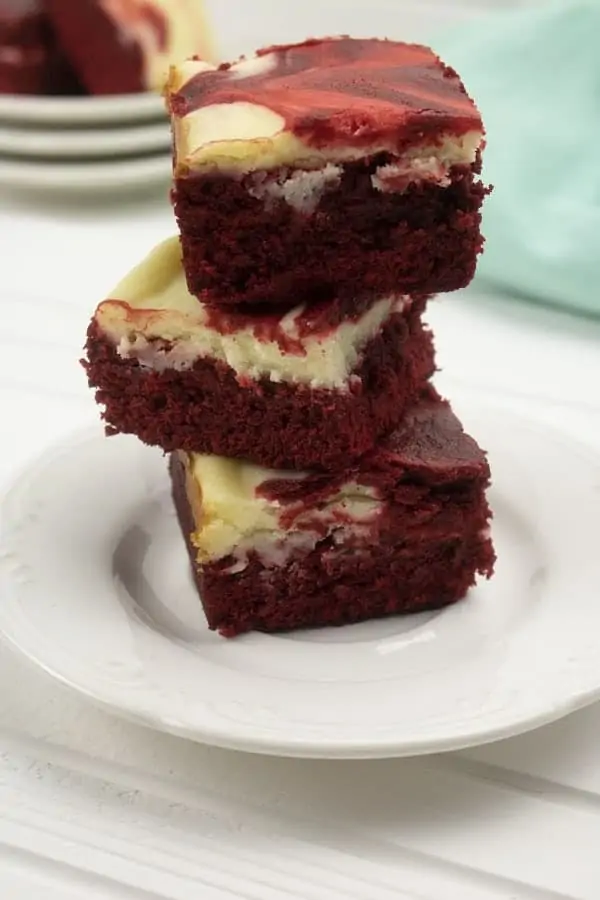 Yield:

12 Brownies
Red Velvet Cheesecake Brownies & Video
Bite into one of these decadent Red Velvet Cheesecake Brownies and taste the perfect combination of chocolate with a sweet cheesecake topping that's lightly swirled into the brownie. It's positively swoon-worthy!
Ingredients
1 stick unsalted butter, melted
1 cup of sugar
¼ cup brown sugar
1 teaspoon vanilla
2 eggs
¼ cup unsweetened cocoa powder
¼ teaspoon salt
2 tablespoons red food coloring
¼ cup buttermilk
1 teaspoon white vinegar
Cheesecake Layer:
1 cup flour
16 ounces cream cheese, softened
¾ cup granulated sugar
1 egg
Instructions
Preheat oven to 350 degrees.
In a large glass bowl, melt butter in the microwave and then mix the next nine ingredients.
Fold in flour.
In another large bowl, soften cream cheese. Mix in sugar and egg.
Line an 8x8 metal pan with parchment paper and lightly spray with nonstick cooking spray.
Pour most of the brownie batter into the pan, reserving 1 cup.
Top with cheesecake mixture. Spread the cheesecake mixture over the top of the brownie batter.
Pour the remainder of the brownie batter over the cheesecake layer and swirl it together with the cheesecake, creating a marble effect.
Bake for 30-35 minutes.

Serves 12