This Slow Cooker Focaccia recipe is an easy way to make scrumptious Italian bread with a golden, crisp crust and a soft and tender interior. Its dimpled top is drizzled with olive oil and seasoned with rosemary and sea salt for a fragrant and delicious baked-in flavor.
This no-knead bread recipe is an easy method of making irresistible herb-seasoned focaccia. I love a shortcut in the kitchen and here, this semi-homemade recipe is so simple that you'll be making it regularly – it's so good! There are lots of delicious topping variations, so you can experiment with different flavors for your bread every time you make it!
Put your slow cooker to work making this focaccia that will have your kitchen smelling like an Italian trattoria, thanks to the fragrant rosemary and olive oil along with the signature yeasty smell of baked bread. What could be better?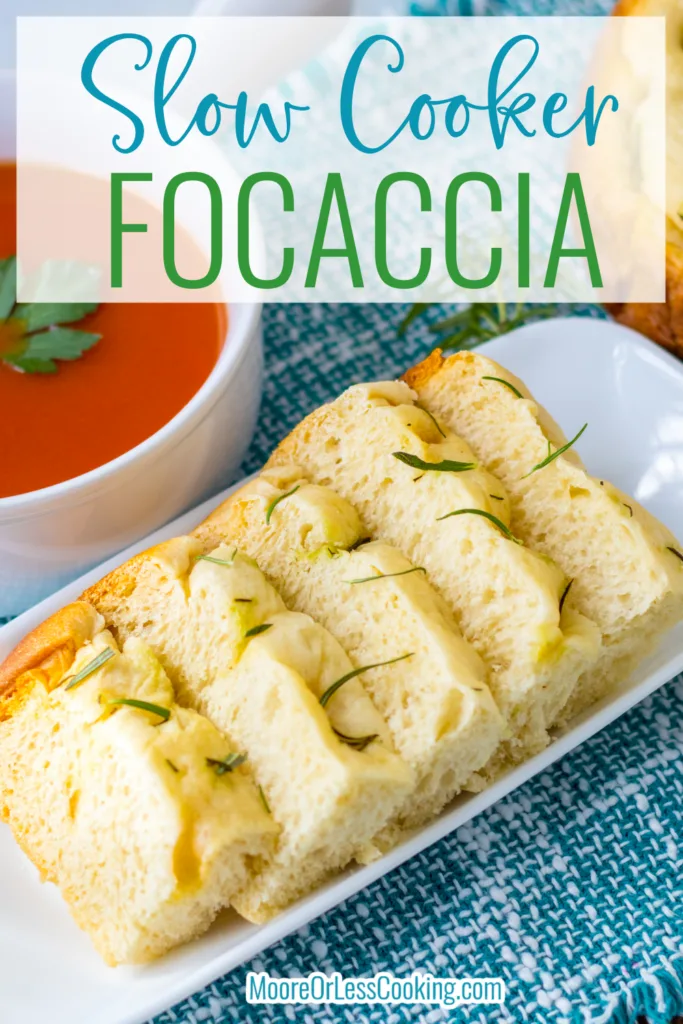 Why You'll Love This Recipe
It uses minimal ingredients
There's absolutely no dough to make so there's no kneading or rise time involved
There's no multi-step complicated recipe to follow
It requires about 2 minutes of prep time
Your slow cooker does all the work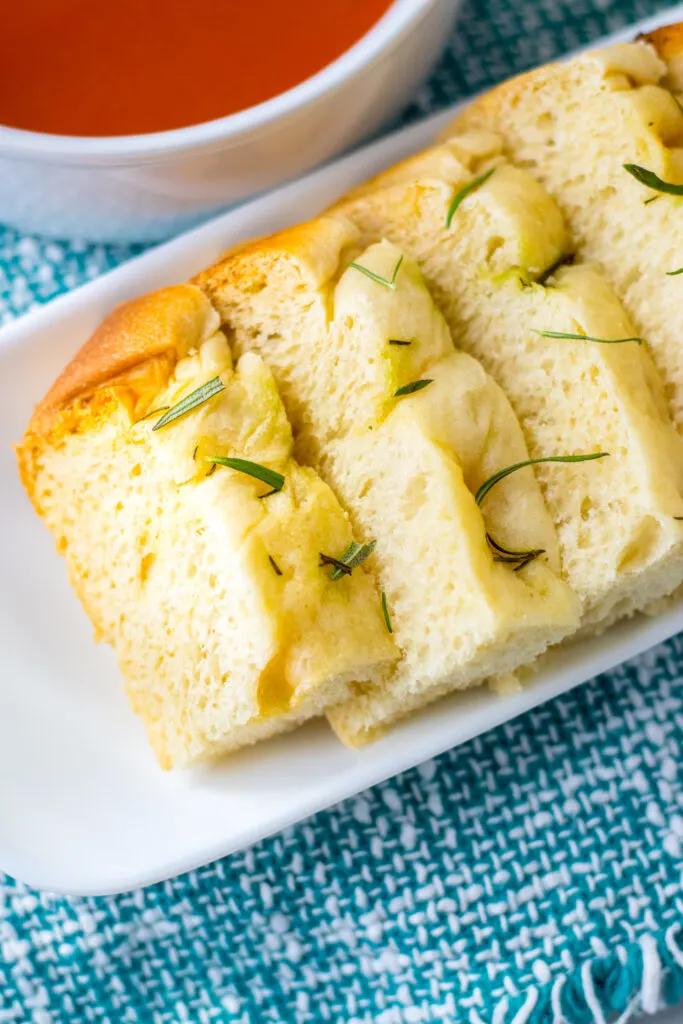 Ingredients Needed
Frozen Yeast Dinner Rolls – Make sure you're using plain, non-seasoned rolls. No need to thaw them.
Olive Oil – Use your favorite brand.
Rosemary – Can be fresh or dried.
Salt – Use kosher or sea salt for the best flavor and texture.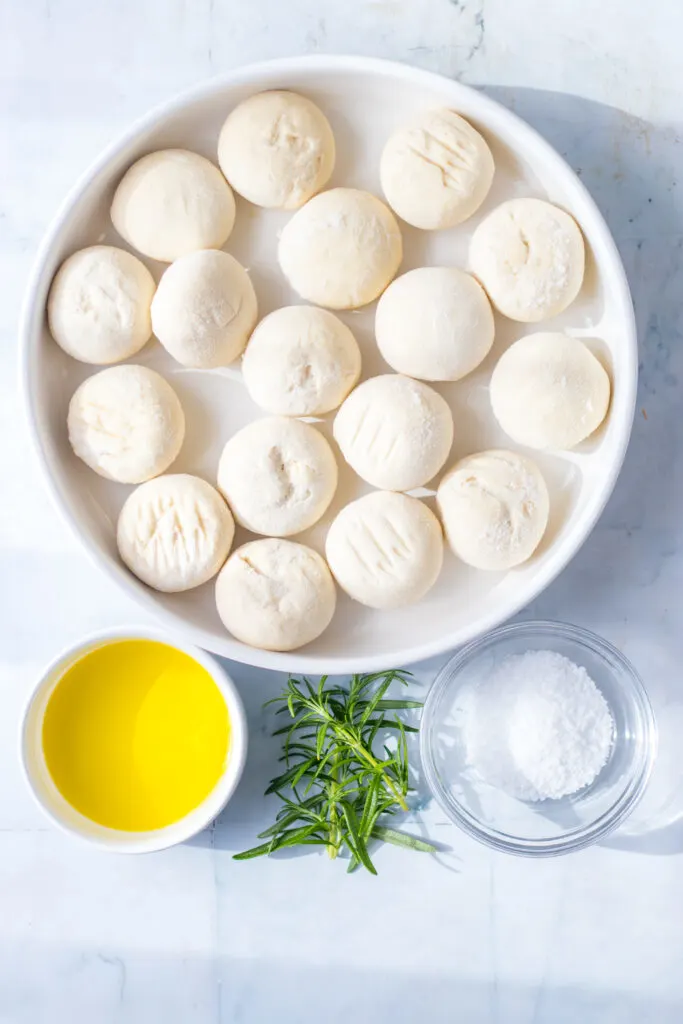 How To Make Slow Cooker Focaccia
STEP 1: In a slow cooker, place 2 sheets of parchment paper in the bottom of the pot. Make them large and long enough so that they come up the sides of the slow cooker just a bit so that you can easily lift out the bread when it's done.
STEP 2: Place 17 frozen rolls all around the pot, spaced out. Put the lid on and set the slow cooker on warm and cook for 2 hours.
STEP 3: After 2 hours, drizzle the olive oil all around and sprinkle on the rosemary and salt. Then, using your clean fingers, poke holes all around the top of the bread to create indentations.
STEP 4: Place the lid on and cook on high for an hour and a half.
STEP 5: Carefully remove the bread using the parchment paper edges to lift it out. Place on a flat surface or platter and slice it and serve.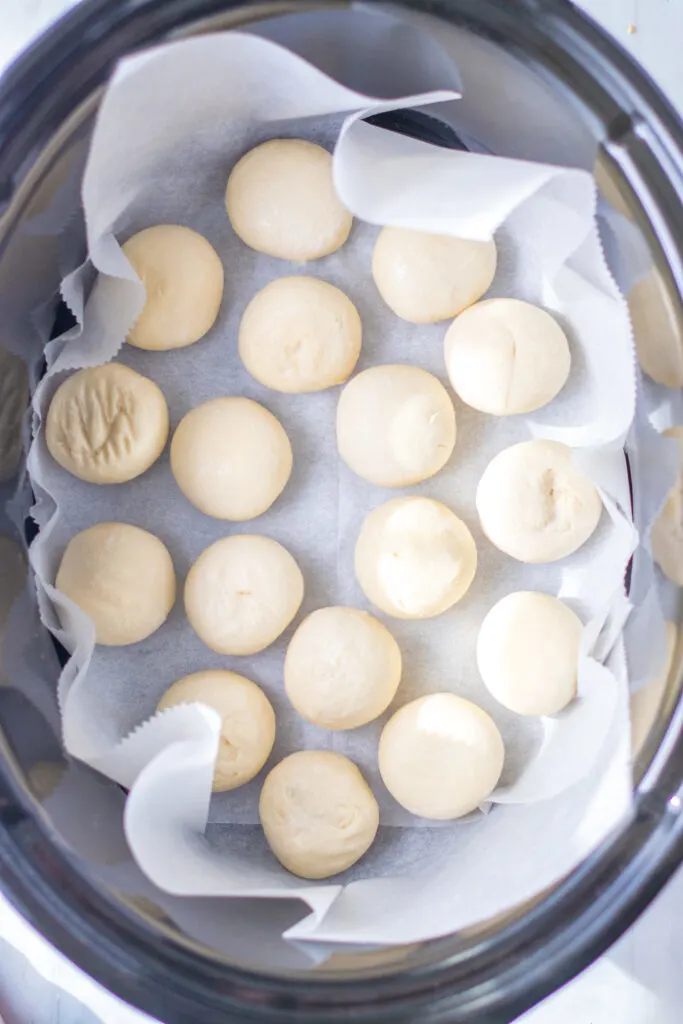 What Is Focaccia?
Focaccia (pronounced foh-KAH-chee-ah) is an Italian flatbread, which is traditionally made by hand using a yeasty dough that requires kneading, proofing, and baking. It's typically seasoned with olive oil, herbs, and often, black olives. It's easy to recognize by the characteristic indentations on the top crust that look like dimples.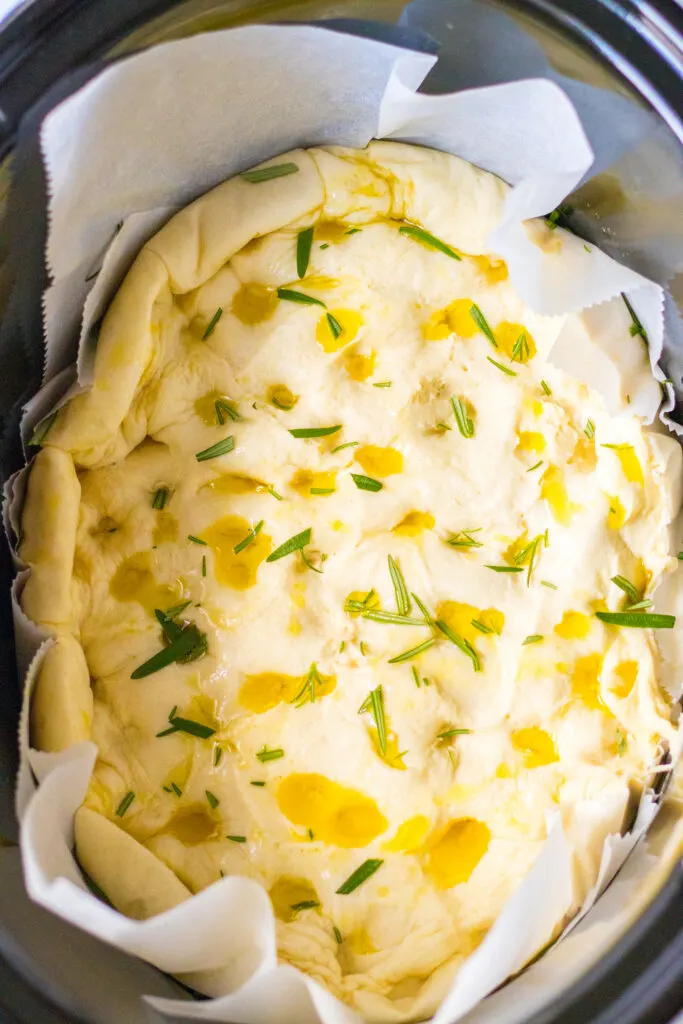 What Kind Of Rolls Should I Use?
I suggest using plain, non-seasoned yeast dinner rolls. You'll be seasoning the rolls yourself, so make sure you get basic frozen rolls.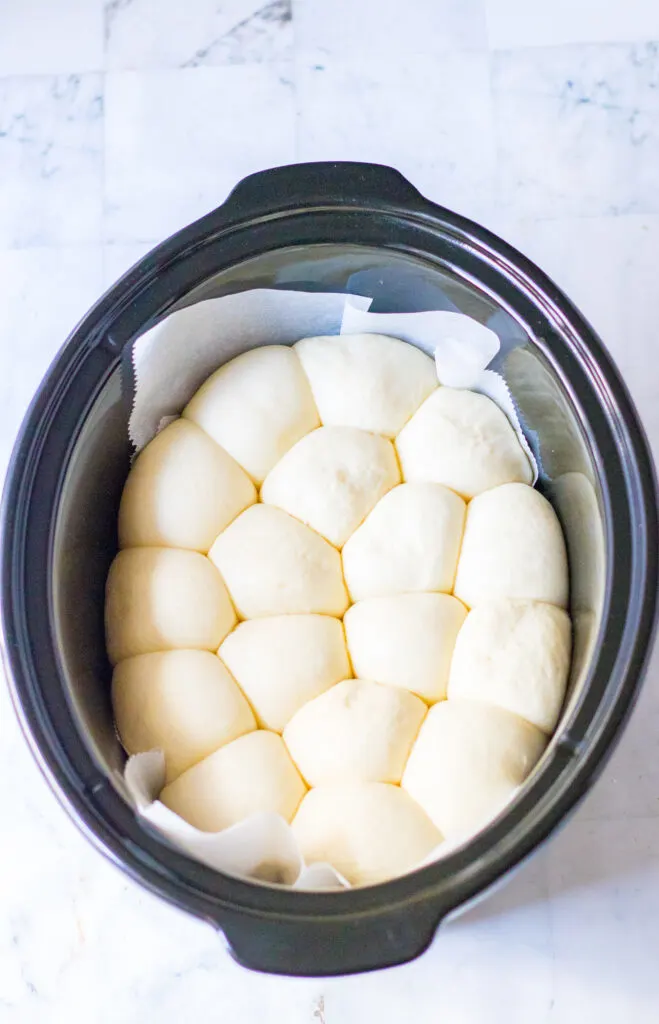 Do I Need To Thaw The Rolls?
No. The slow cooker will take care of warming them to yeasty goodness as they "bake" and rise.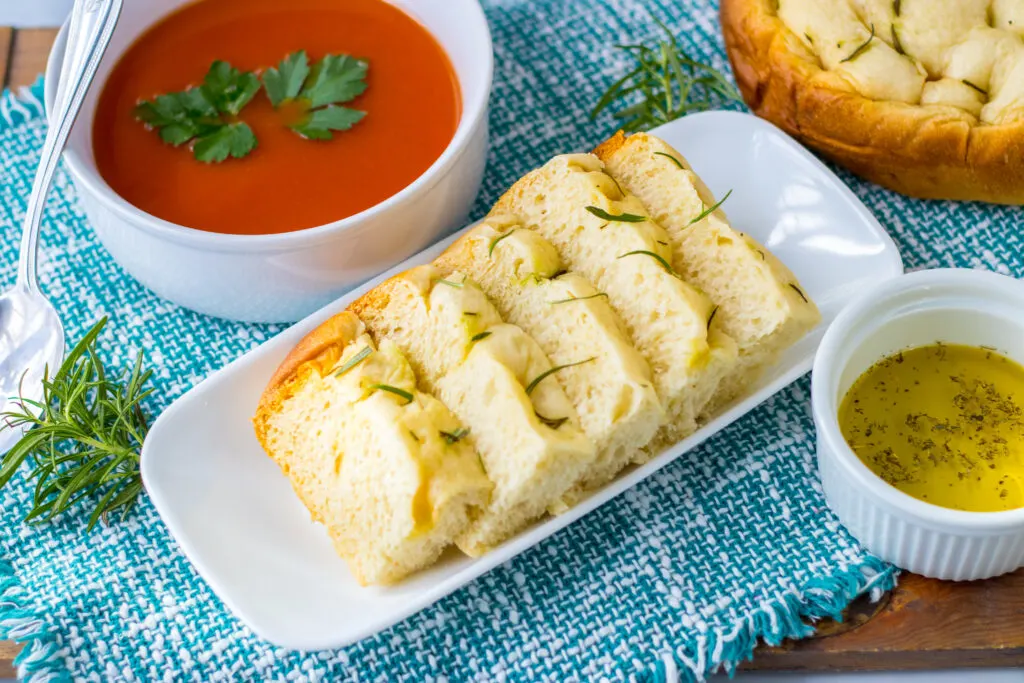 Variations
Herbs: Rosemary is what this recipe calls for, but you can substitute it with oregano or thyme. I love to use a blend of all three! You can use fresh herbs or dried ones.
Infused Olive Oil – Garlic-infused oil is always a great idea for a little extra Italian flavor. The garlic will work with any savory herb. No infused oil? Just sprinkle a smidge of garlic powder directly on the rolls before you drizzle on the olive oil.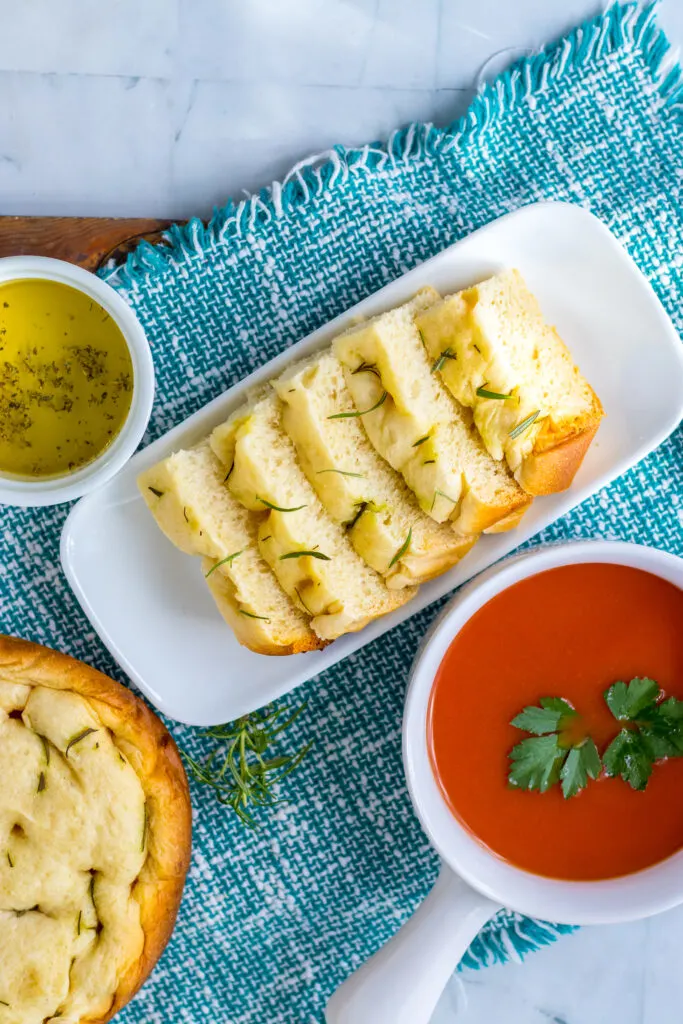 Other Add-Ins
While herbs and olive oil are always a delicious choice, here are some other toppings that you can use to make delicious versions of focaccia.
Kalamata Black Olives – Make sure they're pitted. I like to cut them in half and press them down into the dough just a little before I add the olive oil and other herbal seasonings.
Sun-Dried Tomatoes – Drain these and chop. Again, I like to press them down into the dough before I add the olive oil and other herbal seasonings.
Parmesan Cheese – Sprinkle on freshly grated parmesan cheese along with any of the add-ins and after you've drizzled on the olive oil and seasonings. Or just opt for the classic pairing of parmesan cheese, olive oil, and rosemary.
Pesto – Smear on a dollop of prepared pesto on your warm focaccia after it's out of the slow cooker and be prepared to swoon!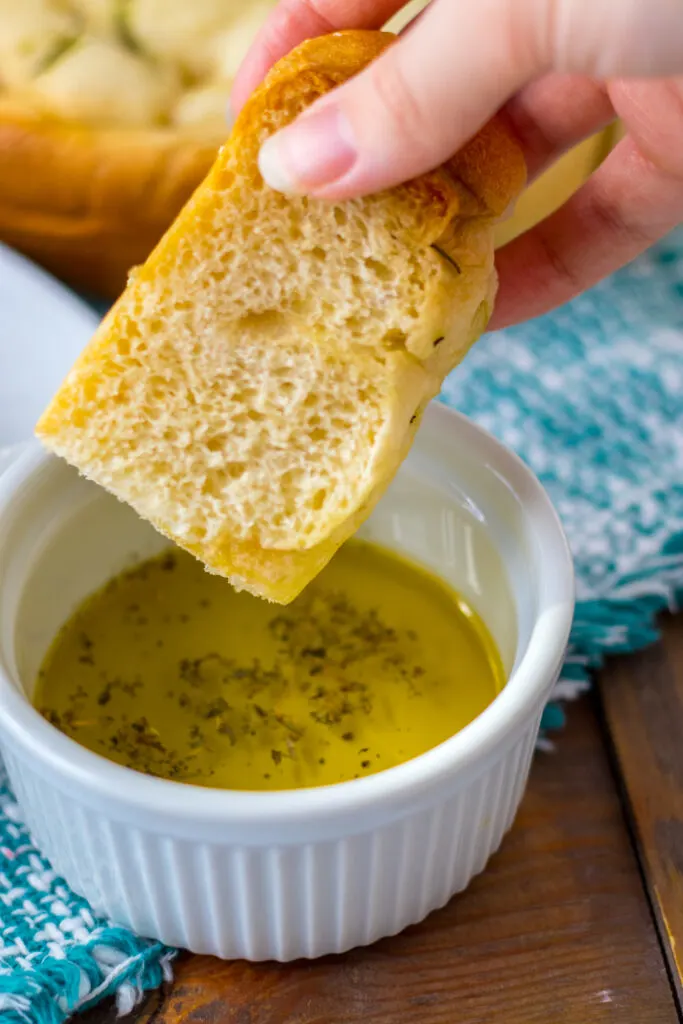 How To Serve Slow Cooker Focaccia
There are so many ways to enjoy this bread! Here are just a few ideas: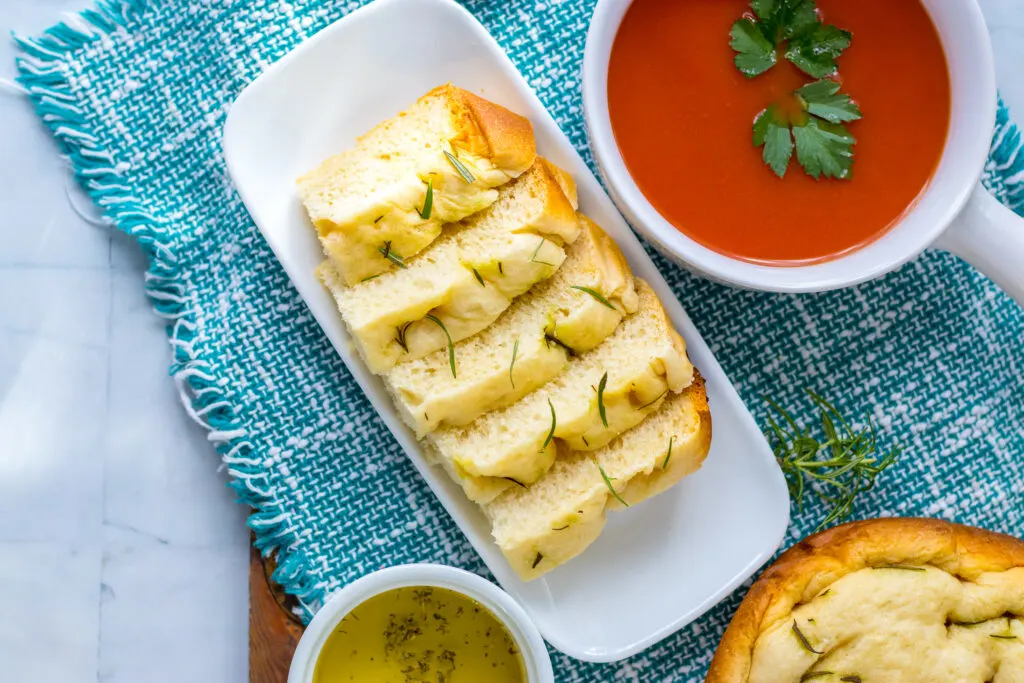 Storage
If you have leftovers, they can be stored at room temperature in an airtight container or wrapped in foil for 2-3 days. To reheat, wrap in foil and place in a toaster oven at 300 degrees F until the bread is warmed through.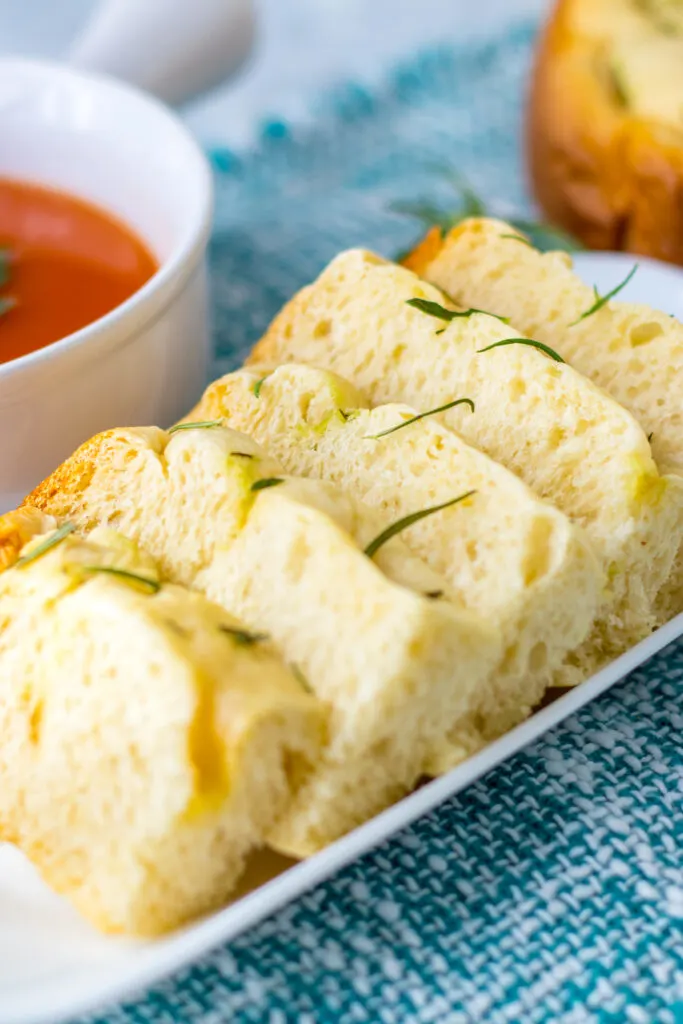 More Easy Seasoned Bread And Roll Recipes
Italian Garlic Herb Parker Dinner Rolls
Cheddar Chive Jalapeno Biscuits
Nettie is a wife and mother who is passionate about cooking and baking. With 5 children, Nettie insists that all meals, snacks, and desserts come together quickly! You will find a wide variety of easy yet scrumptious recipes on her viral website Moore or Less Cooking
Be sure to follow me on Instagram and tag #mooreorlesscooking so I can see all the wonderful recipes that YOU make from this site!
Check out my YOUTUBE with a free email subscription HERE and please share on FACEBOOK and on PINTEREST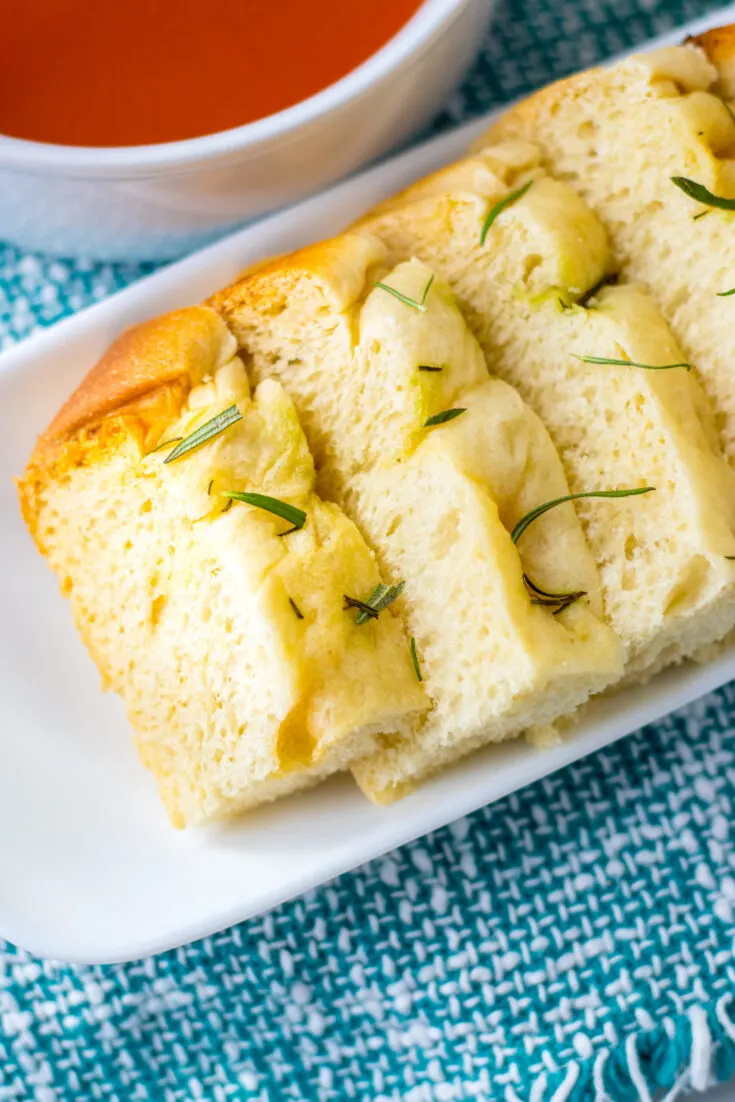 Yield:

Serves 10
Slow Cooker Focaccia
Cook Time:
3 hours
30 minutes
Total Time:
3 hours
32 minutes
This Slow Cooker Focaccia is such a yummy dish to make! So easy and so beautiful! This is such an easy and pretty bread to make with dinner or to bring to a get-together! With only 4 ingredients this makes the softest and yummiest focaccia ever! Having the bread dough bake right in the slow cooker, and then pouring olive oil and sprinkling fresh Rosemary on top, and poking holes into the top makes this such an easy thing to make!
Ingredients
About 17 frozen yeast dinner rolls
1 1/2 tablespoons of olive oil
1 tablespoon of rosemary
1 teaspoon of kosher salt
Instructions
Gather all of the ingredients.
In a slow cooker, place down 2 sheets of parchment paper in the cooker.
Place 17 frozen rolls all around the pot spaced out, set on warm, and cook for 2 hours.
After 2 hours, pour the oil all around and the rosemary and salt. then using your clean fingers poke holes all around the bread dough.
Cook on high for an hour and a half.
Carefully pull the paper to lift the Focaccia bread out. Cut into slices with a serrated bread knife and enjoy!
Notes
Tips and Tricks
Use thyme instead of rosemary.
Wrap up in foil and set on the counter for up to 2 days.
Recommended Products
As an Amazon Associate and member of other affiliate programs, I earn from qualifying purchases.
Nutrition Information
Yield
10
Serving Size
1
Amount Per Serving
Calories

49
Total Fat

3g
Saturated Fat

0g
Trans Fat

0g
Unsaturated Fat

2g
Cholesterol

0mg
Sodium

144mg
Carbohydrates

4g
Fiber

2g
Sugar

0g
Protein

3g