Up-level a boxed cake mix with lime jello in this outrageously delicious St. Patrick's Day Poke Cake. Go all out for this Irish holiday by garnishing the white chocolate pudding and cool whip frosting with green and gold sprinkles for a festive touch.
I love poke cakes because not only are they ridiculously easy, but they're perfect when you need an impressive and delicious dessert that requires no special equipment or skills in the kitchen and baking department. And yet, poke cakes are always a crowd-pleaser! So there's every reason to make them, and here, this lime-flavored cake is perfect for celebrating St. Patrick's Day and giving the white cake a little lucky green color for the occasion!
If you can open a few boxes, add a few simple ingredients, use a handheld mixer, and know how to operate your oven, you're good to go! Oh! and you get to poke some holes in the cake, too. This is one instance when playing with food counts as decorative and delicious!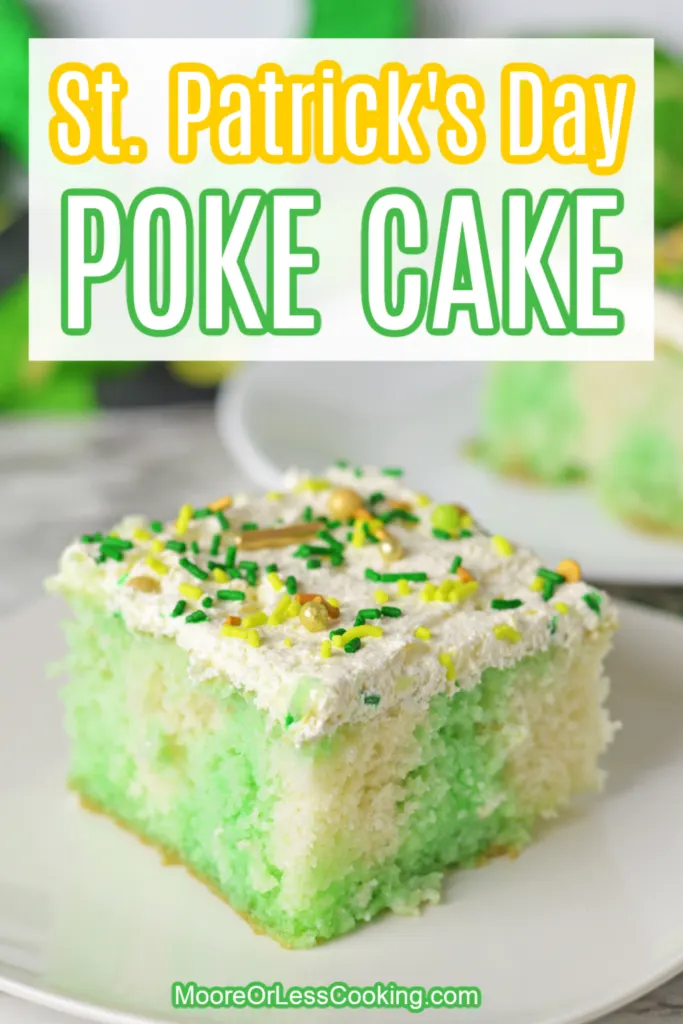 Why You'll Love This St. Patrick's Day Poke Cake:
Easy and fun
Can (and should) be made ahead of time
Requires no special baking skills
Easily adaptable for other holidays
Portable for parties and potlucks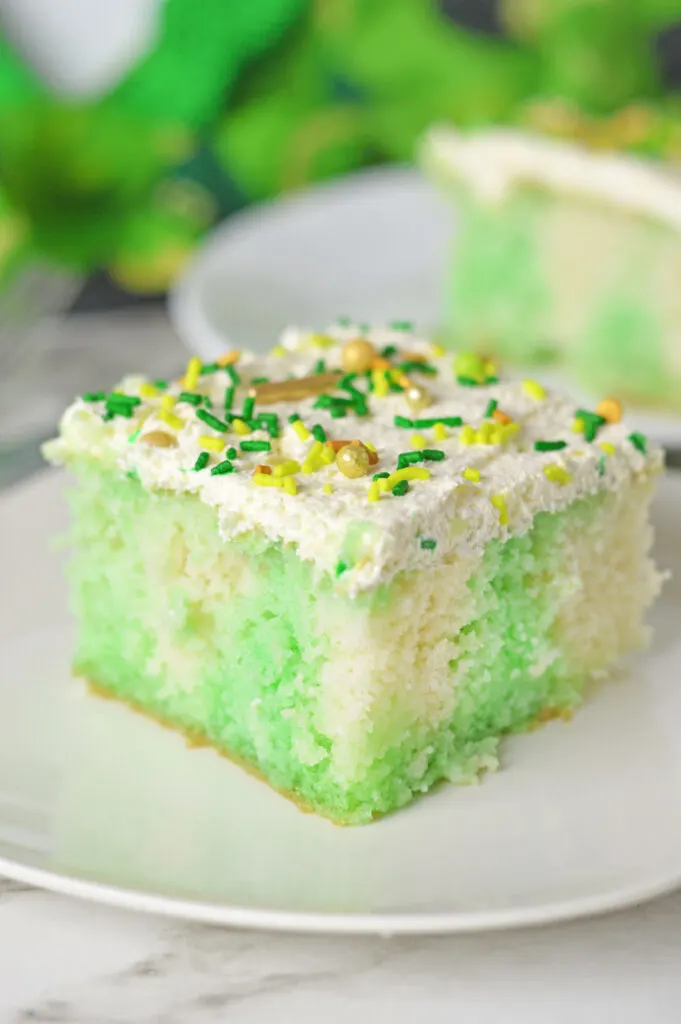 Ingredients Needed
White Cake Mix – use your favorite brand, plus all of the ingredients listed on the back (water, oil, eggs, etc.) that you need to make the cake.
Box of Lime Jello – used to infuse the baked cake with a festive green color as well as provide a citrusy lime flavor.
Water – to be used to mix the jello into a liquid to pour into the poked holes into the baked cake.
Cool Whip – to help create the frosting.
White Chocolate Instant Pudding Mix – to help create the frosting.
St. Patrick's Day Sprinkles – to garnish the top of the frosting.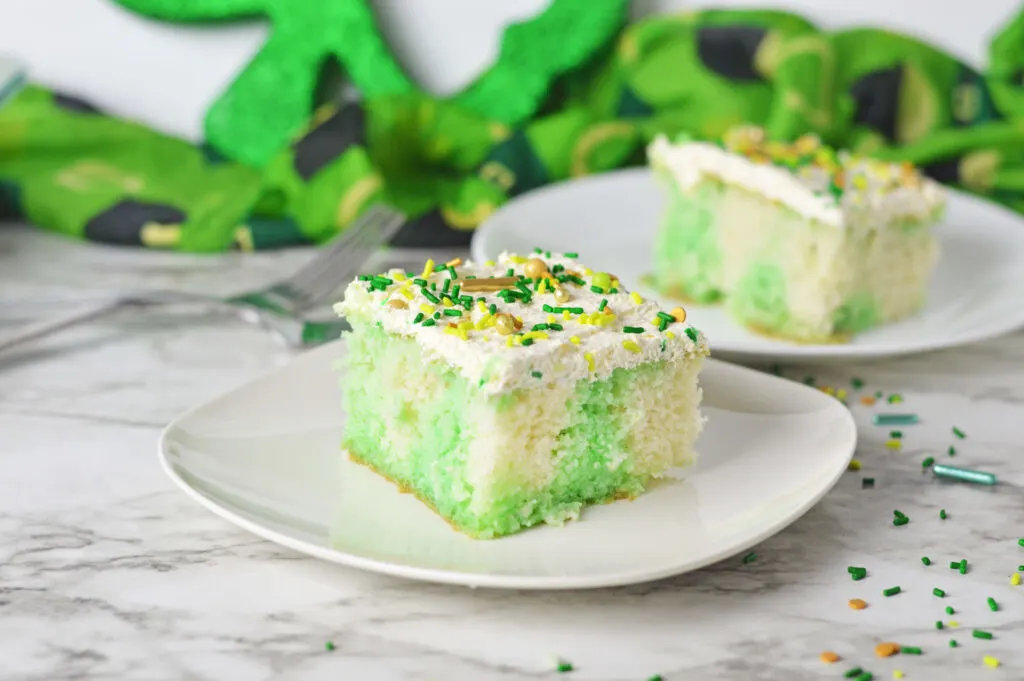 How To Make The St. Patrick's Day Poke Cake
STEP 1: Make and bake the cake in a 13 x 9-inch pan, according to your boxed cake mix package directions. Let the cake cool before proceeding to the next step.
STEP 2: Make the lime jello by adding 1 cup of boiling water to the dry mix, whisking, and adding in 1 cup of cold water and whisking to combine.
STEP 3: Poke holes in the cooled cake and pour the liquid jello mixture over the cake and into the holes.
STEP 4: Cover the cake and store it in the refrigerator overnight so that the jello mixture can infuse the cake.
STEP 5: When ready to frost the cake, whisk together the cool whip and white chocolate pudding mix in a large bowl.
STEP 6: Spread the frosting over the top of the cake and garnish with St. Patrick's Day sprinkles.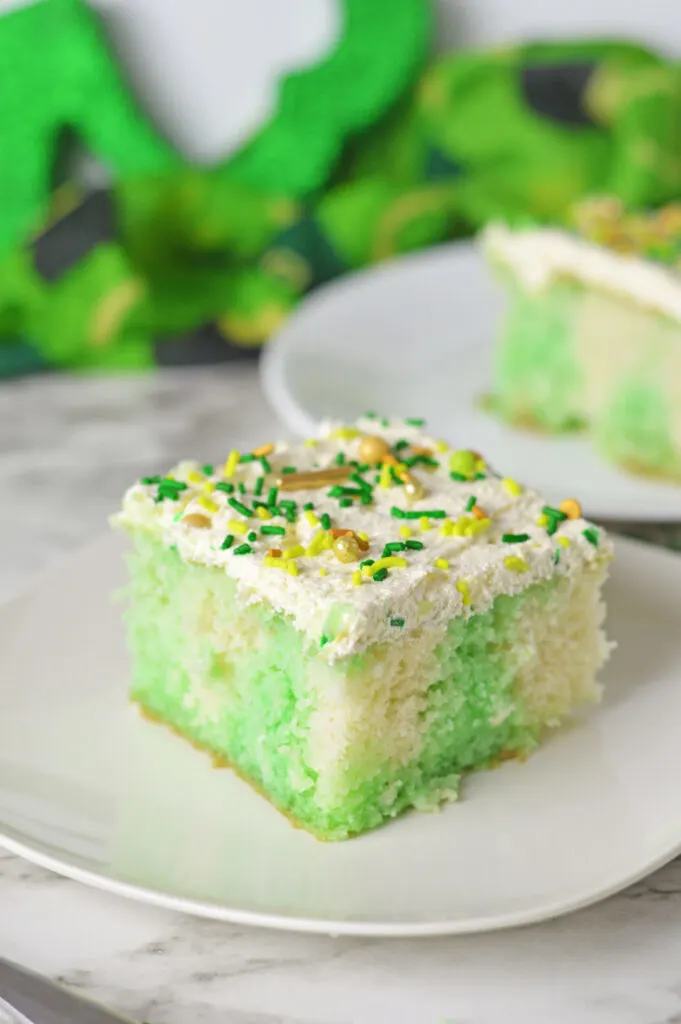 What Is A Poke Cake?
A poke cake is a baked cake that has holes poked on the top of it and a mixture poured over it that saturates and infuses the baked cake with additional flavor and sometimes decorative color, like this recipe!
The pour-over mixtures can be anything from liquid jello to creamy pudding to sweetened condensed milk or even a boozy mixture. The end result is always an extra scrumptious cake that's always a crowd-pleaser!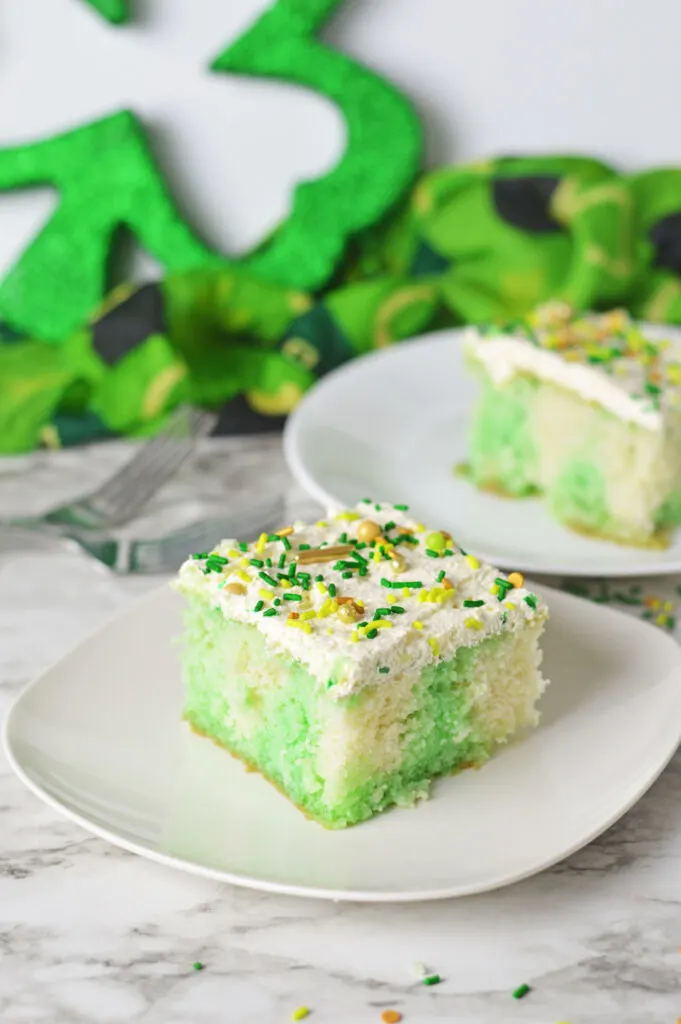 What Do I Use To Poke The Holes?
For medium-sized holes, use the handle of a wooden spoon or a straw. Smaller holes can be made using a fork or a bamboo skewer. The size of the holes, as well as how many you make, will affect how the jello is absorbed by the cake layer, which you'll notice, visually, when you cut into the cake.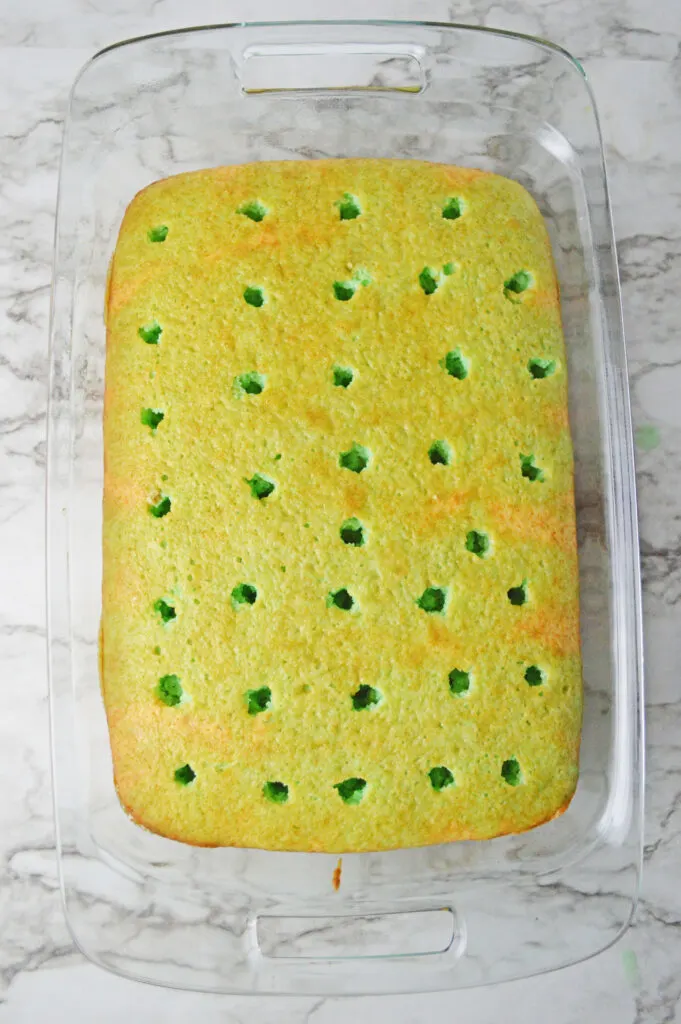 Variations
Cake And Jello
Once you've made a poke cake, you'll want to make one for every event or holiday because they're so scrumptious and easy! You can swap out almost any cake flavor and pair it with a complimentary jello flavor. For this St. Patrick's Day cake, you can swap the white cake mix for a lemon cake mix that would pair deliciously with the lime jello.
For other holidays, using a white or light-colored cake mix with any jello flavor will always highlight the color of the jello once you cut the cake to serve it, so keep that in mind.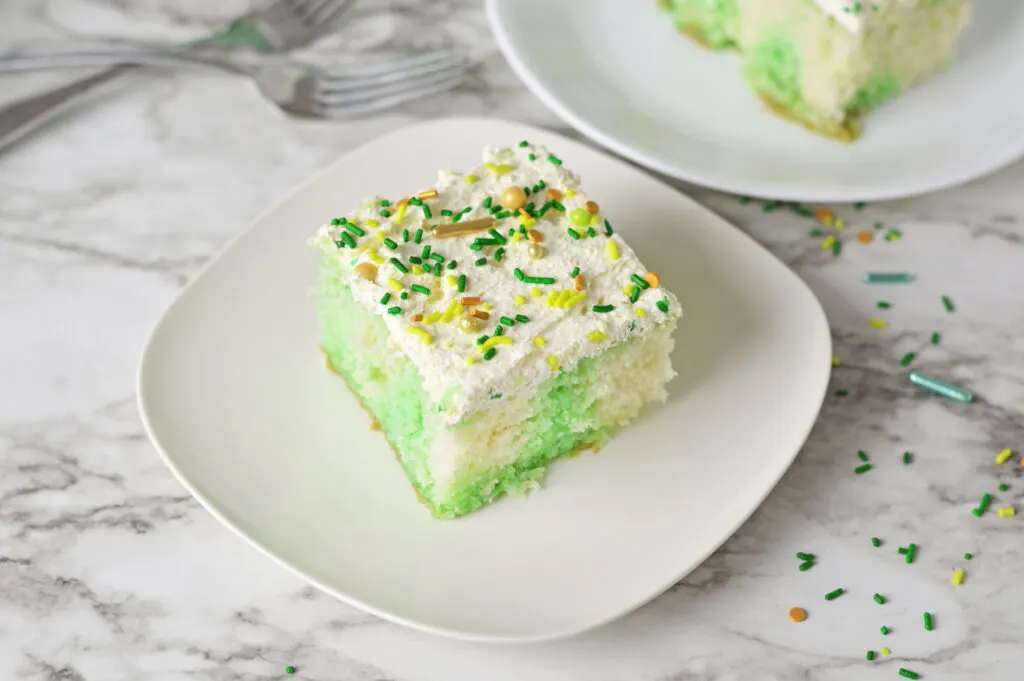 Frosting
For frosting variations, you can swap out the flavors of the pudding mixture or even just frost the cake with your favorite homemade or store-bought frosting.
Sprinkles
And the sprinkles? With so many options available for any holiday or event, you'll have fun exploring which ones to use! For this recipe, these shamrock sprinkles would be perfect!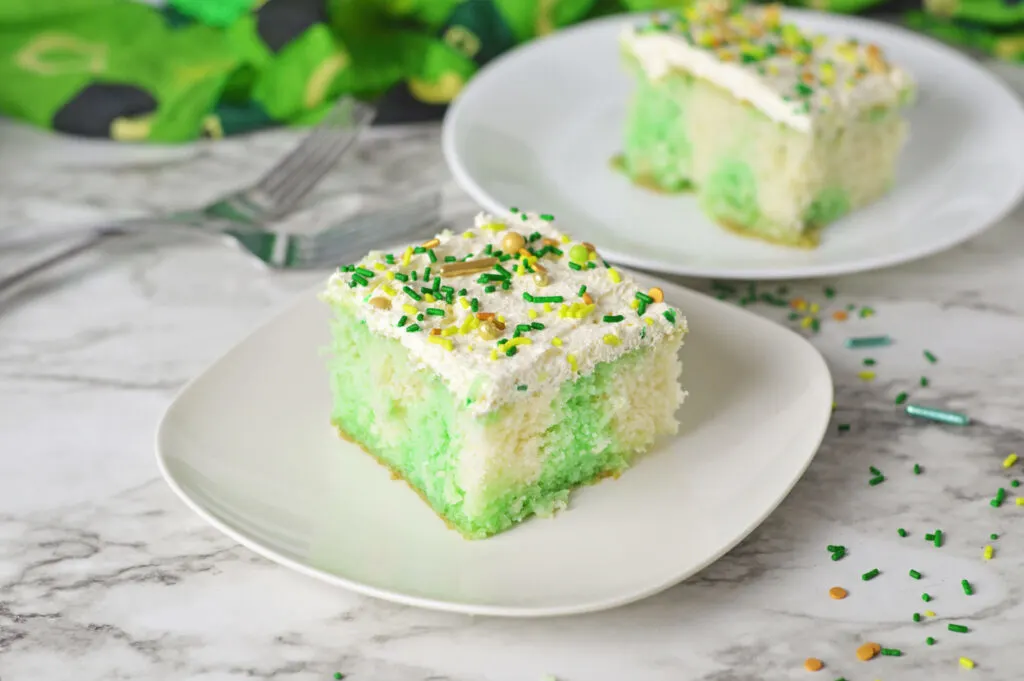 Poke Cake Inspiration
If you're looking for poke cake inspiration, my Flag Cake is perfect for Fourth Of July celebrations. And what could be more appropriate for the autumn season and Thanksgiving than my Pumpkin Cheesecake Poke Cake? Valentine's Day or Christmas is the right time for my luscious Red Velvet Poke Cake. Keep it festive during the Christmas holidays with my White Chocolate Peppermint Poke Cake. Celebrate summer with my fruity Pineapple Coconut Poke Bundt Cake and my Strawberry Shortcake Poke Cake.
Can I Make Cupcakes With This Recipe?
Absolutely! Just follow the recipe but pour the cake mix into lined muffin tins and bake. Let the cupcakes cool completely before poking holes in them and pouring the jello mixture over them. Refrigerate the cupcakes overnight and frost them the next day with the cool whip and pudding mixture before garnishing them with sprinkles.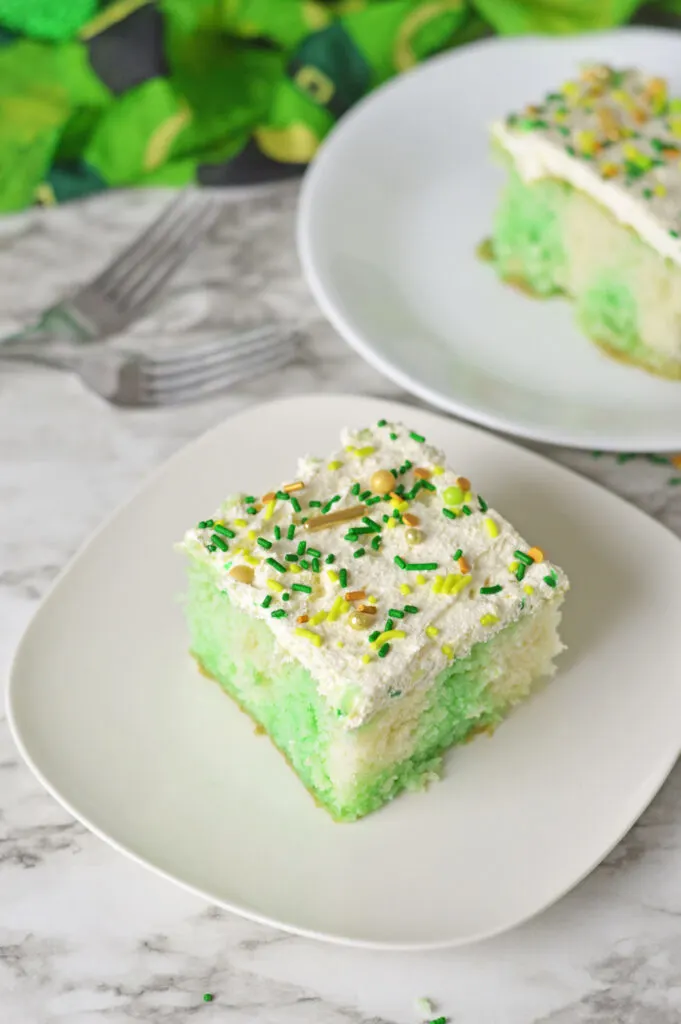 Storage
Keep the cake refrigerated until ready to serve. Store leftovers, covered, in the fridge, as well.
More St. Patrick's Day Recipes
St. Patrick's Day Irish Coffee
Irish Apple Cake with Whiskey Cream Sauce
Ninja Foodi Corned Beef and Cabbage
Chocolate Stout Cake with Whiskey Buttercream Frosting
Nettie is a wife and mother who is passionate about cooking and baking. With 5 children, Nettie insists that all meals, snacks, and desserts come together quickly! You will find a wide variety of easy yet scrumptious recipes on her viral website Moore or Less Cooking
Be sure to follow me on Instagram and tag #mooreorlesscooking so I can see all the wonderful recipes that YOU make from this site!
Check out my YOUTUBE with a free email subscription HERE and please share on FACEBOOK and on PINTEREST
Follow Mooreorlesscooking on FACEBOOK | TWITTER | PINTEREST | BLOGLOVIN |INSTAGRAM|
Did You Make This Recipe?
I would love for you to leave a rating and a comment below! How'd you do?!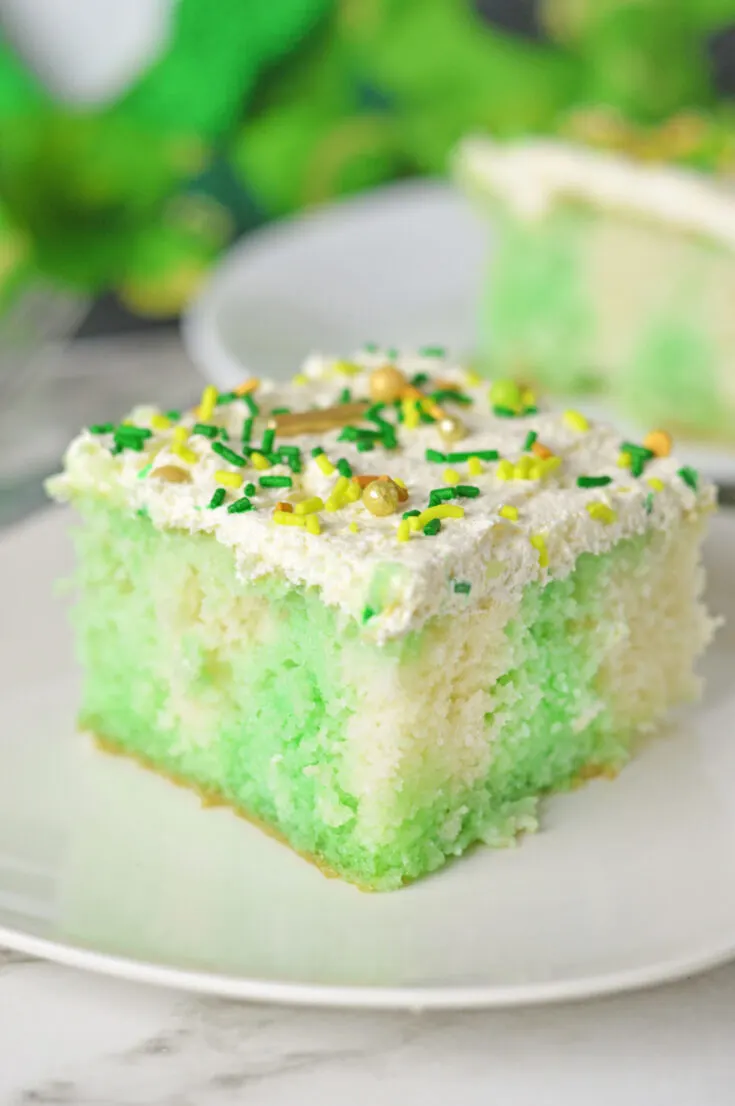 Yield:

Serves: 15
St. Patrick's Day Poke Cake
Total Time:
8 hours
55 minutes
Up-level a boxed cake mix with lime jello in this outrageously delicious St. Patrick's Day Poke Cake. Go all out for this Irish holiday by garnishing the white chocolate pudding and cool whip frosting with green and gold sprinkles for a festive touch.
Ingredients
1 box of white cake mix, plus ingredients on the back (water, oil, egg whites) Duncan Hines or Betty Crocker
1 (3 oz.) box of Lime Jello
2 cups water
8 oz. cool whip
1 (3 oz.) package of white chocolate instant pudding mix
St. Patrick's Day sprinkles
Instructions
Gather all of the ingredients.
Prepare cake in a 13x9 inch pan, according to package directions.
Once the cake has baked, allow it to cool.
In a medium saucepan, bring 1 cup of water to a boil.
Remove from the heat and whisk in lime jello mix.
Add 1 cup of cold water, and stir to combine.
Poke holes all along the top of the cake. Pour jello into the holes.
Move to the refrigerator to chill overnight. For at least 8 hours.
To frost, in a large mixing bowl, whisk together cool whip and white chocolate pudding mix.
Frost the cake, and sprinkle St. Patrick's Day sprinkles over top.
Enjoy!
Notes
Tips and Tricks:
Make ahead – Cover with plastic wrap and put in the fridge so the flavors can blend. The cake is better the next day because all of the flavors really come together.
Poking Holes – Make sure when poking the holes you are generous with the poking and don't leave out any part of the cake. This is how the delicious mixture gets into the cake.
Fill the Holes – Push the mixture into the holes as you spread it around to make sure it is really sinking in. This gives the cake the best flavor.
Poke Holes with a handle of a Wooden Spoon – You can use anything you prefer to poke holes but a wooden spoon works great. This is the perfect size for making the holes in the cake. Can also use chopsticks.
Recommended Products
As an Amazon Associate and member of other affiliate programs, I earn from qualifying purchases.
Nutrition Information
Yield
15
Serving Size
1
Amount Per Serving
Calories

113
Total Fat

7g
Saturated Fat

5g
Trans Fat

0g
Unsaturated Fat

1g
Cholesterol

2mg
Sodium

60mg
Carbohydrates

13g
Fiber

0g
Sugar

10g
Protein

1g