This easy school cafeteria recipe for No Bake Lunch Lady Peanut Butter Bars will bring back delicious memories of this classic sweet treat. A layer of thick, buttery, and sweet peanut butter batter is topped with a smooth chocolate ganache in this nostalgic dessert.
Some things never go out of style, and one of them is this retro peanut butter bars recipe from back in the day. If you were lucky enough to have lunch ladies that made desserts and other yummy foods from scratch every morning, even before the buses pulled up, then you'll probably remember these no-bake peanut butter bars!
Of course, we didn't know or care if they were baked or not, we just wanted that delicious duo of peanut butter with a rich chocolate topping on it! Fast forward to today, and I do care that this is a no-bake sweet treat that requires just 5 ingredients and comes together in minutes.
I don't even need to plug in a handheld mixer for the peanut butter batter – I can just stir it together until all the ingredients are well combined. I've done it both ways, and the handheld mixer does make everything smoother, but it's totally up to you! And the chocolate topping? Just microwave the chocolate chips until they're melted.
The no-bake lunch lady peanut butter bars do need some chill time in the fridge once they've been topped with melted chocolate, so factor that in while you wait impatiently to experience a throwback taste sensation from elementary, middle, or high school. They're definitely worth the wait!
This recipe is seasonless – it's perfect to make in the summer when it's too hot to turn on the oven and it's perfect for holidays when you need a quick and simple treat that you know everyone will love.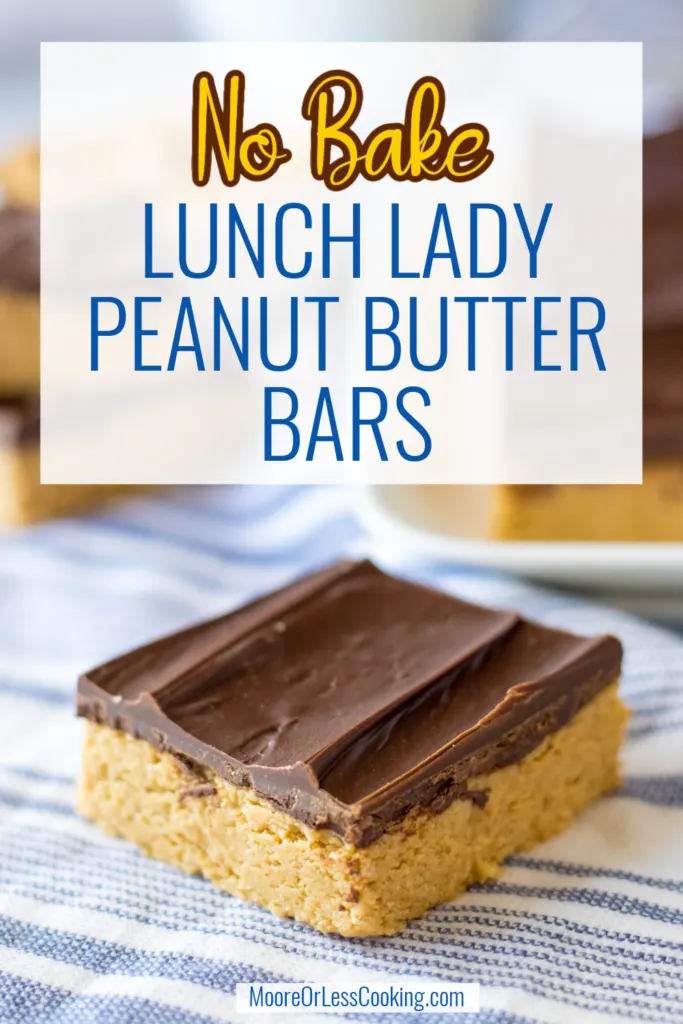 Ingredients needed:
Butter – I use unsalted because the peanut butter will have salt added to it.
Powdered Sugar – To sweeten the peanut butter dough.
Graham Cracker Crumbs – To add structure and texture to the dough, since it's a no-bake recipe.
Creamy Peanut Butter – Use your favorite brand.
Semi-Sweet Chocolate Chips – The melted chips will provide the top chocolate layer.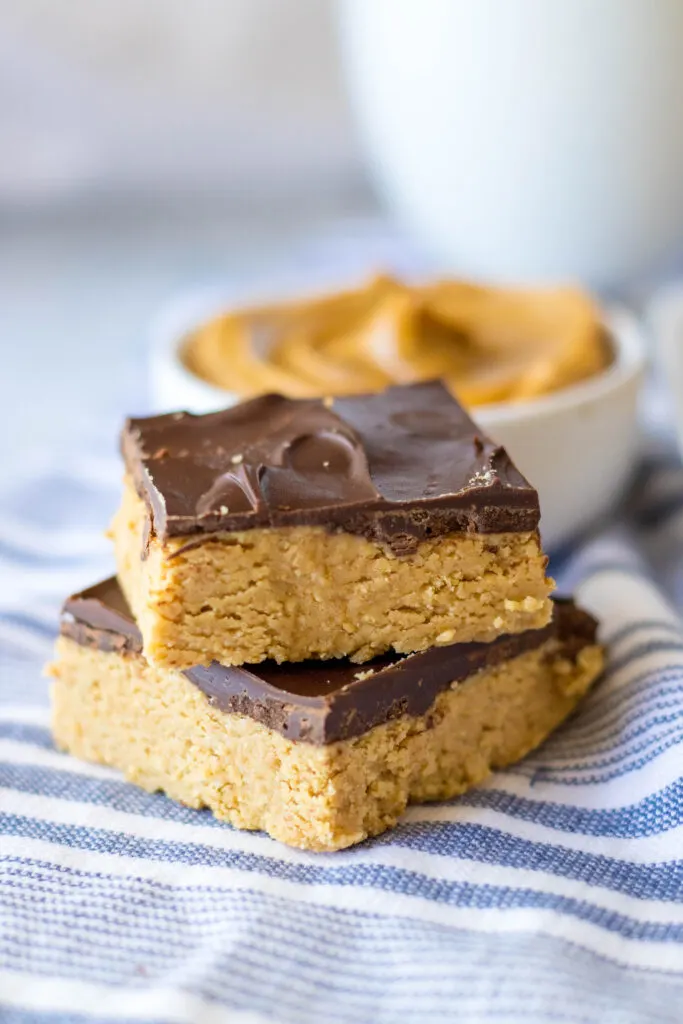 How To Make No-Bake Lunch Lady Peanut Butter Bars:
STEP 1: Line an 8×8 baking dish with non-stick foil or parchment paper. Leave some overhang on the sides to make it easier to remove from the pan when ready to slice the bars.
STEP 2: In a large microwave-safe mixing bowl, melt the butter in the microwave.
STEP 3: To the butter, add the powdered sugar, graham cracker crumbs, and peanut butter. Mix with a hand-held mixer or a large wooden spoon until well combined.
STEP 4: Spread the peanut butter mixture evenly into the bottom of the pan, making sure it's smooth on top.
STEP 5: In a medium microwave-safe bowl, melt the chocolate chips in 30-second increments, stirring in between, until melted and smooth.
STEP 6: Pour the melted chocolate, evenly, over the peanut butter mixture in the pan.
STEP 7: Refrigerate for 1 hour until firm.
STEP 8: Remove the bars from the pan using the overhang of the foil or the parchment paper. Set it on a flat surface and slice it into bars.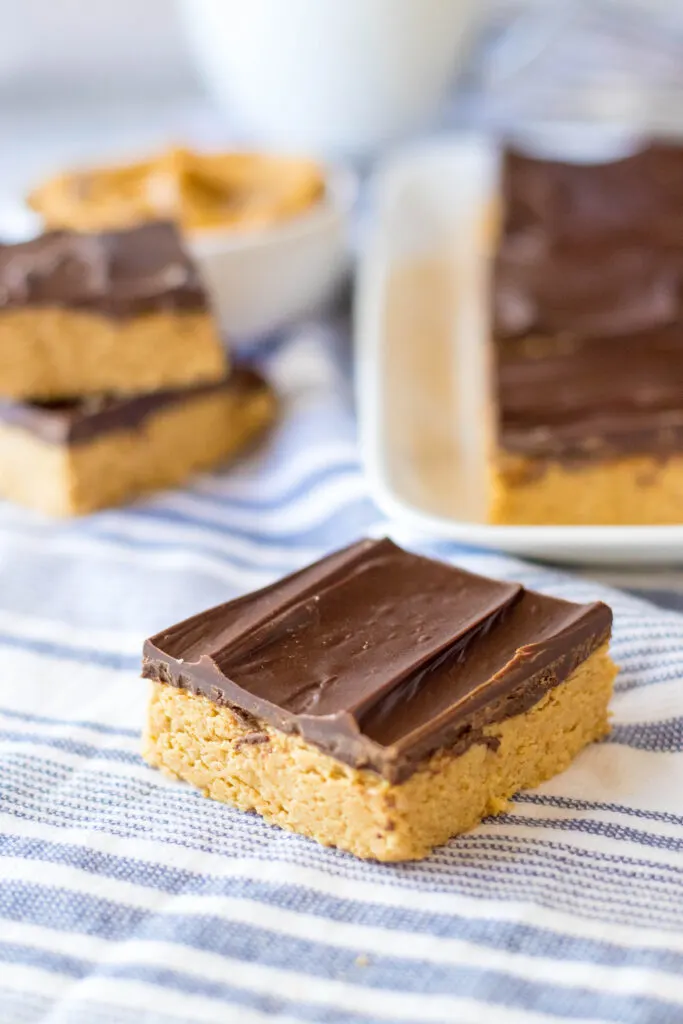 What's The Best Peanut Butter To Use?
For this recipe, I've always had success with a commercial brand of smooth peanut butter such as Jif or Skippy. I believe the pre-mixed consistency helps these peanut butter bars maintain their texture when mixed with the other batter ingredients.
You can also use crunchy peanut butter if you prefer. You'll have a smooth base texture with little bits of chopped peanuts throughout.
I don't think the natural peanut butter, where you have to stir it to combine the oil, would work well with this recipe. The texture, even when stirred together, is always more grainy than smooth.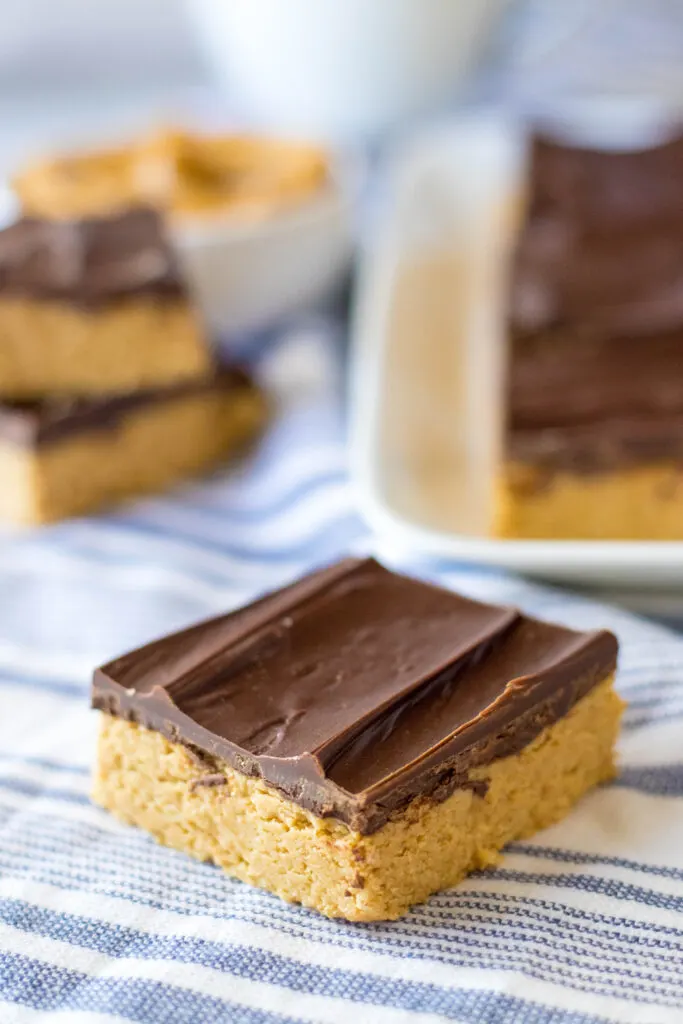 What Type Of Chocolate Chips Should I Use?
Use your favorite brand of either semi-sweet chocolate chips or milk chocolate. The milk chocolate chips will be much sweeter.
Can I Substitute The Graham Crackers?
If you don't have graham crackers or want to try something different, you can use cookie crumbs from Nilla Wafers or use finely crushed pretzels. You need the crackers, of some sort, to help hold the peanut butter batter together and provide structure, since this is a no-bake recipe. Just blitz the crackers or pretzels in a high-speed blender or your food processor.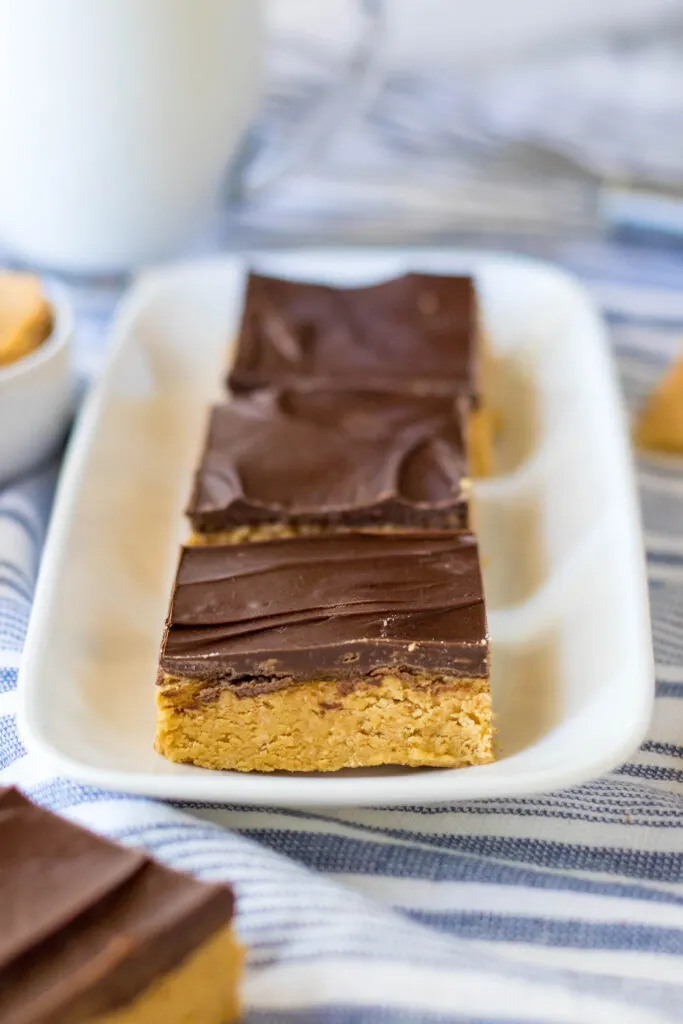 Toppings
If you want to add a little something extra to the top of these already perfect peanut butter bars, here are a few suggestions.
Flaky sea salt (my favorite)
Broken pretzel pieces
Sprinkles
Chopped peanuts
Storage
Refrigerator: These peanut butter bars should be stored in the refrigerator in an airtight container. They'll keep for up to a week.
Freezer: To freeze, wrap each bar individually or place parchment paper between each bar before wrapping. They will keep for up to 3 months in the freezer.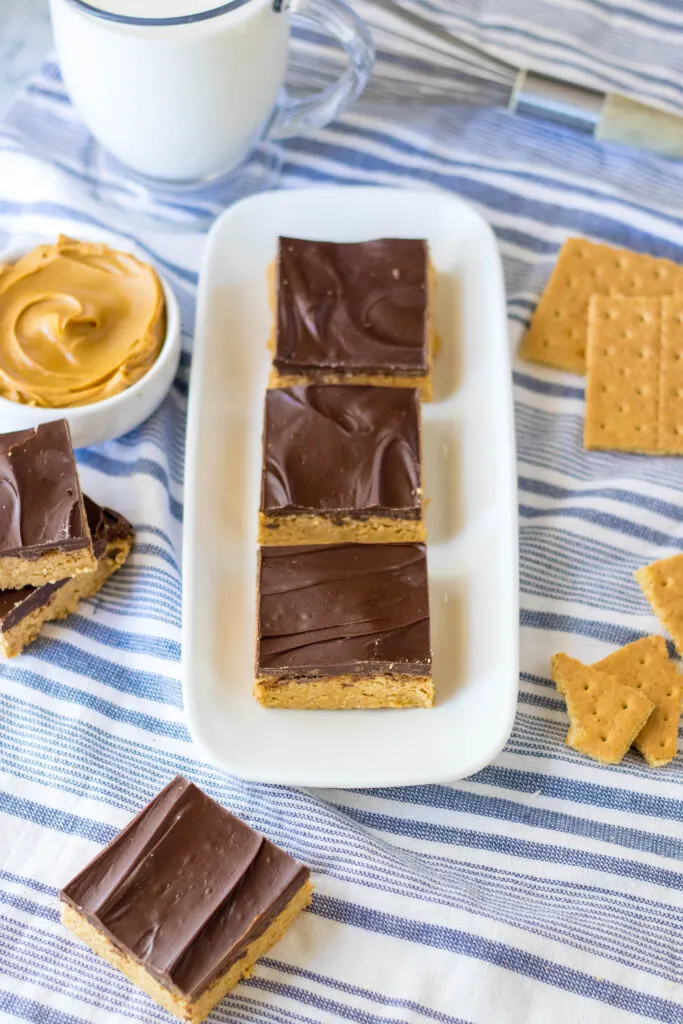 More Peanut Butter Recipes
Keto Peanut Butter Cup Fat Bombs
Creamy Peanut Butter Cheesecake
Peanut Butter Chocolate Lasagna
Nettie is a wife and mother who is passionate about cooking and baking. With 5 children, Nettie insists that all meals, snacks, and desserts come together quickly! You will find a wide variety of easy yet scrumptious recipes on her viral website Moore or Less Cooking
Be sure to follow me on Instagram and tag #mooreorlesscooking so I can see all the wonderful recipes that YOU make from this site!
Check out my YOUTUBE with a free email subscription HERE and please share on FACEBOOK and on PINTEREST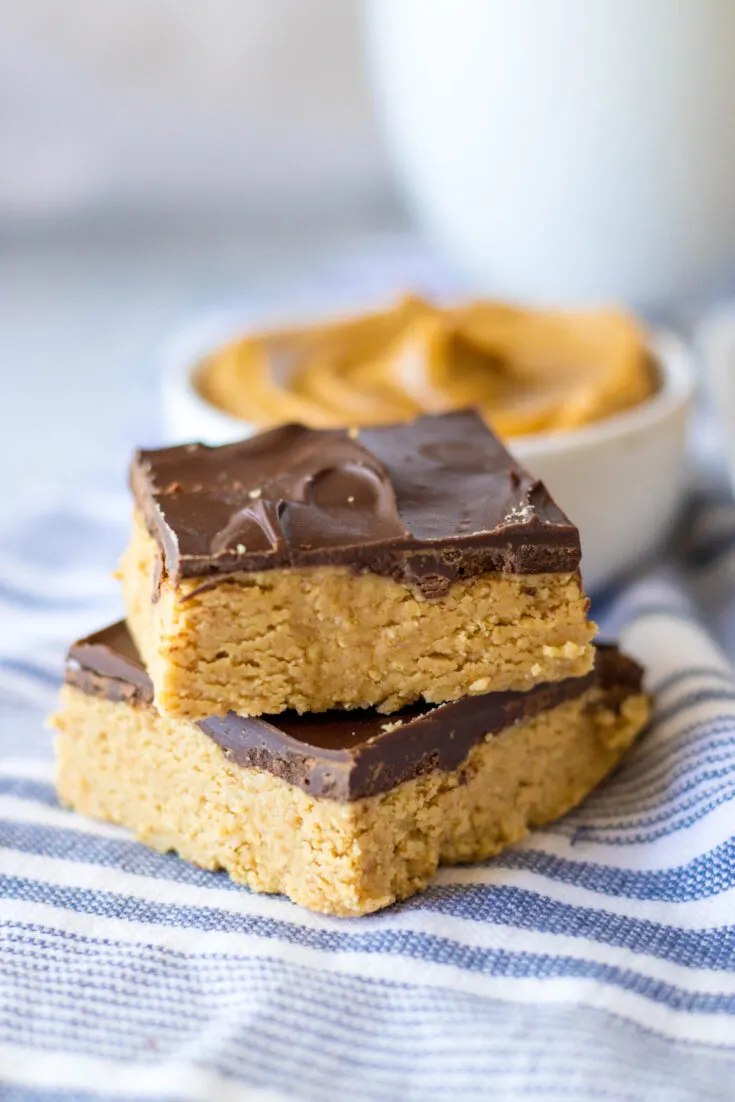 Yield:

16
No-Bake Lunch Lady Peanut Butter Bars
Total Time:
1 hour
15 minutes
Everyone loves those Peanut Butter Bars that they used to serve at the school cafeteria. This no-bake version is just as unique! Peanut butter and graham crackers come together to create the luscious base layer, then topped with a layer of chocolate. These are quick, delicious sweet treats everyone loves.
Ingredients
1/2 cup butter
2 cups powdered sugar
1-1/2 cups graham cracker crumbs
1 cup creamy peanut butter
12 ounces semi-sweet chocolate chips, melted
Instructions
Gather all of the ingredients.
Line an 8x8 baking dish with foil and leave some overhang on the sides to make removing the bars from the pan easier.
In a large microwave-safe bowl melt the butter.
To the butter add powdered sugar, graham cracker crumbs, and peanut.
Mix until well combined.
Spread the peanut butter mixture evenly into the bottom of the pan.
In a medium microwave-safe bowl melt the chocolate chips in 30-second intervals until melted and smooth.
Refrigerate for 1 hour until firm.
Remove the bars from the pan and carefully slice them into 16 bars.
Serve!
Notes
Tips and tricks
Store leftovers covered in the refrigerator for 3-4 days.
You can use milk chocolate or semi-sweet chocolate for topping, you could even use white chocolate if you like.
While creamy peanut butter is traditional you can also use crunchy peanut butter.
Recommended Products
As an Amazon Associate and member of other affiliate programs, I earn from qualifying purchases.
Nutrition Information
Yield
16
Serving Size
1
Amount Per Serving
Calories

346
Total Fat

21g
Saturated Fat

9g
Trans Fat

0g
Unsaturated Fat

10g
Cholesterol

15mg
Sodium

173mg
Carbohydrates

39g
Fiber

3g
Sugar

29g
Protein

5g