Filled with a savory mix of vegetables in a deliciously seasoned gravy, this quick and easy pot pie uses turkey as a tasty protein. It's all held in place between two buttery and flaky crusts. It's the ultimate homemade comfort food!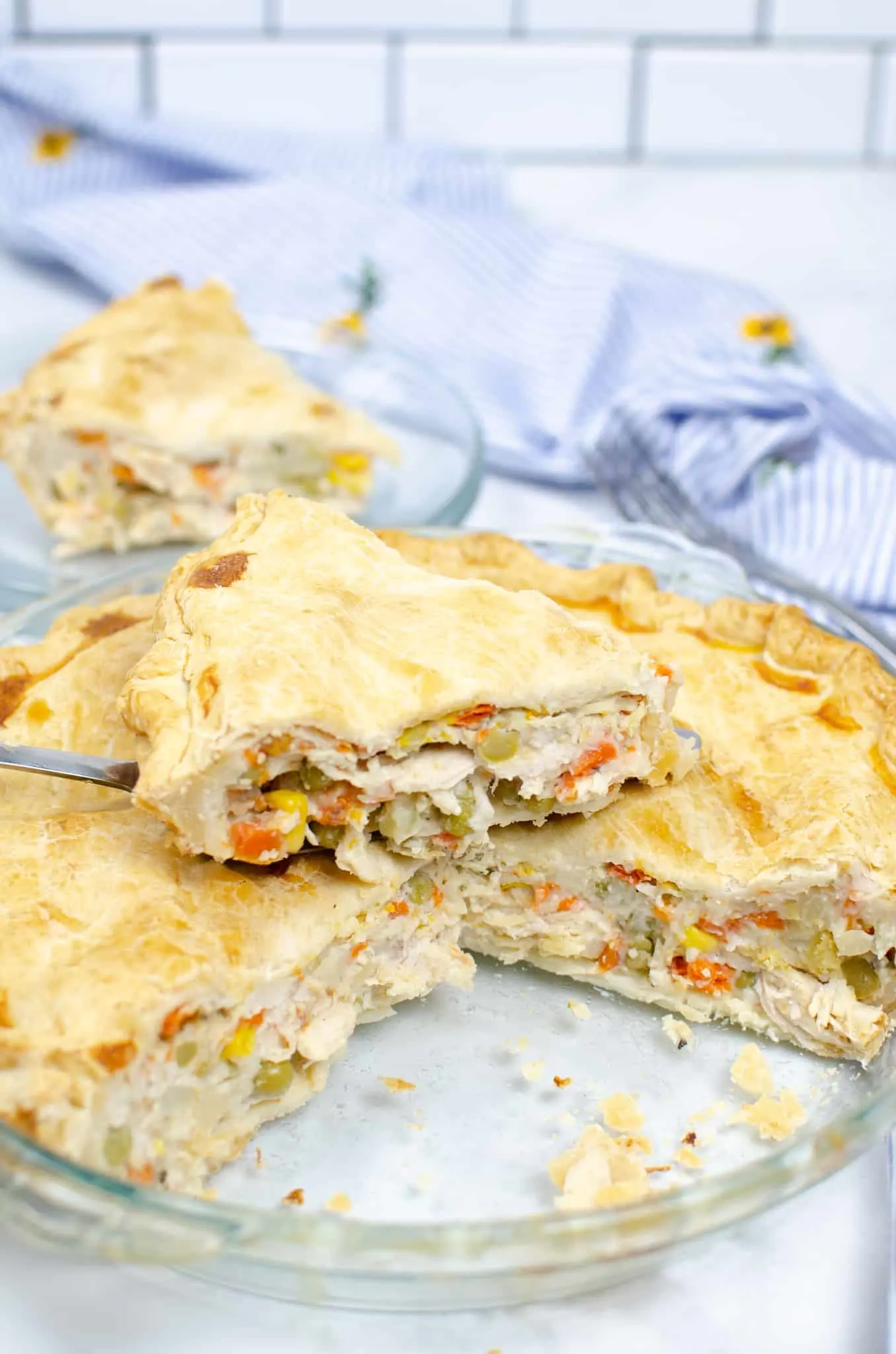 Perfect for leftover turkey from Thanksgiving or Christmas, this comfort meal is just what's needed after the hustle and bustle of the holidays. Plus, it's ridiculously easy to assemble!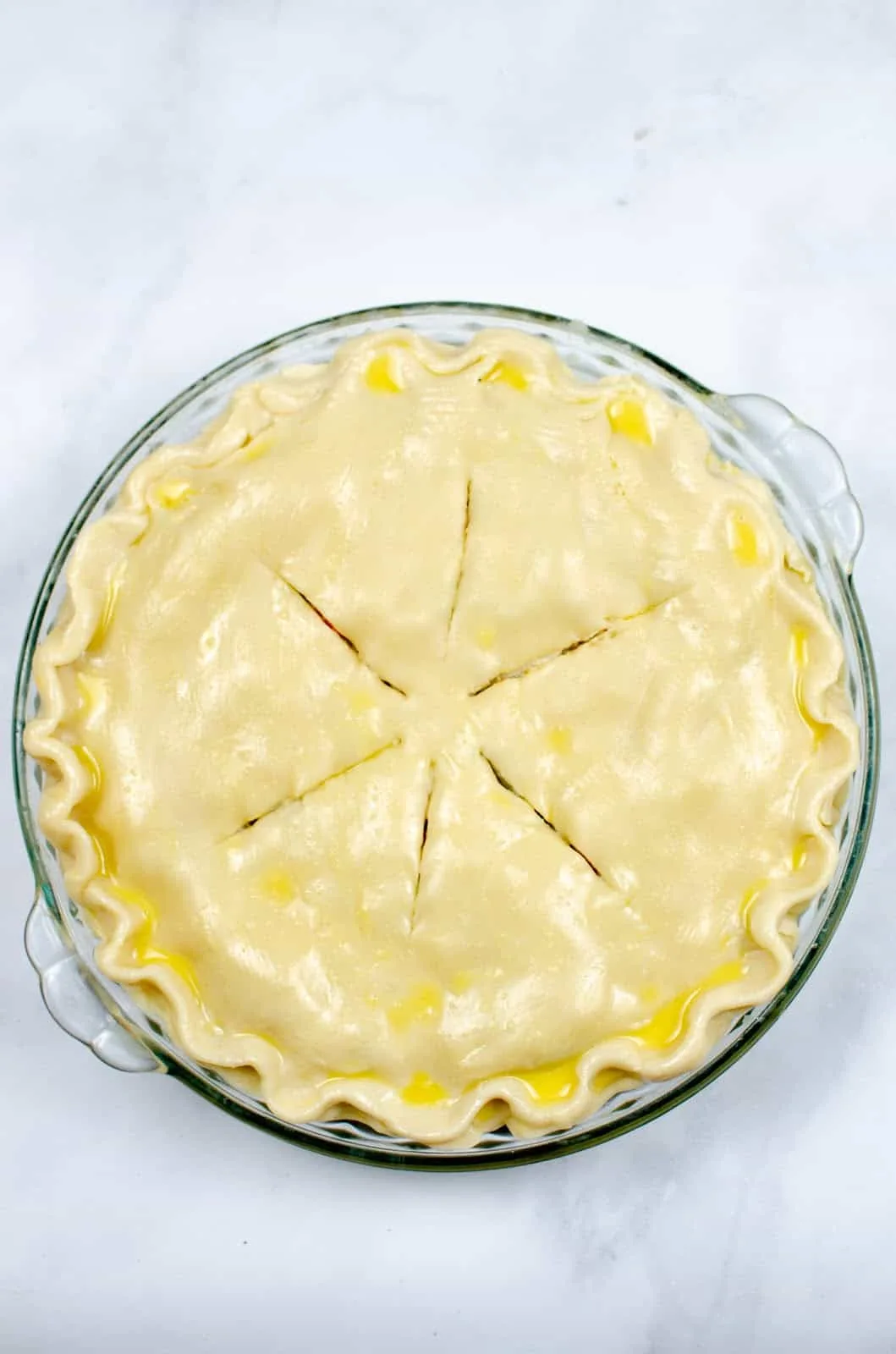 But don't wait until you have leftover holiday turkey to make this – it's just as delicious in the spring and summer by using a small breast of turkey that's pre-cooked from the store. And of course, you can always substitute chicken for turkey, so keep this no-fail recipe handy.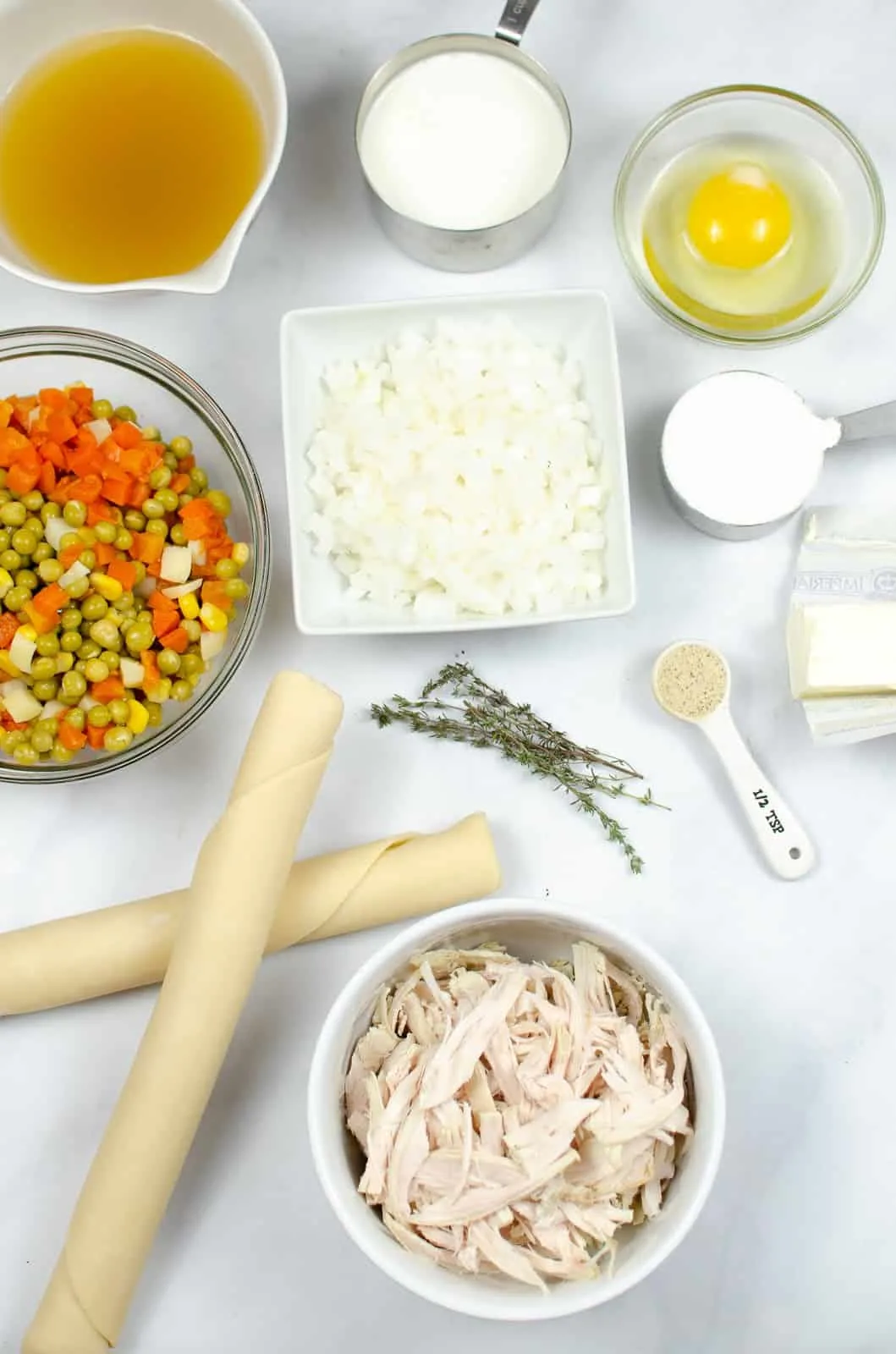 What kind of vegetables can I use in this pot pie recipe?
Traditionally, peas and carrots (a frozen package is fine) are what's included. But you can really use almost any veggie. How about adding a combo of green beans, corn, mushrooms, broccoli, or cauliflower? Some people like to add chopped celery, too!
Experiment with different veggies. Many times, the best recipes are "accidentally" created when we're forced to use what's on hand. You may discover a combo that becomes your new favorite!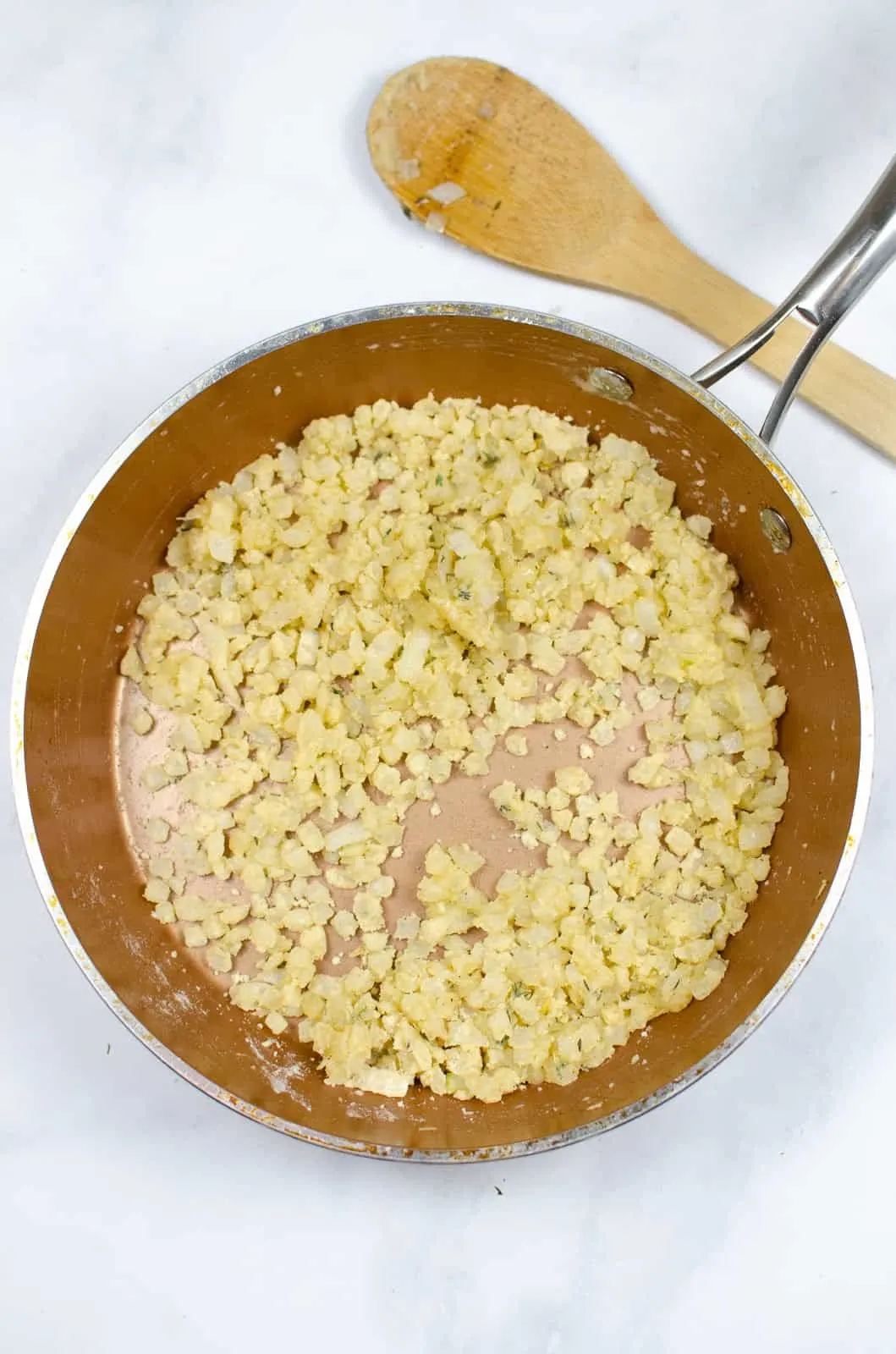 How do I make the crusts?
Good news! For this recipe, you can totally use store-bought crusts for both the top and bottom of the pot pie. I'm all about convenience, and there's no shame in taking this shortcut. That said, if you love baking and crusts are your thing, by all means, make a homemade crust!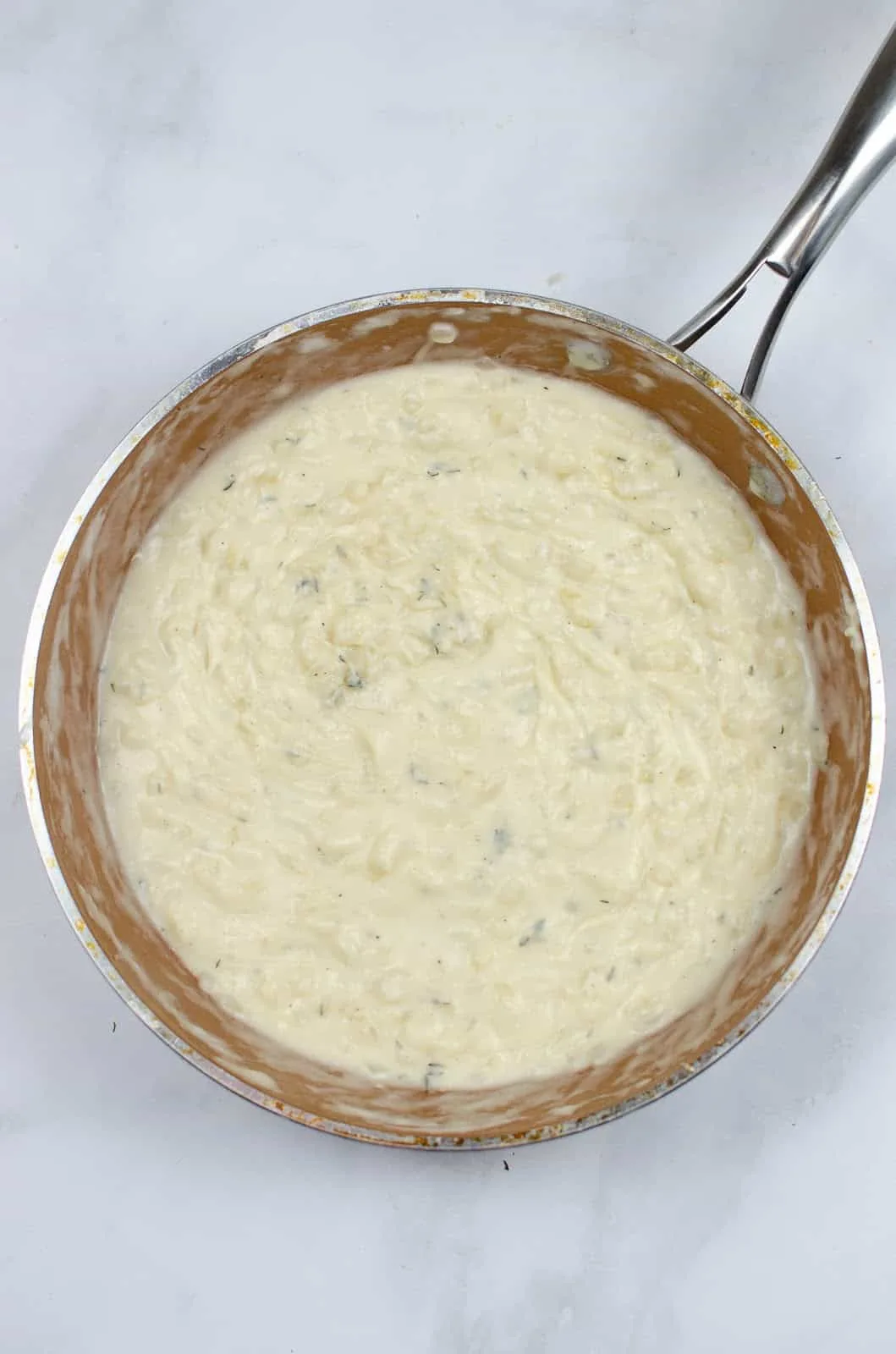 Turkey pot pie cooking tips
If you're concerned about the bottom pie crust becoming soggy as it bakes, consider using an aluminum pie plate. Do not use the small flimsy disposable aluminum pie tins – those are way too shallow. Use an actual pie plate made from aluminum. The heat transfer in this type of pie plate will help the bottom crust from becoming soggy.

If your pot pie starts browning too quickly, cover the top with tin foil, especially the edges so they don't burn and crumble.

Let the pot pie cool for 10-15 minutes before slicing it so that the filling thickens up a bit. This will help when you go to serve it so that the filling doesn't fall out all over the place as you plate it.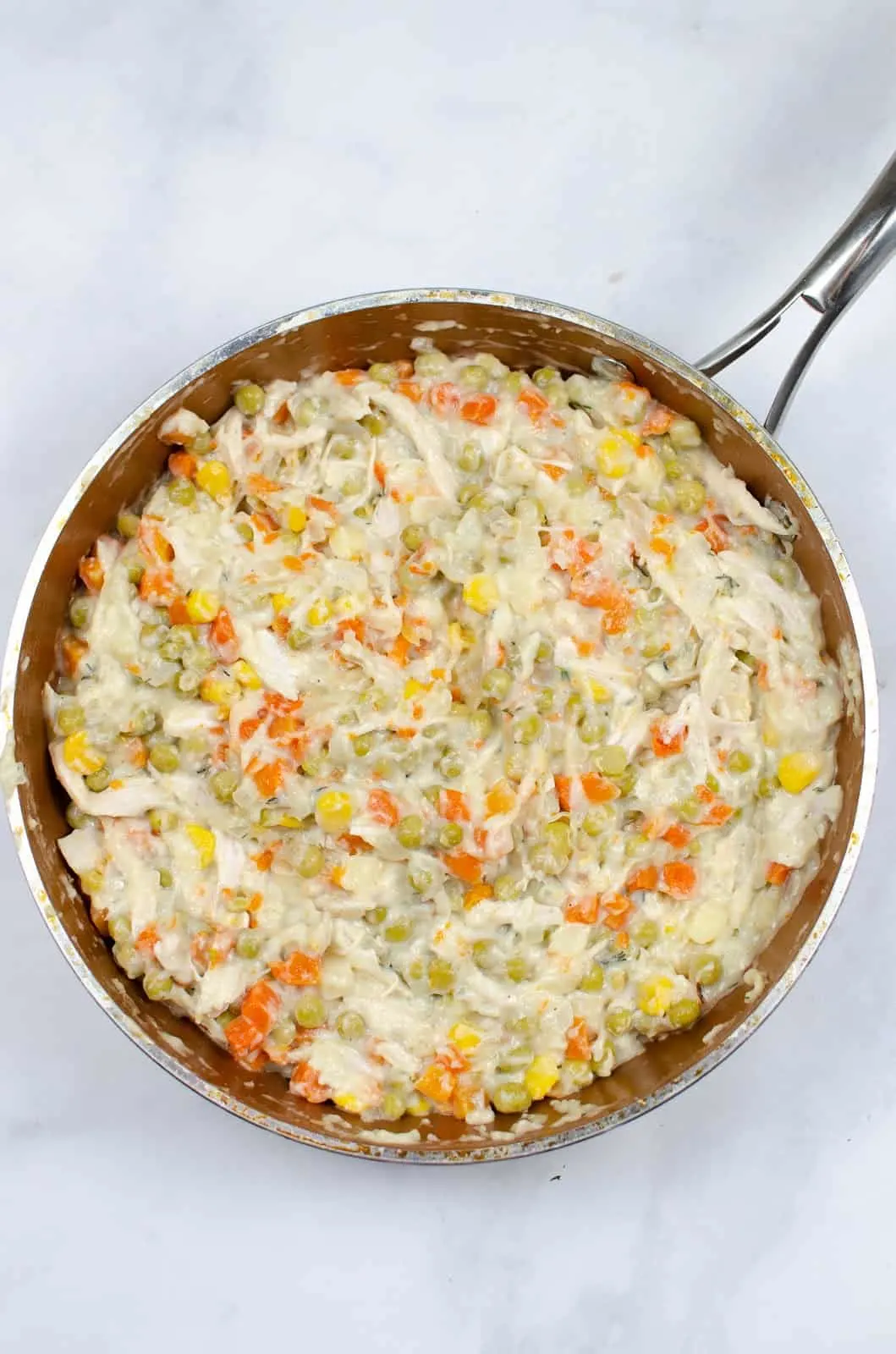 Is this recipe freezer-friendly?
Absolutely! There are two ways to do this.
First, you can assemble the entire turkey pot pie and freeze it, unbaked. When you're ready to bake it, plan ahead and let it thaw in the fridge overnight before sliding it into the oven.
Second, you can make and freeze the filling by itself. When you're ready to bake it, thaw the filling and then assemble it in the crusts and bake.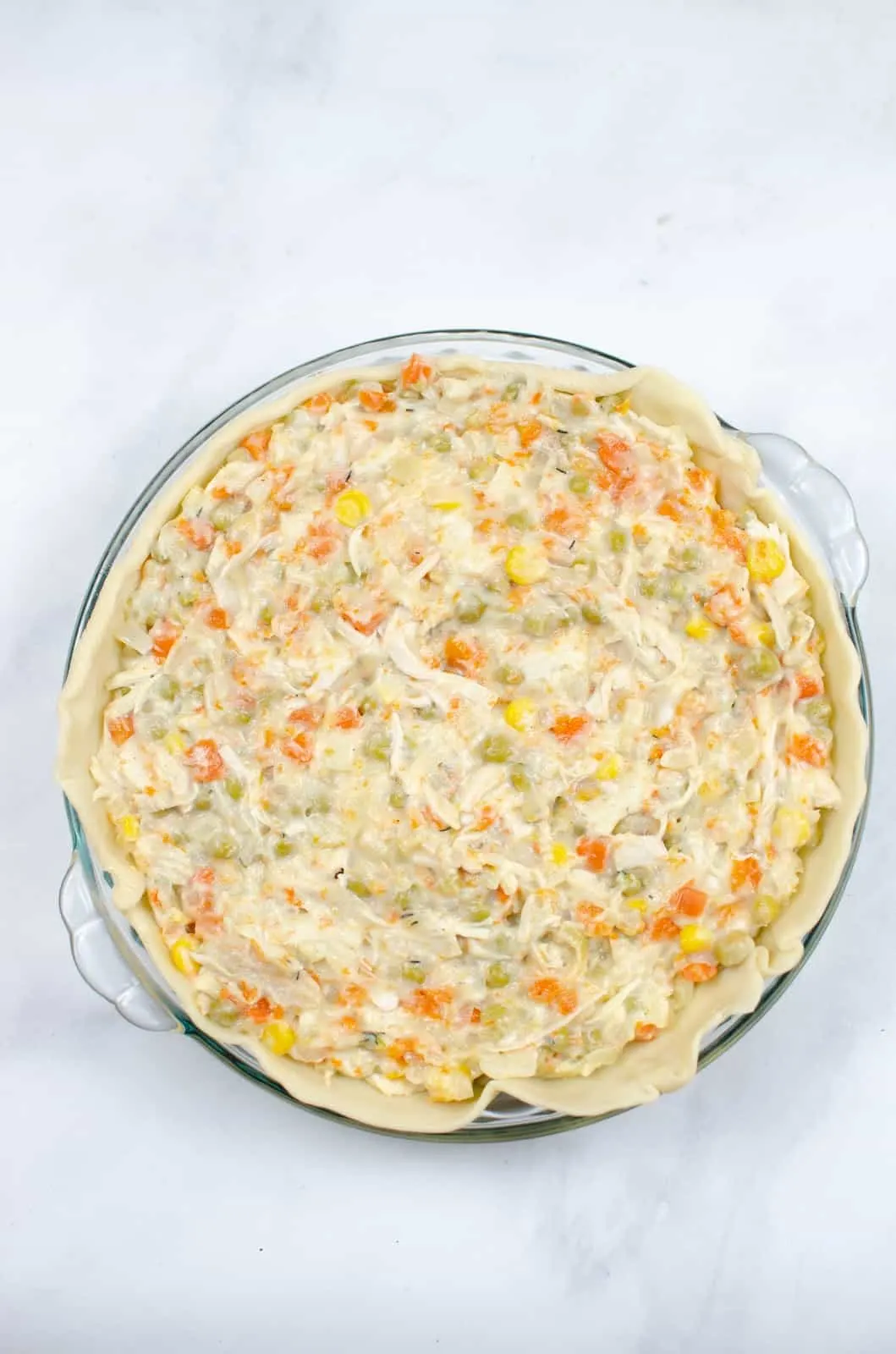 What is a Pot Pie?
A classic pot pie has ingredients of a pie crust, poultry or meat, vegetables, and gravy.
Ingredients
butter

onion, diced

flour

seasoning

fresh thyme

chicken broth

half and half

mixed vegetables, thawed

turkey, shredded

pie crusts

egg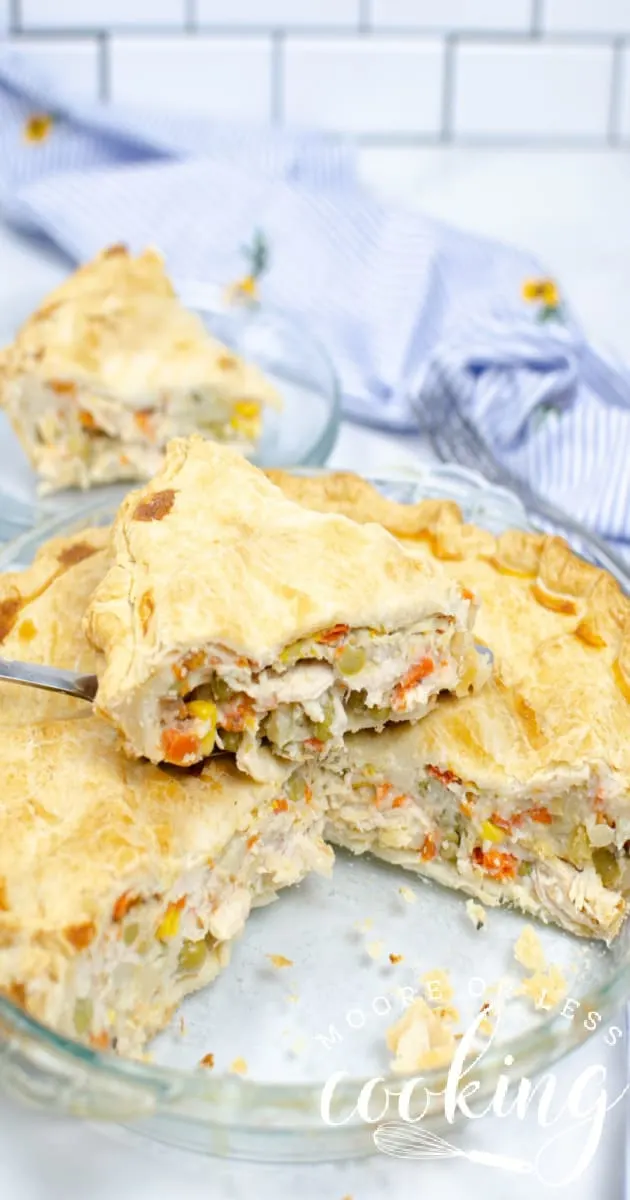 Who doesn't love a warm pot pie filled with a creamy gravy full of our favorite veggies and meat? It's not complicated to throw this meal together. It's also a great meal-planning recipe since you can make it ahead of time for later use. Easy and delicious! What's not to love?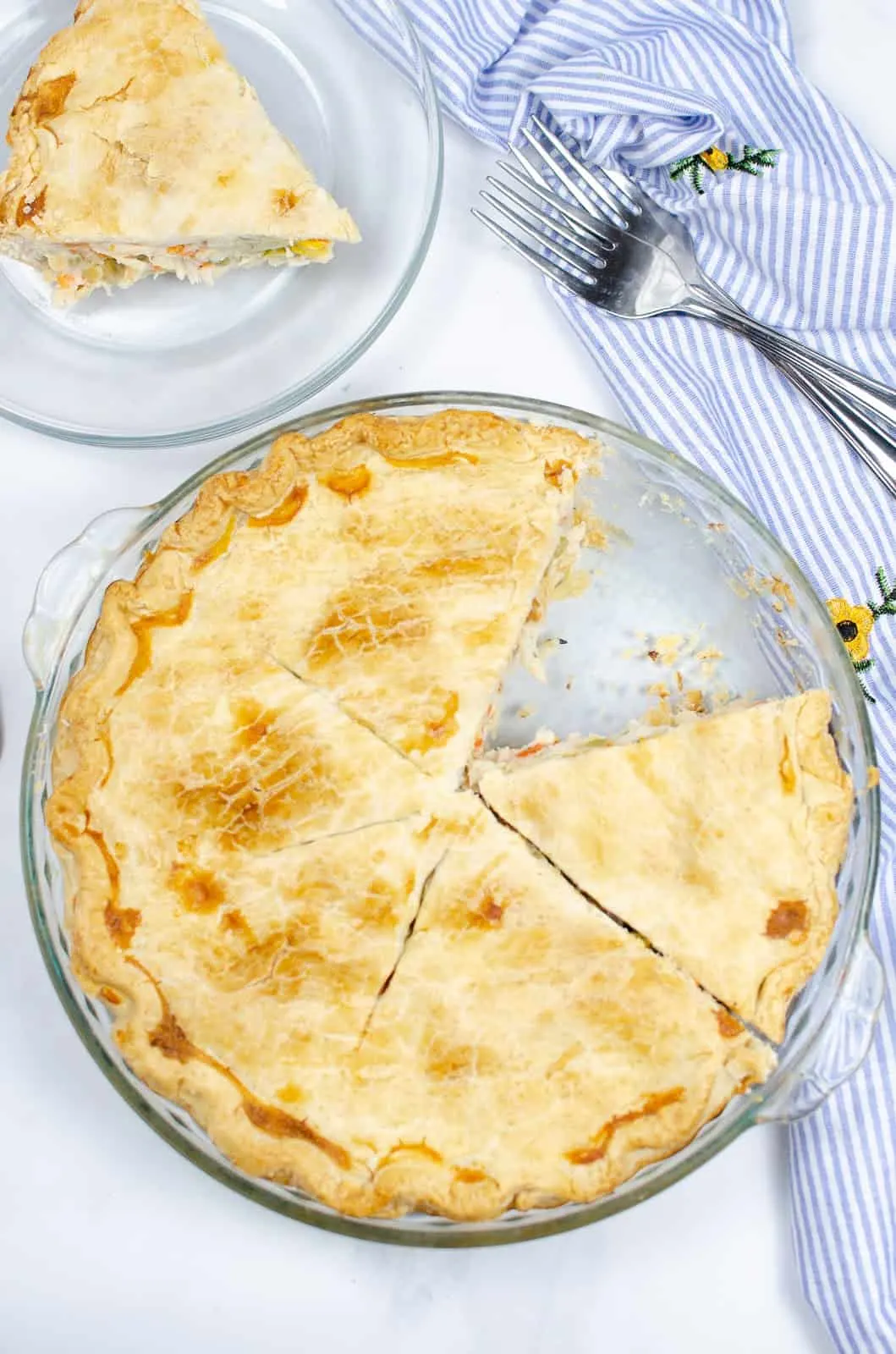 Related Recipes
Easy Smoked Turkey Cheese And Mushroom Puff Pastry
Holiday Soy Sauce Brined Turkey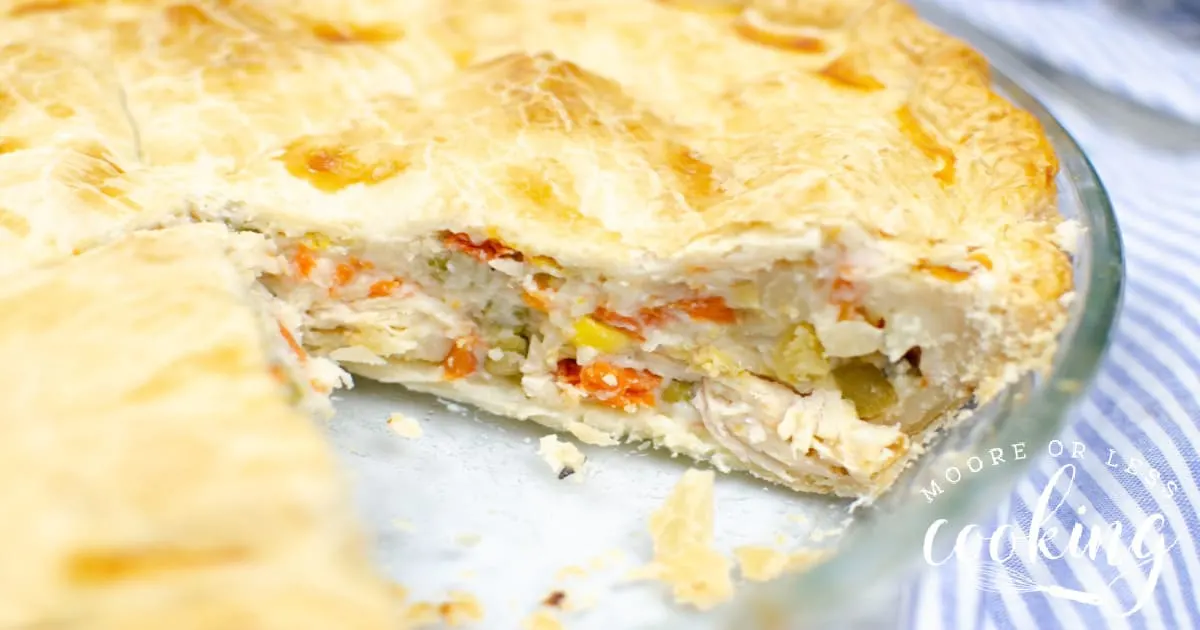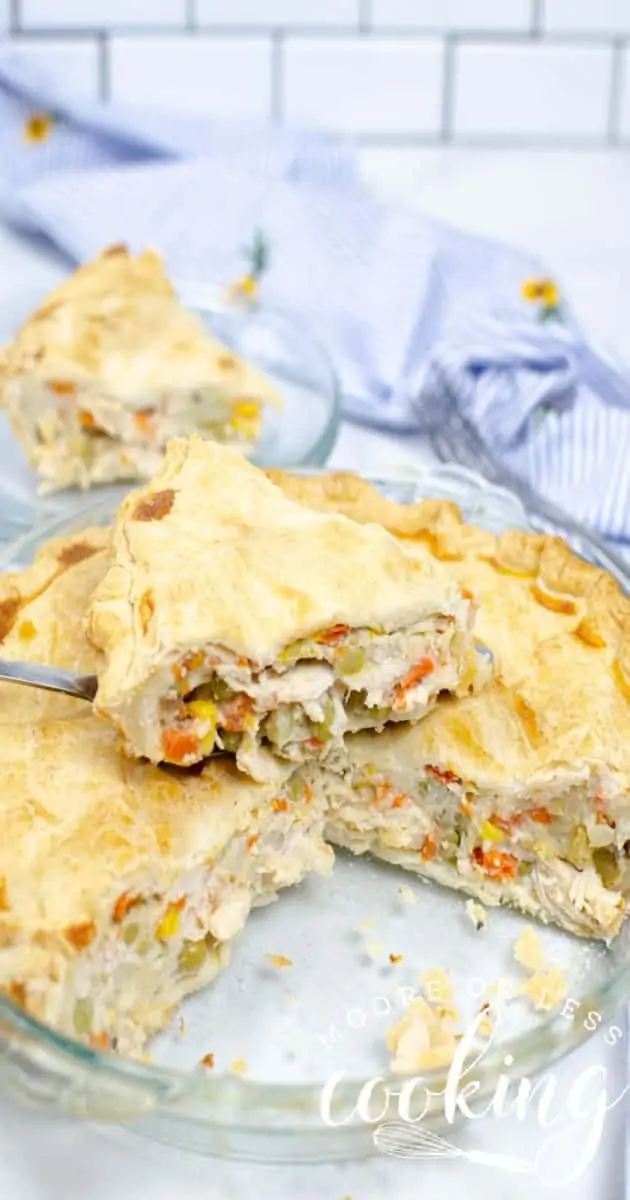 Get the printable recipe below, and be sure to pin this delicious Turkey Pot Pie recipe to your favorite dinner recipes board on Pinterest!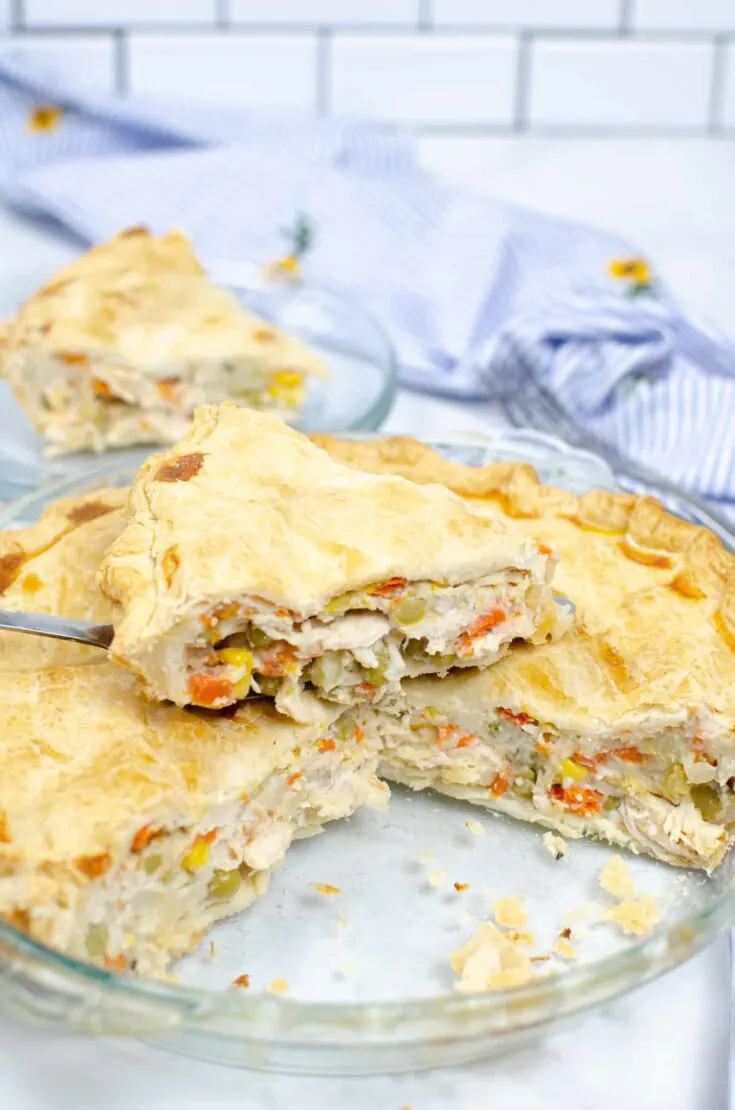 Yield:

serves 8
Turkey Pot Pie
Turkey Pot Pie
Filled with a savory mix of vegetables in a delicious seasoned gravy, this quick and easy pot pie uses turkey as a tasty protein. It's all held in place between two buttery and flaky crusts. It's the ultimate homemade comfort food!
Ingredients
1/2 cup butter
1/2 onion, diced
⅓ cup flour
½ teaspoon Nature's Seasoning
3 sprigs thyme, leaves separated from stem
1 teaspoon salt
1 teaspoon pepper
1 cup chicken broth
⅔ cup half and half
20 ounces mixed vegetables, thawed
2 cups turkey, shredded
2 pie crusts
1 egg beaten
Instructions
1. Preheat your oven to 400°.
2. Warm skillet on medium-high. Once it is warm, melt butter.
3. Add onions. Mix and cook for about five minutes to soften the onions. Once they become translucent, add flour.
4. Mix in seasoning, thyme, and salt and pepper. Continue to mix until everything is incorporated with flour. It should look thick.
5. Alternate pouring in a small amount of half-and-half, and chicken broth. Continue to do this until the broth and half-and-half are gone.
6. Add in turkey, and mix together until fully incorporated.
7. La one pie crust on the bottom of your pie pan. Pour in turkey pot pie mixture. With the back of a spoon smooth out the pot pie mixture so that it is even in the pie pan.
8. Beat the egg in a small separate bowl. With a brush, brush the egg mixture over the remaining crust to create a seal. Place the other crust on top and pinch together the sides of the pot pie.
9. Using a sharp knife cut lines in the top of the pie crust to vent. Brush more egg on top of the crust on the side as well as the center of the cross.
10. Place your pie in the oven for 30 to 35 minutes, or until the crust is lightly brown.
11. Allow your pie to cool for about 15 minutes before cutting into it.
12. Serve and enjoy!
Recommended Products
As an Amazon Associate and member of other affiliate programs, I earn from qualifying purchases.
Nutrition Information
Yield
8
Serving Size
1
Amount Per Serving
Calories

442
Total Fat

28g
Saturated Fat

13g
Trans Fat

1g
Unsaturated Fat

13g
Cholesterol

98mg
Sodium

824mg
Carbohydrates

33g
Fiber

4g
Sugar

5g
Protein

16g