These 7 layer bars bake up to taste like Magic!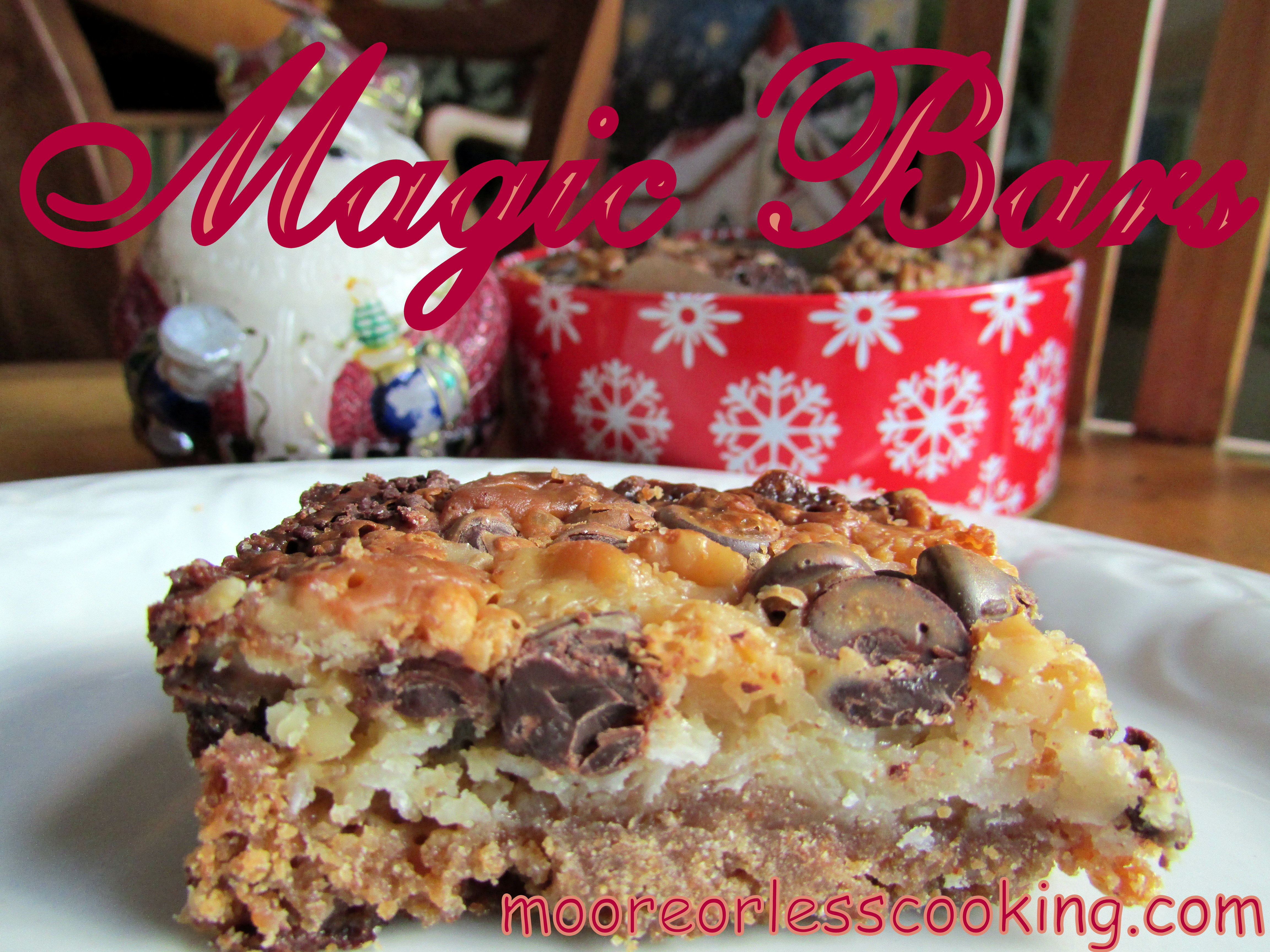 I have heard of the infamous Ice Storm in 1998 where so many lost their power for three weeks.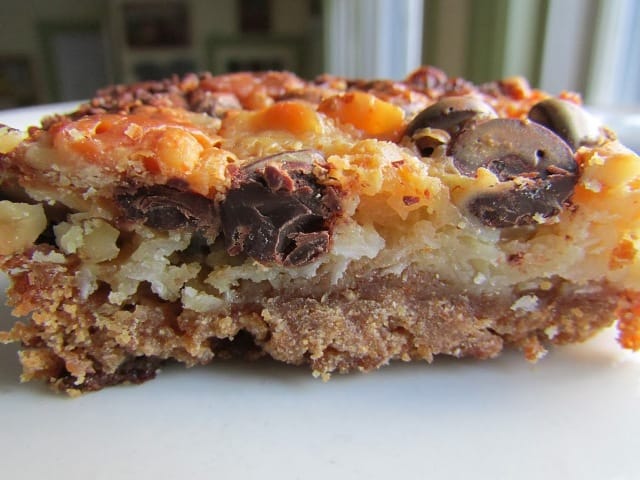 So when we were welcomed by this ice storm this week, we were all in shock to lose power. No heat, no electricity, not so much a welcome for Christmas.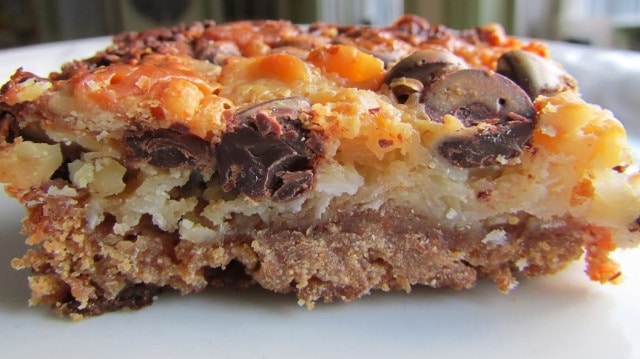 This has been the first time that I have been on the internet in 5 days, so I am excited to share a recipe with you, I started to bake these right when the power came back on, or else they would have gone on the BBQ Grill!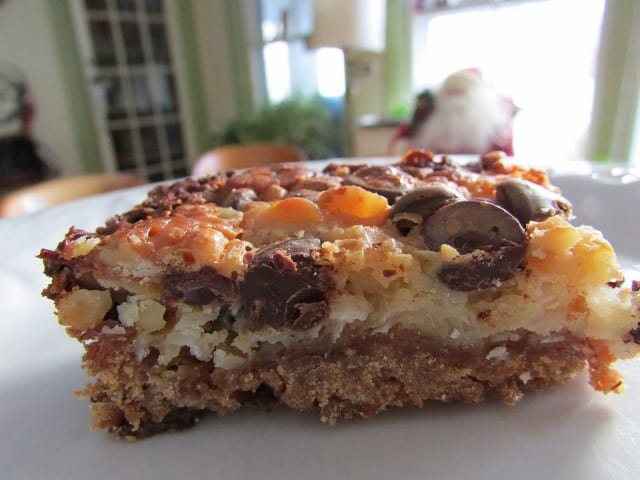 That is a whole other blog!
These really are named appropriately, they are magic.
Everyone kept going back for second and third helpings.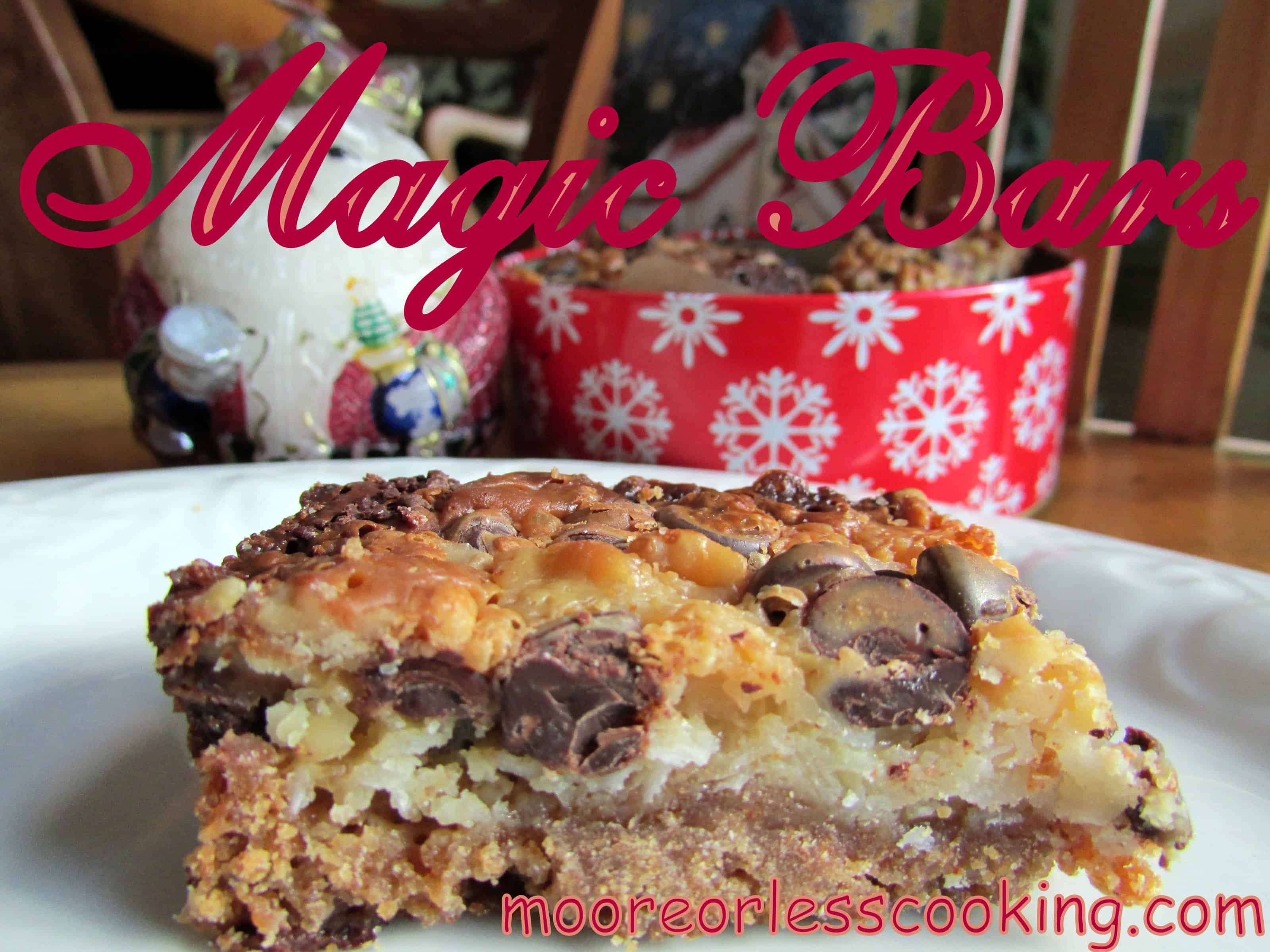 A layer of graham cracker crumbs, a layer of coconut, a layer of chocolate chips, a layer of nuts, so easy! This bar freezes well too!
Variations:
7-Layer Magic Cookie Bars: Substitute 1 cup (6-ounces) butterscotch flavored chips* for 1 cup semi-sweet chocolate chips and proceed as directed above.
Peanut butter flavored chips or white chocolate chips may be substituted for butterscotch flavored chips.
Magic Peanut Cookie Bars: Substitute 2 cups (about 3/4 pound) chocolate-covered peanuts for semi-sweet chocolate chips and chopped nuts.
Magic Rainbow Cookie Bars: Substitute 2 cups plain candy-coated chocolate candies for semi-sweet chocolate chips.
PIN IT:
MAGIC BARS VIDEO:
Ingredients
1/2 cup unsalted butter, melted
1 1/2 cups graham cracker crumbs
1 cup sweetened or unsweetened flaked or shredded coconut
1 cup semisweet chocolate chips
1 cup chopped walnuts or pecans
1 - 14 ounce can sweetened condensed milk
Instructions
Preheat oven to 350 degrees F and place the rack in the center of the oven. Lightly butter or spray with a non stick cooking spray a 9 x 9 inch square baking pan.
Melt the butter and pour it evenly over the bottom of your pan.
Sprinkle the graham cracker crumbs evenly over the butter.
Sprinkle the coconut over the crumbs. Sprinkle the chocolate chips over the coconut. Sprinkle the nuts over the chocolate chips.
Finally, drizzle the sweetened condensed milk over all the ingredients. Do not mix the ingredients together, just layer them.
Bake in the preheated oven for about 30 to 35 minutes or until golden brown and a toothpick inserted into the middle of the squares comes out clean.
Remove from oven and place on a wire rack to cool. Cut into squares. Store in the refrigerator. These bars can be frozen.
Makes about 16 - 2 inch squares.
recipe adapted from Joy of Baking
https://mooreorlesscooking.com/2013/12/27/magic-bars/
Please remember to SHARE on FACEBOOK 
and PIN IT!
Nettie Moore is the cook, baker, photographer, and designer behind Moore or Less Cooking Food Blog. Nettie is a self-trained cook and baker. She loves creating easy recipes that don't call for a lot of unknown ingredients. Nettie's Blueberry Skillet Cake has been featured in Taste Of Home Magazine and her Peach Raspberry Pie has won awards! She was born and raised in Southern California and now lives with her artist husband. Follow Nettie on her blog, Moore or Less Cooking, or on
FACEBOOK | TWITTER | GOOGLE+ | PINTEREST | BLOGLOVIN |INSTAGRAM|