With minimal time and ingredients, you can have this Italian-inspired Bruschetta Chicken Pasta meal on the table in under 30 minutes! This easy-to-make chicken dinner will become your new favorite way to turn the flavors of a classic Italian appetizer into a crowd-pleasing meal.
Angel hair pasta topped with Italian-seasoned chicken and a zesty tomato, basil, balsamic and garlic sauce makes for an easy and quick dinner any night of the week. The flavors and ingredients are inspired by bruschetta, that toasted appetizer that's layered with tomatoes, herbs, balsamic vinegar, and cheese to create a delectable Italian bite-sized offering. Here, the chicken and pasta are used to serve up the saucy tomato mixture for a dinner option that's just as irresistible as the toasted appetizer version.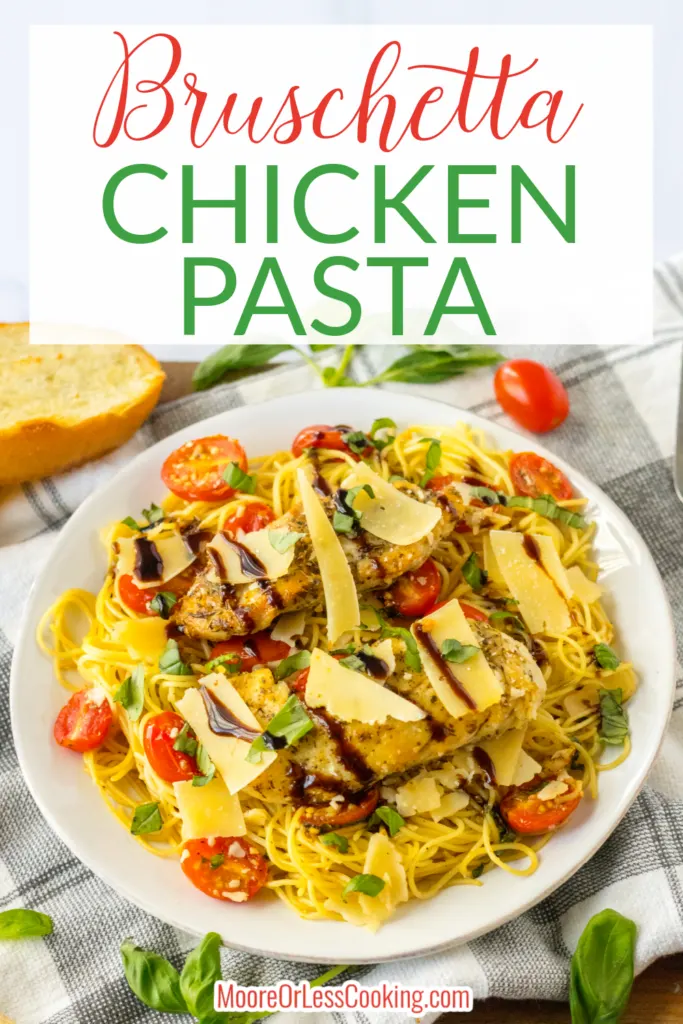 Ingredients Needed
Chicken – I use chicken tenderloins, but chicken breasts or thighs will work as well.
Tomatoes – I use cherry tomatoes, but any fresh tomato will work as long as you cut it into bite-sized pieces.
Basil – fresh basil is a must!
Garlic Cloves – minced
Balsamic Vinegar – to help create the glaze for the tomato, garlic, and basil mixture
Seasonings – salt, pepper, Italian seasoning
Olive Oil – add to the skillet to cook the chicken
Pasta – I like angel hair or spaghetti for this dish
Parmesan Cheese – I think freshly grated tastes the best!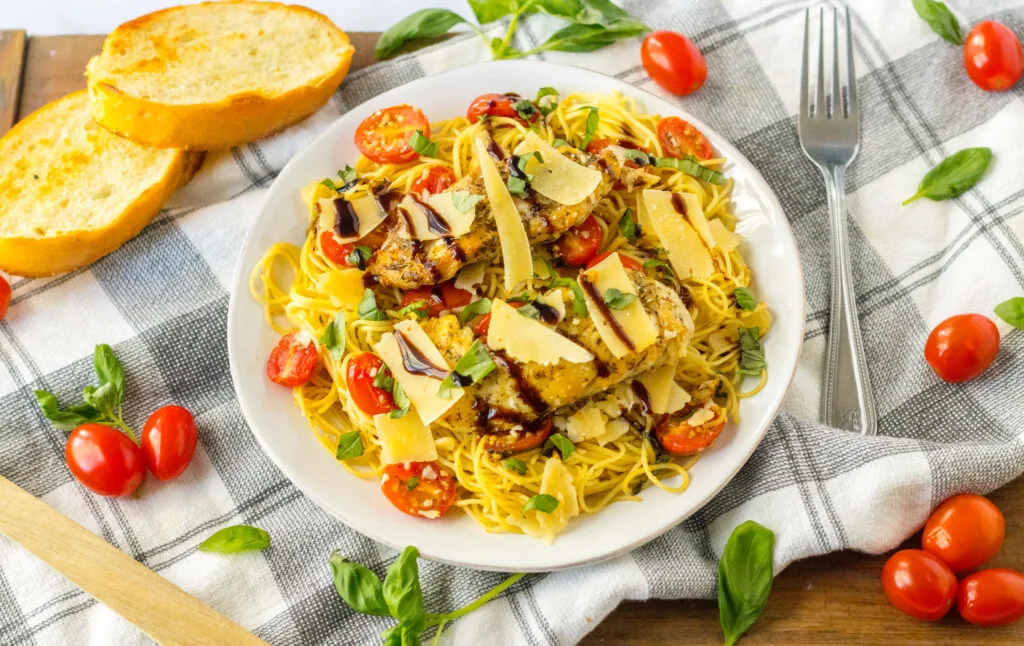 How To Make Bruschetta Chicken Pasta
Note: This is a summary of the recipe steps. For complete instructions, see the recipe card down below.
STEP 1: Slice the cherry tomatoes in half, chiffonade the basil and mince the garlic. Put them in a small bowl and drizzle with balsamic vinegar and season with salt and pepper. Stir and place in the refrigerator while you prepare the chicken and pasta.
STEP 2: Season the chicken with Italian seasoning, salt, and pepper. Cook the chicken in an oiled skillet on medium heat.
STEP 3: While the chicken is cooking, boil the pasta.
STEP 4: Once the chicken is finished cooking, remove it from the skillet and add the remaining olive oil to the pan. Add the tomato mixture from the refrigerator to the pan and cook it for 1-2 minutes on medium heat.
STEP 5: Drain the cooked pasta well before adding it to the skillet. Using tongs, mix the pasta with the saucy tomato mixture.
STEP 6: Plate up the pasta mixture and add the chicken to the top. Garnish with parmesan cheese and a drizzle of balsamic vinegar (optional) before serving.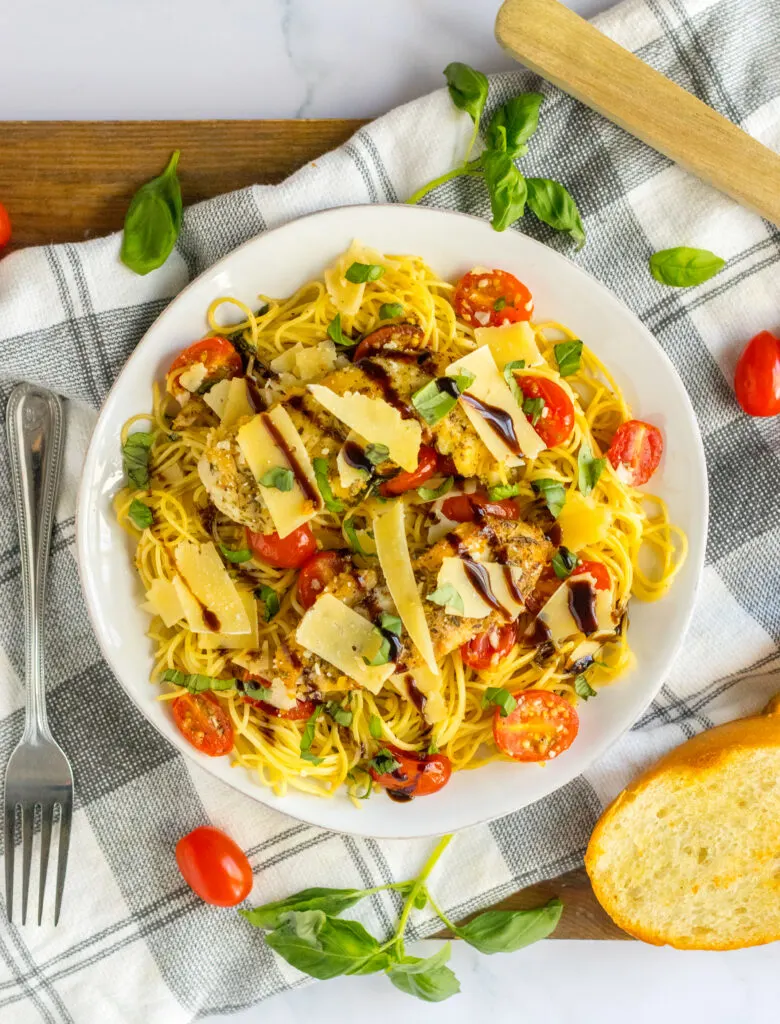 What is Bruschetta?
Bruschetta is a classic Italian appetizer that consists of a slice of toasted bread that's topped with a zesty combination of chopped tomatoes and basil mixed with a splash of balsamic vinegar, and olive oil, and seasoned with fresh garlic.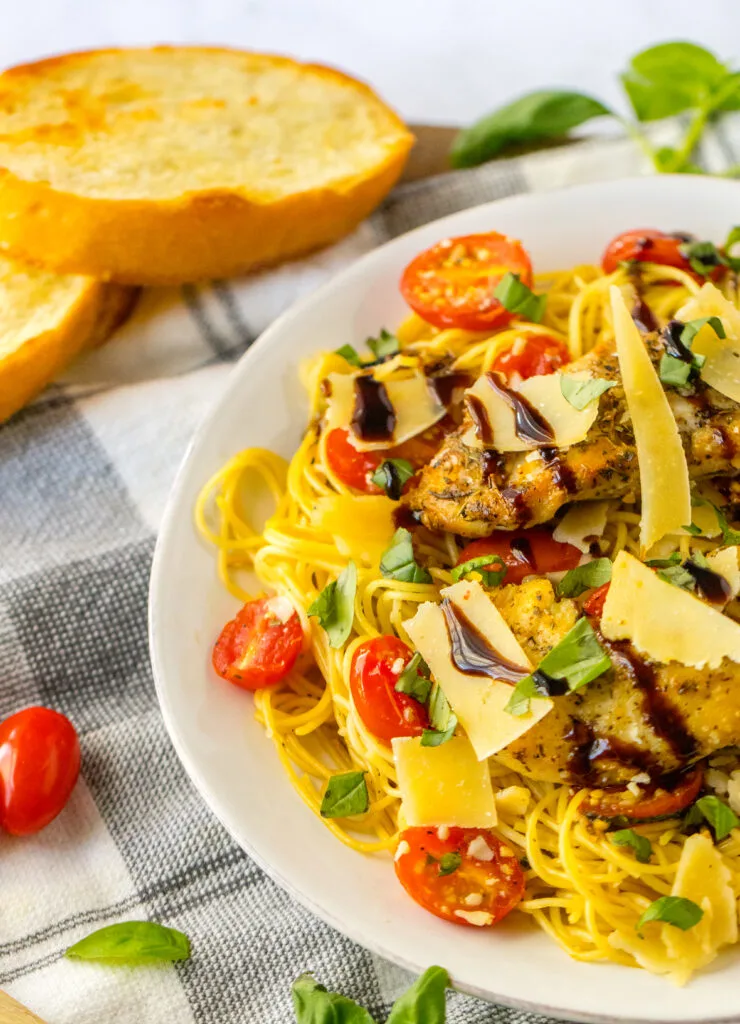 What Does Chiffonade Mean?
To chiffonade an ingredient, in this case, fresh basil means to cut it into thin strips or ribbons. This look is perfect for garnishes. When working with leaves of herbs, it's easiest to stack the leaves on top of each other before cutting them. Once stacked, roll them into a tube, and using a sharp knife, finely cut them at a 60-degree angle to make the thin ribbons.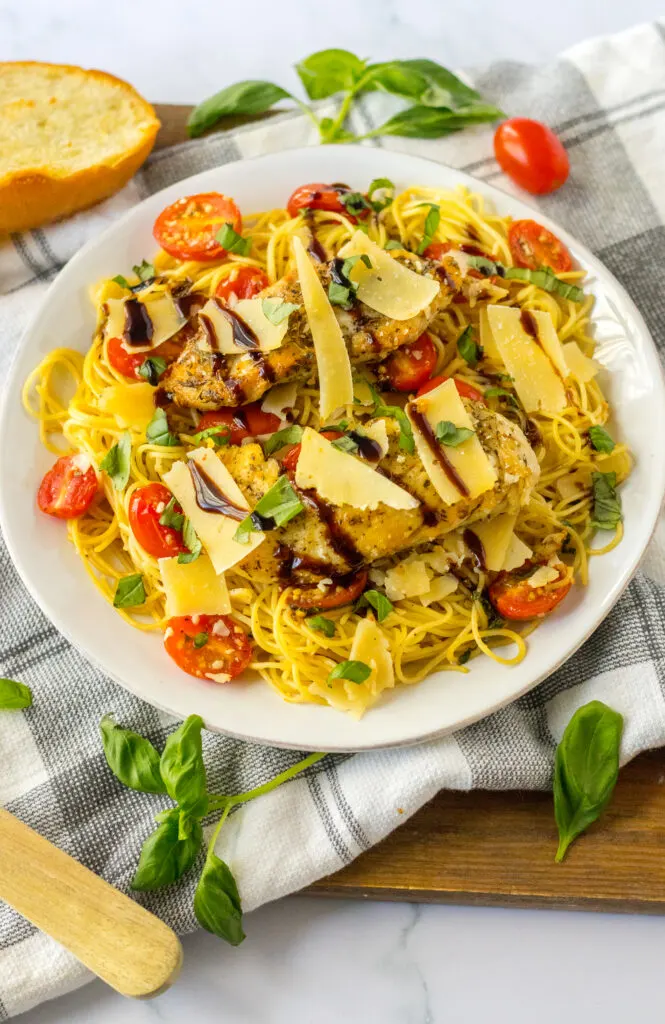 What Cut Of Chicken Should I Use?
I like to use chicken tenderloins, but you can just as easily use boneless chicken breasts or chicken thighs. I typically slice the chicken into strips and serve it on top of the pasta, so it's really up to you or whatever chicken you have on hand. You can also serve the chicken without slicing it if that's your preference.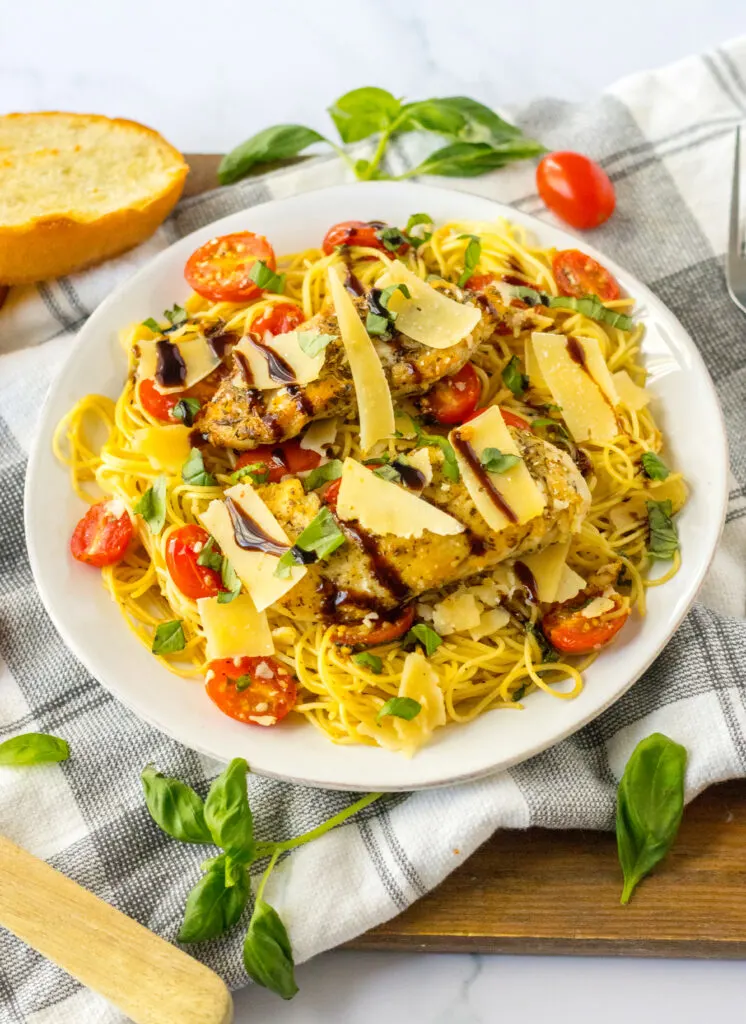 Variations
Pasta: I love angel hair pasta with this meal, and it cooks quickly, more so than other pasta, so it's a winner for me when time is tight. You could also substitute spaghetti noodles or even linguine to stay with the long-strand noodle theme. However, feel free to try any noodle, short or long.
Tomatoes: I love the ease of using cherry or grape tomatoes in this recipe, but if you have a garden full of larger tomatoes or scored a haul at the farmer's market, use those! Be sure and cut them into smaller pieces or bite-sized wedges.
Cheese: I think freshly grated parmesan cheese is a must for this recipe, but adding in freshly sliced mozzarella or the small mozzarella balls is also a delicious and creamy touch.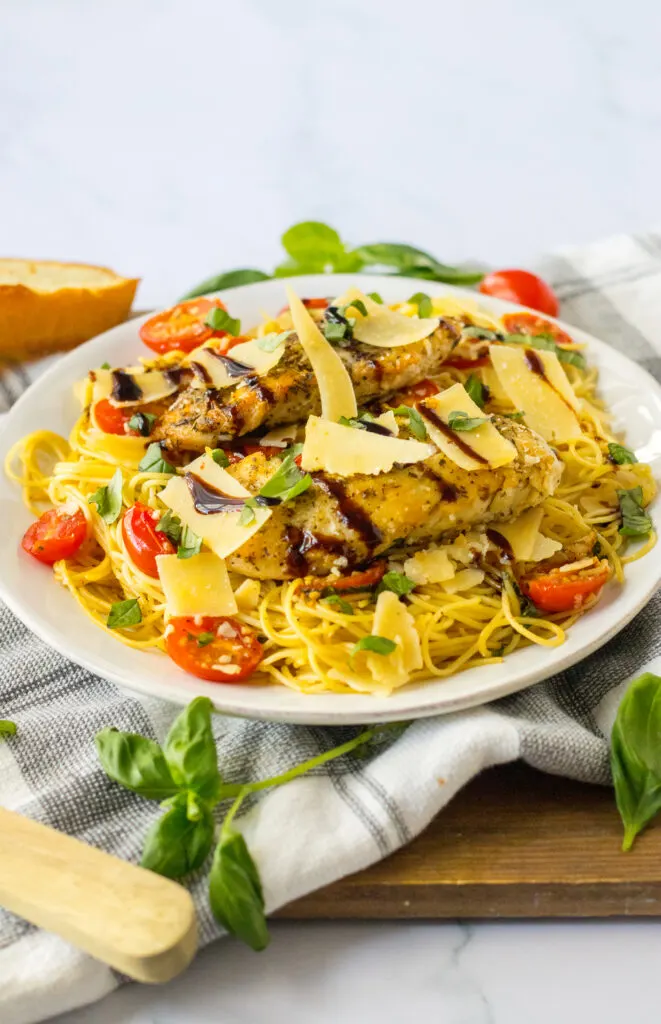 What To Serve With Bruschetta Chicken Pasta
A side salad full of greens, a little tomato, parmesan cheese, and your favorite zesty Italian dressing is a classic item to serve with this Bruschetta Chicken Pasta. Keep the Italian theme going and serve bread like my delicious Slow Cooker Focaccia or my Cheesy Garlic Bread. My Italian Garlic Herb Parker Dinner Rolls would also be delicious!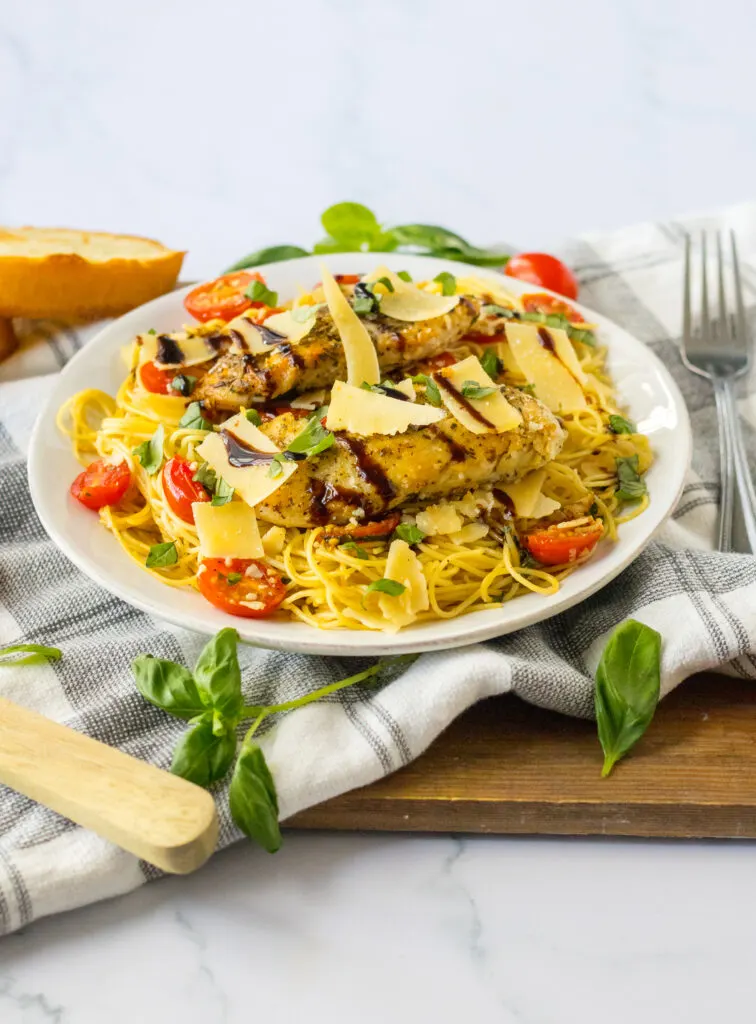 The best way to finish off this hearty meal? Have a slice of my scrumptious Italian Cream Cake.
More Easy Pasta Recipes
Crack Chicken Stuffed Shells
Holiday Lasagna
Cheesy Taco Pasta
Lemon Garlic Shrimp Pasta
Baked Pasta Alfredo with Sausage
Ham and Broccoli Pasta Bake
Nettie is a wife and mother who is passionate about cooking and baking. With 5 children, Nettie insists that all meals, snacks, and desserts come together quickly! You will find a wide variety of easy yet scrumptious recipes on her viral website Moore or Less Cooking
Be sure to follow me on Instagram and tag #mooreorlesscooking so I can see all the wonderful recipes that YOU make from this site!
Check out my YOUTUBE with a free email subscription HERE and please share on FACEBOOK and PINTEREST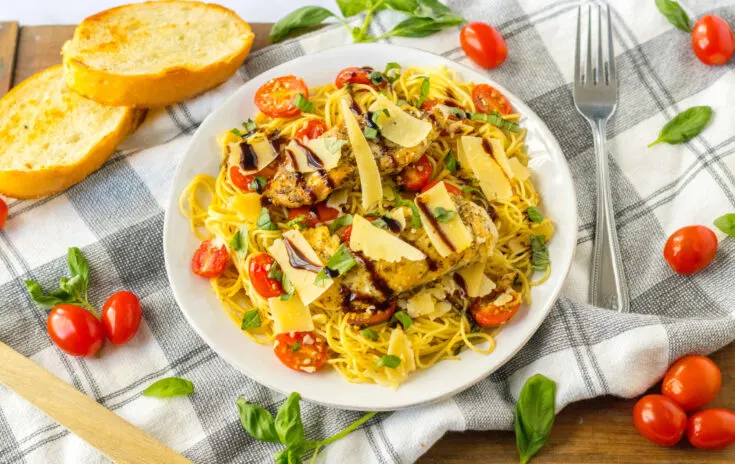 Yield:

Serves- 6
Bruschetta Chicken Pasta
Bruschetta Chicken Pasta is a quick meal that is super easy and tasty! Can be made in under 30 minutes. Mixing together tomatoes, basil, garlic, Balsamic Glaze, salt, and pepper to make an amazing Bruschetta Sauce. Season chicken with Italian Seasoning, salt, and pepper and cook it to perfection in EVOO. Add the pasta and Bruschetta Sauce together and top with chicken!
Ingredients
1-1.5 pounds of chicken breast tenderloins
1 pint of cherry tomatoes
1/3 cup of basil
4 garlic cloves minced
1 Tablespoons of balsamic glaze
1/2 tsp salt
1/2 tsp pepper
1 Tablespoon Italian seasoning
2 Tablespoons Extra Virgin olive oil
12 ounces angel hair pasta
1/2 pound of parmesan cheese (grated or shredded)
Instructions
Gather all of the ingredients.
Slice all the cherry tomatoes in half and chiffonade the basil.
In a small bowl combine the tomatoes, basil, garlic, balsamic glaze, salt, and pepper, slightly stir and place in the refrigerator while you prepare the chicken and pasta.
Season the chicken with the Italian seasoning and salt and pepper (salt and pepper is optional)
Add 1 tbsp of Extra Virgin Olive oil to a medium size pan and cook the chicken on medium heat.
Begin cooking the pasta in a large pot on medium-high heat.
Take the chicken out of the pan, add the other tbsp of oil to the pan and add in the mixture from the fridge and cook for 1-2 minutes on medium heat.
Add the cooked pasta to the pan and stir making sure everything is mixed together and coated.
Add the chicken back on top of the pasta and sprinkle with parmesan and serve!
Notes
Tips and Tricks
Chiffonade is when you roll the basil leaves and slice them with a knife until it's almost shredded.
Don't want a whole tenderloin of chicken? Slice it once it's cooked and serve.
Drizzle more balsamic glaze over the top after you plate it!
Nutrition Information
Yield
6
Serving Size
1
Amount Per Serving
Calories

617
Total Fat

22g
Saturated Fat

8g
Trans Fat

0g
Unsaturated Fat

11g
Cholesterol

193mg
Sodium

1022mg
Carbohydrates

27g
Fiber

2g
Sugar

4g
Protein

73g