A layered mix of chocolate, caramel, and pecans, all in a sweetened and creamy base make up this scrumptious Turtle Fudge. It's a no-bake dessert that's perfect for the holidays and beyond.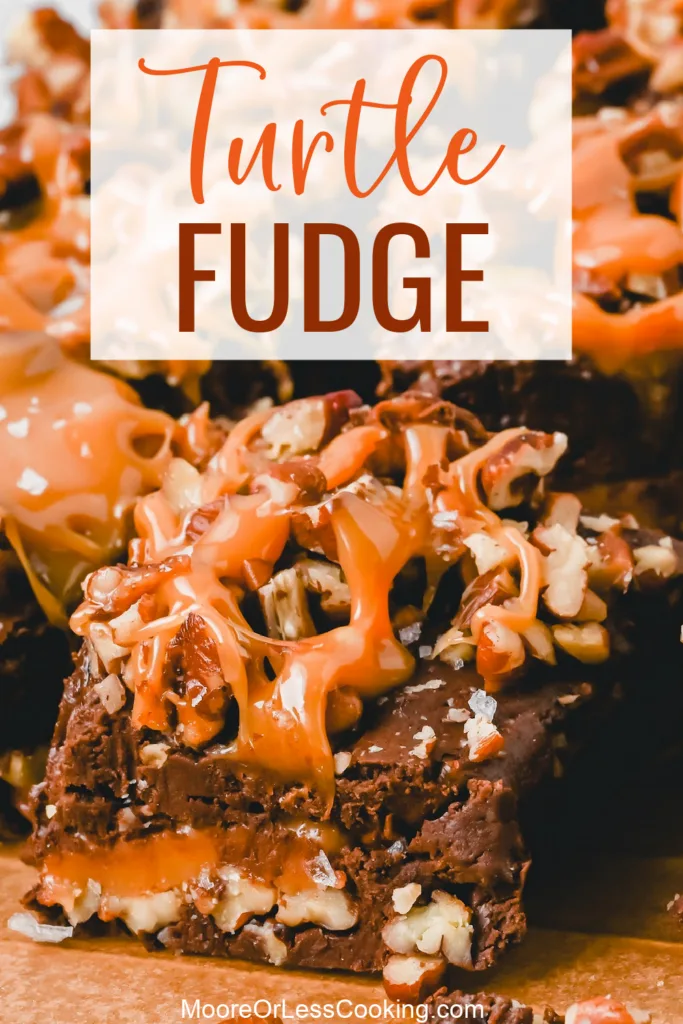 With its buttery caramel deliciousness and nutty crunch from pecans, the chocolate base of this fudge offers a rich foundation for layering on these delectable ingredients. And best of all, it's super easy to make!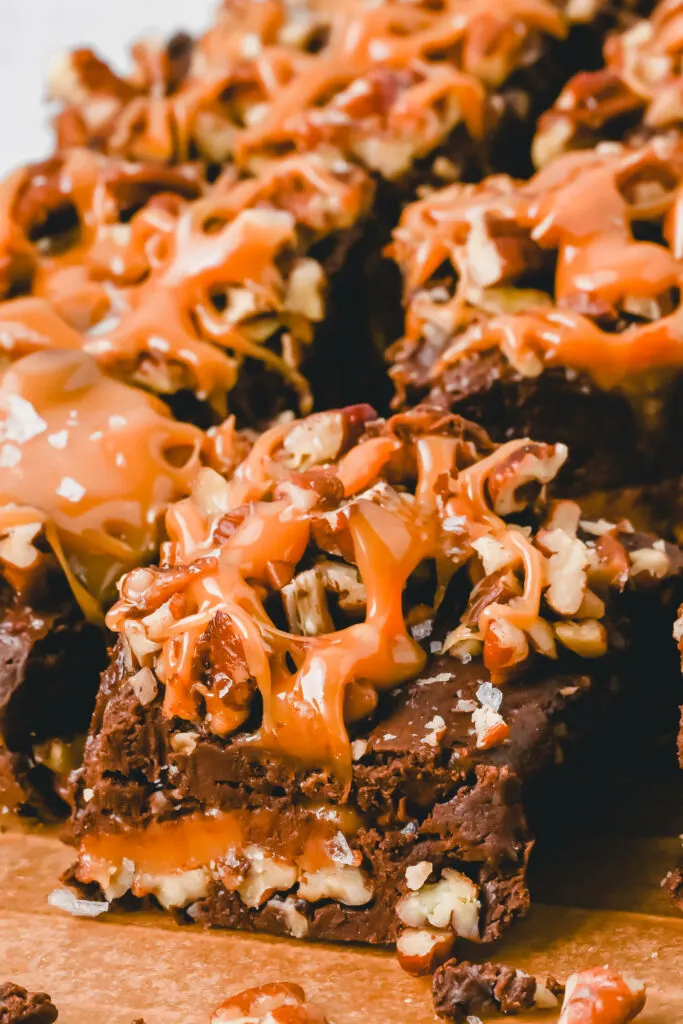 Turtle Fudge is a great sweet confection for holiday parties, snacks, or gifts for friends and family. Take some to work for your co-workers and watch them disappear quickly! Keep them on the counter in your kitchen and delight your family with this sweet treat. Package it in cellophane for neighbors and spread goodwill and seasonal cheer with this irresistible Turtle Fudge.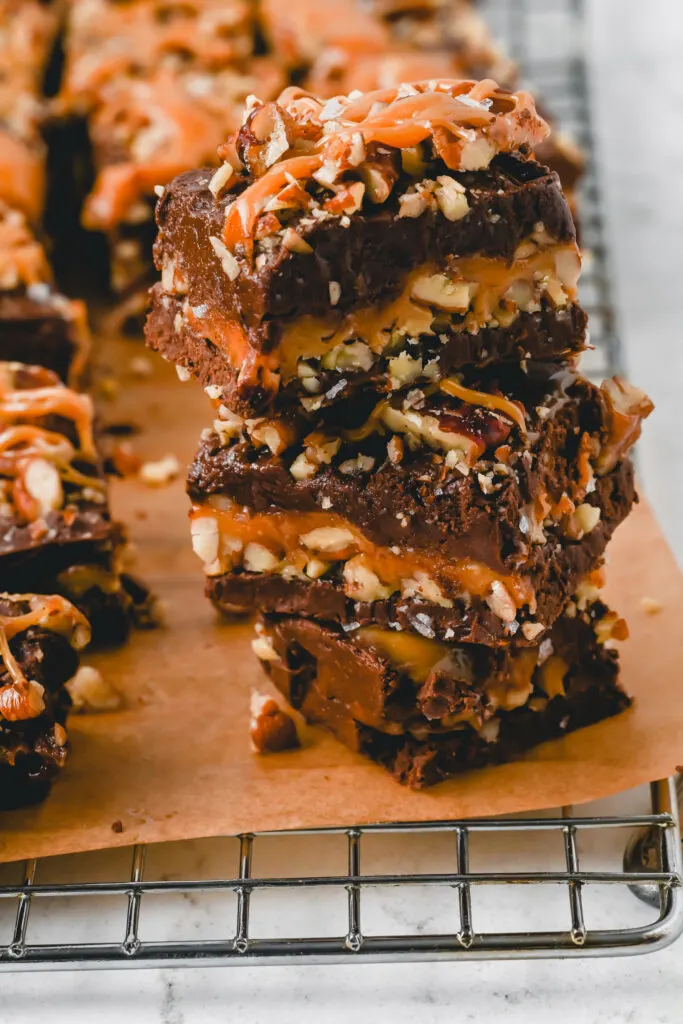 If you love the combo of nuts and chocolate with a gooey caramel layer holding it all together, make this Turtle Fudge any time of year – don't wait for the holidays!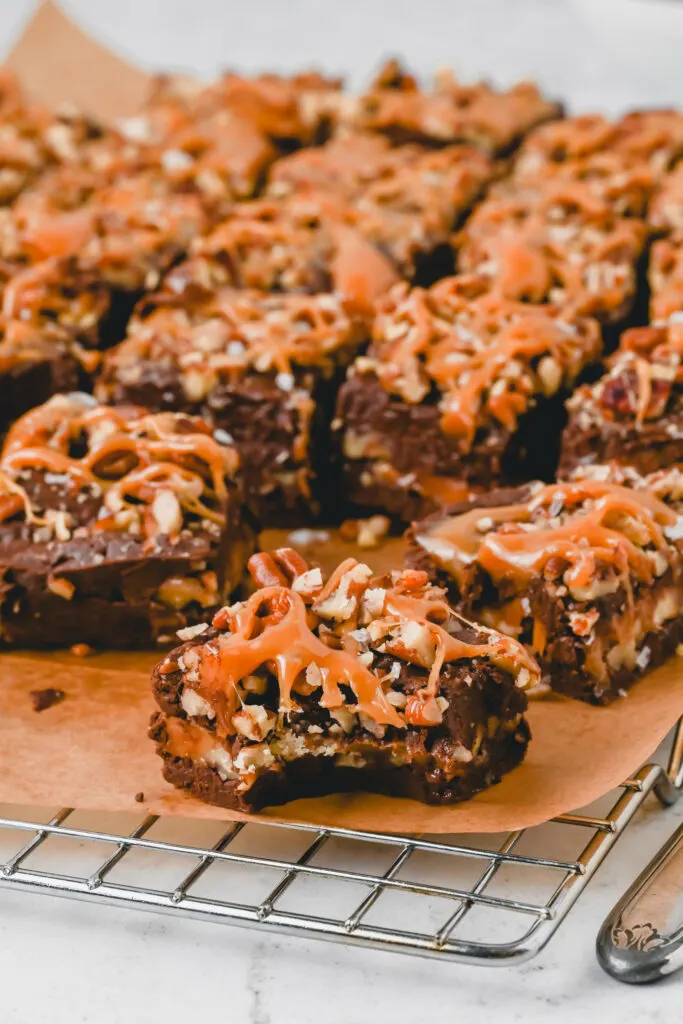 Ingredients Needed
Semi-Sweet Chocolate Chips – make up the chocolate base along with the sweetened condensed milk and marshmallow cream.
Sweetened Condensed Milk – the sweet milk is combined with melted chocolate chips and helps make the chocolate layer rich and smooth.
Marshmallow Cream – adds another layer of sweet lusciousness to the melted chocolate layer.
Vanilla – add this to the chocolate layer for additional flavoring.
Pecans – chopped pecans add the nutty flavor and texture that's a hallmark of turtle candy.
Caramels – melt soft caramels with the heavy cream for the gooey and buttery addition to this fudge.
Heavy Cream – is added to the melted caramels for a thick and rich texture and flavor.
Sea Salt Flakes – garnish the top for that classic salty finish.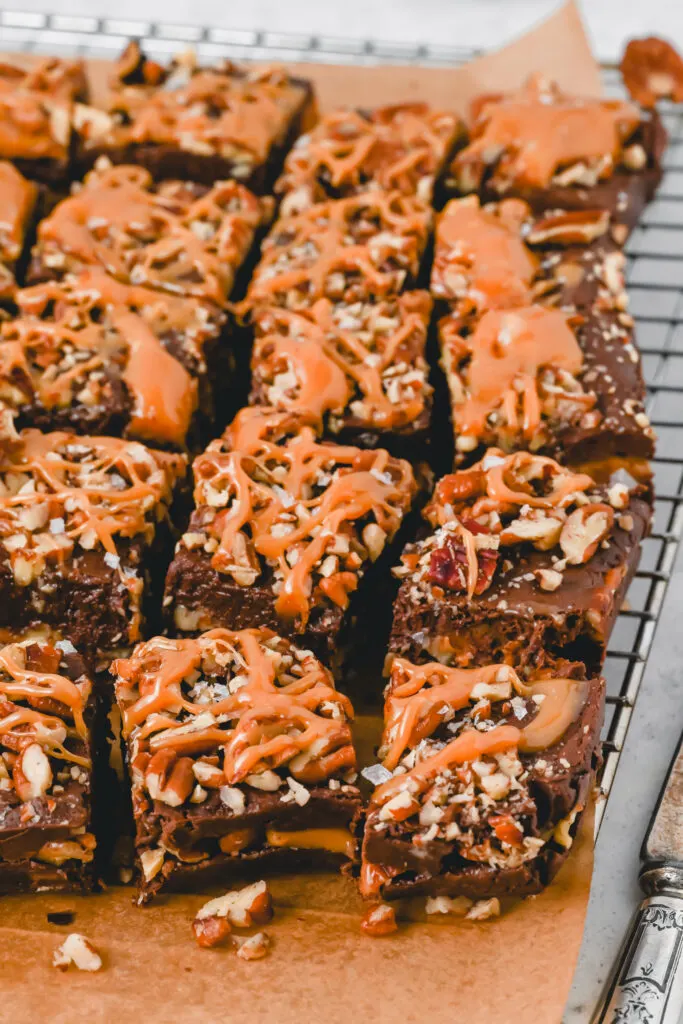 How to Make Turtle Fudge
Note: This is a summary of the recipe steps. For complete instructions, see the recipe card down below.
Melt the chocolate chips and sweetened condensed milk in a saucepan Once melted, stir in the marshmallow cream.
Spread half of the chocolate mixture in the bottom of a prepared 9 x 9 pan.
Scatter half the chopped pecans over the chocolate layer and lightly press them in.
Melt caramels and heavy cream together in the microwave.
Drizzle half of the caramel mixture over the chocolate and pecans in the pan.
Repeat the layers by topping with the remaining chocolate and pecans and then drizzle with the remaining caramel.
Garnish the top with sea salt and cool completely before cutting.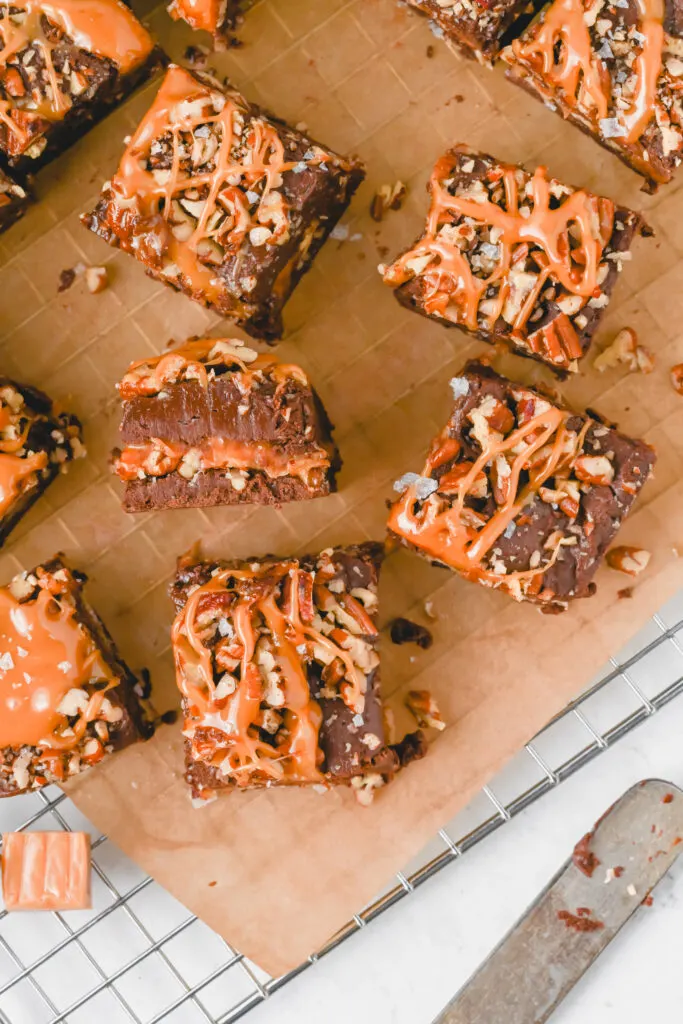 Why Is This Called Turtle Fudge?
The combination of chocolate, caramel, and nuts is referred to as "turtle" for reasons unknown – we just know that these ingredients taste amazing together! This no-bake fudge is a nod to the classic turtle candy that's made with chocolate, caramel, and nuts.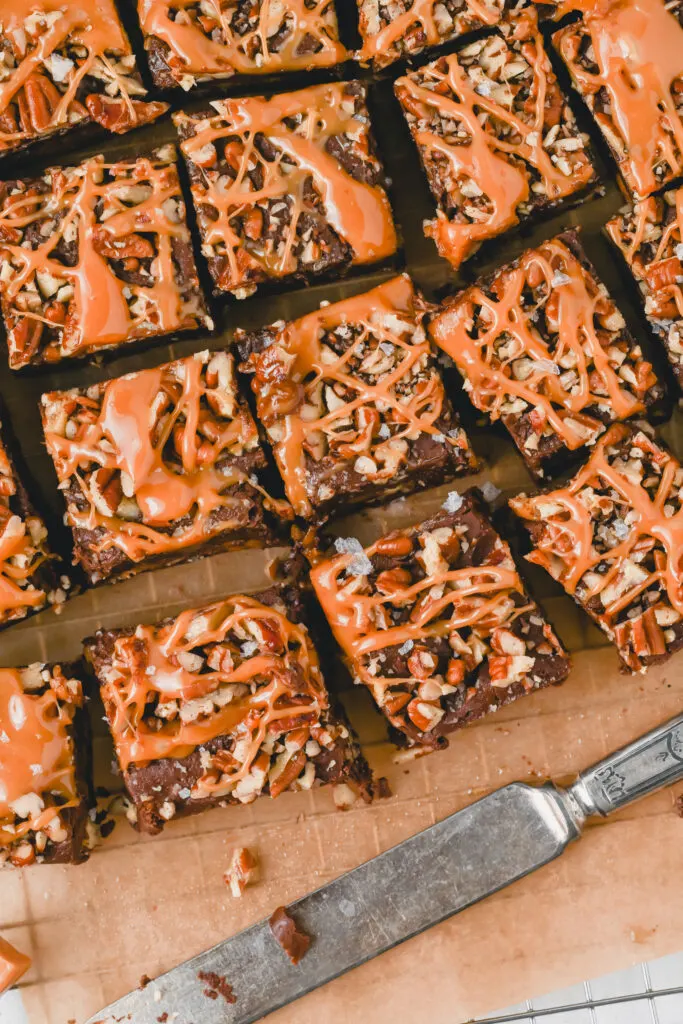 Assembly Variation
The recipe is written for two layers of this delectable fudge where you add a layer of chocolate, followed by the nuts, and drizzle with the caramel before repeating. I love it that way because you can see the layers.
But guess what? You don't even have to layer it if you're in a hurry! Instead, just make one layer where you add all the chocolate first, sprinkle with all the chopped pecans, and then drizzle with all the caramel. Garnish it all with sea salt and let it set before slicing.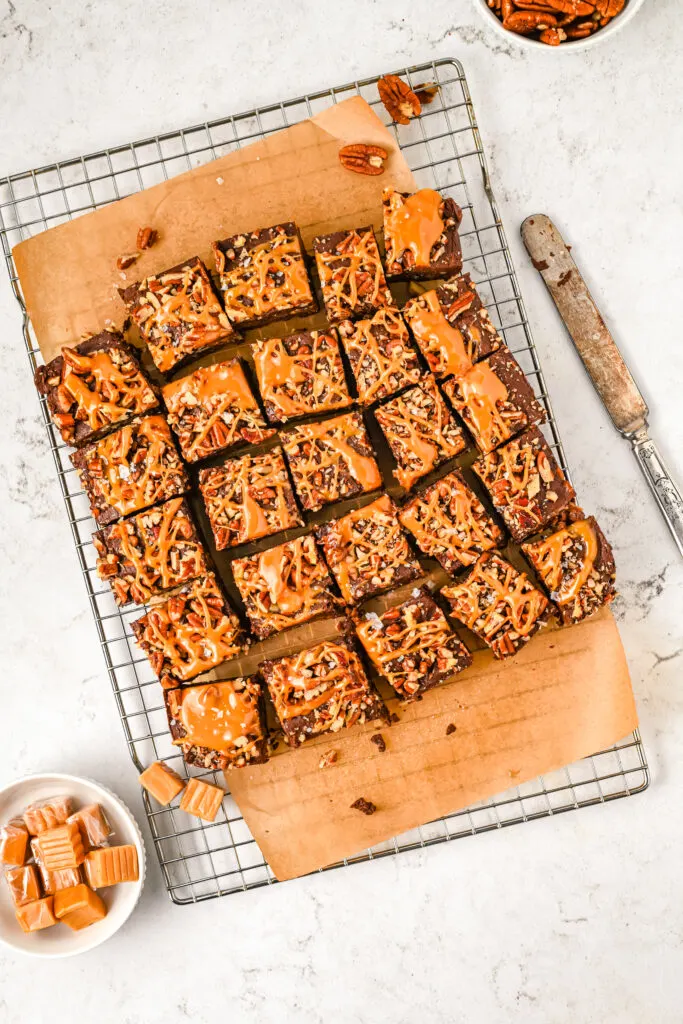 Tips For Making Turtle Fudge
Start On The Stovetop – I know you'll be tempted to just use the microwave as a shortcut for all the melting steps, but the semi-sweet chocolate chips and sweetened condensed milk need to melt together slowly in a saucepan on the stovetop to keep from burning. This way you can keep an eye on it and stir it while it's slowly melting. Once it's all melted and smooth, you can stir in the marshmallow creme.
Pecans – if you're not into chopping pecans, purchase pecans bits and pieces that are already chopped for you.
Caramel – Use the soft Kraft caramels for this recipe. Unwrap them and melt them in the microwave with the heavy cream. I don't recommend using caramel sauce because the texture and consistency will be too runny when melted. Stick with the soft candies.
Line Your Pan – I like to use parchment paper to line my pan and then give it a little butter spray spritz. Your fudge will come out easily with no sticking. I do not recommend lining it with foil and spraying it – go with parchment paper.
Let It Set – You definitely need to let this fudge set up before slicing into it. If you're in a hurry, stash it in the fridge for a few hours to speed up the process; otherwise, it will eventually harden if left at room temperature but will take longer.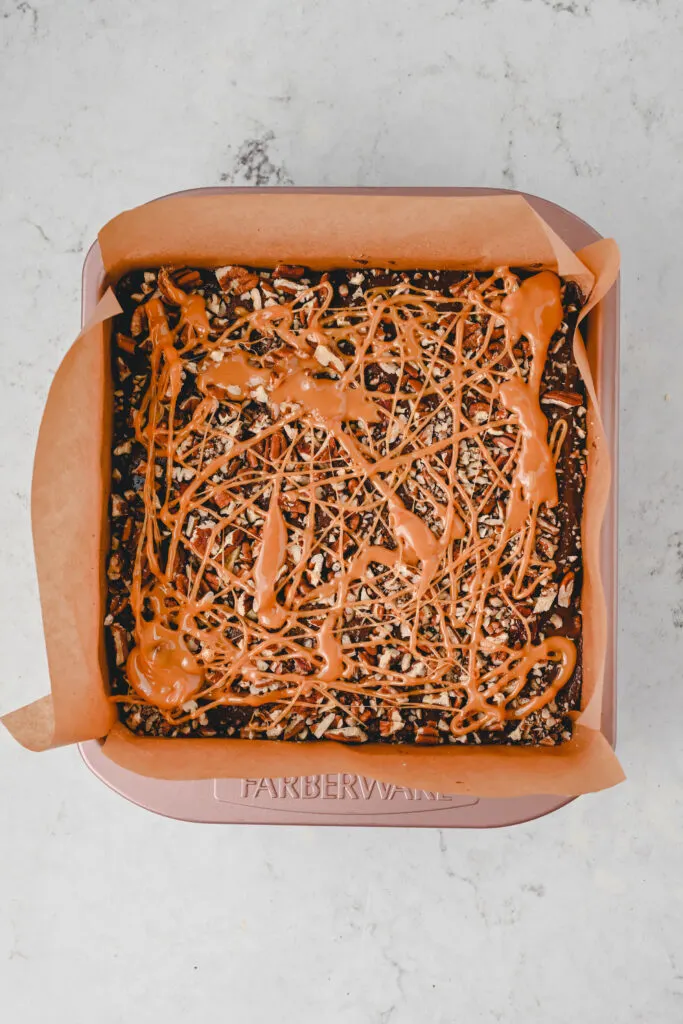 Storage
Keep fudge at room temperature in an airtight container for up to 10 days or in the refrigerator for up to 3 weeks.
It's also freeze-friendly for up to 3 months in an airtight container.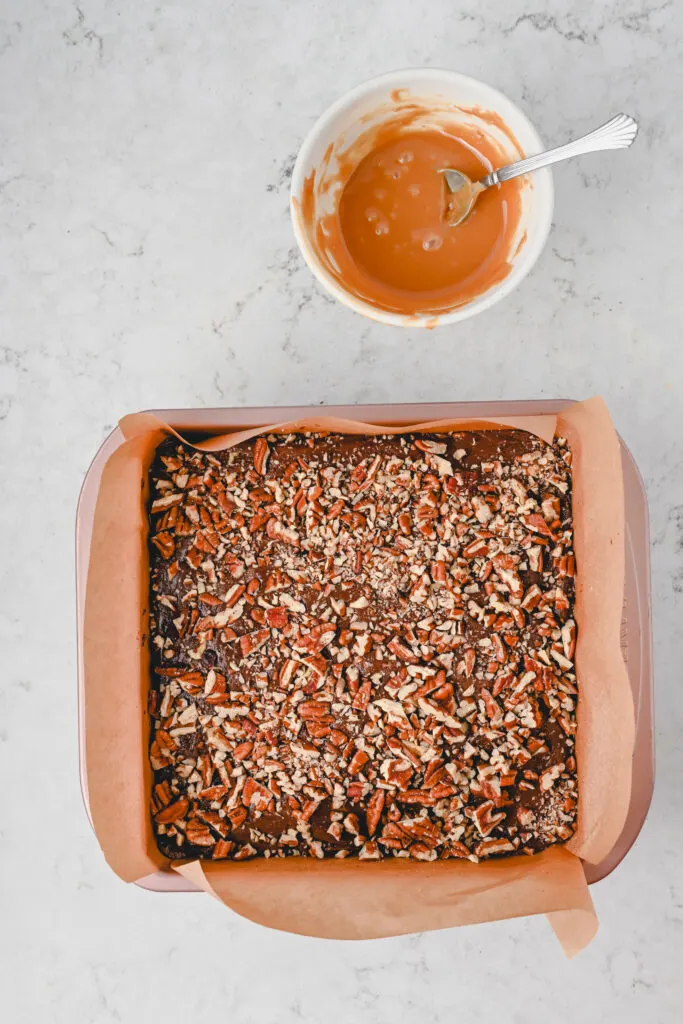 More Fudge Recipes
Keto Peanut Butter and Chocolate Fudge
20 Scrumptious Christmas Fudge Recipes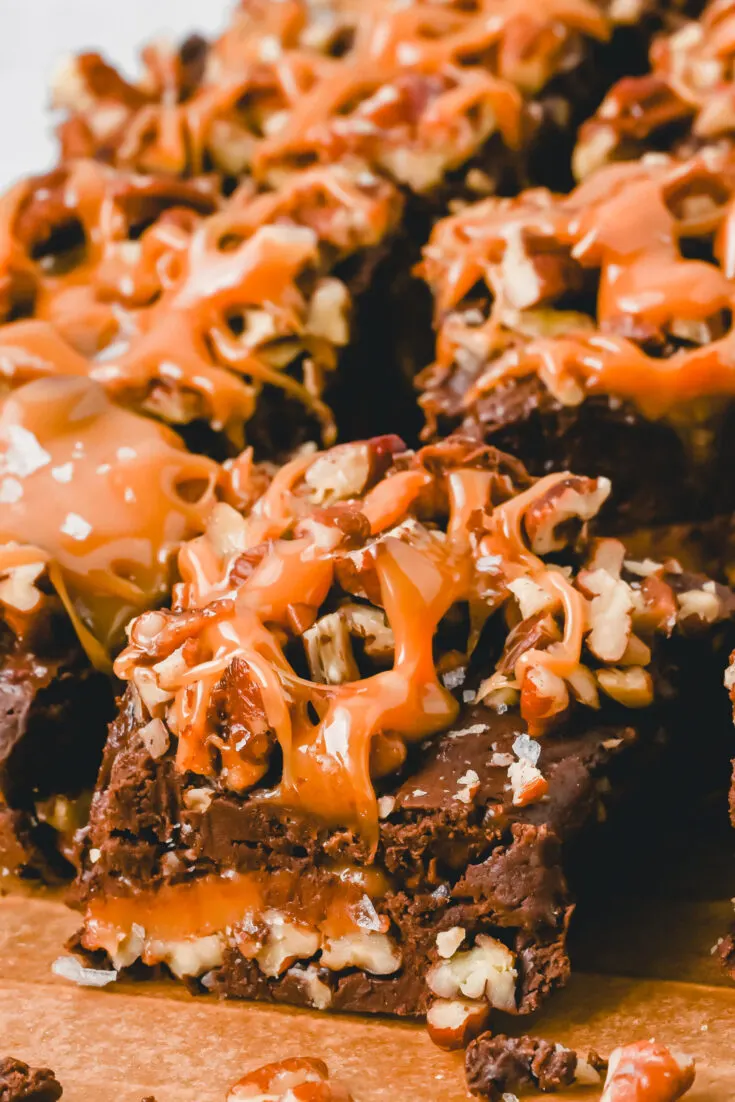 Yield:

Servings: 25 pieces
Turtle Fudge
Layers of chocolate fudge, pecans, and creamy caramel make this the best fudge you'll ever eat.
Ingredients
3 cups semi sweet chocolate chips
1 (14 ounce) can sweetened condensed milk
3.5 ounce marshmallow cream
2 teaspoons vanilla
1/4 teaspoon salt
2 cups toasted pecans, chopped
30 soft caramels, unwrapped (Kraft)
1 tablespoon heavy cream
Sea salt flakes, optional
Instructions
Gather all of the ingredients.
Spray a 9x9-inch pan with cooking spray or line it with parchment paper.
In a small saucepan, melt the chocolate chips and sweetened condensed milk over medium-low heat. Once melted and smooth, stir in the marshmallow cream.
Spread half of the chocolate over the bottom of the pan. Then press half the pecans over the chocolate.
Melt the caramels and heavy cream together in the microwave for 30 seconds. Stir until melted and smooth.
Spoon half of the caramel over the pecans.
Top with remaining chocolate and pecans. Then drizzle with the remaining caramel. If the caramel isn't soft enough, reheat it for 10 seconds.
Sprinkle with flakey sea salt if desired.
Cool completely, then cut into 25 pieces.
Notes
Tips:
Melt the chocolate slowly so it doesn't burn.
Instead of doing layers of chocolate, nuts, caramel, and repeating, you can just add all the chocolate first, sprinkle with pecans and then drizzle with the caramel.
Storage:
Store in an airtight container at room temperature for up to 10 days, or in the refrigerator for up to 3 weeks.
Freeze for up to 3 months.
Recommended Products
As an Amazon Associate and member of other affiliate programs, I earn from qualifying purchases.
Nutrition Information
Yield
25
Serving Size
1
Amount Per Serving
Calories

225
Total Fat

14g
Saturated Fat

5g
Trans Fat

0g
Unsaturated Fat

8g
Cholesterol

2mg
Sodium

82mg
Carbohydrates

28g
Fiber

2g
Sugar

23g
Protein

2g