Deliciously creative, these Thanksgiving Sliders give leftovers of turkey, stuffing, and cranberry sauce a place to land, sandwiched between sweet Hawaiian rolls and drizzled with a buttery and savory glaze, all baked to irresistible perfection.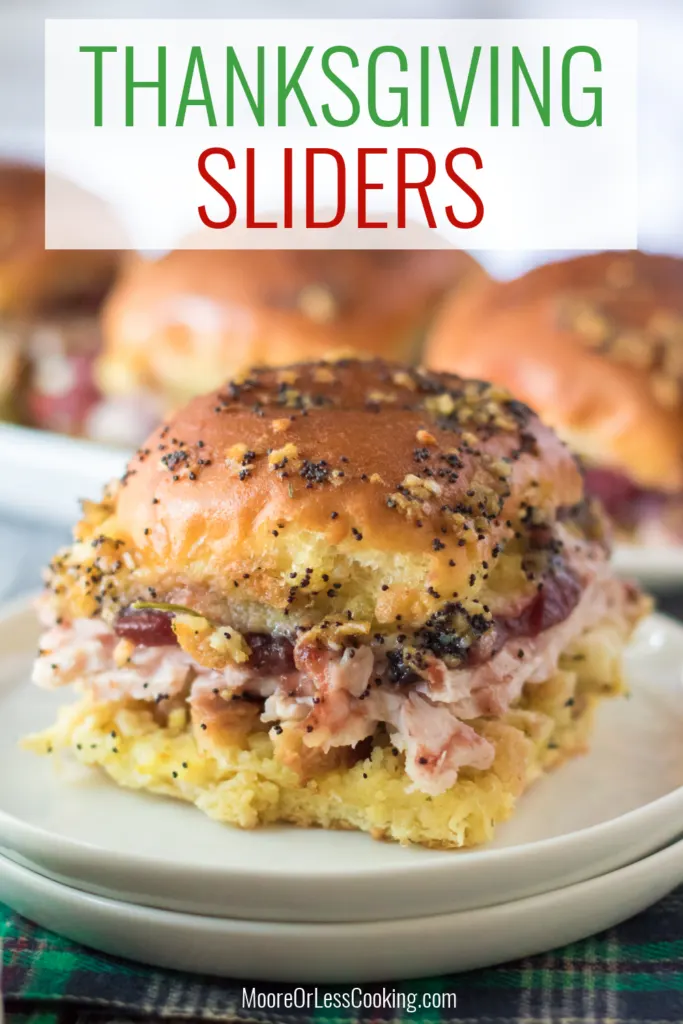 Revisit your favorite menu items from your holiday feast with this one-stop meal of pull-apart Thanksgiving sliders. It's a fun and tasty way to repurpose leftovers from the big day in an easy-to-make meal that's perfect for game day, movie night, or a casual dinner when you're too tired to cook.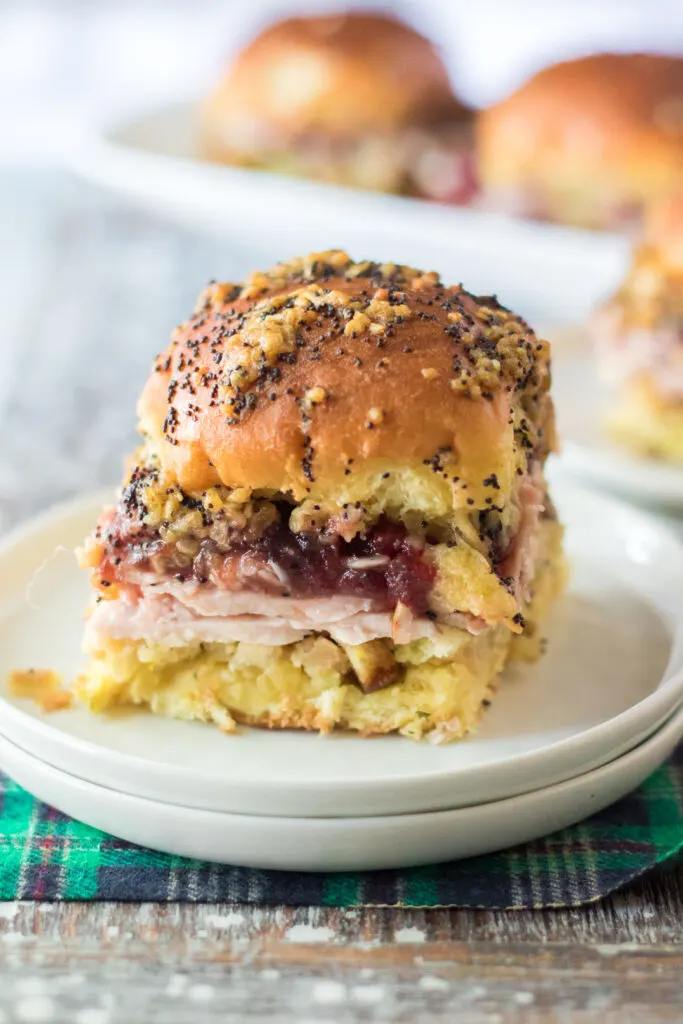 At first glance you may think these sliders are just another turkey sandwich, but, that's not quite true! Here, I use the three main attractions and the ones that most of us have leftover from Thanksgiving – turkey, stuffing (or dressing), and cranberry sauce. All you need is a package of Hawaiian rolls and a few other pantry ingredients to make this amazing meal happen.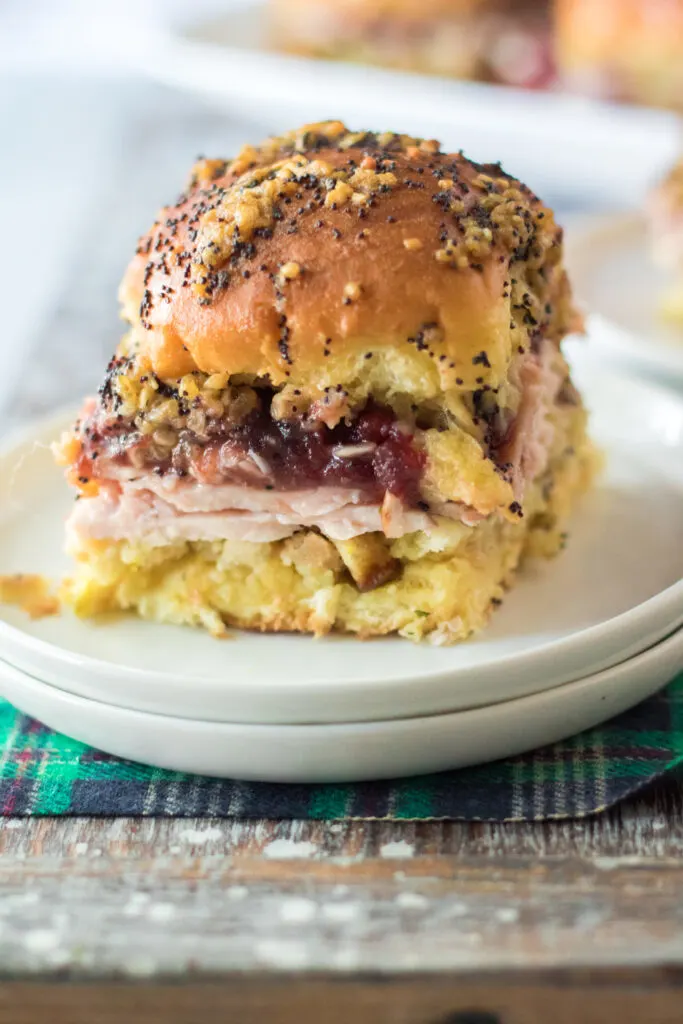 What sets it apart from a traditional turkey sandwich is that it's up-leveled with a spicy sauce that's drizzled over the assembled sliders before being heated to warm and gooey perfection. These sliders are a crowd-pleaser that will have you wishing you had even more leftovers so you can make them again!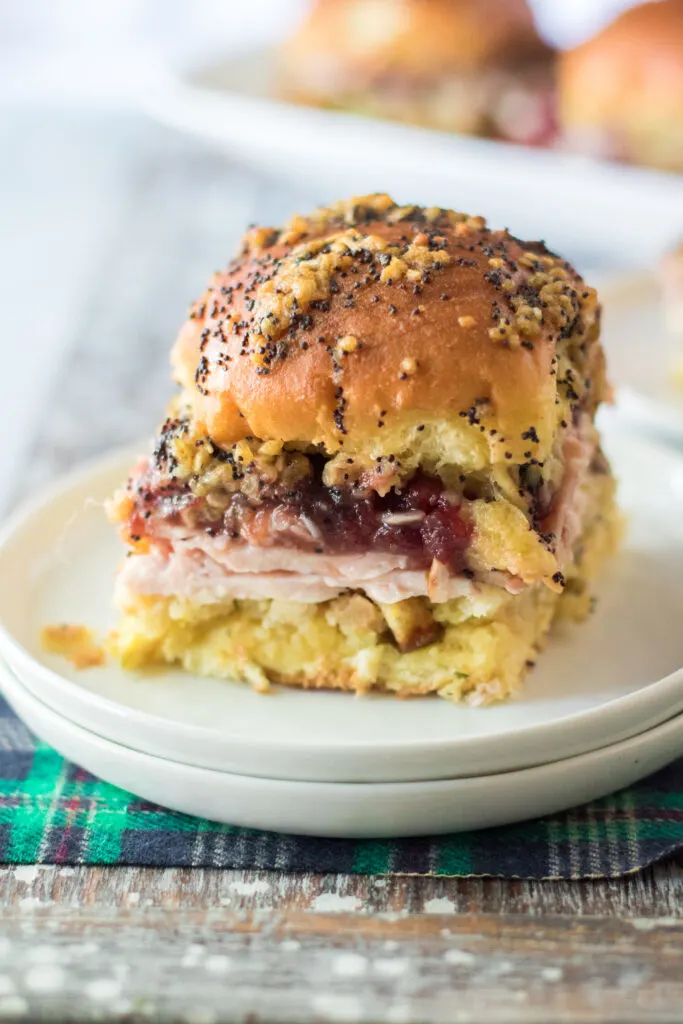 Actually, you can, and you don't even need leftovers! You can use shortcuts of deli turkey, boxed stuffing mix, and canned cranberry and make these in the off-season. What could be better?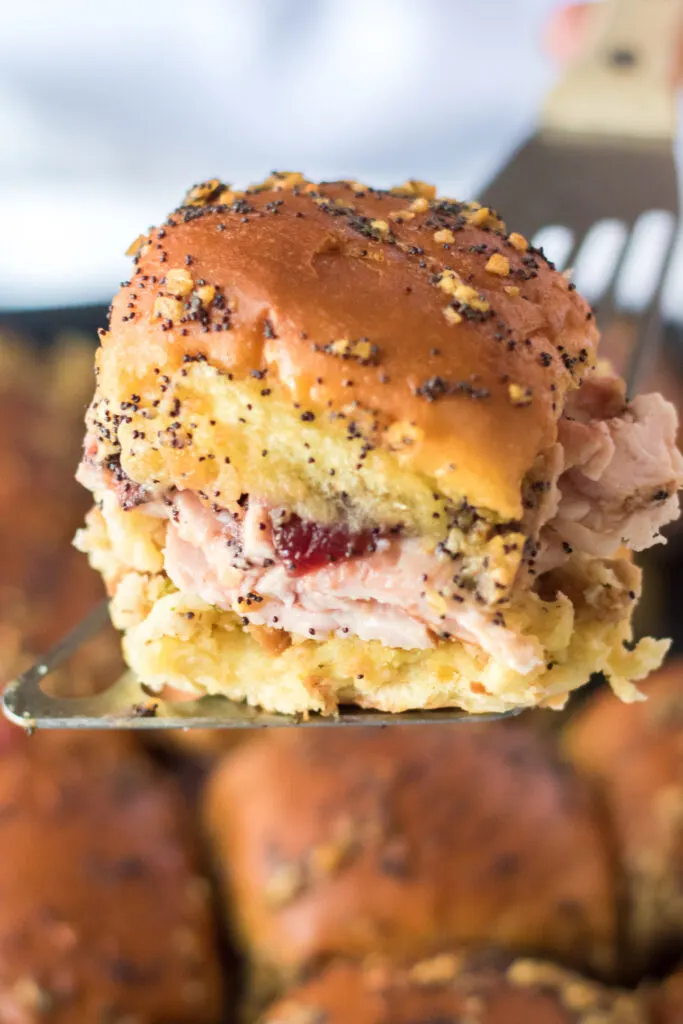 Ingredients Needed
Hawaiian Rolls – Sweet and soft, these rolls are always a favorite to use.
Stuffing – use your leftover stuffing or dressing or make a batch with a boxed stuffing mix.
Turkey – leftover turkey or deli turkey is just fine. If it's thinly sliced or shredded, that's even better since those textures will work best with this recipe.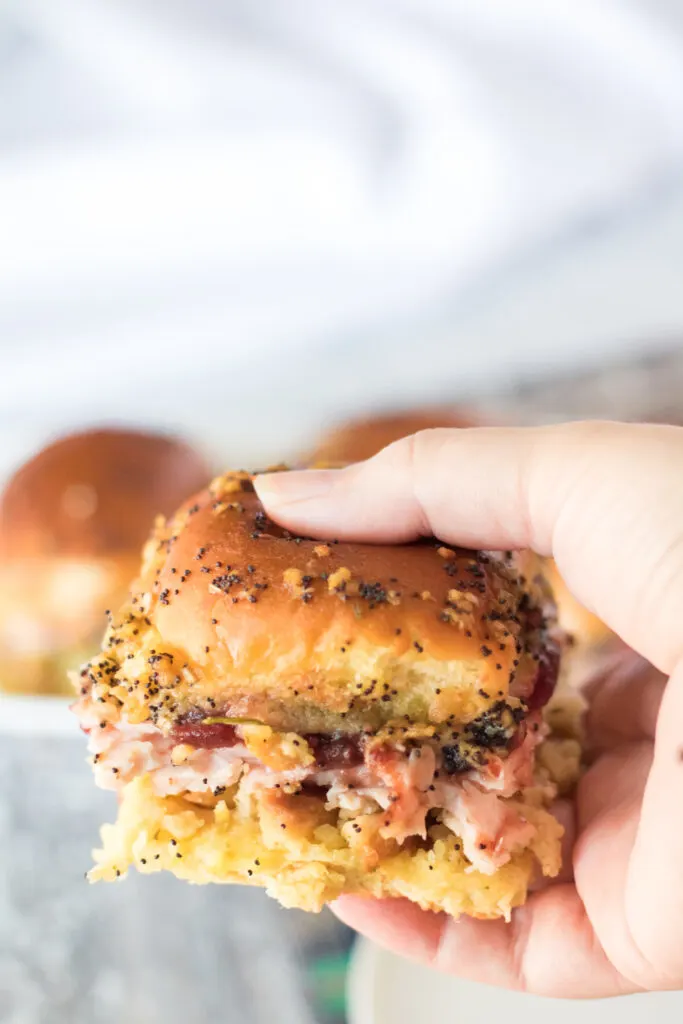 Cranberry Sauce – homemade or canned, smooth or whole berry – whatever you've got is what will work.
Dijon Mustard – used for the glaze as well as mixing just a dollop with your cranberry sauce to make it extra zesty.
Butter, Worcestershire Sauce, Dried Onion, Poppy Seeds – all the ingredients you need for the zesty glaze that makes these irresistible.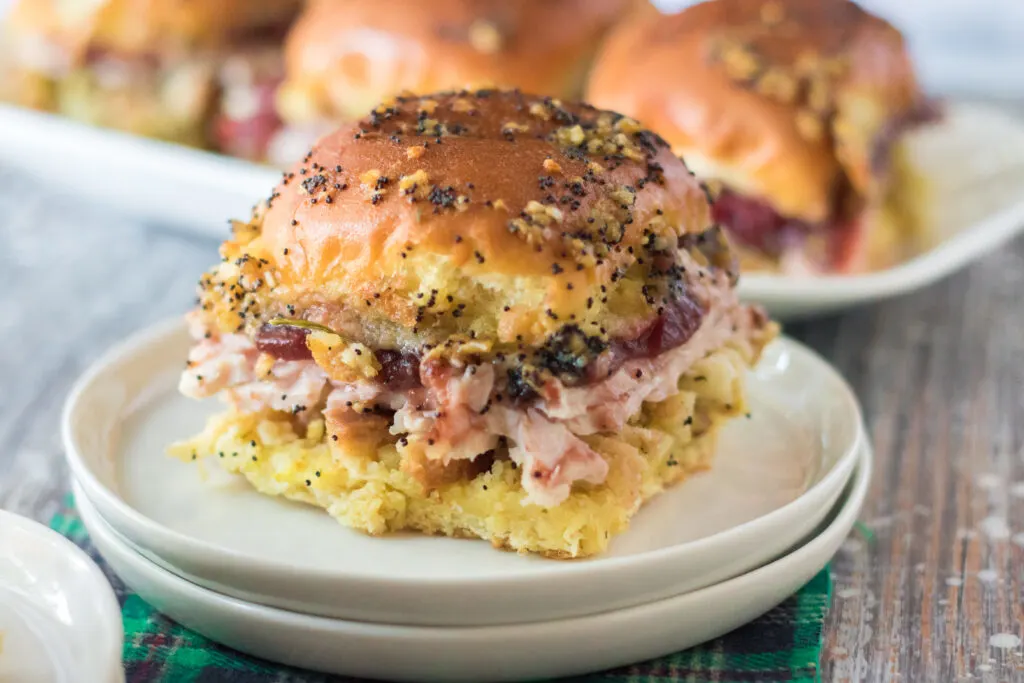 How To Make Thanksgiving Sliders
Note: This is a summary of the recipe steps. For complete instructions, see the recipe card down below.
Slice the Hawaiian rolls in half, horizontally across, to assemble. Place the bottom half in a large baking dish.
Assemble the layers in this order: stuffing, turkey, cranberry sauce mixture, and then replace the top layer of the Hawaiian rolls to complete the sliders.
Spoon the melted butter, dijon, dried onion, Worcestershire sauce, and poppy seed mixture over the entirety of the assembled sliders.
Bake in a 350-degree Fahrenheit pre-heated oven for 15 minutes or until the tops are golden. Let them cool before cutting and serving.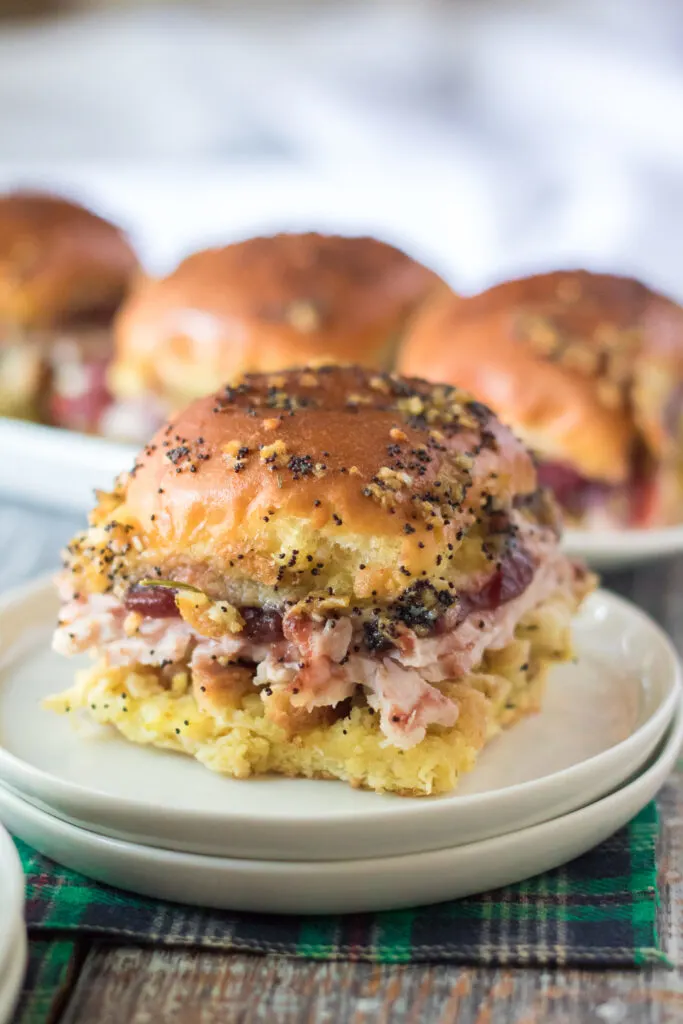 Variations
Rolls – Swap out the Hawaiian rolls for regular dinner rolls or any slider-sized rolls you prefer. You can even break out of the mini sliders theme and use regular-size hamburger rolls for a larger hand-held version.
Meat – If you're running low on turkey or prefer something different, ham is an excellent substitute to use here. Mix it with turkey or use it on its own. Both leftovers and the deli version will work.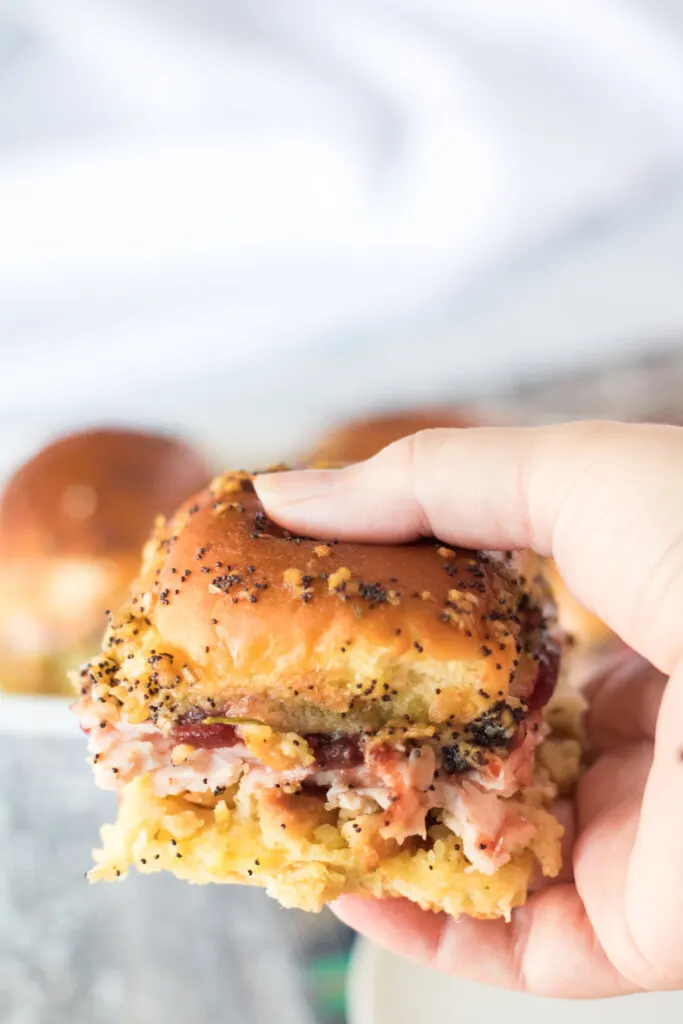 Stuffing – Running out of leftovers? Grab a boxed mix and quickly make it to stuff in these sliders. You can also sub in leftover mashed potatoes. These work perfectly and are just as yummy! Use white mashed potatoes or even mashed sweet potatoes.
Cheese – Add a layer of cheese for extra melty goodness. Havarti, Gouda, or Swiss are all great choices that will melt easily on these sliders.
Garnishes – Swap out poppy seeds for Everything seasoning if you like extra spice. Plain sesame seeds are also great or leave out a garnish altogether.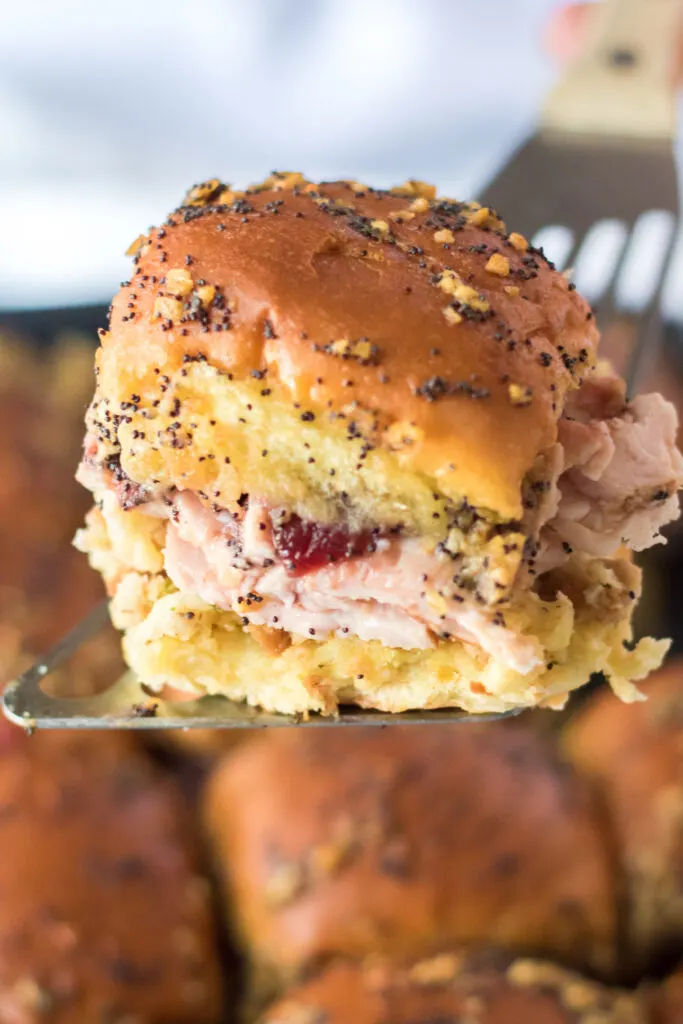 What To Serve With Thanksgiving Sliders
Pairing sides with these sliders will make this a satisfying meal. French Fries or onion rings are always a great hand-held item. Adding a carb-like potato salad is always a great idea, as are some savory slow-cooker baked beans.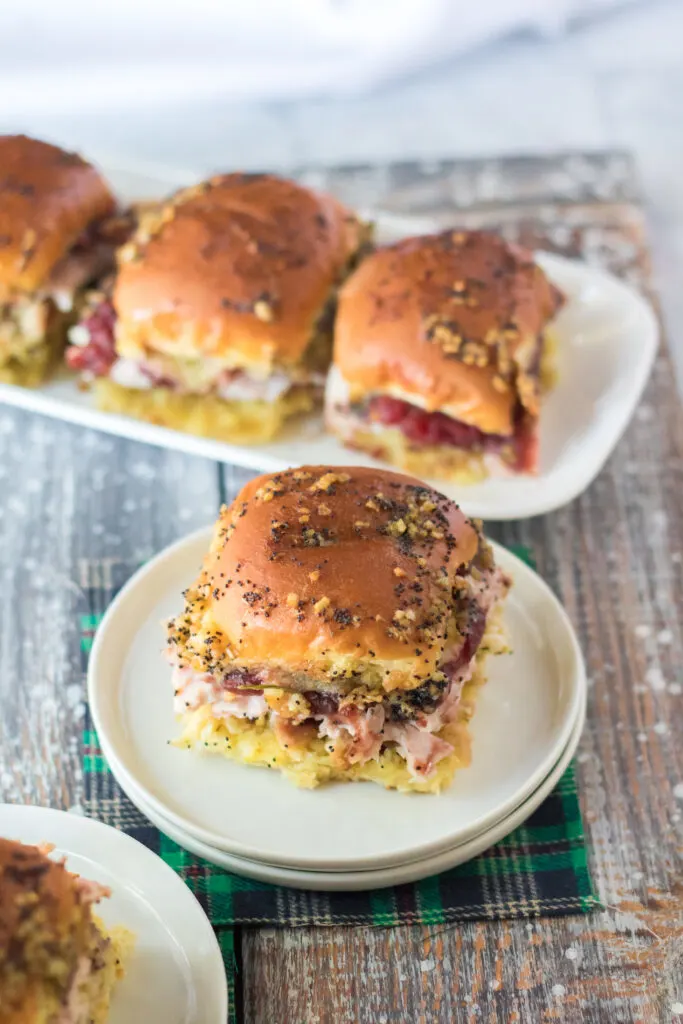 If you're looking for some great make-ahead salads, consider my broccoli salad or coleslaw, both of which will pair perfectly with these Thanksgiving sliders.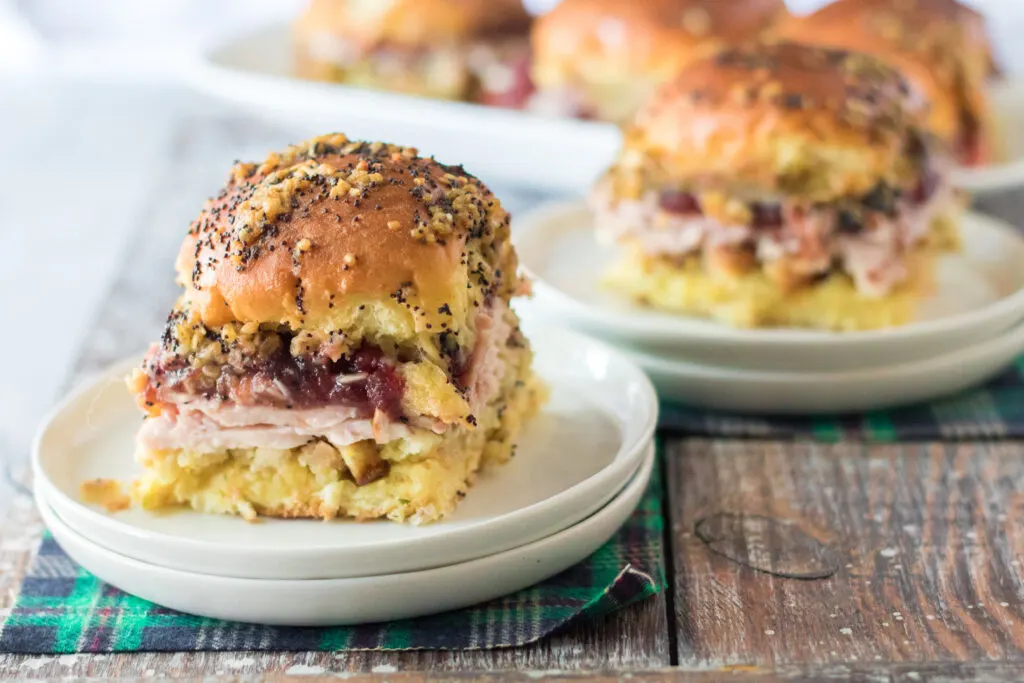 Storage
Refrigerate leftovers for up to 3 days in an airtight container.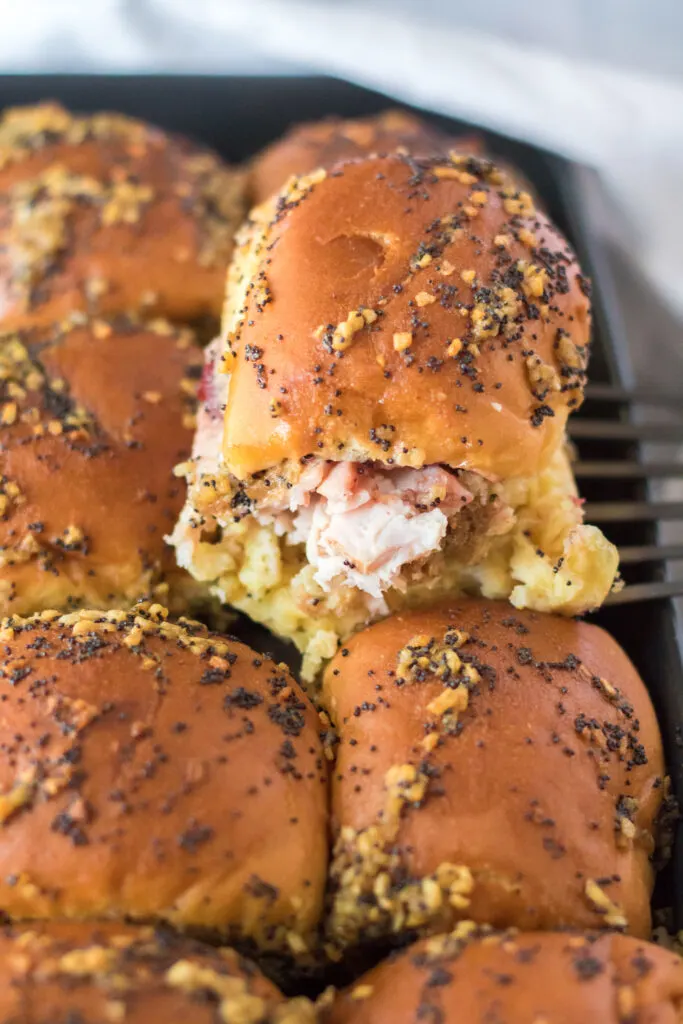 Can I Freeze These Sliders?
Yes. Assemble them, without the sauce drizzled on top, and wrap them tightly. They will keep in your freezer for up to 2 months. Defrost in the fridge before preparing and adding the sauce and baking.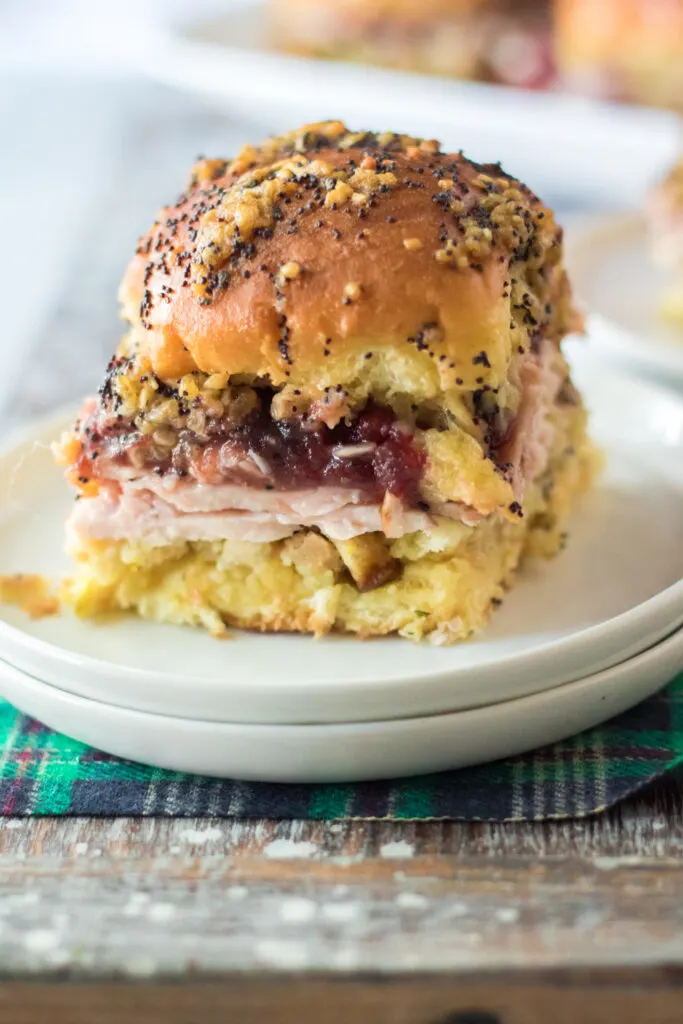 Related Recipes
Slow Cooker Bone-In Turkey Breast
Slow Cooker Cranberry Pecan Stuffing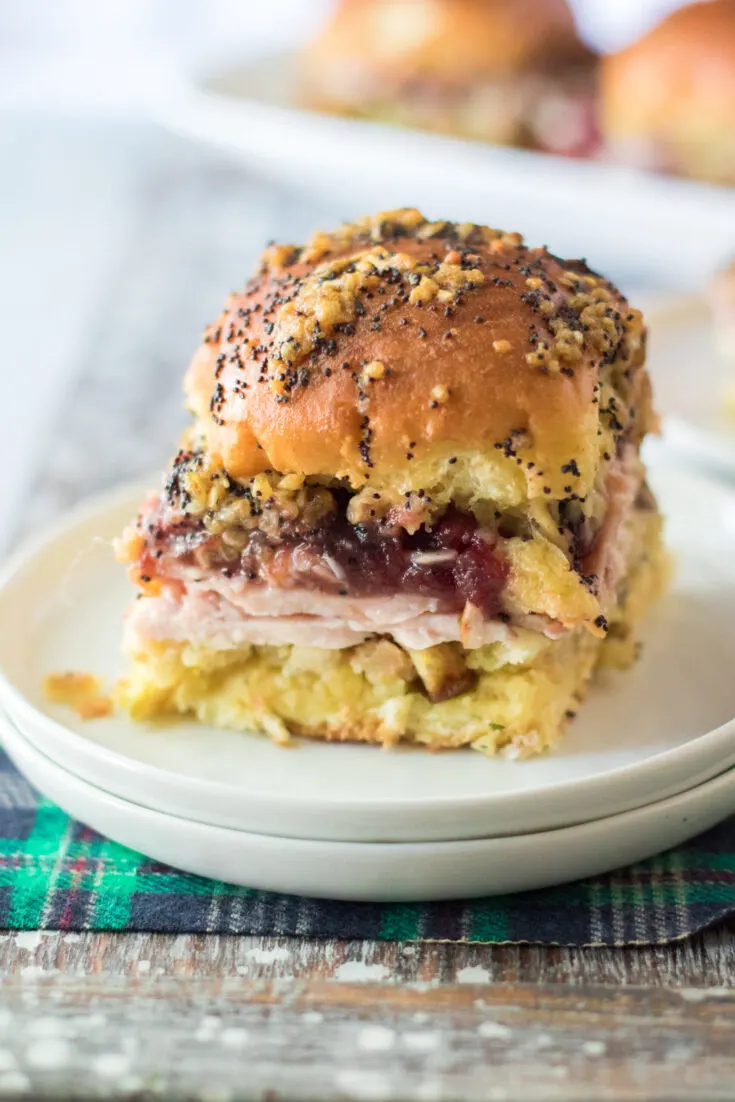 Yield:

Makes- 12
Thanksgiving Sliders
Deliciously creative, these Thanksgiving Sliders give leftovers of turkey, stuffing, and cranberry sauce a place to land, sandwiched between sweet Hawaiian rolls and drizzled with a buttery and savory glaze, all baked to irresistible perfection.
Ingredients
12 count Hawaiian rolls
2 cups prepared stuffing mix
6-8 ounces carved style deli turkey, or leftover turkey
1 cup cranberry sauce
3 teaspoons dijon mustard
6 tablespoons butter
1 teaspoon Worcestershire Sauce
2 teaspoons minced dried onion
2 teaspoons poppy seeds
Instructions
Gather all of the ingredients.
Preheat oven to 350 degrees.
Slice the rolls in half and lay the bottom half in a 9x13 baking dish.
Spread the prepared stuffing mix onto the bottom rolls.
Next layer your turkey all over the top.
In a small bowl mix together your cranberry sauce with half of the dijon mustard, 1 ½ teaspoon.
Spread the cranberry mustard mixture on top of the turkey.
Place the top rolls on top of everything.
In a medium mixing bowl melt your butter.
To the butter add the rest of the dijon mustard (1 ½ teaspoon), Worcestershire Sauce, the dried onion, and the poppy seeds, and stir to combine.
Spoon the butter mixture all over the tops of the rolls.
Place the dish into the oven and bake for 15 minutes until the tops are golden.
Let cool slightly, cut to separate each roll, and serve!
Notes
Tips and Tricks
I used store-bought ingredients to make these, a carved-style thicker turkey lunch meat, box stuffing mix (whichever flavor you prefer), and canned cranberry sauce but this is a perfect recipe for those Thanksgiving leftovers.
You can also add some ham in and it would be delicious!
Feel free to add cheese, maybe a swiss or cheddar.
You can also add cooked bacon or even some jalapenos for a kick.
Refrigerate leftovers for up to 3 days.
Nutrition Information
Yield
12
Serving Size
1
Amount Per Serving
Calories

398
Total Fat

16g
Saturated Fat

6g
Trans Fat

1g
Unsaturated Fat

7g
Cholesterol

104mg
Sodium

1689mg
Carbohydrates

41g
Fiber

2g
Sugar

17g
Protein

22g