Perfect for summer potlucks or a cozy meal when the weather is chilly, this slow cooker beefy baked beans recipe is an easy 4-season meal that's always a crowd-pleaser.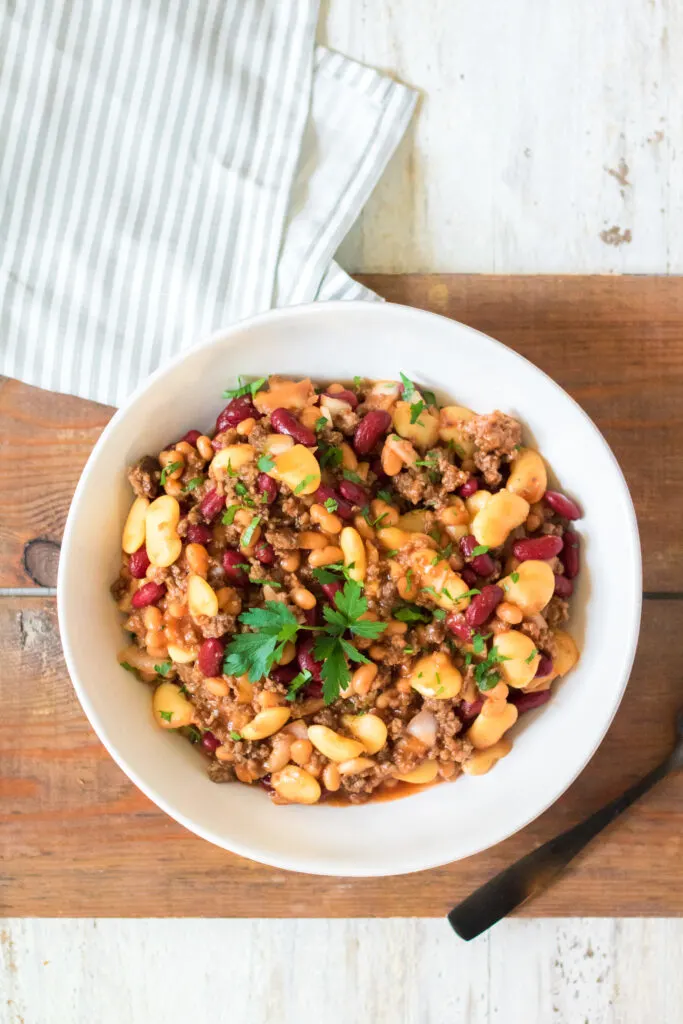 Hearty, savory, and always hit, this recipe for beefy baked beans made in a slow cooker is a delicious idea for cookouts or for family meals.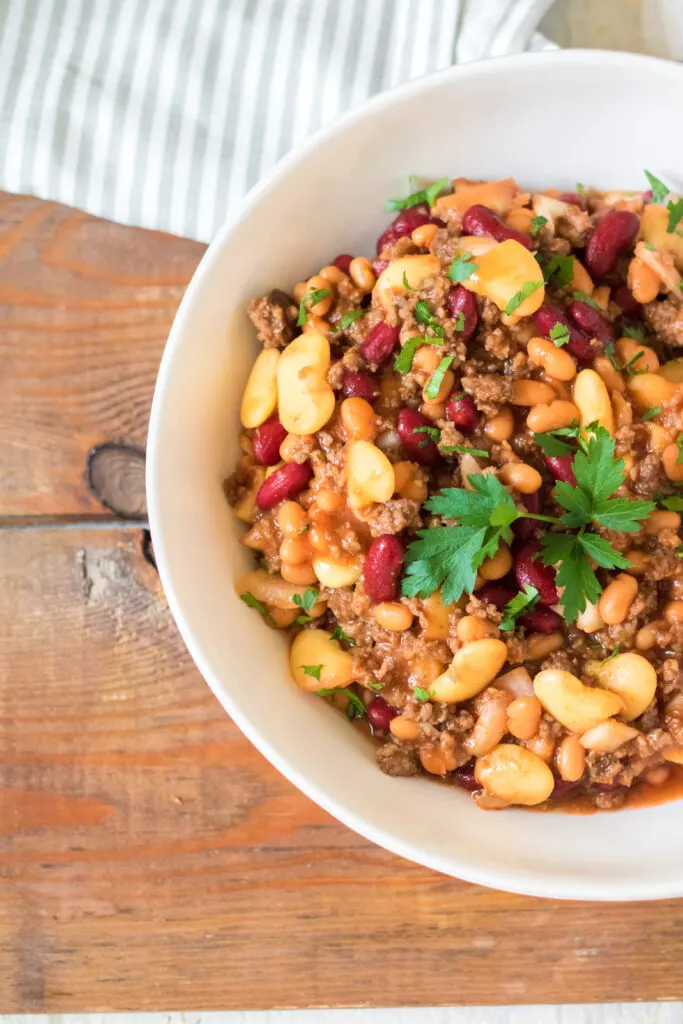 And best of all – it's so easy to assemble. If you can brown some ground beef, chop an onion, open a few cans of beans, add some tasty seasonings and turn on your slow cooker, you're good to go!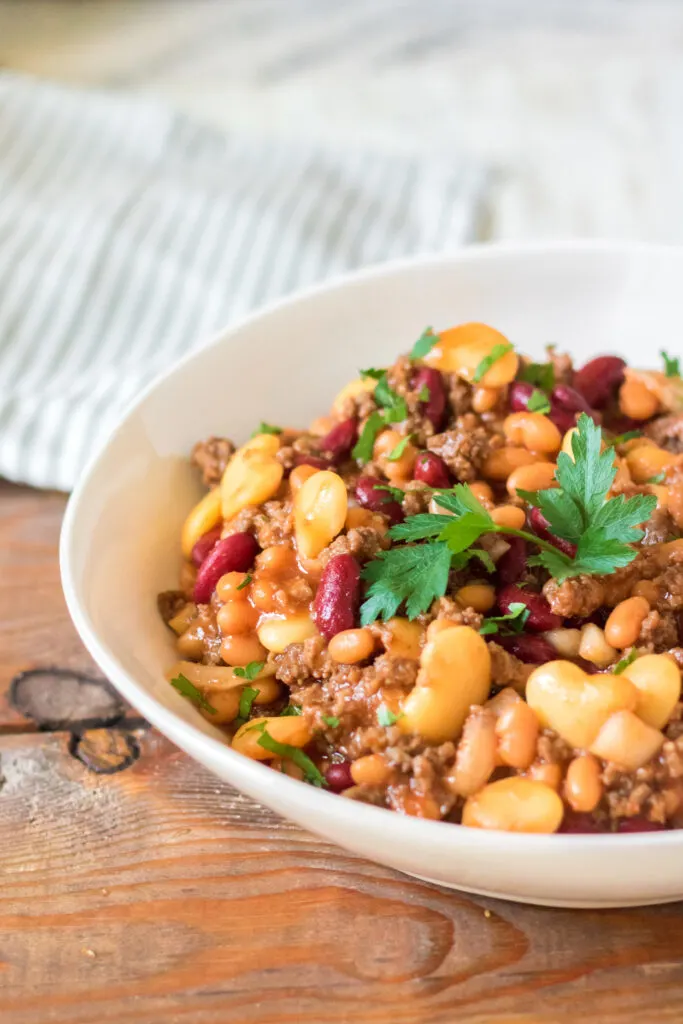 In fact, you're free to walk away from your kitchen for at least 4 hours while your slow cooker works its low-heated magic on this beefy beans meal. You'll come back to a kitchen that smells amazing, so don't be surprised to see family members standing around trying to figure out when you're going to lift the lid and serve this deliciousness.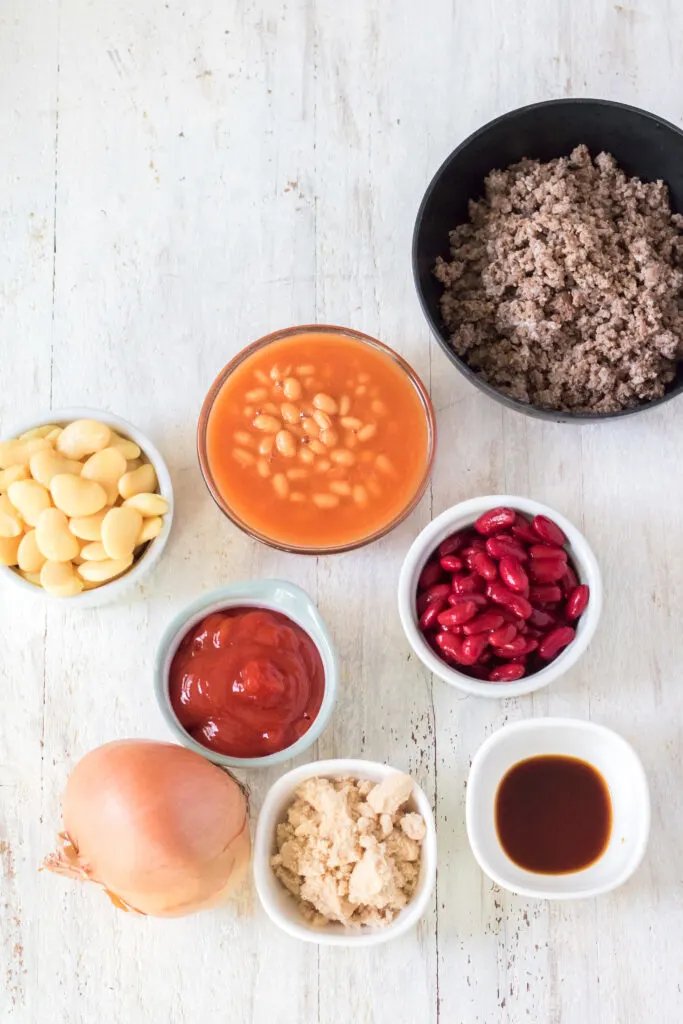 WHY YOU'LL LOVE THIS MEAL
Made with pantry staples – This recipe consists of ingredients that are considered pantry staples, meaning not just canned ingredients, but those that you most likely have on hand at all times, whether in your pantry, freezer, refrigerator, or vegetable bin.
Minimal prep work – browning the beef in a skillet, chopping an onion, and opening cans are as complicated as it gets.
No babysitting – leave the hard work to your slow cooker. Once you add all the ingredients into the slow cooker, you don't need to lift the lid again until you're ready to serve it. Although the directions say to stir it once during the 4 hours, I've found that the outcome will be just fine if that step doesn't happen.
Economical – ground beef might be the most expensive item on the ingredient list. Canned beans, onion, condiments, and water make up the rest of this budget-friendly meal.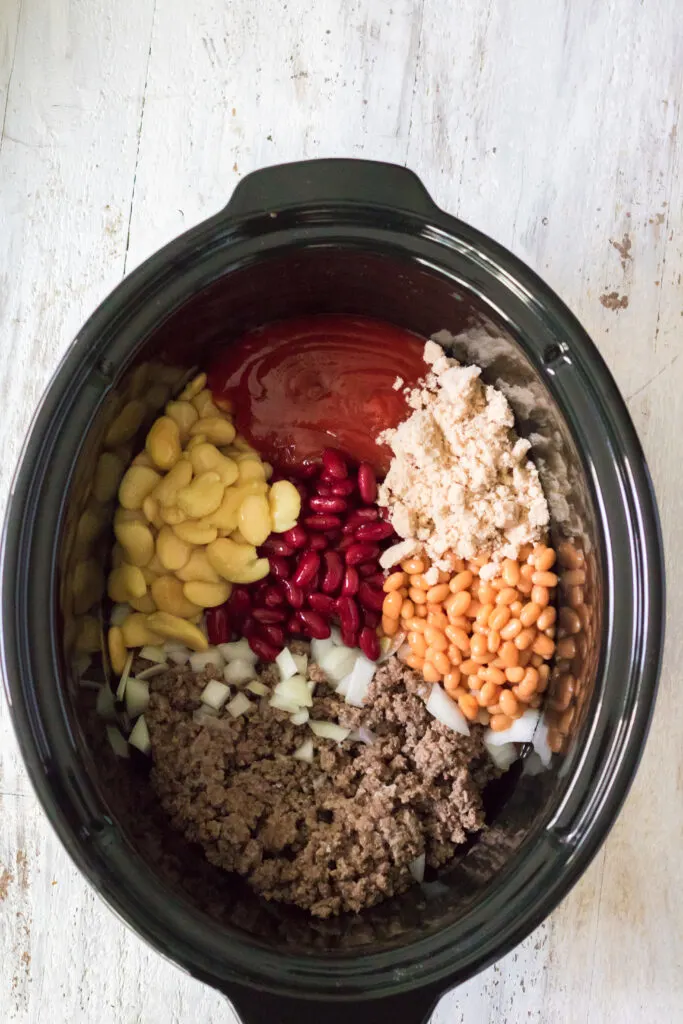 INGREDIENTS NEEDED
Ground beef – adds protein, Use your preferred beef: ground, round, chuck, or sirloin.
Diced Onion – you'll only need half of one, so it's great for a small one or a leftover that you need to use.
Canned Beans – you'll need 3 cans: pork & beans, kidney, and butter beans. Just open the cans and drain them; no need to rinse.
Condiments – to add BBQ flavor to this meal, you'll need ketchup, brown sugar, and Worcestershire sauce.
Water – is needed to keep everything moist while it cooks and simmers.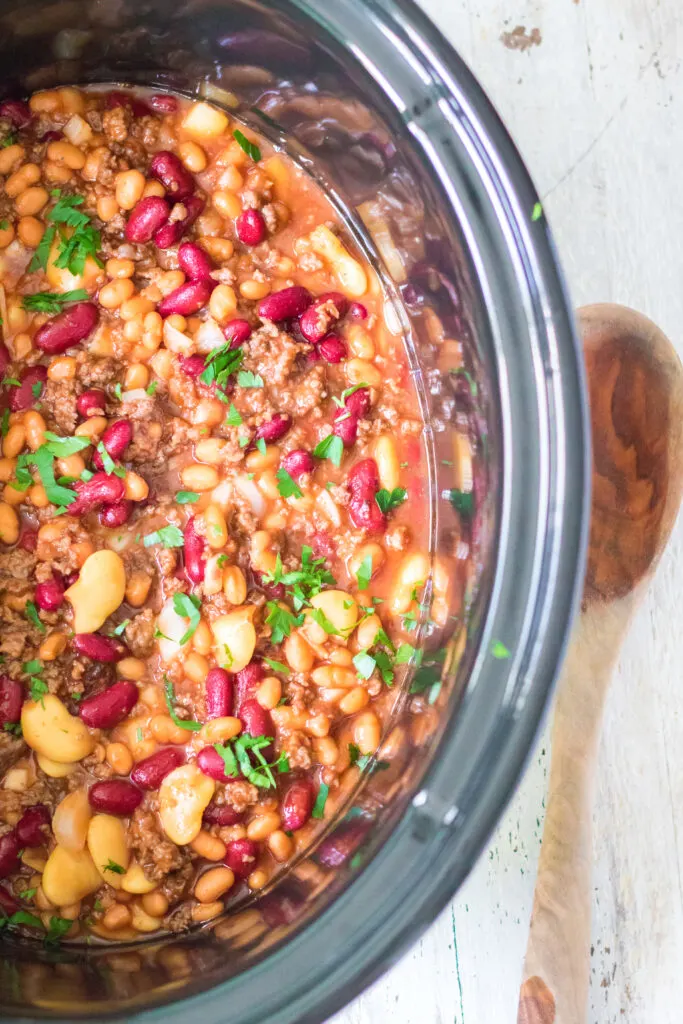 HOW TO MAKE THIS RECIPE
Brown the ground beef in a skillet with medium-high heat. Be sure and drain off the grease.
Add the browned beef, diced onion, and the 3 cans of drained beans to your slow cooker.
Add in the ketchup, brown sugar, Worcestershire sauce, vinegar, and water, and stir to combine. Add a dash of salt and pepper, too.
Cover with the lid and set the slow cooker to cook on low for 4 hours. Stir once, about halfway through.
Serve.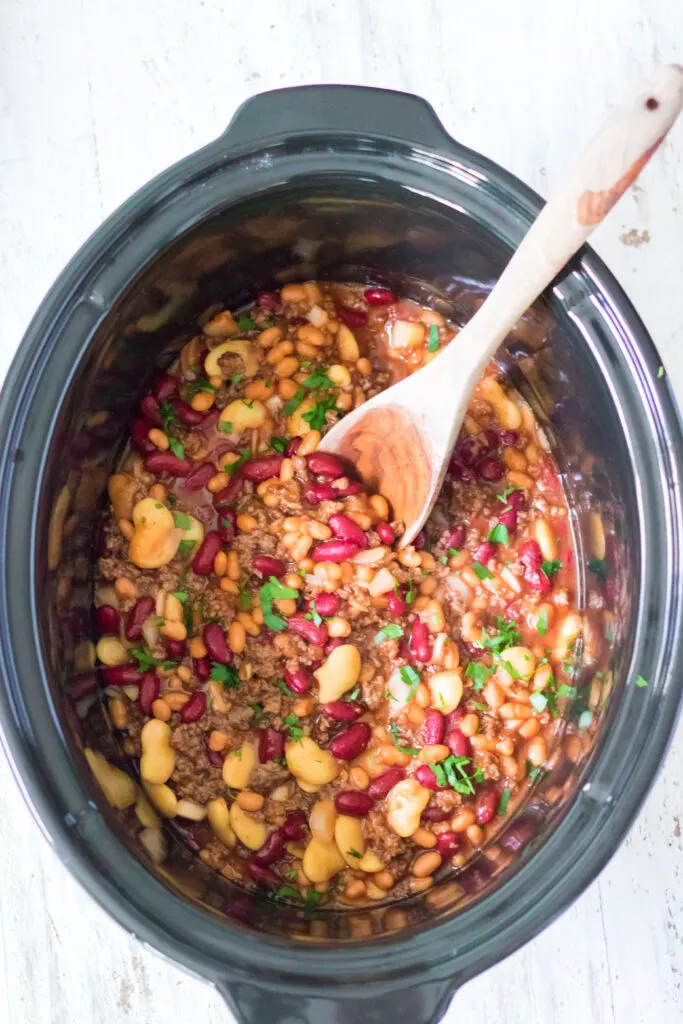 CAN I USE DRIED BEANS WITH THIS RECIPE?
No. This recipe uses cooked beans. Dried beans require more cooking time and this recipe is specifically for cooked, canned beans. If you're looking for a dried bean slow cooker recipe, try this one.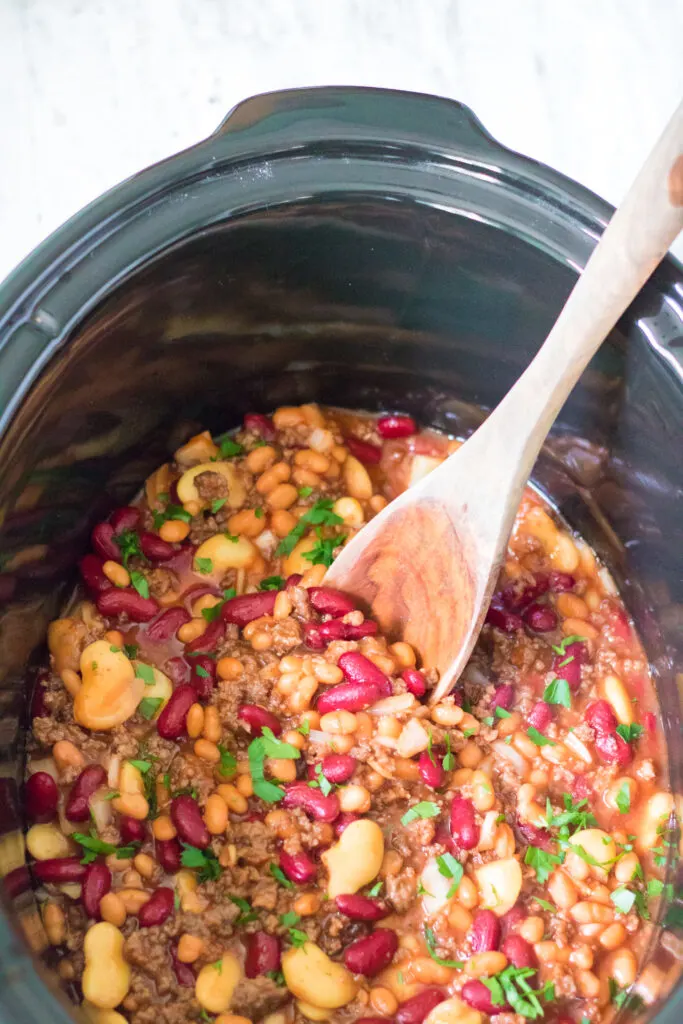 VARIATIONS
This recipe is amazingly adaptable. Here are a few additions and/or substitutions to make it even more irresistible and delicious:
Use ground turkey in place of ground beef.
Add chopped green peppers and/or jalapenos for a spicy kick and more flavor.
Experiment with the bean combination. Switch them out for pinto beans, black beans, or white beans.
Use bottled BBQ sauce in place of the ketchup.
Add a dash of liquid smoky for a smoky flavor.
Add a dash of your favorite hot sauce for even more outrageous spiciness.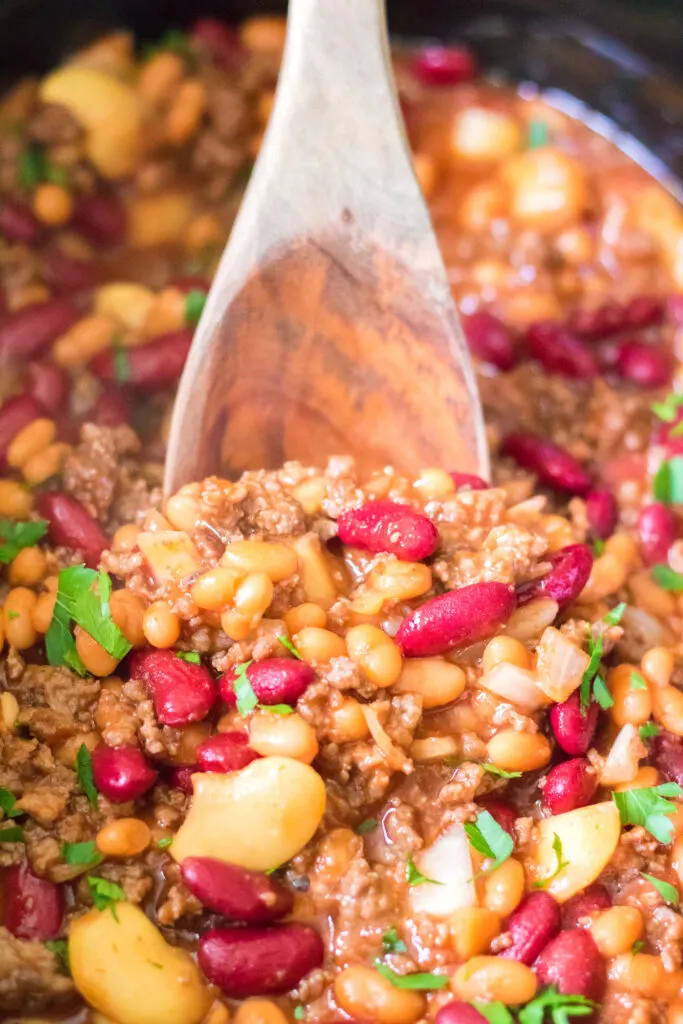 WHAT TO SERVE WITH SLOW COOKER BEEFY BAKED BEANS
Serve this beefy baked bean recipe with some tasty side items.
It pairs wonderfully with Honey Cornbread Muffins or Cheesy Garlic Bread.
If you want to add some potato carbs, try my Easy Cheesy Hash Brown Casserole, my Twice Baked Potatoes, or my Crispy Garlic Smashed Potatoes.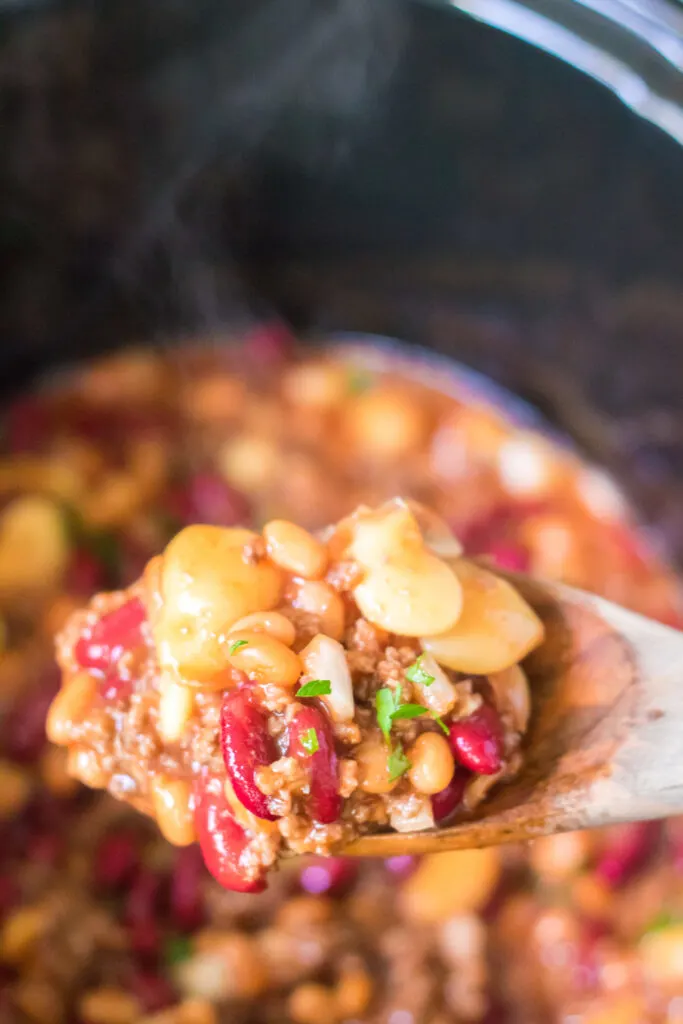 HOW TO STORE LEFTOVERS
Let any leftovers cool completely before storing them in the refrigerator or freezer.
Refrigerator: For the refrigerator, store leftovers in an airtight container for up to 4 days. Reheat on the stovetop or, for individual proportions, in the microwave.
Freezer: For the freezer storage, use an airtight freezer-safe container or store in freezer bags, with the air squeezed out before sealing. Leftovers will keep for up to 3 months in the freezer. Thaw overnight in the refrigerator before reheating on the stovetop or microwave.
You'll love this beefy baked beans recipe that can be adapted to fit your tastes and current pantry items. Change up the meat, change up the bean variety and add endless spices and hot sauce to make it your own. Give your slow cooker 4 hours to turn it into a deliciously zesty meal that requires little effort on your part. Win-win!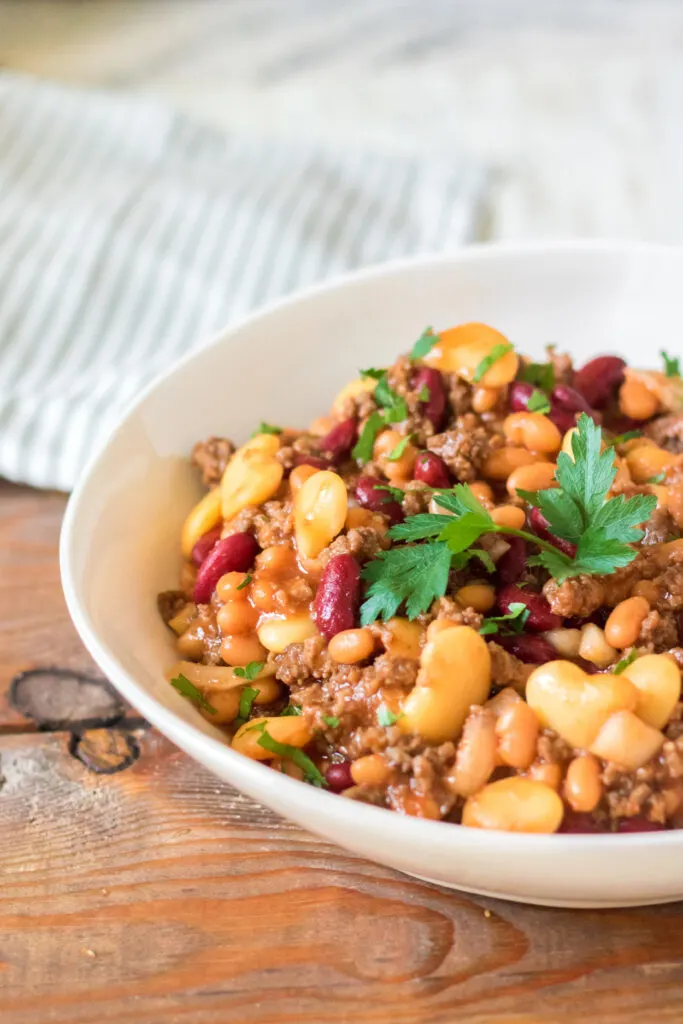 RELATED SLOW COOKER RECIPES
Slow Cooker Mississippi Pot Roast
Slow Cooker Ranch Crack Chicken
Slow Cooker Creamy Swedish Meatballs
Sweet And Smoky Crockpot Chili
Be sure to follow me on Instagram and tag #mooreorlesscooking so I can see all the wonderful recipes that YOU make from this site! Check out my YOUTUBE with a free email subscription HERE
Make sure to follow me on Pinterest right here:
Don't miss my posts on Twitter! Follow me here:
Follow me on Facebook for more recipes!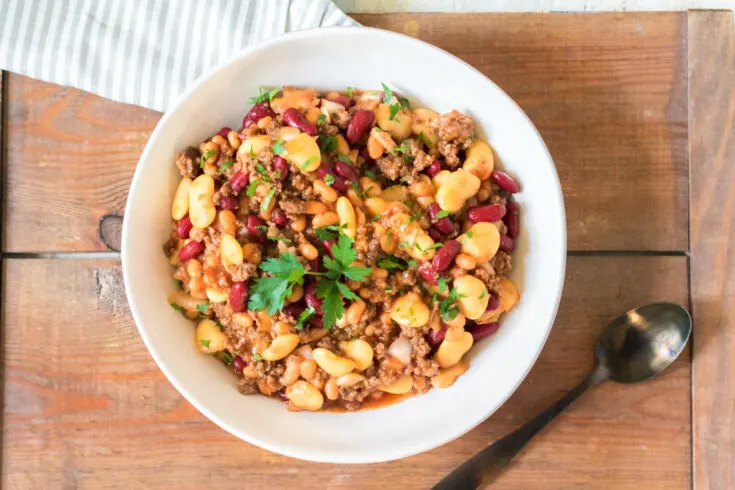 Yield:

6-8
Slow Cooker Beefy Baked Beans
Total Time:
4 hours
15 minutes
Hearty, savory, and always hit, this recipe for beefy baked beans made in a slow cooker is a delicious idea for cookouts or for family meals.
Ingredients
1 pound ground beef
half an onion, diced
1 (15 ounce) can pork & beans
1 (15 ounce) can kidney beans, drained
1 (15 ounce) can large butter beans, drained
1 cup ketchup
1 cup brown sugar
1 tablespoon Worcestershire
1 tablespoon vinegar
½ cup water
Instructions
In a large skillet over medium-high heat brown and cook your ground beef. Drain off the grease.
To your slow cooker add the ground beef, diced onion, pork and beans, drained kidney and butter beans, ketchup, brown sugar, Worcestershire, vinegar, and water.
Stir to combine.
Add salt and pepper to taste.
Cover and cook on low for 4 hours, stirring once.
Serve!
Notes
Substitute barbeque sauce for the ketchup.
Add celery, green bell pepper or jalapenos for a pop of flavor.
You can switch out the kidney beans and butter beans for your favorite beans, cannellini, black beans, or pinto beans.
You can use breakfast sausage or smoked sausage instead of beef.
Nutrition Information
Yield
8
Serving Size
1
Amount Per Serving
Calories

378
Total Fat

11g
Saturated Fat

4g
Trans Fat

0g
Unsaturated Fat

5g
Cholesterol

53mg
Sodium

560mg
Carbohydrates

50g
Fiber

5g
Sugar

31g
Protein

22g