20 Scrumptious Christmas Fudge Recipes
If you're looking for a quick holiday sweet treat, you'll want to check out these 20 scrumptious Christmas fudge recipes. Basic fudge recipes get up-leveled to festive status with the addition of nuts, caramel, peppermint, eggnog, marshmallows, flavored extracts, and more.
You'll find stovetop versions as well as quick-melt versions of delectable fudgy recipes that are perfect for parties, gift-giving, or just countertop sweet treats. From dark chocolate to white chocolate, these fudge recipes are sure to satisfy your sweet tooth while also helping you celebrate the Christmas season.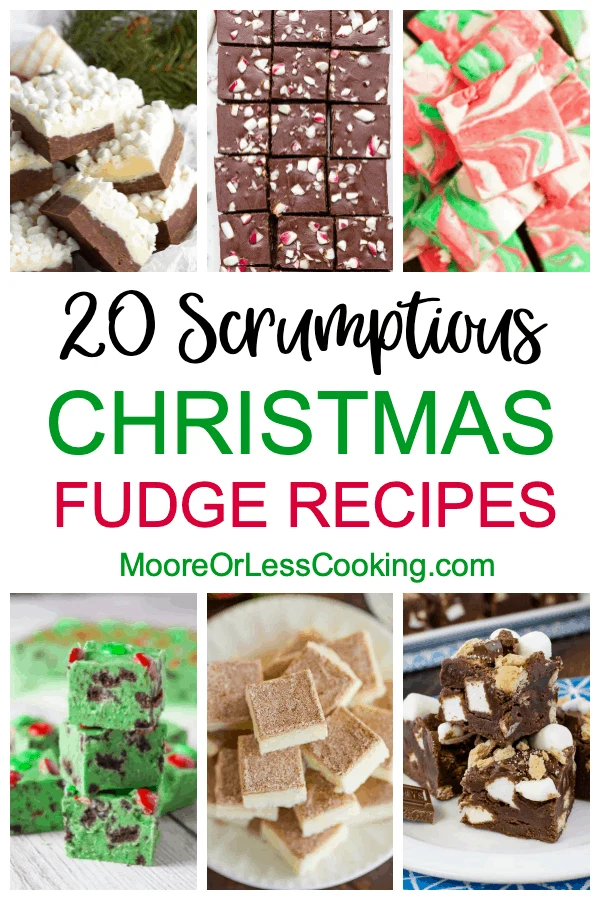 What Is Fudge?
Fudge is a type of sugar candy that is made by mixing sugar, butter, and milk, heating it to the soft-ball stage at 240 °F (116 °C), and then beating the mixture while it cools so that it acquires a smooth, creamy consistency.
At room temperature fudge will remain freshest the first 4 weeks, but can last 6-8. Whether freezing or kept at room temperature, always store Fudge in an airtight container.
Make this healthier fudge recipe that's dairy-free, gluten-free, and vegan. Coconut oil along with cocoa powder, almond butter, maple syrup, and peppermint extract can be quickly whipped into this delectable fudge. Garnish with crushed peppermint candies, chill and then enjoy this minty treat.
Easy Chocolate Peppermint Fudge Recipe by Bakerita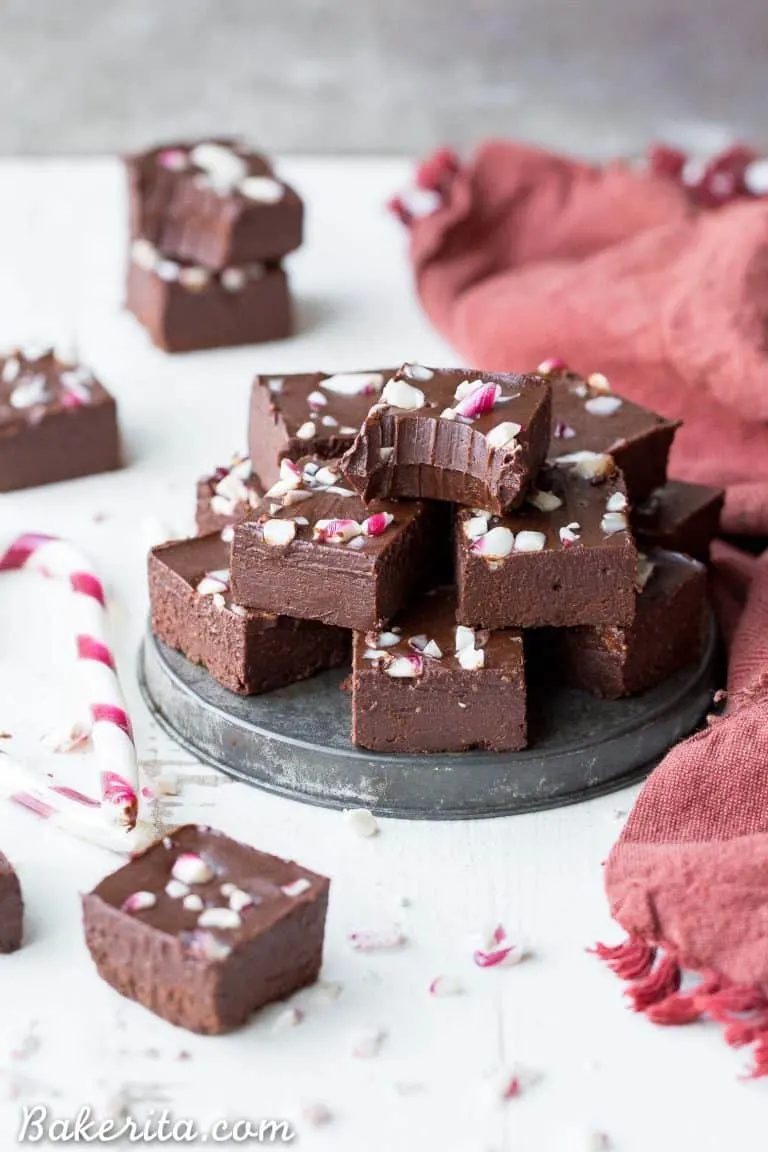 Enjoy the flavors of hot cocoa topped with marshmallows in this cute idea for a themed fudge recipe. No one will be able to resist grabbing a square of this adorable treat! With just 4 ingredients, melt the dark chocolate and white chocolate chips and mix with sweetened condensed milk. Layer these in a pan and top with mini marshmallows and refrigerate. Cut into squares when well-chilled.
Hot Chocolate Fudge by Wonky Wonderful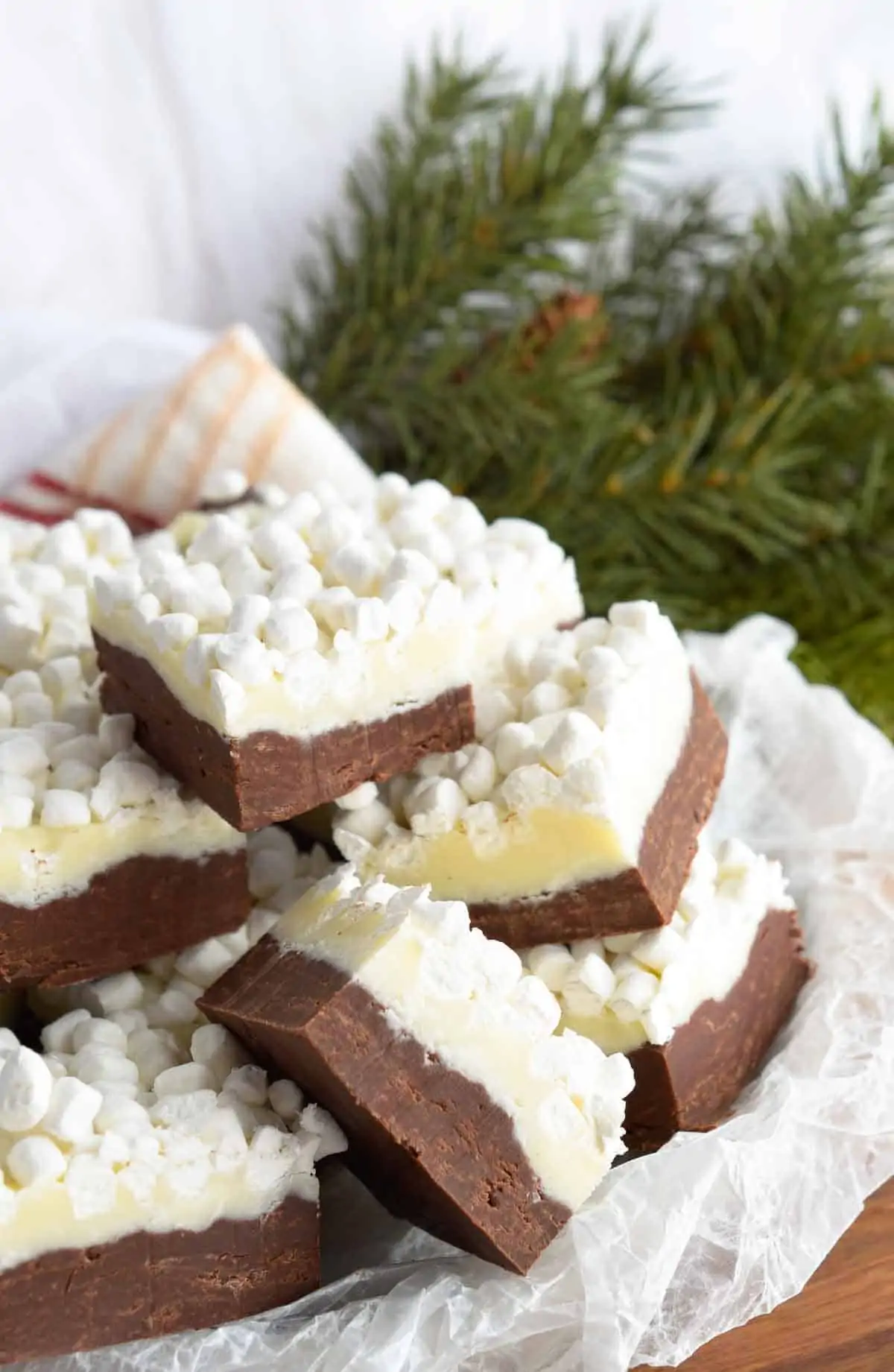 This fudge is a Christmas must-make for gingerbread lovers. A white chocolate fudge mixture is layered with gingerbread fudge and swirled easily with a knife to create a beautiful design. This recipe uses the microwave method to quickly make this spicy and delicious fudge. Perfection!
Gingerbread Swirl Fudge by Sally's Baking Addiction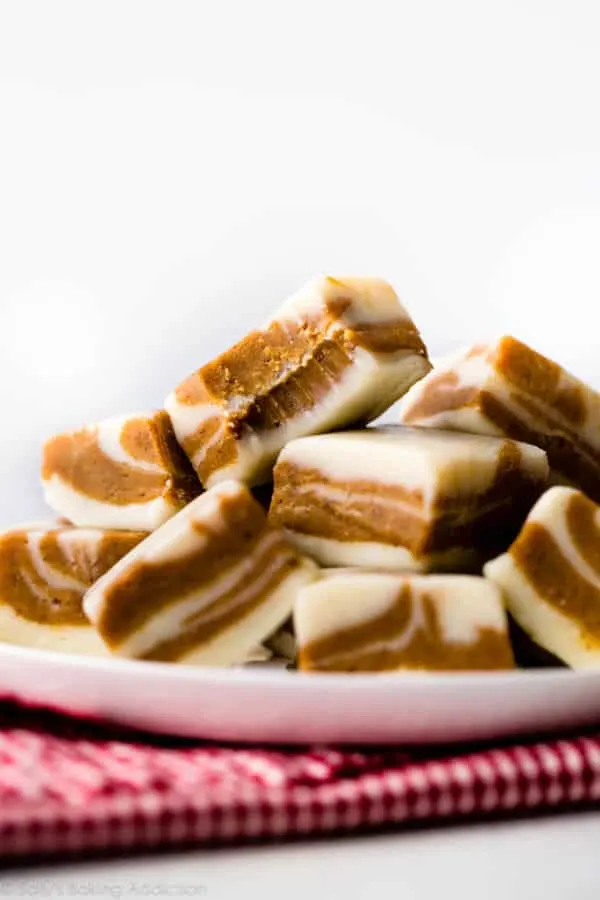 You can't get more festive than combining these two-holiday favorites of pistachio and cranberry together in one easy to make a sweet treat. Just add dried cranberries and crushed pistachios to melted white chocolate chips, sweetened condensed milk, and vanilla extra. Let chill, cut, and enjoy. These also make excellent food gifts for the holidays!
White Chocolate Pistachio Cranberry Fudge by Culinary Ginger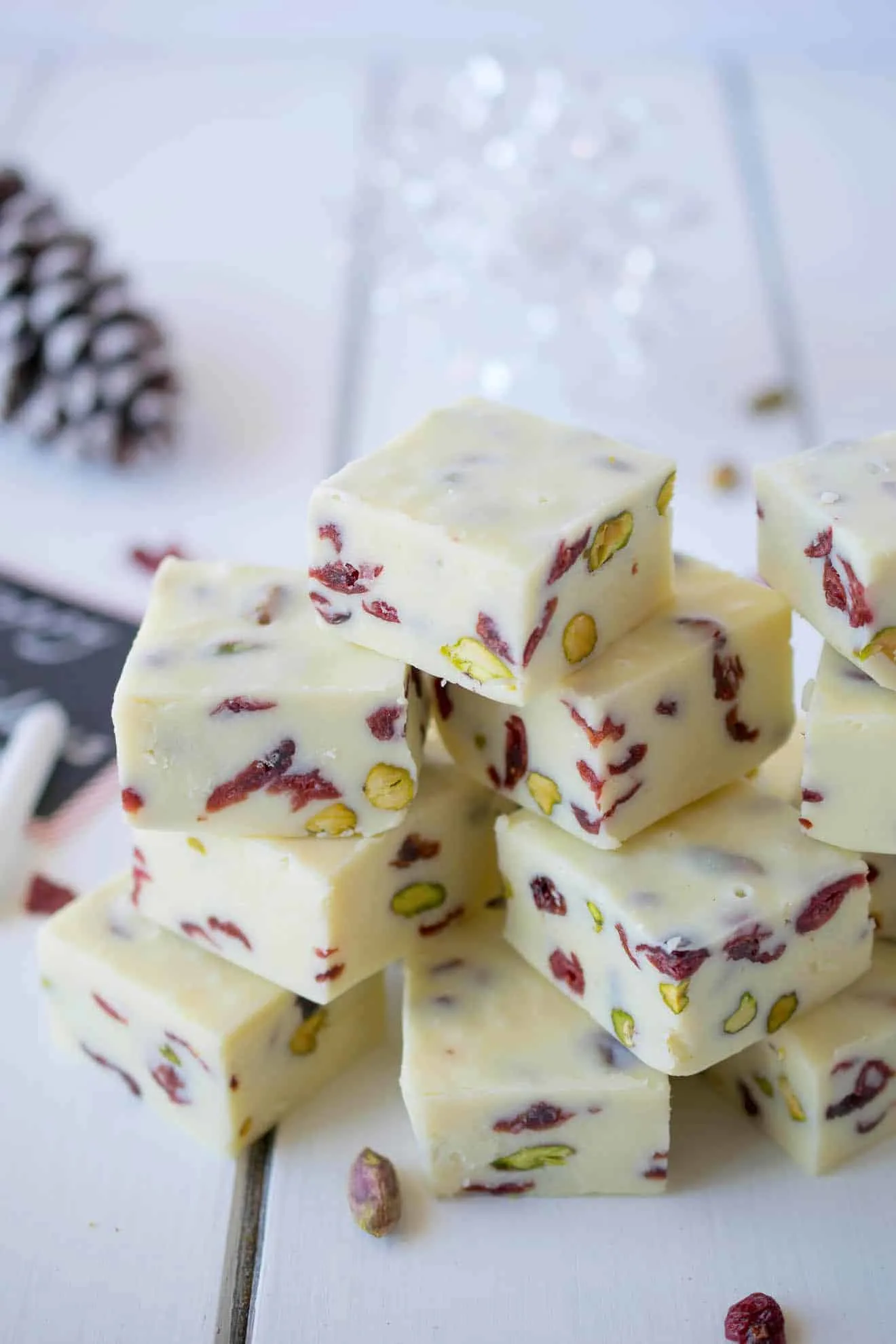 Using the stovetop method for this buttery fudge gives it a rich and authentic taste to help you celebrate the season. Toast the pecans and bring heavy cream, butter, and sugars to a boil on the stovetop until thickened. Add in flavorings and confectioners sugar along with chopped and toasted pecans. Let chill and then cut and serve this buttery and nutty fudge.
Butter Pecan Fudge by I Am Baker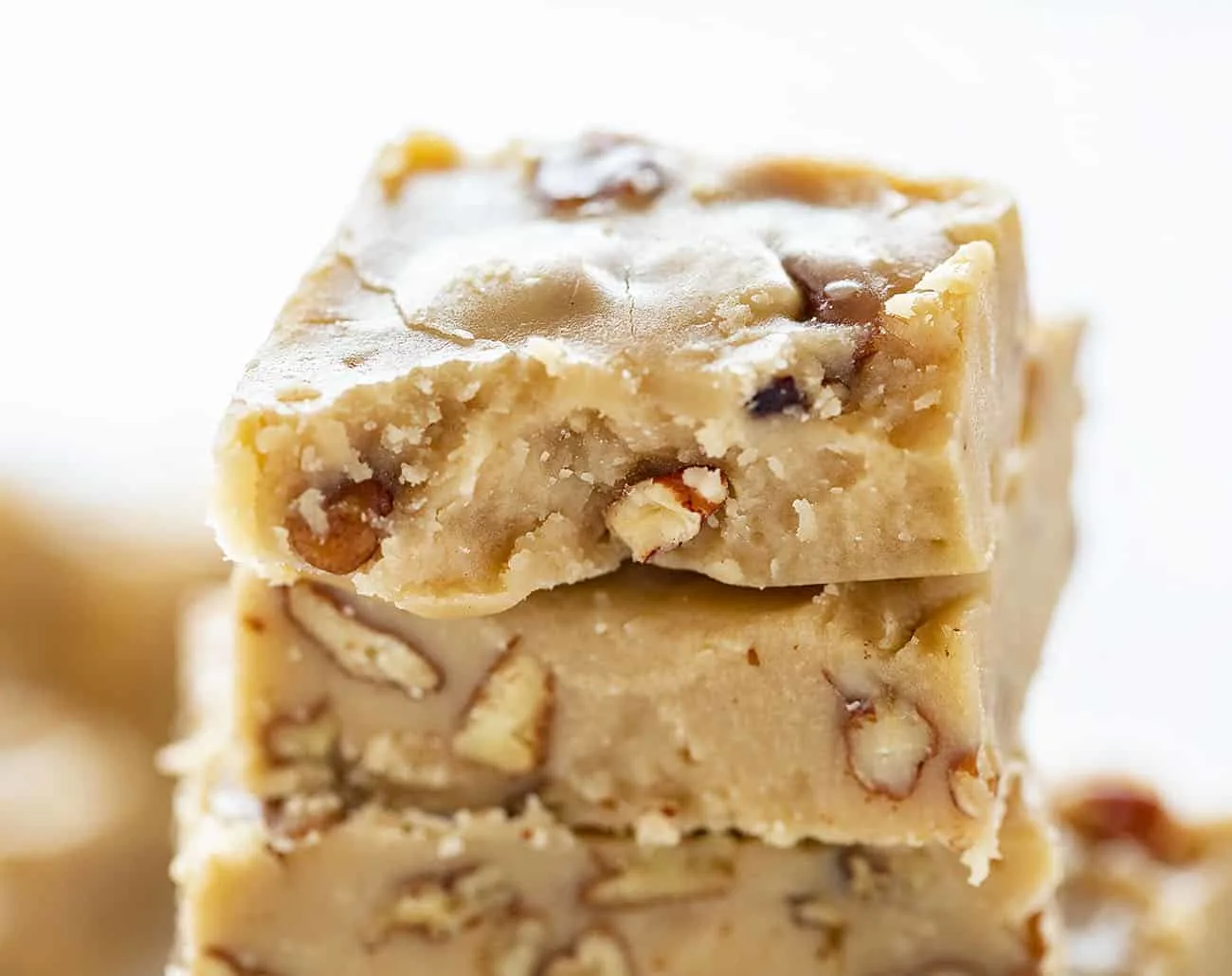 Your favorite campfire treat gets a new setting in this no-bake fudge recipe. Marshmallows, chopped candy bars, and chunks of graham crackers go into the melted milk chocolate chips and butter mixture. Pour into a prepared pan and let cool before cutting. Awesome!
S'mores Fudge by Inside Brucrew Life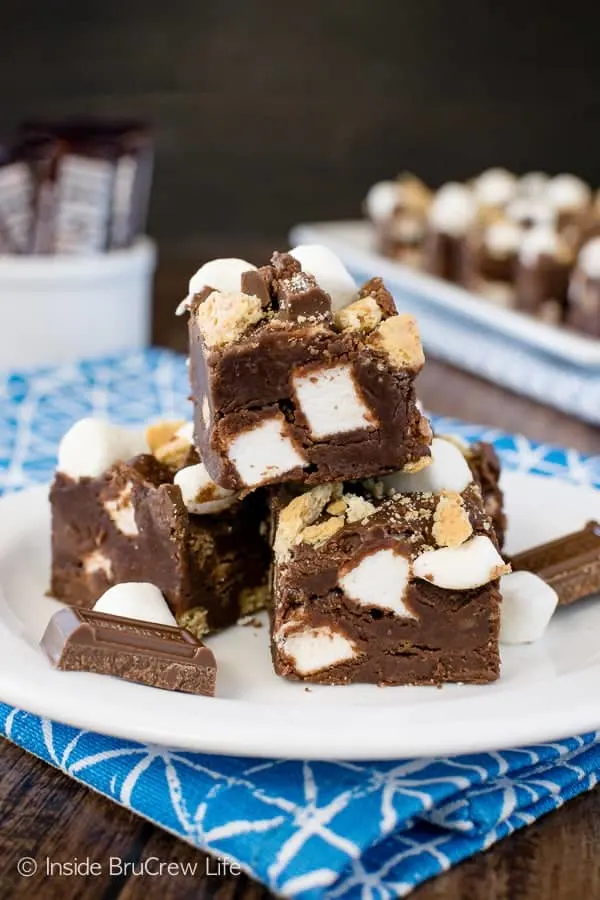 This snickerdoodle fudge recipe combines the sweet flavors of the season with a fudgy layer of white chocolate chips and sweetened condensed milk and topped with a layer of cinnamon and sugar goodness. Oh, and it only takes 5 minutes to make!
Snickerdoodle Fudge by Brown Eyed Baker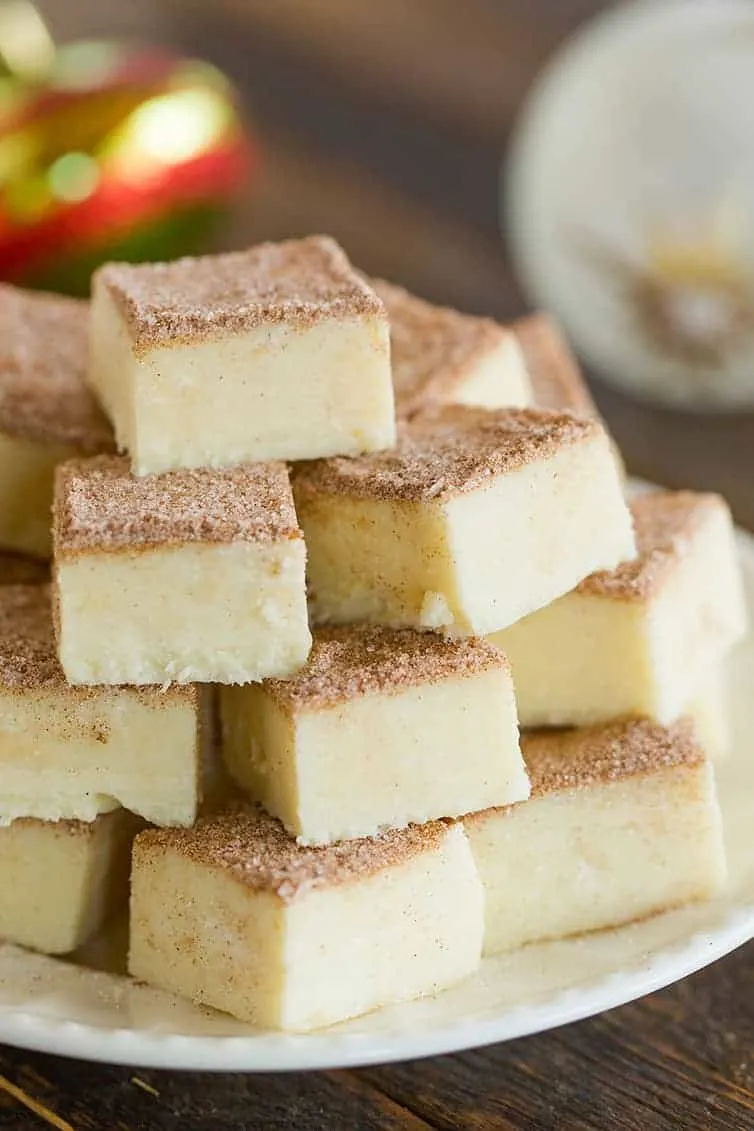 With just 3 ingredients, you can make this fudge quickly using a microwave and food coloring. It's a fun recipe that's perfect for gift-giving, parties, or just to have around as a bite-sized sweet treat. White chocolate chips and red and green food coloring make 3 different shades of fudge that gets swirled together to create this festive dessert.
Christmas Fudge by Princess Pinky Girl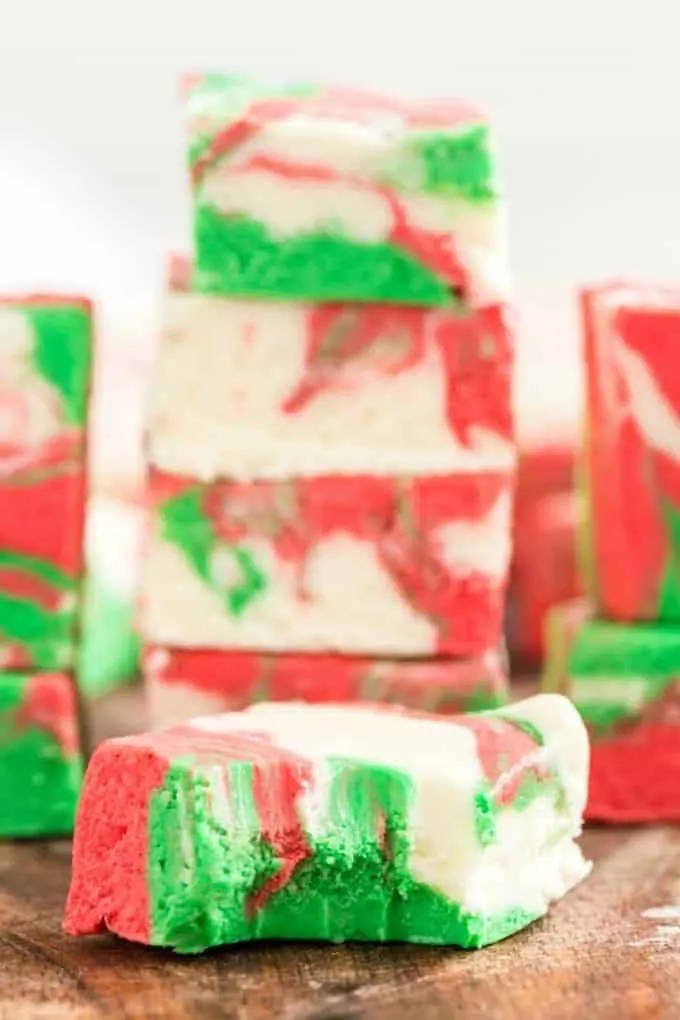 Salty pistachios are the perfect nut to add to this rich chocolate fudge recipe that's a quick stovetop version. It uses a combo of semi-sweet and dark chocolate chips along with sugar, butter, evaporated milk, and marshmallow cream. This salted chocolate and nutty fudge is so delicious!
Dark Chocolate Pistachio Fudge by Kleinworth Co.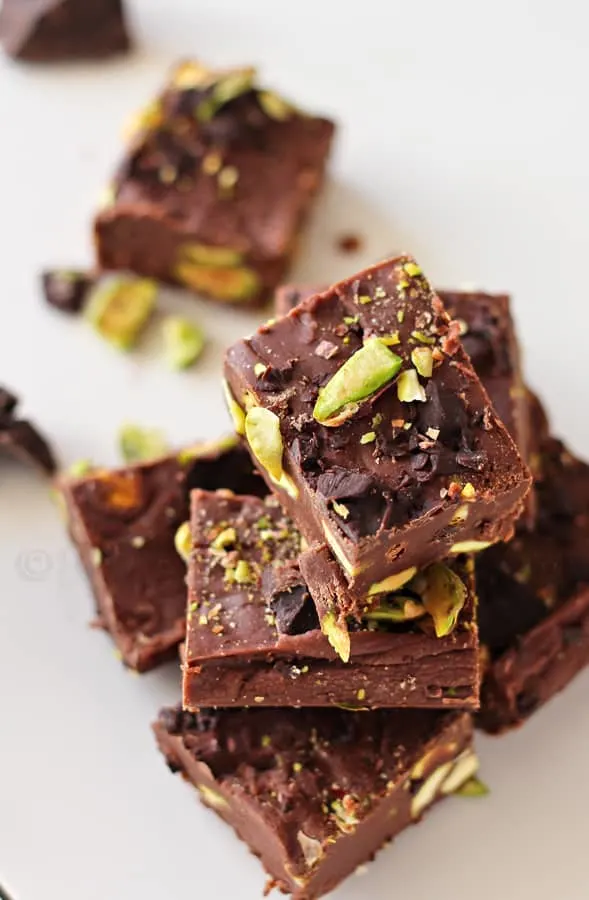 This stovetop version of a classic holiday favorite will be welcomed by fans of praline candy. White chocolate fudge gets a layer of a crunchy easy-to-make pecan praline mixture before being topped with more white fudge. A candy thermometer is recommended to make this sweet fudge just perfectly on your first try!
White Chocolate Pecan Praline Fudge by Living Sweet Memories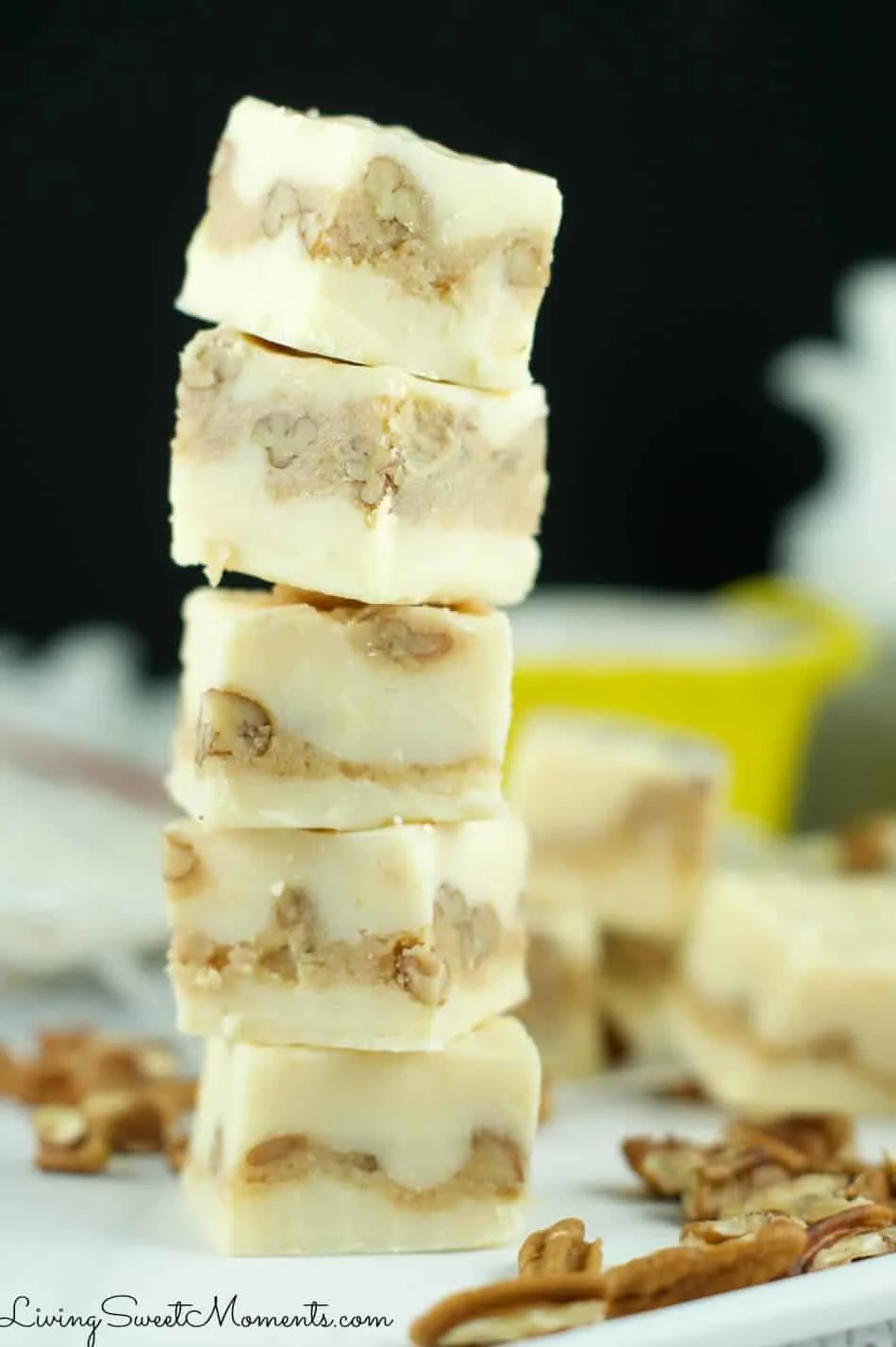 This blue and white Disney's Frozen®-inspired fudge will be a hit with kids and adults. This no-bake version combines white chocolate chips, sweetened condensed milk, vanilla extract, and food coloring to achieve a lovely blue shade. Garnish the top with sugar pearls in blue and white for this Elsa-approved fudgy treat.
White Chocolate Frozen Fudge by Happiness Is Homemade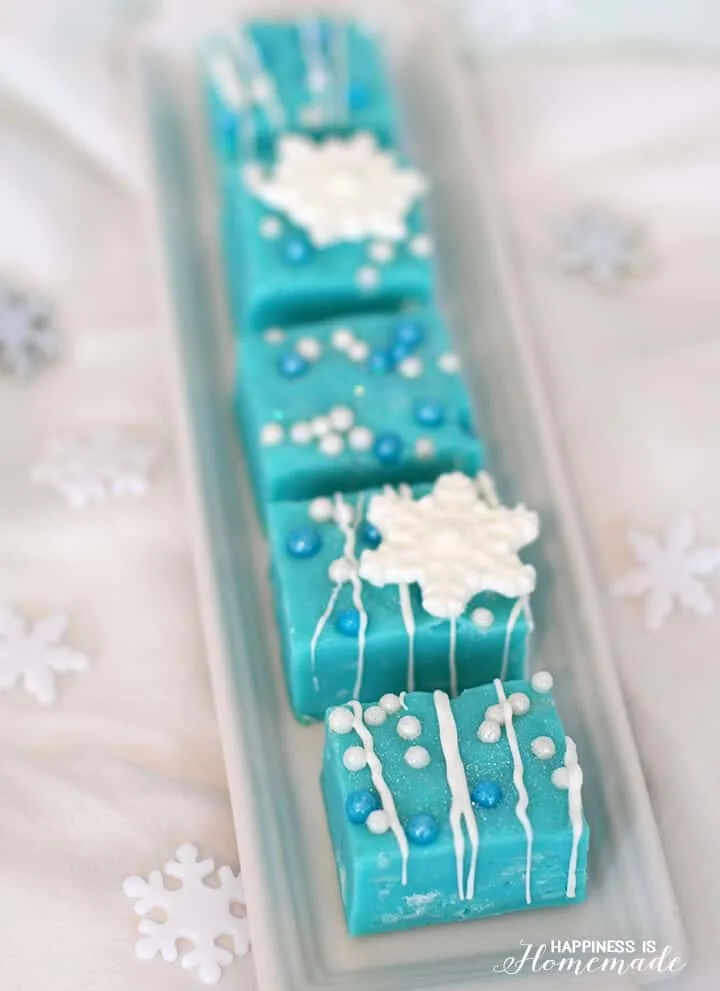 If you're looking for the easiest fudge recipe ever, this 2-ingredient recipe is it. White chocolate chips and store-bought caramel apple frosting will have this yummy fudge mixture in your pan and chilling in your fridge in minutes. What could be easier?
Caramel Apple Fudge by Lil Luna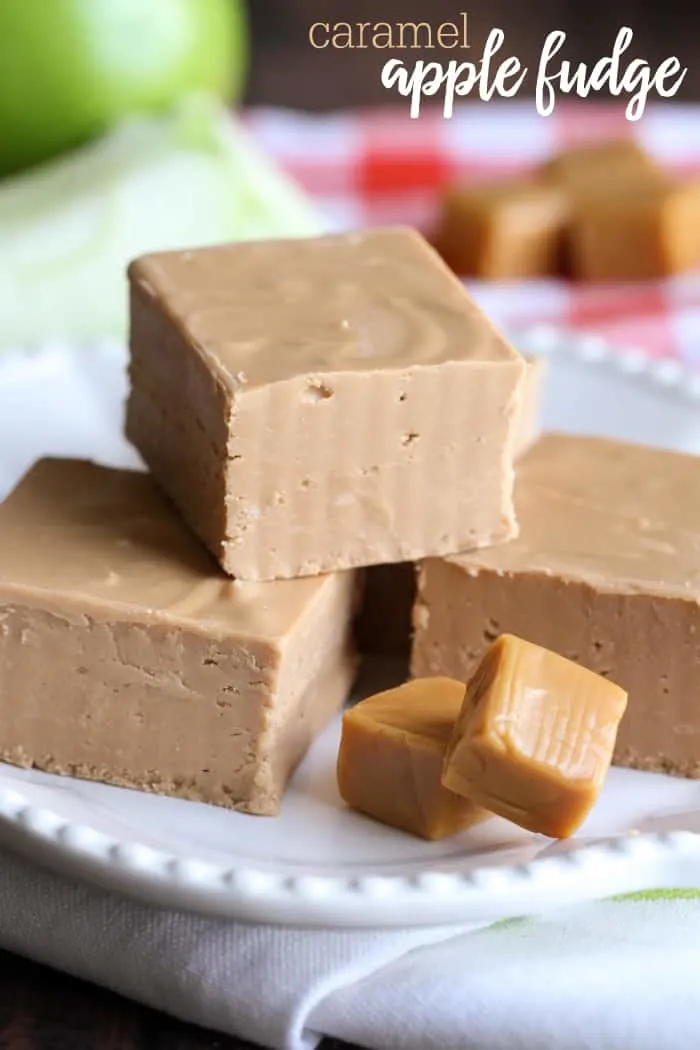 No one will be able to resist this awesome three-layer fudge that starts with a rich chocolate fudge layer that's topped with melted caramels and finished with crushed pretzels. Oh, and it only takes about ten minutes to make.
Salted Pretzel And Caramel Fudge by Real Housemoms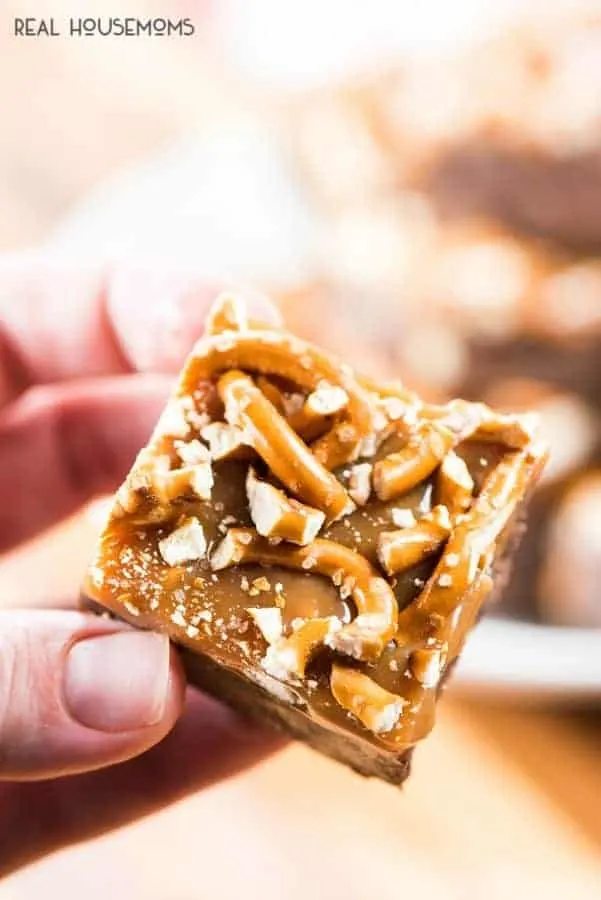 If there's someone who's not in the Christmas spirit, maybe a bite of this fudge will help them along. With both peppermint and a cinnamon flavor, this brightly-hued fudge is a sweet way to celebrate the season. Make this Grinch-inspired fudge for a cute take on bite-sized desserts!
Grinch Fudge by 4 Sons R Us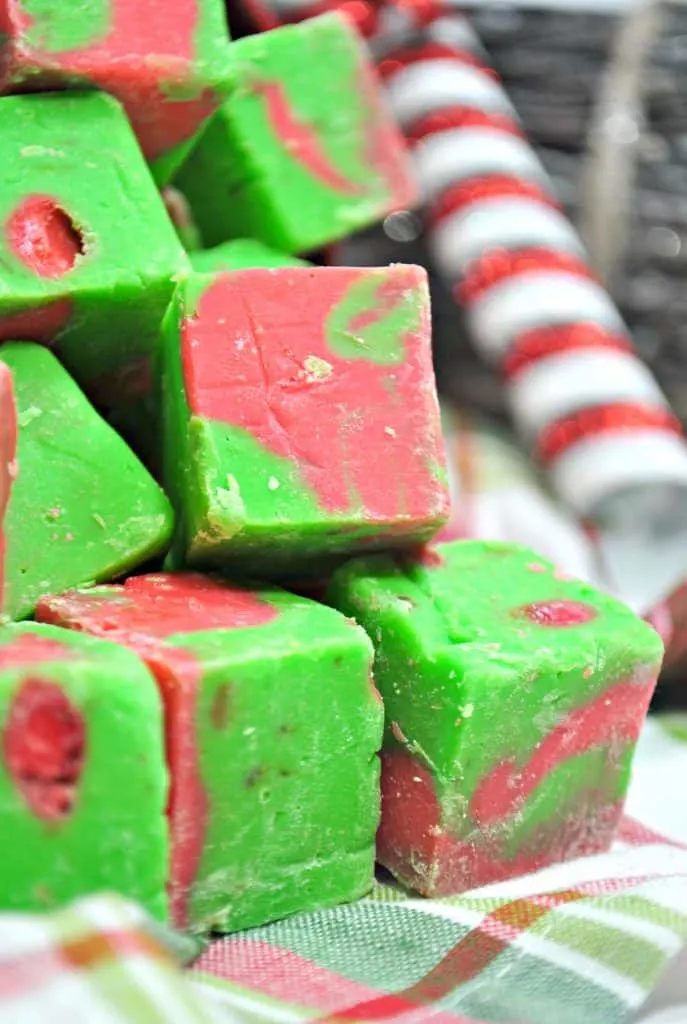 Bring the holiday flavors of nutmeg and cinnamon to this easy and buttery fudge recipe. You'll use eggnog as well as rum extract for a rich flavor that's absolutely spot-on. This is a stovetop version that you can quickly whisk together for the ultimate in a Christmas fudge treat.
Eggnog Fudge by Simple Joy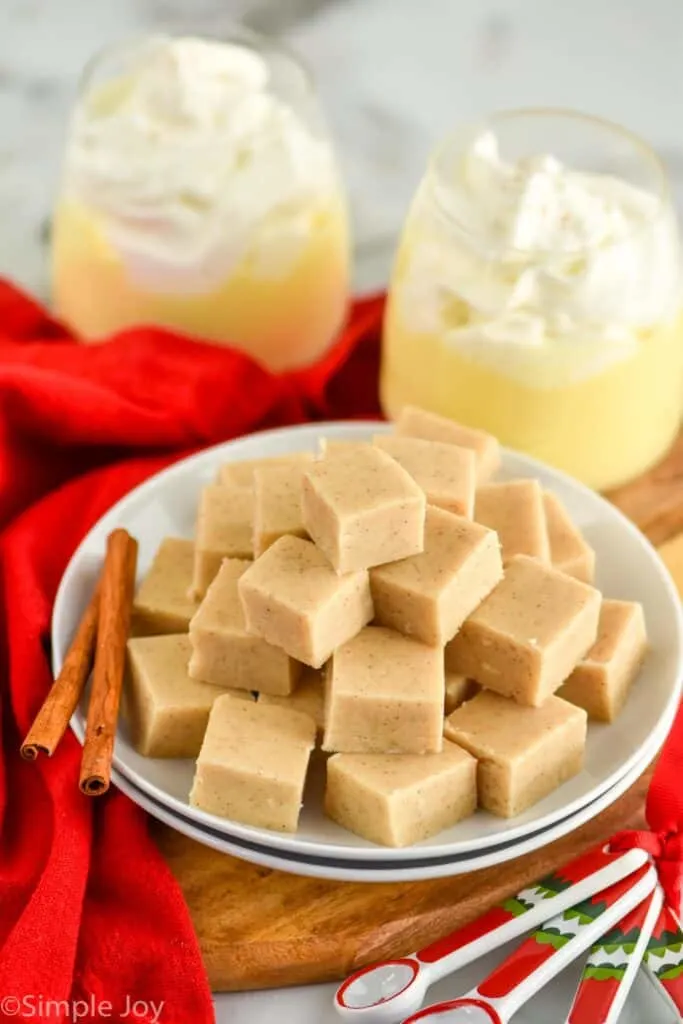 Christmas cookie flavor abounds in this fudgy version of a holiday treat. Melted white chocolate combines with a sugar cookie mix and sweetened condensed milk for a super easy fudge that chills in the fridge. Top with green and red Christmas sprinkles for a festive touch.
Sugar Cookie Christmas Fudge by Crayons And Cravings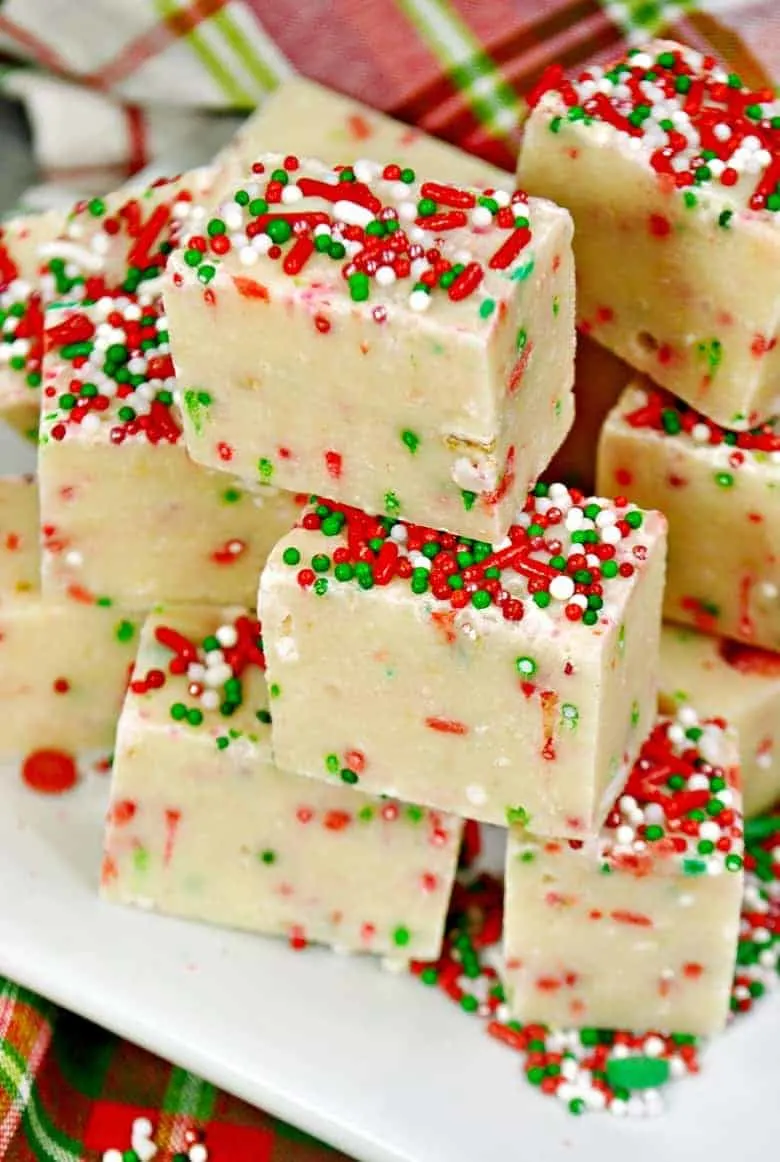 Gooey and sweet melted caramel is sandwiched between two layers of dark chocolate in this microwave and stovetop fudge recipe. Although this recipe calls for pecans, you could leave them out and it would still be an outrageously awesome dessert!
Caramel Pecan Turtle Fudge by Dash Of Sanity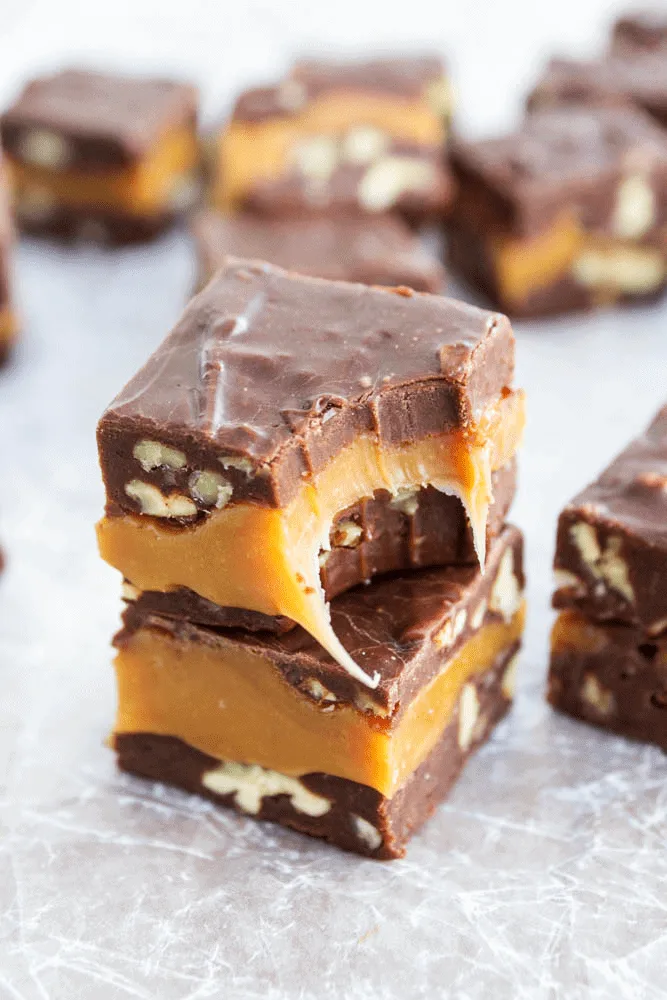 These little bites of fudge taste just like a pumpkin pie! You'll add the delicious pumpkin puree and white chocolate chip fudge layer on top of a thin crushed graham cracker crust. Drizzle with white chocolate icing and serve these to rave reviews!
White Chocolate Pumpkin Spice Fudge by Mom On Time Out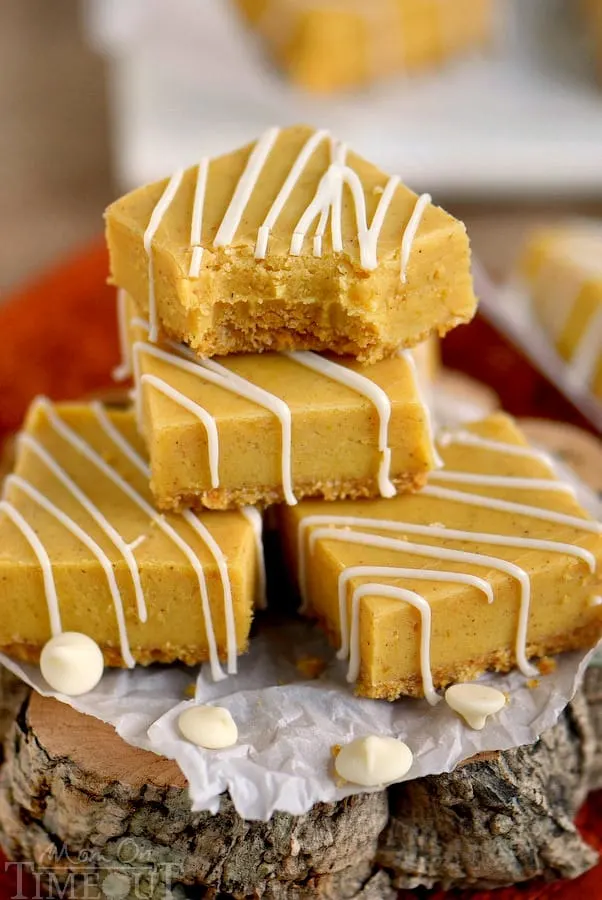 This cookie-inspired recipe gets a Christmas makeover with the addition of green food coloring in the white chocolate. Add in some red and green M & M's and it's a festive fudge treat that's perfect for a holiday party!
Cookie And Cream Christmas Fudge by This Is Not Diet Food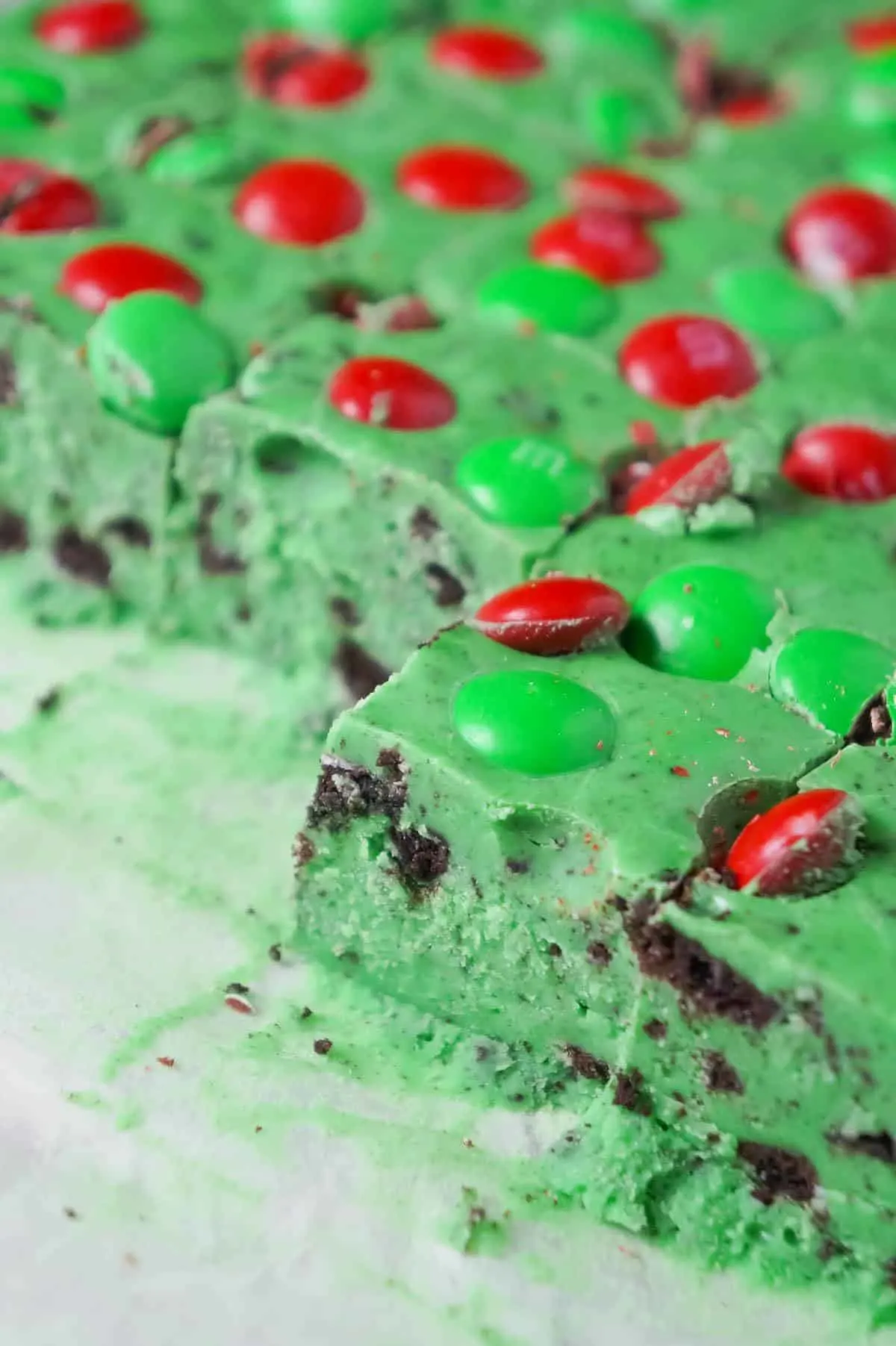 Marshmallows, brown sugar, toffee, and walnuts are all part of this fudge recipe that's perfect for the holidays. Make this stovetop version with plenty of butter and evaporated milk. Pour into a prepared pan and try to wait patiently for this awesome sweet treat to cool.
Brown Sugar Walnut Fudge by Melissa's Southern Style Kitchen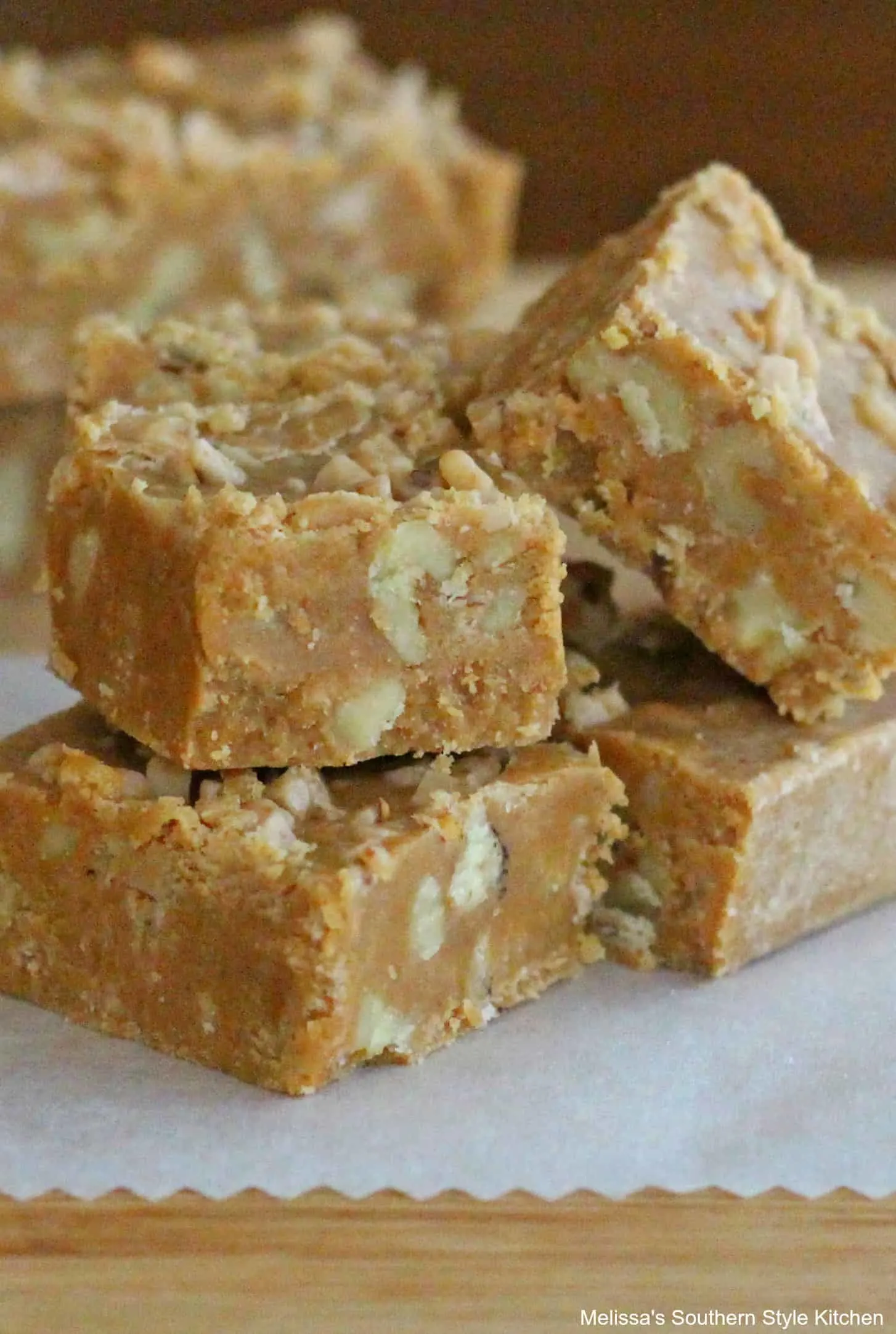 Related:
Keto Peanut Butter and Chocolate Fudge
14 Fantastic Holiday Fudge Recipes!
Nettie is a wife and mother who is passionate about cooking and baking. With 5 children, Nettie insists that all meals, snacks, and desserts come together quickly! You will find a wide variety of easy yet scrumptious recipes on her very popular website
Moore or Less Cooking
Be sure to follow me on
Instagram
and tag #mooreorlesscooking so I can see all the wonderful recipes that YOU make from this site!
Did You Make Any Of These recipes?
I would love for you to leave a rating and a comment below! How'd you do?!