20 Cozy Cookies To Bake For Fall
When autumn rolls around and the weather turns chilly, that's the perfect time to bake a batch of your favorite fall cookies. This collection of cookie recipes will not only smell amazing as they're baking but will be a cozy reminder of all things fall.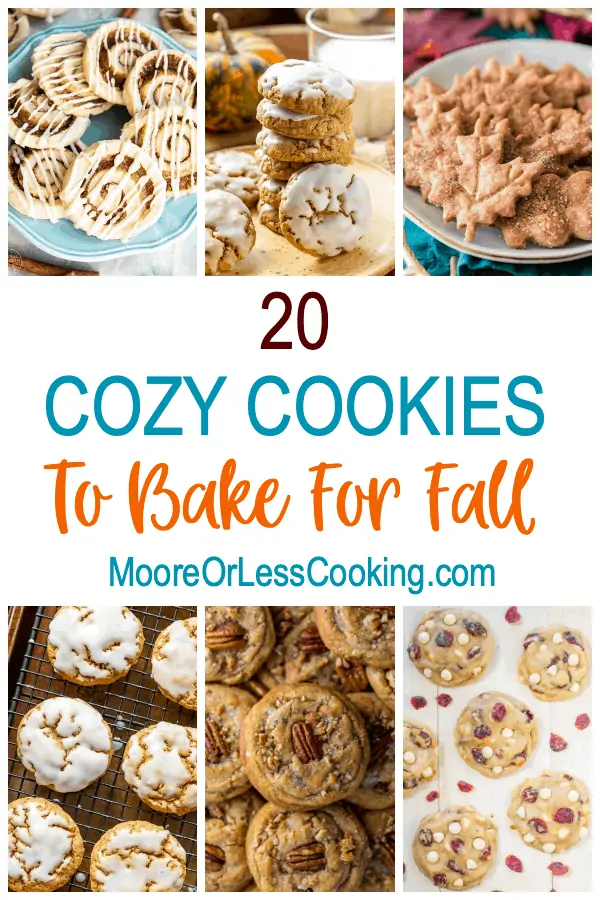 From apples to pumpkins and from cinnamon to maple, all the flavors and aromas of autumn can be found in these delicious sweet treats.
You'll find delectable cookies that incorporate seasonal nuts like pecans, walnuts, and pistachios as well as creative combinations of fruits, chocolate, and spices.
Make any of these sweet recipes to celebrate fall and the holidays.
What is America's favorite cookie?
You guessed it! The chocolate chip cookie is America's favorite cookie. This should come as no surprise to anyone who enjoys the chocolate. Secondly, is the peanut butter cookie. But during the fall months, pumpkin and apple are right up there with the most popular! Scroll down to see 20 of the Coziest Cookies to bake during the autumn season.
Not only are these cookies adorable with their itty-bitty lattice top, but they're scrumptious, too! These are apple and cinnamon cookies with a little cheesecake in the center. Make these cookies in a mini muffin pan for maximum cuteness.
Apple Cheesecake Cookie Cups by Crazy For Crust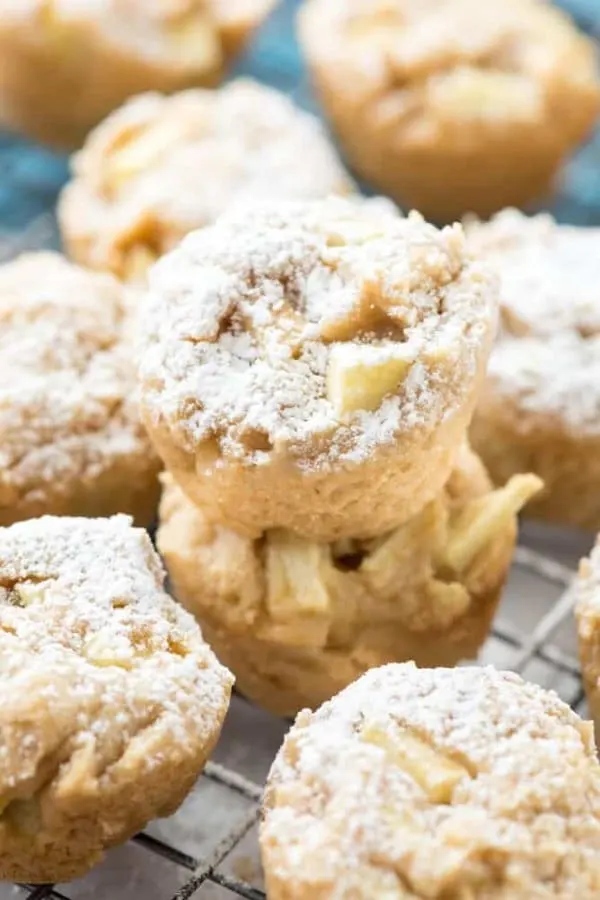 What Are The Best Fall Cookie Flavors?
Anything with pumpkin, apple, chai, oatmeal, cinnamon, cranberry, Maple, nuts, brown butter, chips, hot cocoa, and anything that makes you feel warm and cozy all over!
These cookies boast a trifecta of yumminess with their oats, butterscotch, and chocolate chips mixed into the batter. They're the sweet and chewy cookie that's perfect on a chilly autumn day. Stash some away for yourself before the family gobbles them up!
Oatmeal Butterscotch Chocolate Chip Cookies by Meatloaf And Melodrama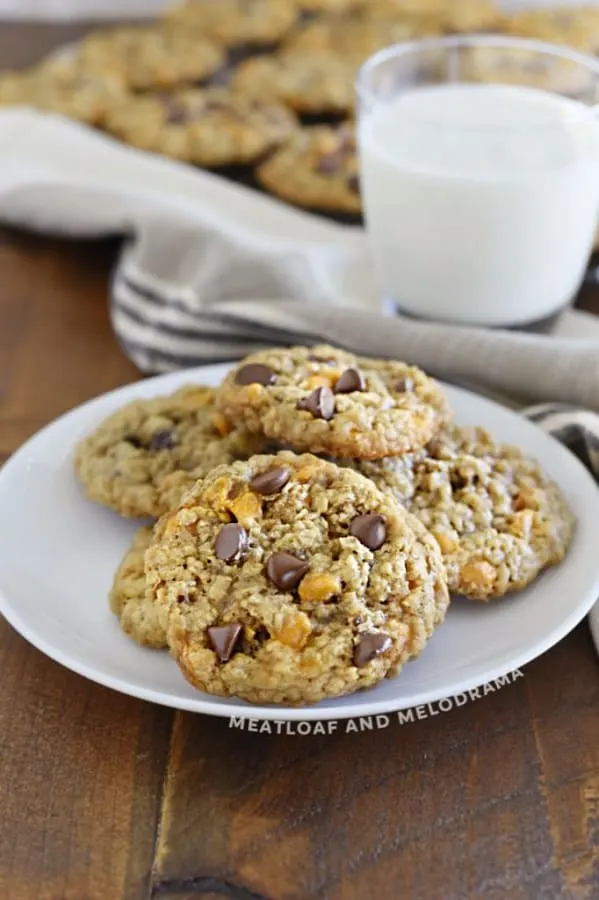 Warm-up from a chilly day with these awesome hot cocoa cookies. All the flavors you love about hot chocolate are transferred into a warm and gooey cookie full of chocolate goodness and a melted marshmallow on top. What could be better?
Hot Cocoa Cookies by Seasons And Suppers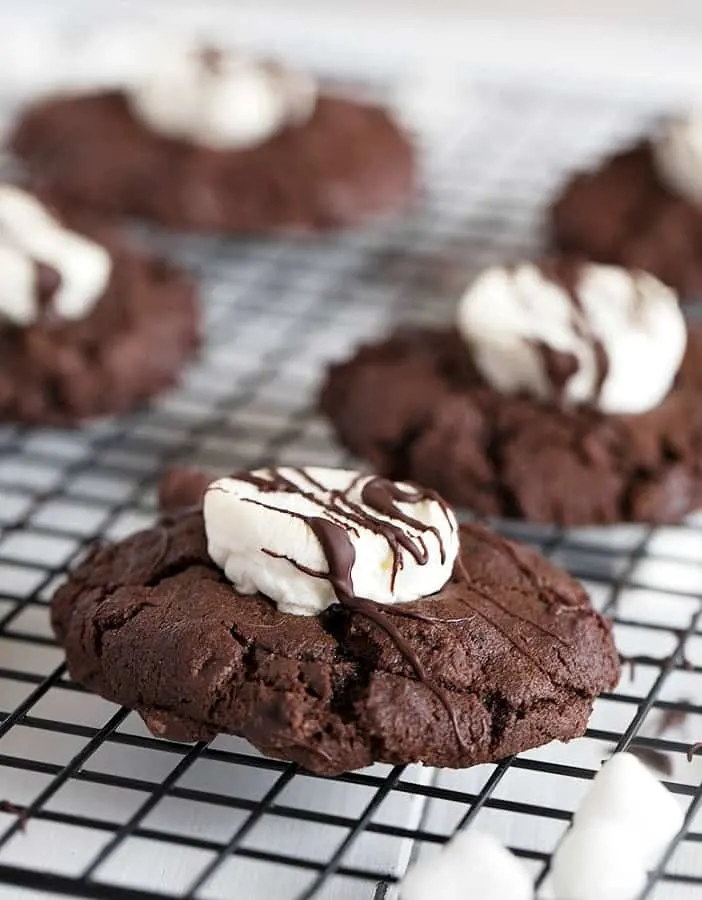 Classic spiced oatmeal cookies get up-leveled for the fall season with the addition of pumpkin puree in the batter. Use canned puree or learn how to make your own pumpkin puree from this recipe. Either way, these cookies are always a hit with family and friends!
Spiced Pumpkin Oatmeal Cookies by Saving Dessert.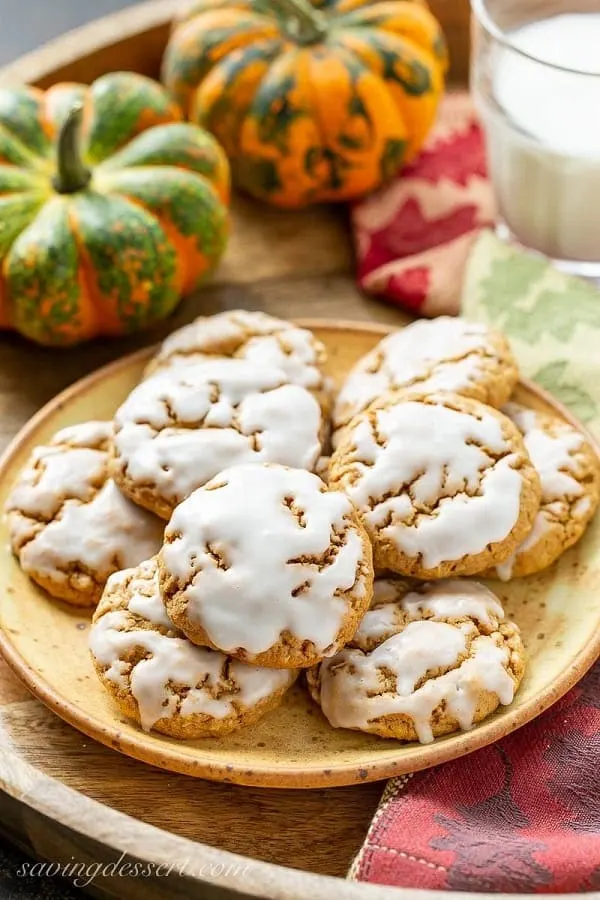 These cookies are a nod to fall and winter with the inclusion of dried cranberries and white chocolate chips. For best results, chill the dough before baking. These are the perfect cookies for a holiday party or cookie swap.
Cranberry White Chocolate Chip Cookies by Averie Cooks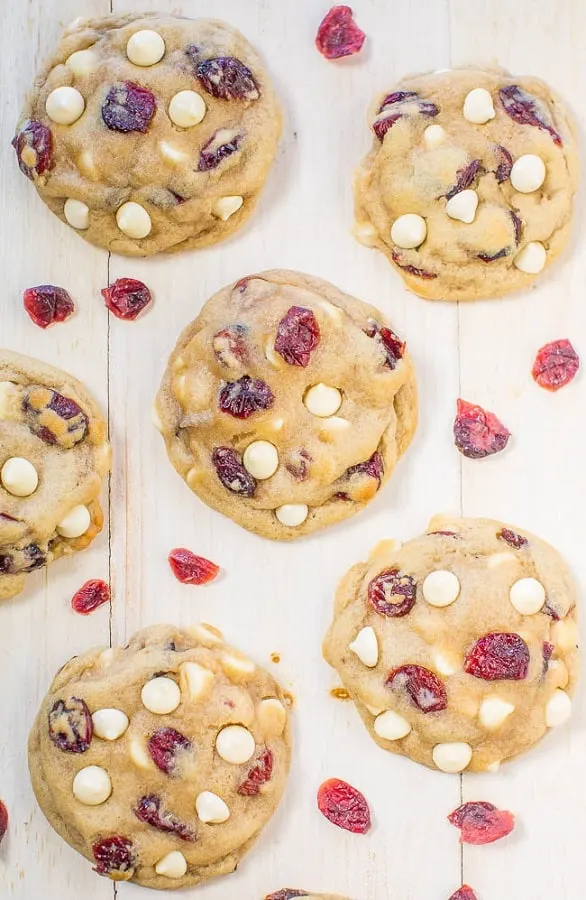 Puff pastry makes these cookies an elegant treat to serve for holiday brunch or just because. They're so easy to make: slather sweetened and spiced cream cheese on the pastry, roll up, bake and sprinkle with cinnamon. Perfection!
Cinnamon Cream Cheese Palmier Cookies by This Silly Girl's Kitchen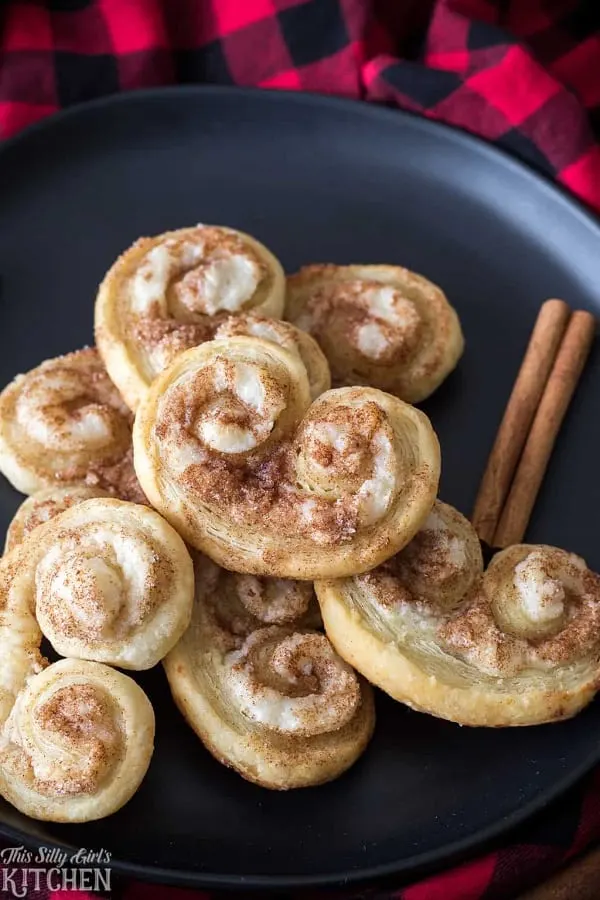 Dark amber maple syrup gives these sugar cookies a rich flavor that pairs perfectly with the brown butter-infused batter. The maple and butter sugary glaze takes these cookies over the top!
Maple Brown Butter Sugar Cookies by Tutti Dolci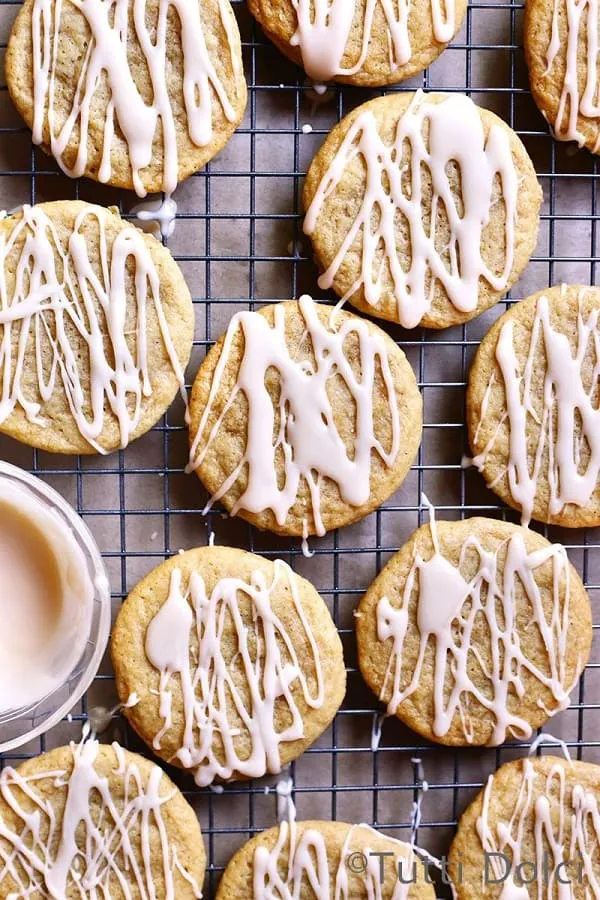 Get your pumpkin fix this season with these soft melt-in-your-mouth cookies that are topped with a cream cheese frosting. Pumpkin puree and warming spices make the cookie batter a fall favorite for a cozy cookie.
Soft Pumpkin Cookies by The Salty Marshmallow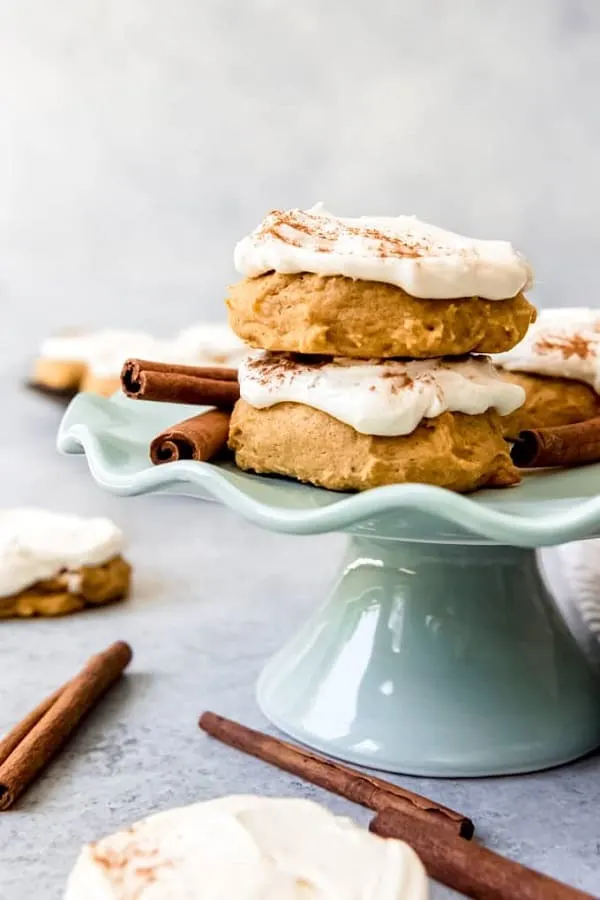 These crunchy cookies combine two fall favorites: pralines and brown sugar cookies. The cookies are baked and cooked and then topped with a homemade caramel sauce and sprinkled with chopped pecans. Swoon!
Pecan Praline Cookies by The View From Great Island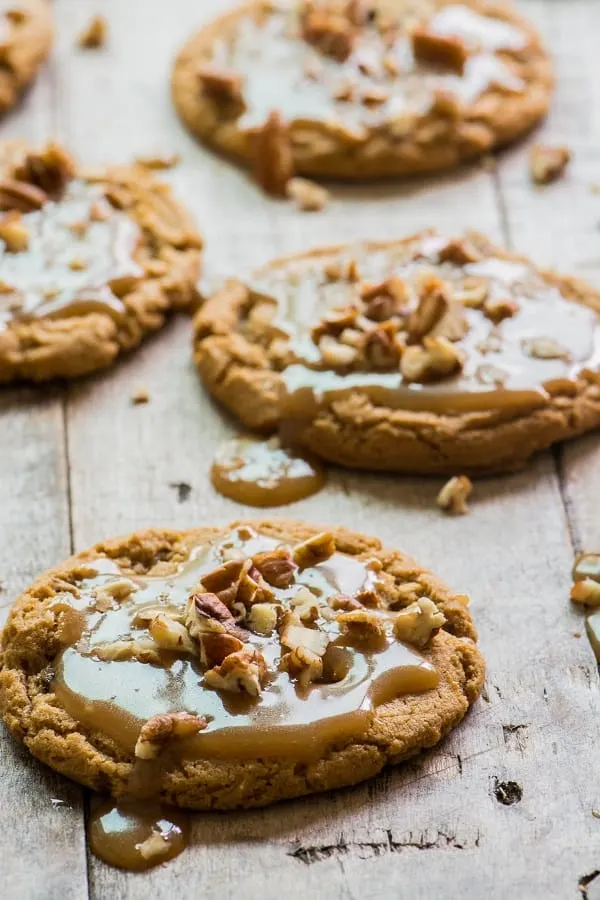 Spicy batter combines with oatmeal and raisins to make this classic cookie that's perfect for fall and beyond. You can't go wrong with this classic recipe that everyone loves! These make a perfect gift for co-workers or neighbors!
Best Oatmeal Raisin Cookies by A Spicy Perspective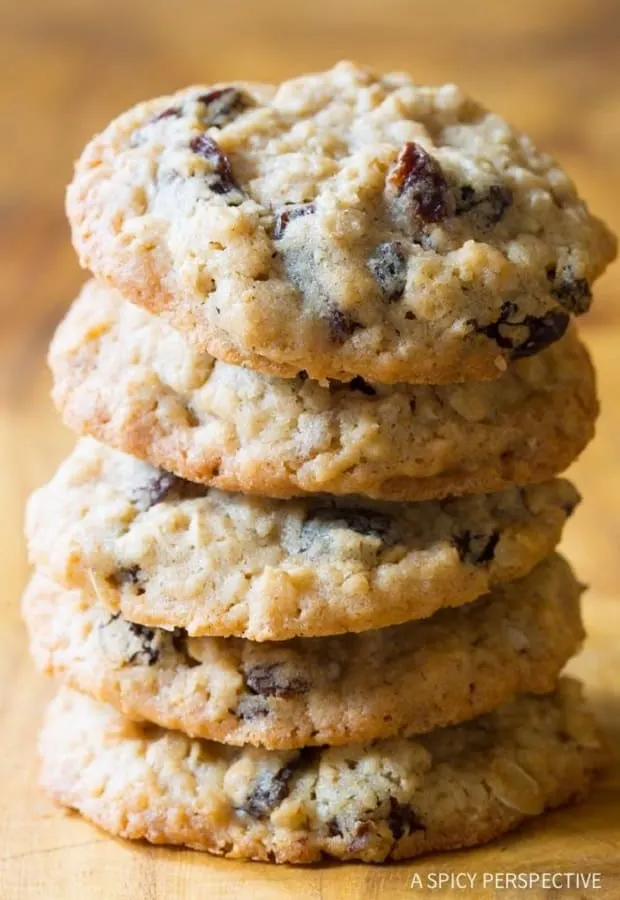 S'mores ingredients are the perfect inclusions for these cookies! No campfire is needed to bake these – just slide the tray of batter that includes chocolate chips, chocolate pieces, crushed graham crackers, and mini marshmallows into your oven and bake. Awesome!
Chocolate Chip S'mores Cookies by House Of Nash Eats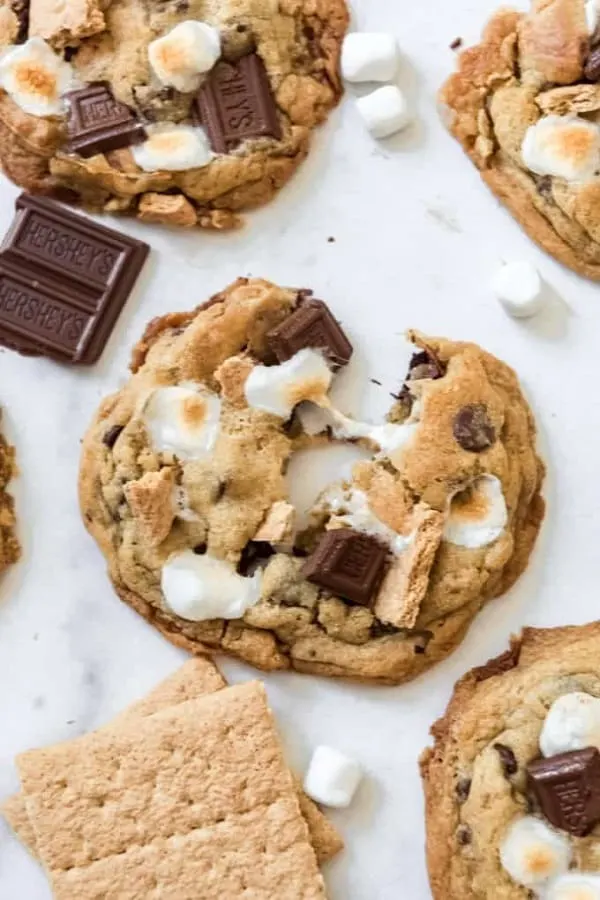 Toasted pecans make these cookies thick, chewy and perfect to celebrating fall. Brown butter and brown sugar bring out the pecan flavor even more. Serve with a glass of your favorite fall beverage and enjoy it.
Brown Butter Pecan Cookies by Baker By Nature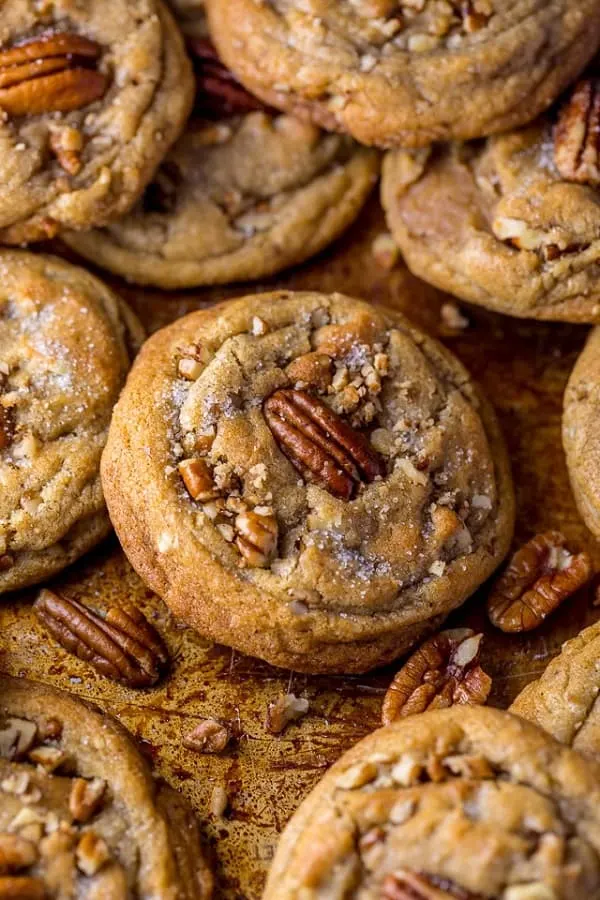 Adults as well as kids always appreciate a gooey and spicy cinnamon roll and here, you can make them in bite-sized cookie form! The roll-up and sugar and cinnamon-infused dough get sliced, baked, and then drizzled with sweet icing. Perfect for fall and beyond.
Cinnamon Roll Cookies by Like Mother Like Daughter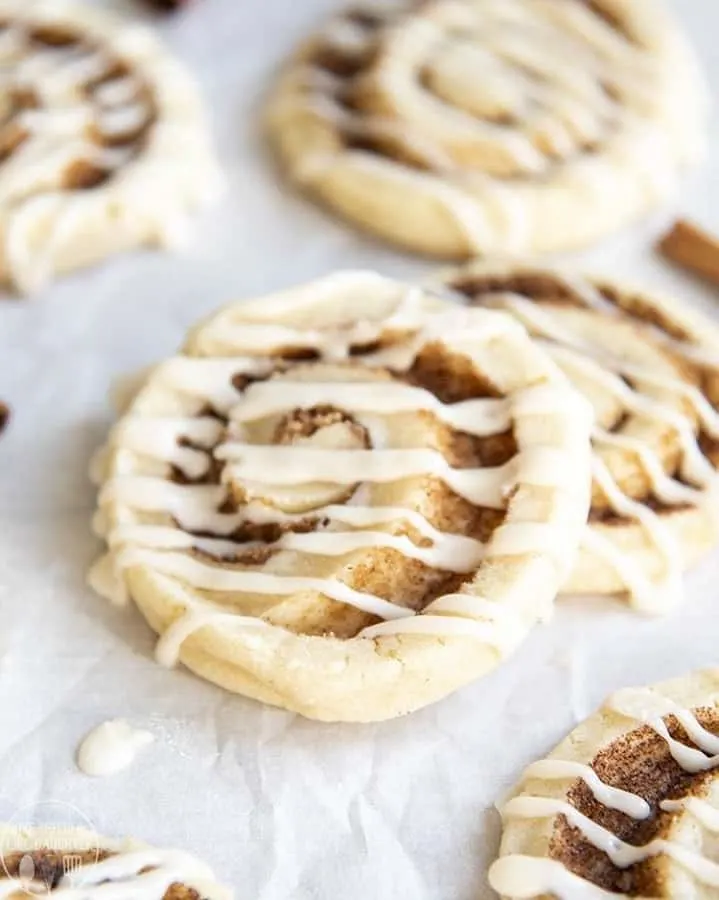 Grab your cookie cutters and make these autumn-inspired cookies in the shape of maple leaves. The cinnamon and the maple-flavored batter are super easy. Sprinkle with cinnamon sugar for a sweet finish. Lovely!
Cinnamon Maple Leaf Cookies by Sugar Spun Run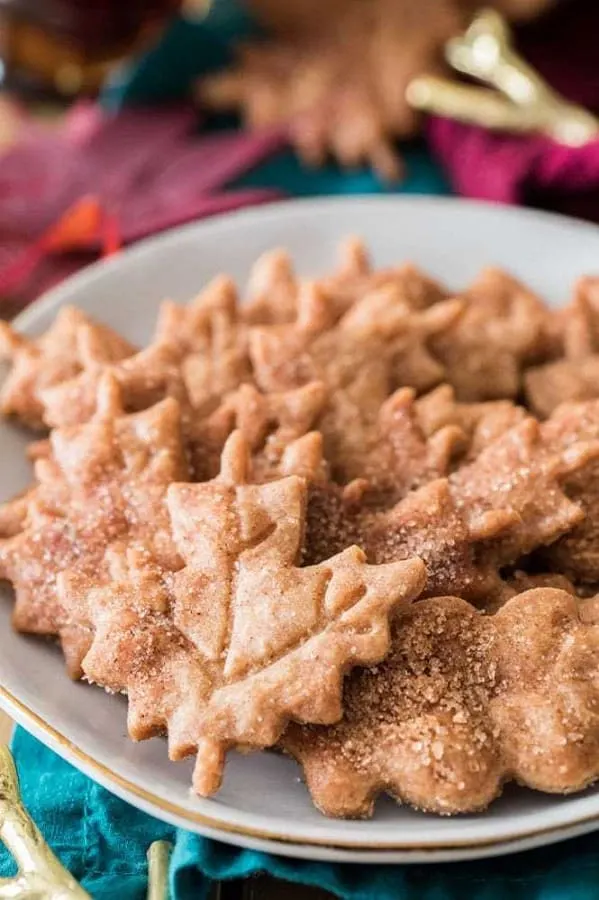 These are the perfect little hand-held mini pie cookies to tuck in a lunchbox or enjoy as an after-dinner treat. The cookie dough doubles as pie crust to hold the easy homemade apple filling. Lightly spiced with cinnamon, these are simply scrumptious!
Apple Pie Cookies by An Italian In My Kitchen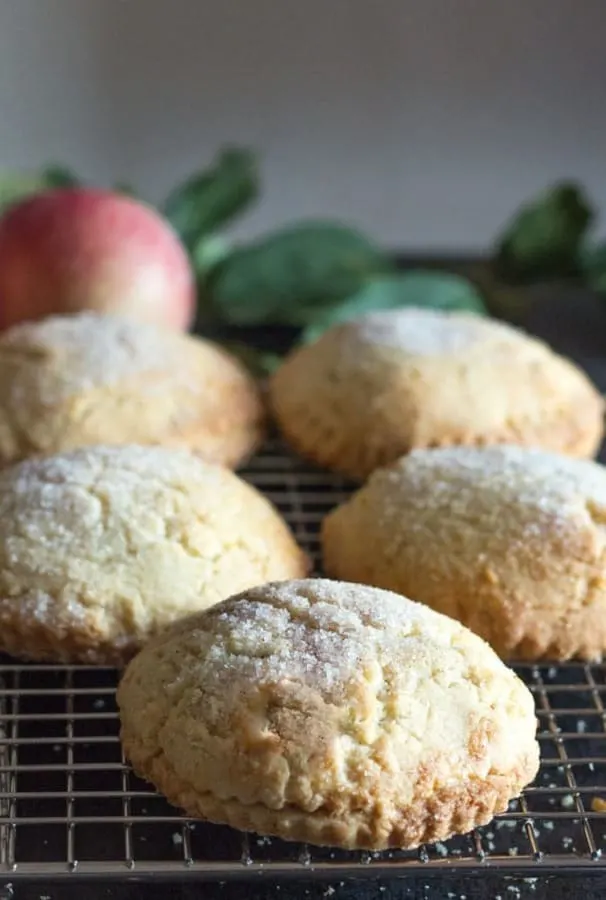 All the colors of candy corn are rolled up in this layered cookie dough and then sliced and baked. Yellow, orange, and white make a fun display on your cookie platter. Perfect for fall parties and entertaining.
Candy Corn Swirl Cookies by The Simple Sweet Life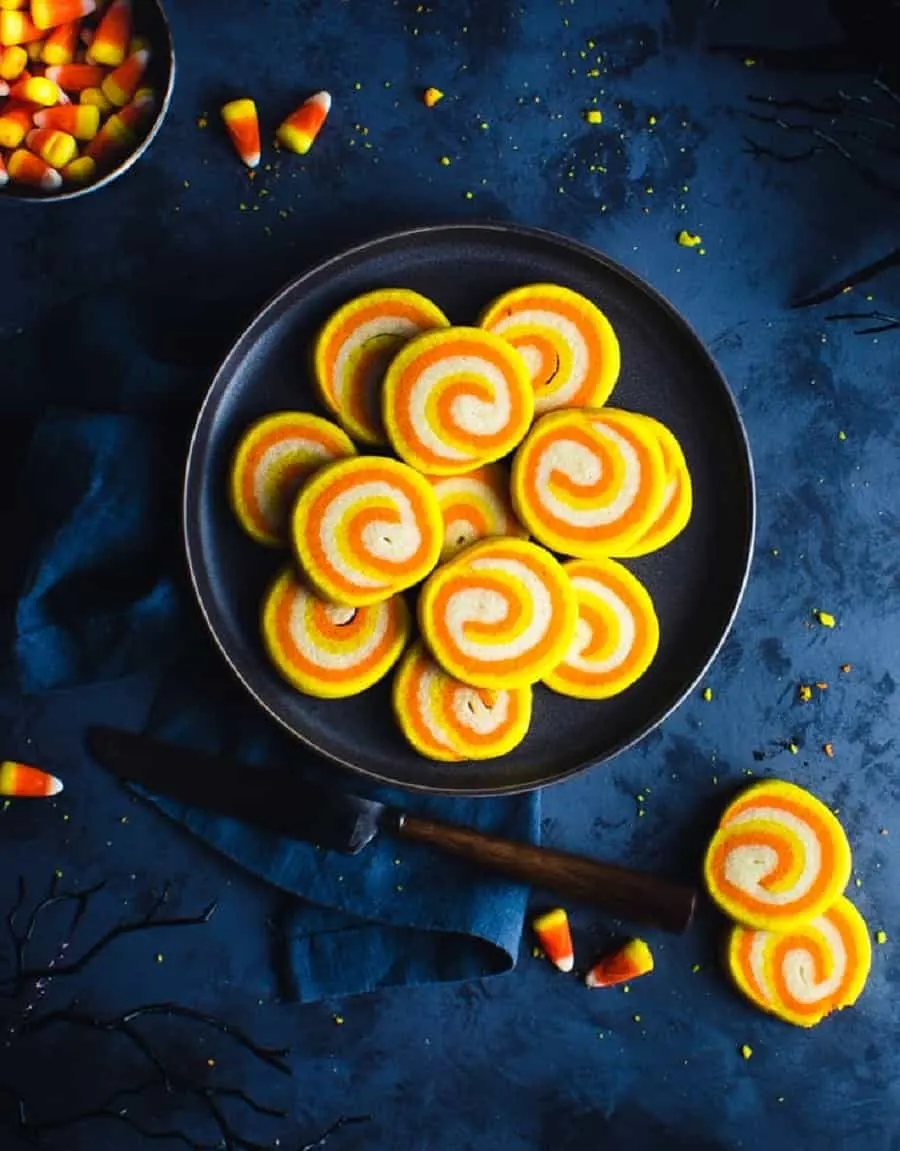 These cinnamon cookies combine with pumpkin puree in the batter along with cinnamon chips for a very festive flavor explosion. These easy cookies are a great way to ease into fall and all things pumpkin and cinnamon.
Pumpkin Cinnamon Cookies by Two Peas And Their Pod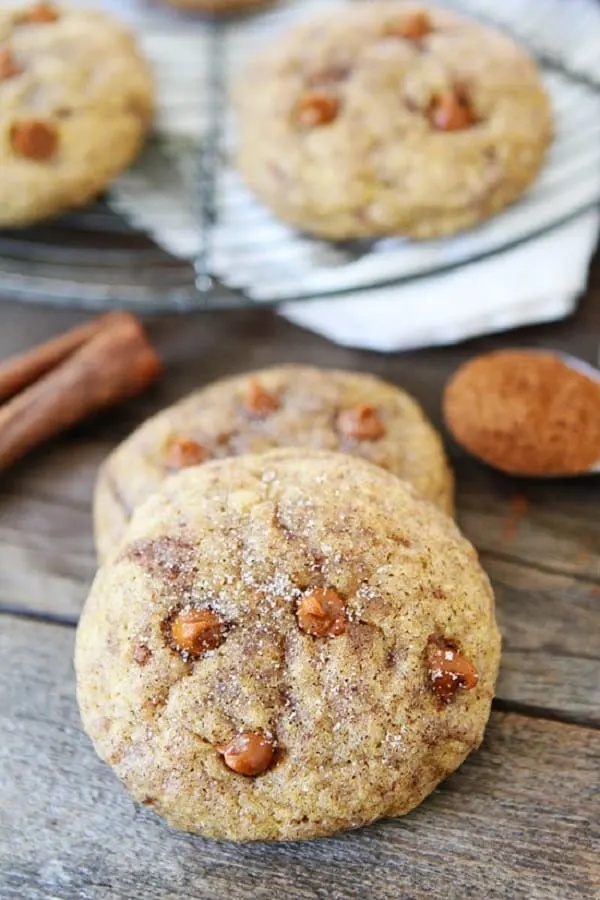 Pistachios are a favorite holiday nut and a salty and yummy one, too. Here, this cookie batter combines crushed pistachios with browned butter, sea salt, honey, and white chocolate chips. Garnish your baked cookies with sea salt and enjoy!
Salted Honey Pistachio Cookies by Cookies And Cups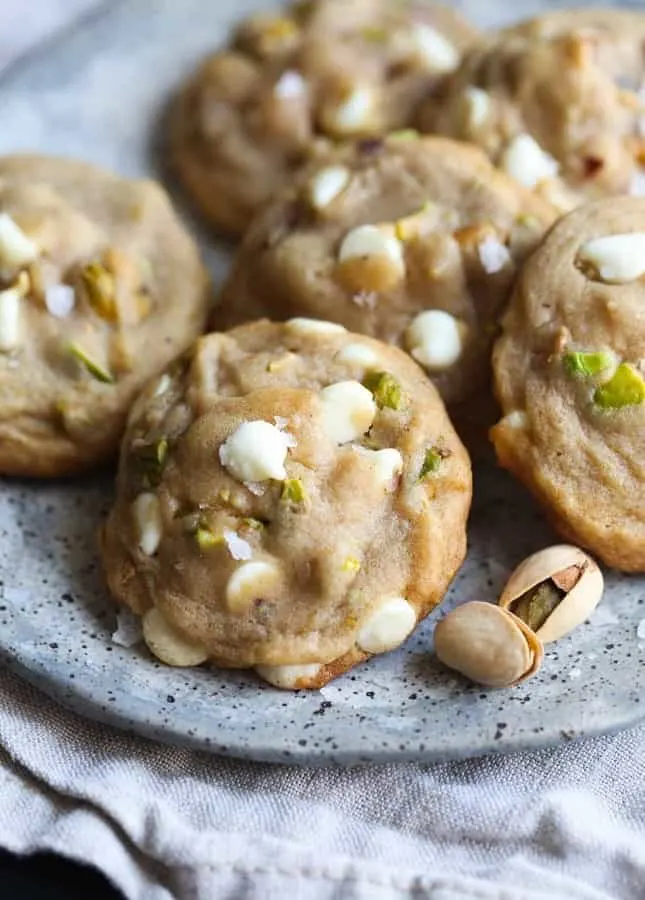 If chocolate is your thing, you'll love these triple chocolate cookies that incorporate pumpkin puree into the batter for a moist and delicious fall-inspired treat. Use milk chocolate chips, dark chocolate chips, and white chocolate chips for the ultimate chocolate cookie.
Triple Chip Chocolate Pumpkin Cookies by Inside Brucrew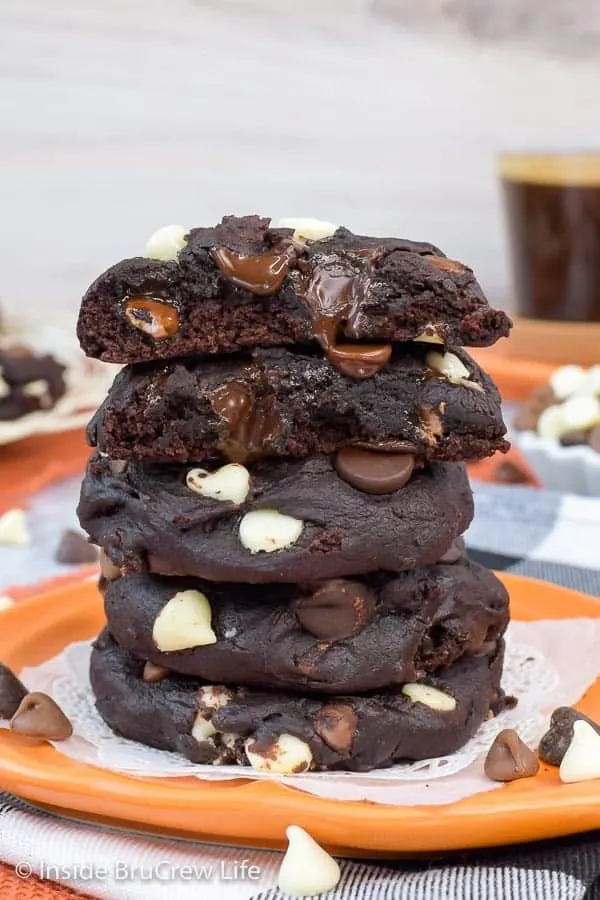 This family favorite recipe will lead everyone into the kitchen once they smell these sugar and cinnamon-infused cookies baking. This chewy version is a cozy way to celebrate the change of seasons and enjoy a classic cookie.
Chewy Chai Snickerdoodles by How Sweet Eats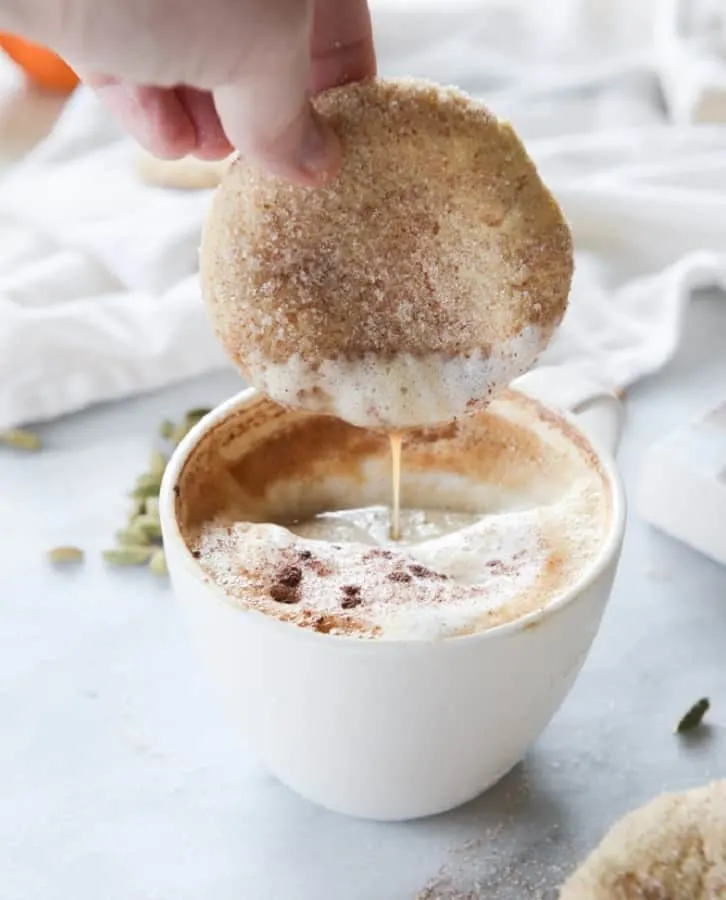 More Pumpkin Recipes:
More Apple Recipes:
Nettie is a wife and mother who is passionate about cooking and baking. With 5 children, Nettie insists that all meals, snacks, and desserts come together quickly! You will find a wide variety of easy yet scrumptious recipes on her very popular website Moore or Less Cooking
Be sure to follow me on Instagram and tag #mooreorlesscooking so I can see all the wonderful recipes that YOU make from this site!
Did You Make This Recipe?
I would love for you to leave a rating and a comment below! How'd you do?!
PIN IT: