It's one of our favorite seasons peeking around the corner! Fall is here, it's the time where we get to wear our favorite sweater, drink hot cocoa every morning and create new pumpkin desserts. We've got 20 incredible pumpkin desserts that will get you in the mood for fall. From pies to cheesecakes and from scones to blondies and bars, you'll find swoon-worthy recipes to take your pumpkin obsession to a new level. Spice up your fall season with these yummy pumpkin desserts. If you're ready to have the cozy aroma of pumpkin, nutmeg, and cinnamon wafting through your kitchen then you'll want to check out these sweet treats and get out your baking supplies!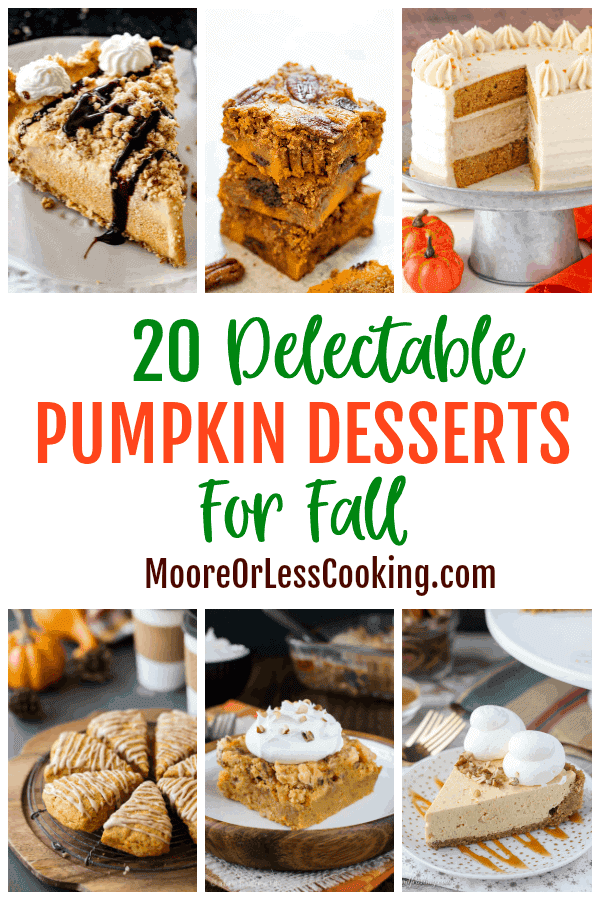 What is Delicious with Pumpkin?
Chocolate, oats, brown sugar, Nutella, pecans, and more are delicious ingredients that compliment pumpkin. You'll find all those and more right here.
Every one of these recipes will be appreciated by your pumpkin-loving friends and family, so go ahead and drool through this list and decide which one you'll make first!
Is Pumpkin Good For You?
Pumpkin is incredibly healthy and full of vitamins, minerals, and antioxidants.
What is Pumpkin Spice?
Pumpkin spice is a blend of cinnamon, nutmeg, and cloves.
Can't decide between cheesecake and pumpkin pie? Get the best of both with these sweet holiday bars. These layered bars sit on a graham cracker crust that's topped with a cheesecake mixture followed by a pumpkin filling. Bake, chill and serve. Perfection!
Pumpkin Cheesecake Bars by Dinner At The Zoo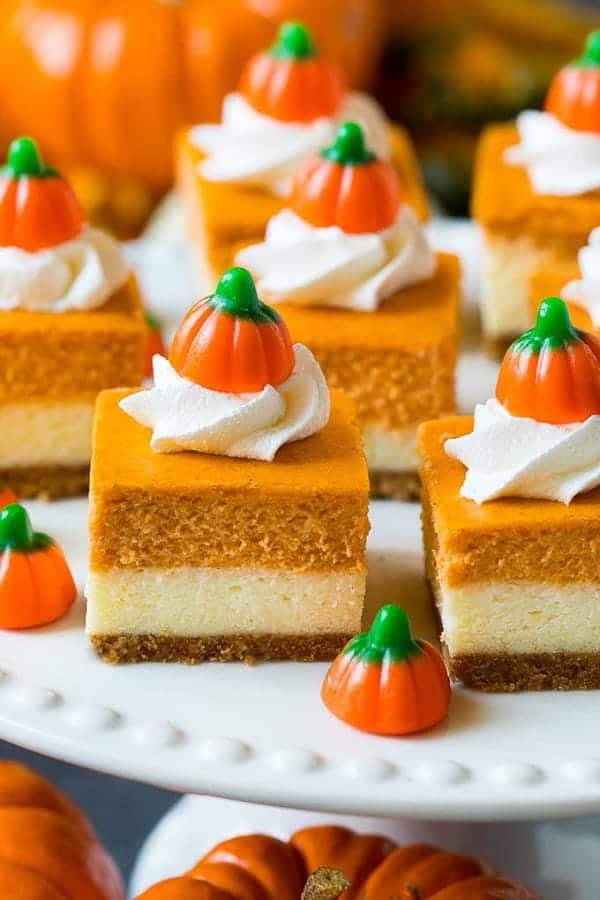 This pumpkin cobbler may become your new fall dessert obsession! The filling is a delicious and spicy pumpkin mixture that's topped with a cake mix, pecan chips, and toffee bits mixture. Drizzle it all with melted butter and bake. Serve as is or with a scoop of vanilla ice cream or whipped cream.
Easy Pumpkin Crunch Cobbler by Inside Brucrew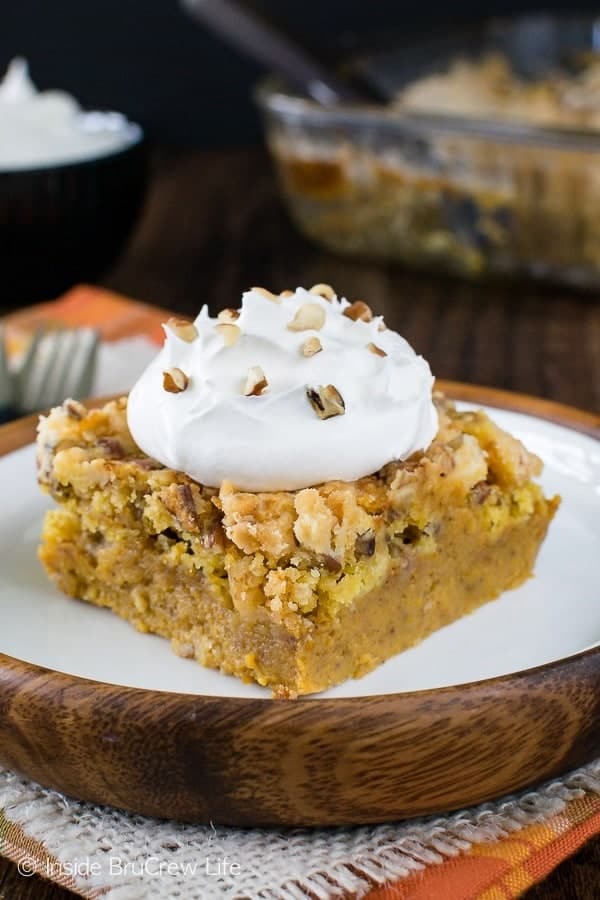 You'll adore these cakey donuts full of pumpkin puree, sour cream, and warm fall spices. You'll need a deep pot like a Dutch Oven to fry them in for crispy perfection. Drain and let cool. Make a simple powdered sugar glaze and drizzle over the donuts. So good!
Pumpkin Old-Fashioned Doughnuts with Glaze by Little Spice Jar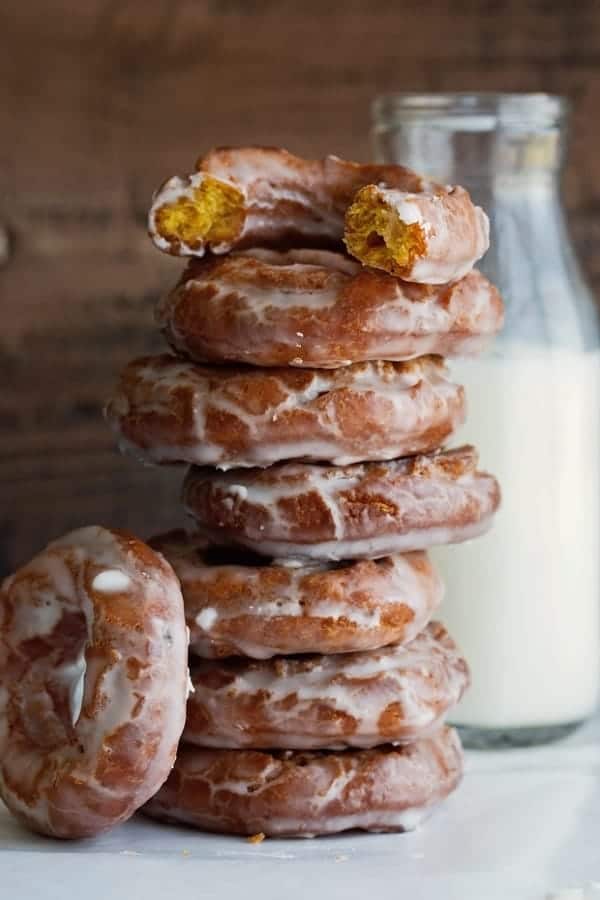 These cookies have so many cozy fall ingredients – oats, pumpkin puree, brown butter, butterscotch chips, and brown sugar. What's not to love? Bake a batch and hide a few for yourself before your family gobbles them up!
Brown Butter Pumpkin Oatmeal Scotchies by Two Peas And Their Pod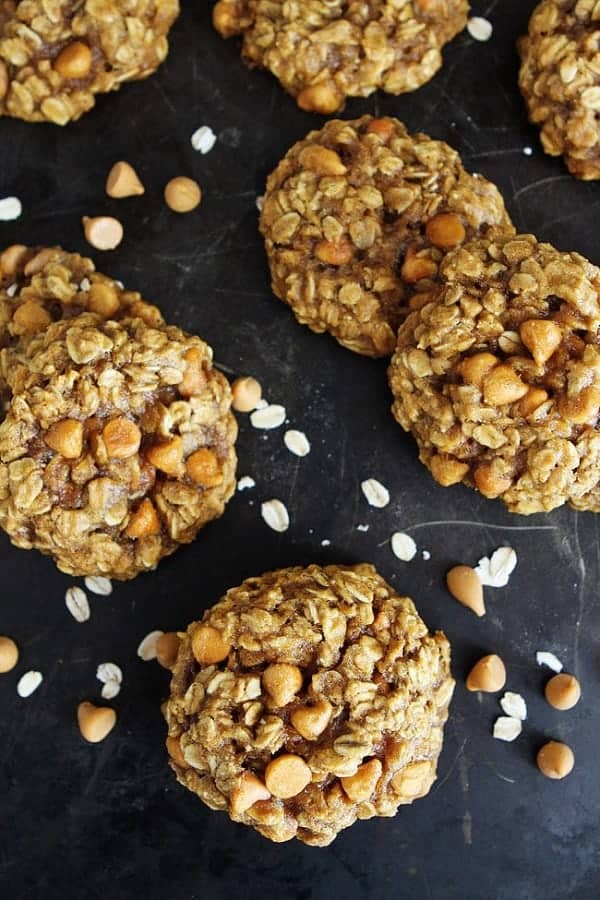 A classic pumpkin pie is always appreciated during the holidays. Add a little extra decorative touch of autumn to this dessert with pie crust leaf shapes and sugared cranberries. This homemade pie and festive garnishes will win you rave reviews from family and friends!
The Great Pumpkin Pie Recipe by Sally's Baking Addiction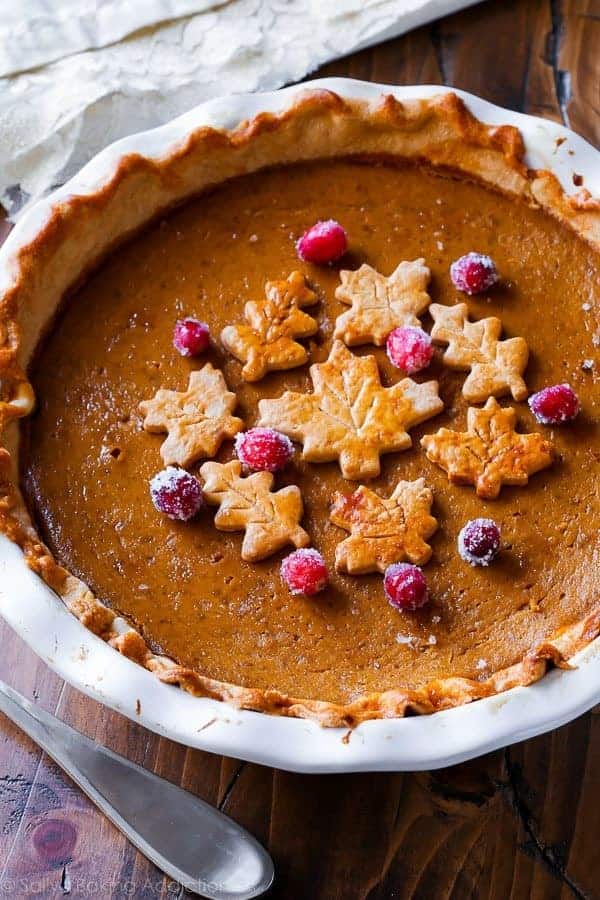 What are cruffins, you may ask? They're a cross between a croissant and a muffin. These are fun to make and you'll love the flavor combination of Nutella and pumpkin. You'll learn how to make the dough and shape it for these trendy treats. Give these cuties a try!
Nutella Stuffed Pumpkin Cruffins With Pumpkin Glaze by Jo Cooks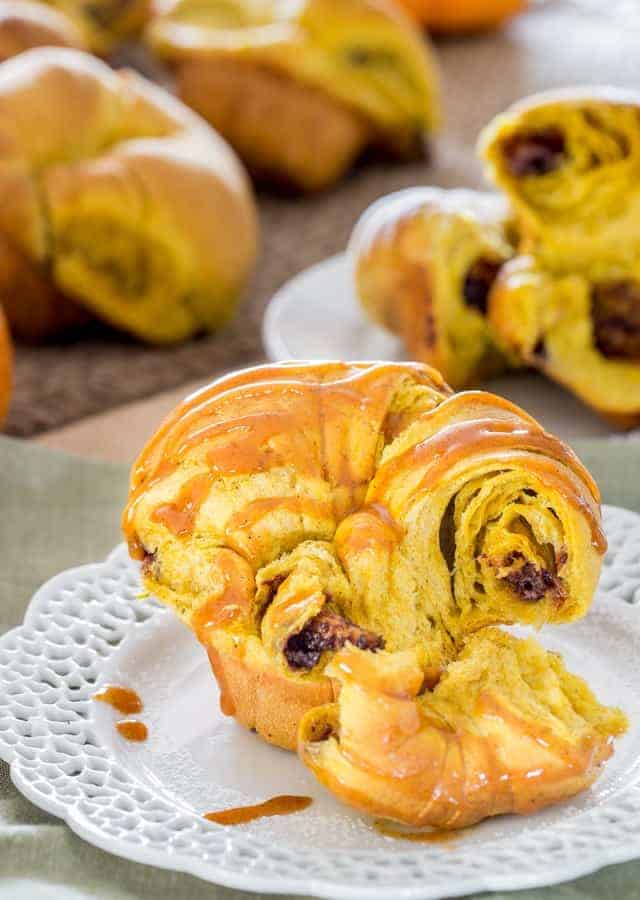 Here's an easy and delicious recipe for the iconic pumpkin roll that's always welcome on dessert tables during the holidays. You'll appreciate this easy-to-roll technique that's mess-free and makes for a prettier presentation. Filled with a cream cheese mixture, this roll looks awesome when sliced and displayed on a festive dessert platter.
Pumpkin Roll by Brown Eyed Baker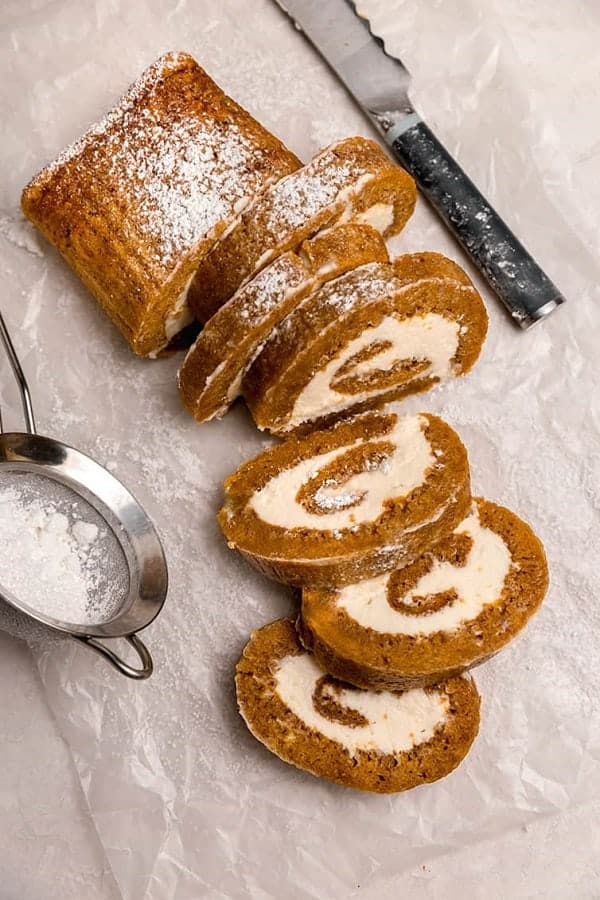 Scones are a delightful treat to enjoy with your morning coffee. A food processor makes quick work of the dough. Full of pumpkin puree and spices, these scones are flavorful and get an additional sweet kick from a powdered sugar glaze. You'll love these tender and crumbly pumpkin scones!
Pumpkin Scones by Baking A Moment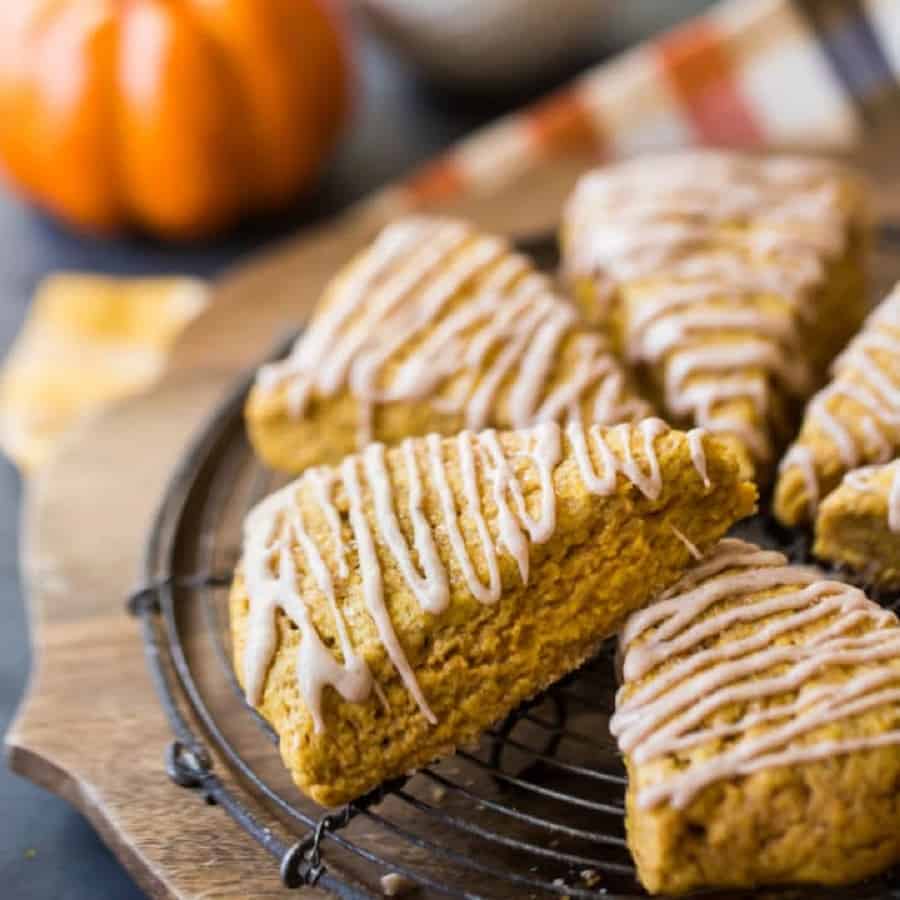 When you're looking for an impressive pumpkin dessert, make this gorgeous layer cake. Sandwiched between two layers of delectable pumpkin cake is a spiced cheesecake layer. Frost this masterpiece with a cinnamon cream cheese frosting. Swoon!
Pumpkin Cheesecake Layer Cake by Life Love And Sugar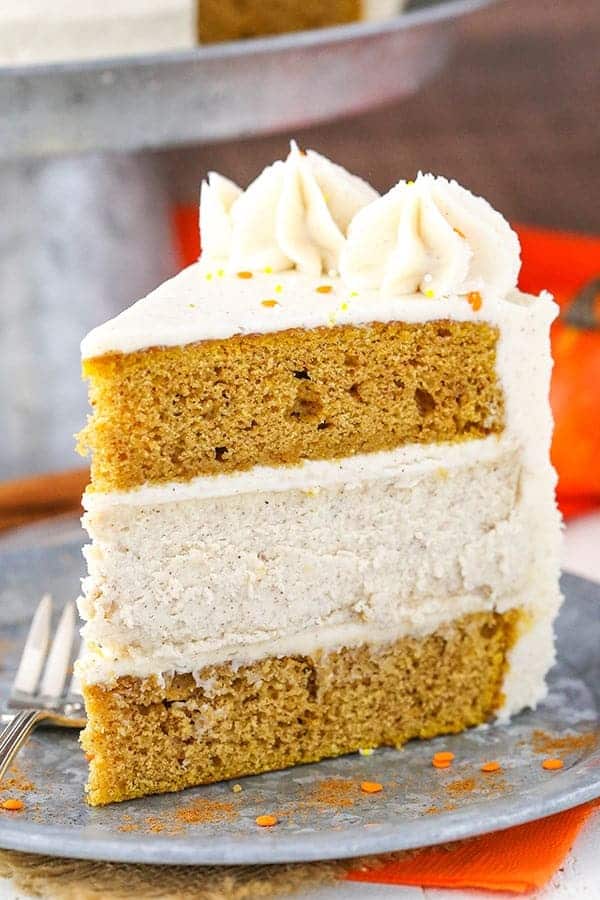 Thick and chewy pumpkin-infused bars are the perfect sweet treat on a chilly autumn day. Super easy to make, these substantial blondies are also dotted with chocolate chips. Flour, eggs, pumpkin puree, sugar, and spices make up this classic recipe. Make these blondies soon!
Pumpkin Blondies by I Heart Naptime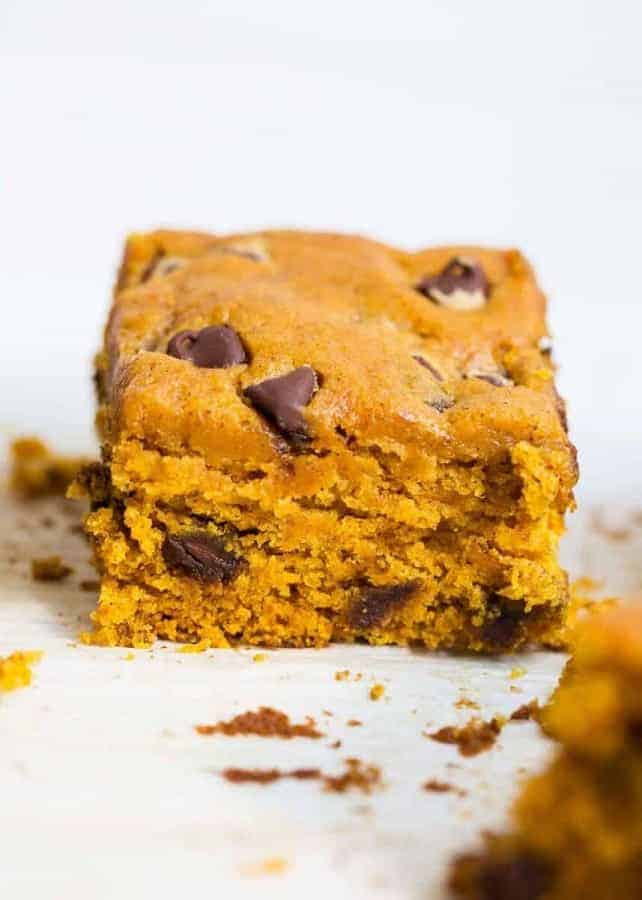 It's totally acceptable to eat ice cream during chilly months, especially if it's infused with pumpkin and spices. This no-churn recipe is full of heavy whipping cream, sweetened condensed milk, canned pumpkin, and pumpkin pie spices. You can optionally add in pecan graham cracker crust pieces, too! Freeze well before serving!
No Churn Pumpkin Pie Ice Cream Like Mother Like Daughter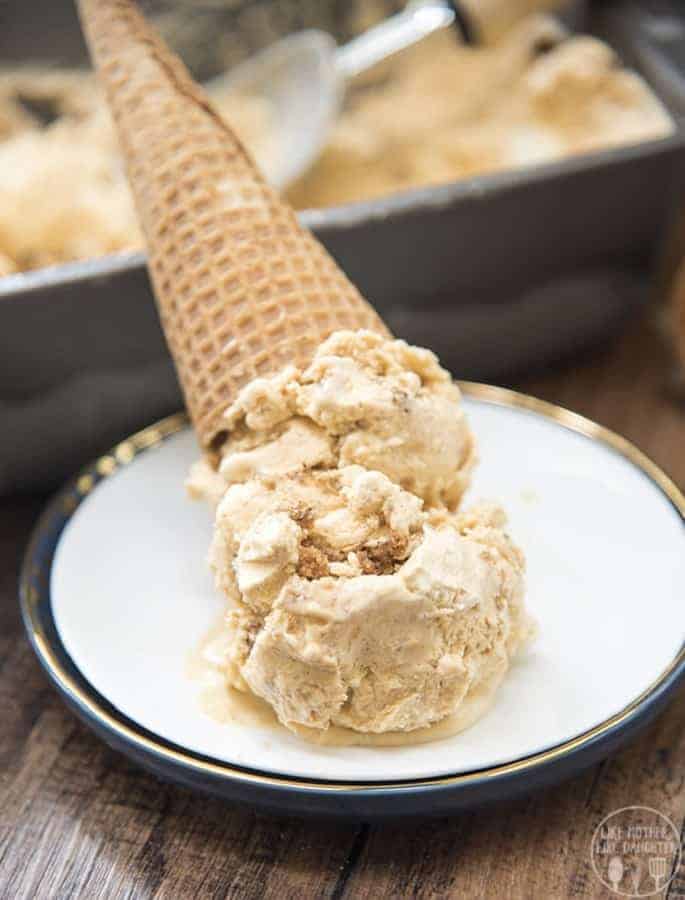 This practically no-bake layered dessert oozes with sweetness and pumpkin flavor, of course. A buttery pecan crust holds the first layer of whipped cream cheese, then a layer of creamy pumpkin fluff followed by a whipped cream topping. Oh, my!
Pumpkin Delight by Lil Luna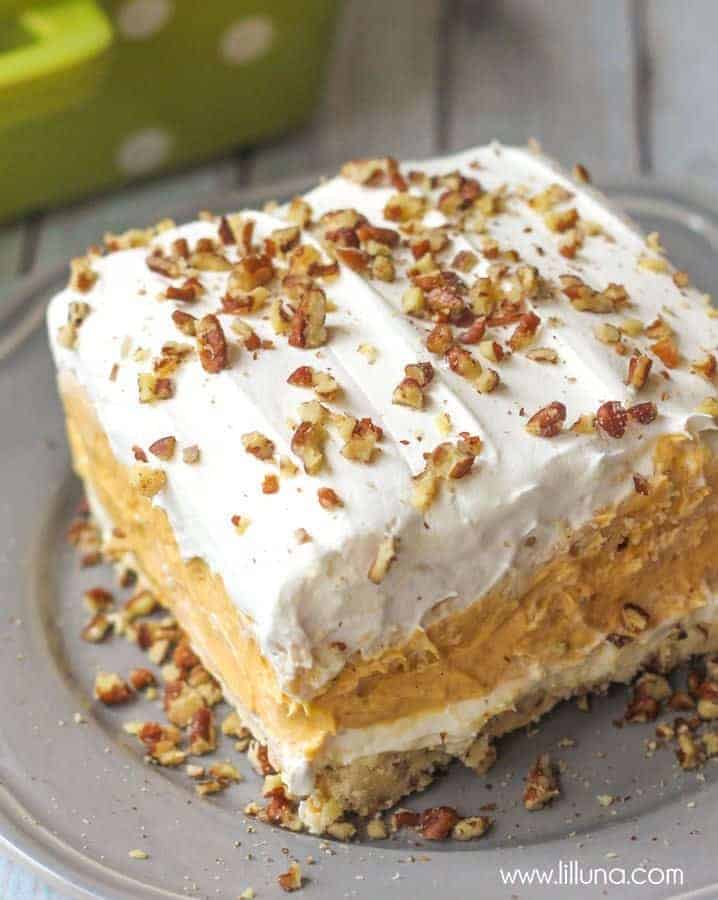 This is a sweet pumpkin treat that can be made quickly if need be. For a short cut, use a cake mix with pumpkin puree, and spices added to the batter. Bake and then while still warm, glaze it so that the mixture seeps into the warm cake. So good!
Pumpkin Honey Bun Cake by Bunny's Warm Oven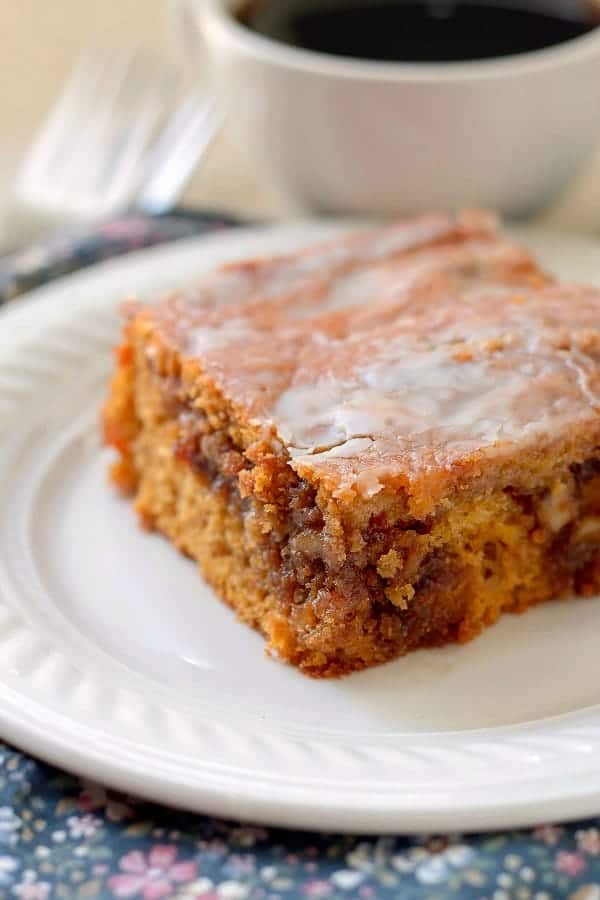 Pumpkin bars are met with a praline flavor thanks to the candied pecans that are infused into the batter. Chocolate chips, pumpkin puree, and spices make this a full-on pumpkin extravaganza that's perfect for celebrating the season.
Soft Pumpkin Praline Bars by Averie Cooks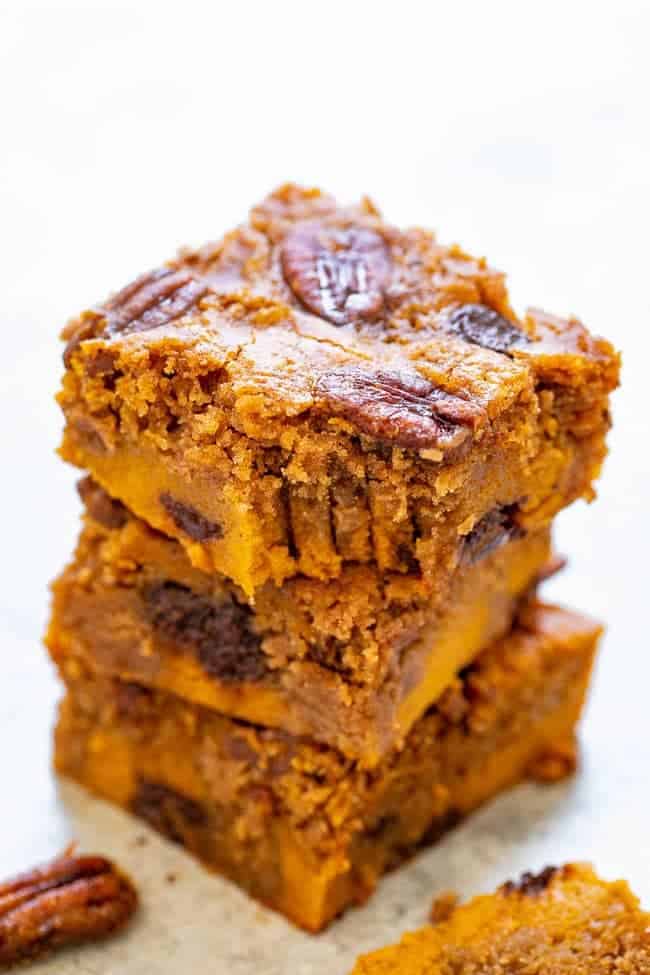 This no-bake cheesecake uses mascarpone cheese infused with pumpkin puree and spices to make a delectable fall dessert. It sits on brown sugar, cinnamon, and graham cracker crust and is topped with whipped cream. Refrigerate overnight before slicing and serving.
No-Bake Pumpkin Mascarpone Cheesecake by Beyond Frosting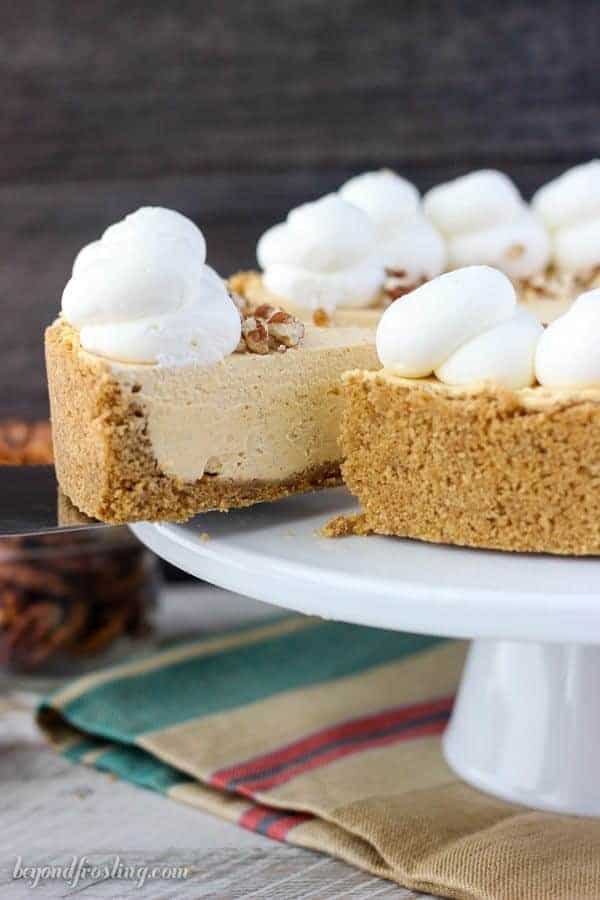 Tiramisu gets a makeover for fall with the flavors of pumpkin. Ladyfingers get infused with apple cider before being layered with mascarpone cheese and spiced pumpkin mixture. Continue the layers and refrigerate overnight. Before serving, garnish the top with crushed gingersnap cookies.
Pumpkin Tiramisu by Taste And Tell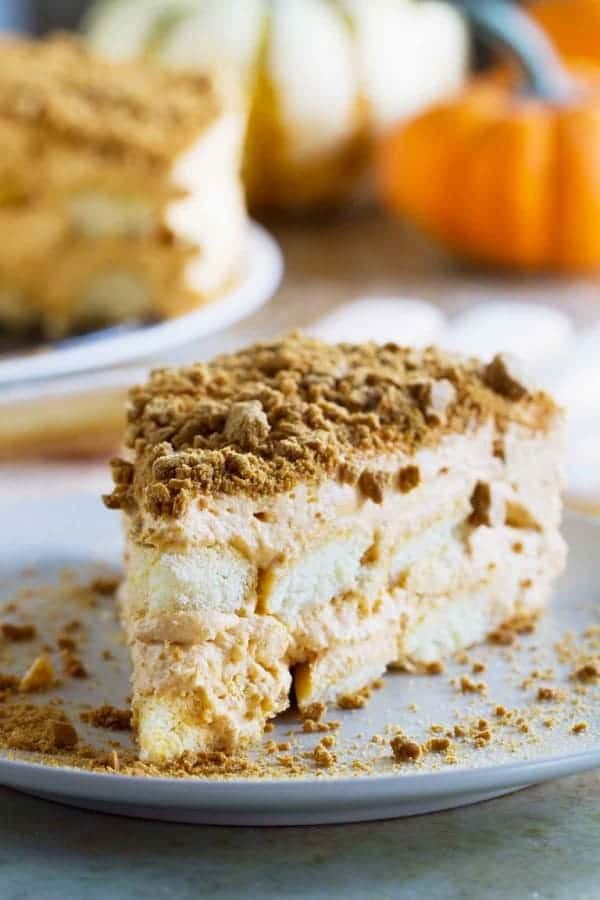 This awesome chilled pumpkin pie is easy to make. To a buttery cookie crumble crust, you'll add a mixture of ice cream, pumpkin puree, brown sugar, and spices. Top with more cookie crumbles and freeze. Drizzle with chocolate sauce before serving.
Pumpkin Ice Cream Pie by Carlsbad Cravings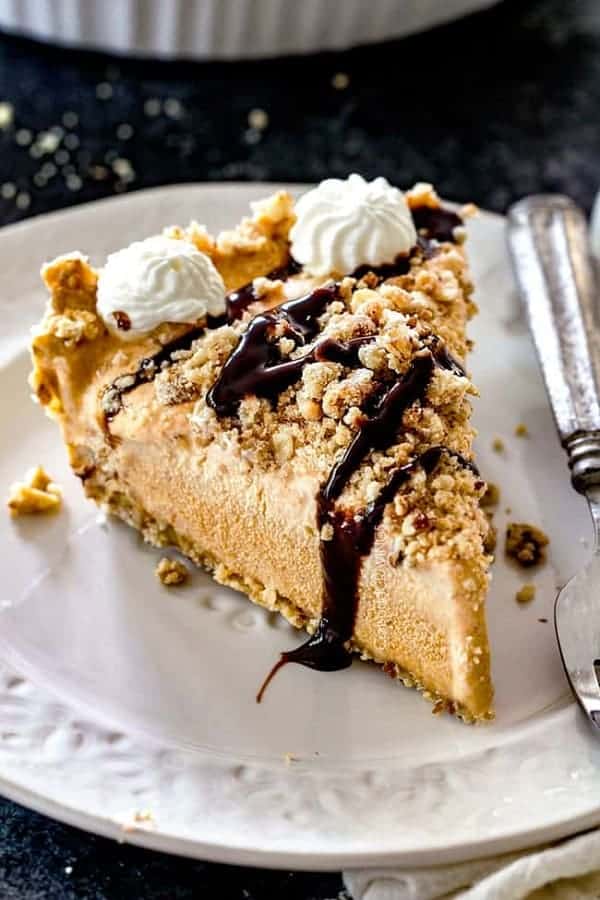 Perfect for a holiday brunch, this pumpkin dough tea ring is sure to impress! Filled with brown sugar and cinnamon, the dough is shaped into a ring and formed into rolls. After it has baked, drizzle it with a sugar glaze. Lovely!
Pumpkin Spice Tea Ring by Seasons And Suppers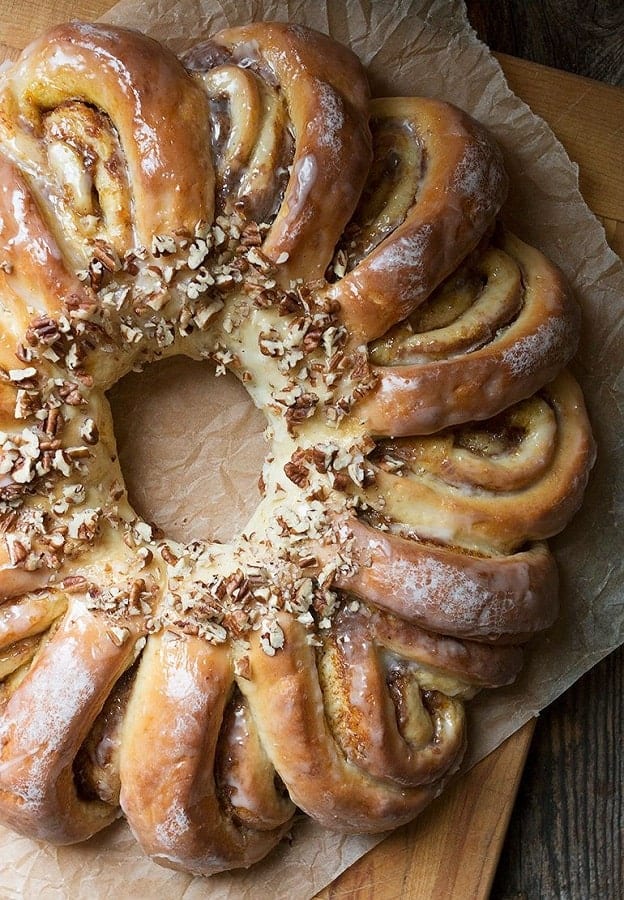 No need to turn on the oven with this Biscoff cookie crust that holds a light pumpkin mousse and whipped cream topping. This cloud-like dessert just needs a session in the fridge before serving to rave reviews!
No-Bake Pumpkin Mousse Pie by Handle The Heat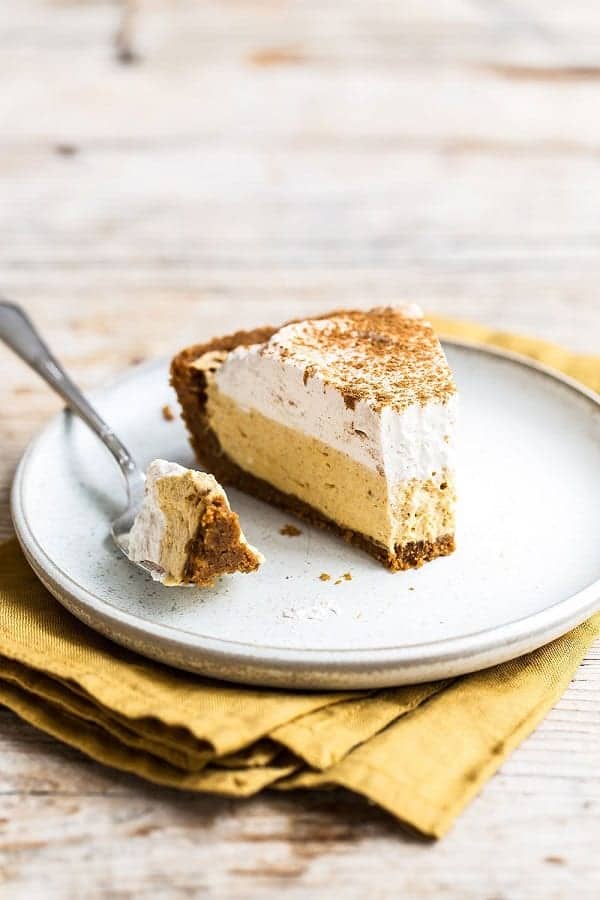 Whether you have these muffins for breakfast, a snack, or an after-dinner dessert, you'll love the spicy pumpkin muffin cake that's topped with cinnamon sugar. Your kitchen will smell awesome while these muffins bake! Go ahead and make a cup of coffee while you wait for them to cool and then indulge!
Pumpkin Spice Muffins by Princess Pinky Girl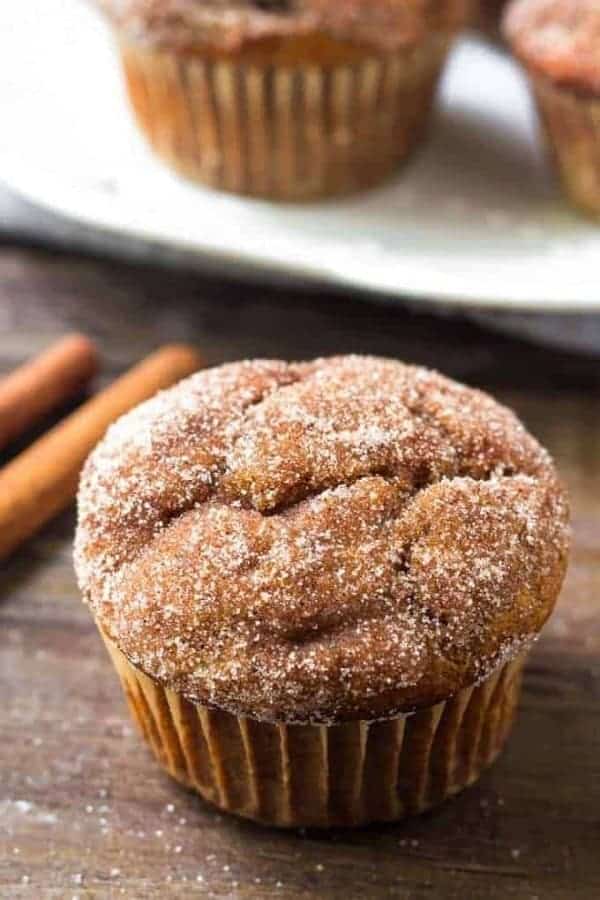 More Pumpkin Recipes:
Nettie is a wife and mother who is passionate about cooking and baking. With 5 children, Nettie insists that all meals, snacks, and desserts come together quickly! You will find a wide variety of easy yet scrumptious recipes on her very popular website Moore or Less Cooking
Be sure to follow me on Instagram and tag #mooreorlesscooking so I can see all the wonderful recipes that YOU make from this site!
Did You Make This Recipe?
I would love for you to leave a rating and a comment below! How'd you do?!
[mailerlite_form form_id=2]