Blackberry Pie Bars have a buttery crust with juicy plump blackberry center and a delicious crumbly topping!
Blackberry Pie Bars are a summertime favorite and make a perfect afternoon snack or simple dessert. Juicy blackberries have the perfect sweetness for a bar dessert.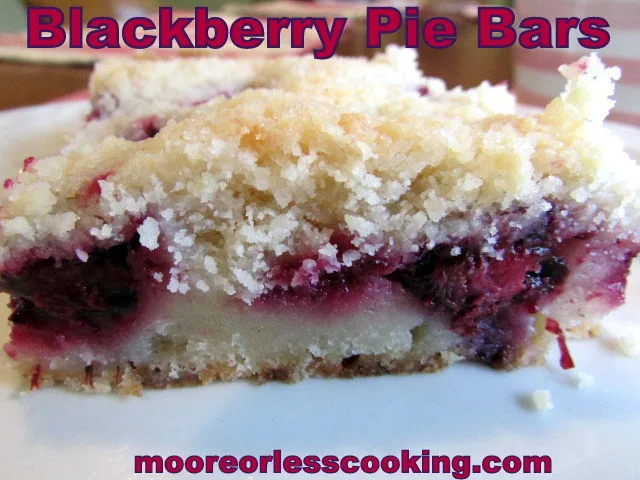 Berry season is here! I love baking with blackberries, the flavor is so delicious. Berry pie is my favorite dessert, so I imagined a berry pie bar would be even better. You can hold it in your hands and eat it, but I won't judge if you use a plate and fork. If you like blackberries, you will love our Blackberry Cheesecake too.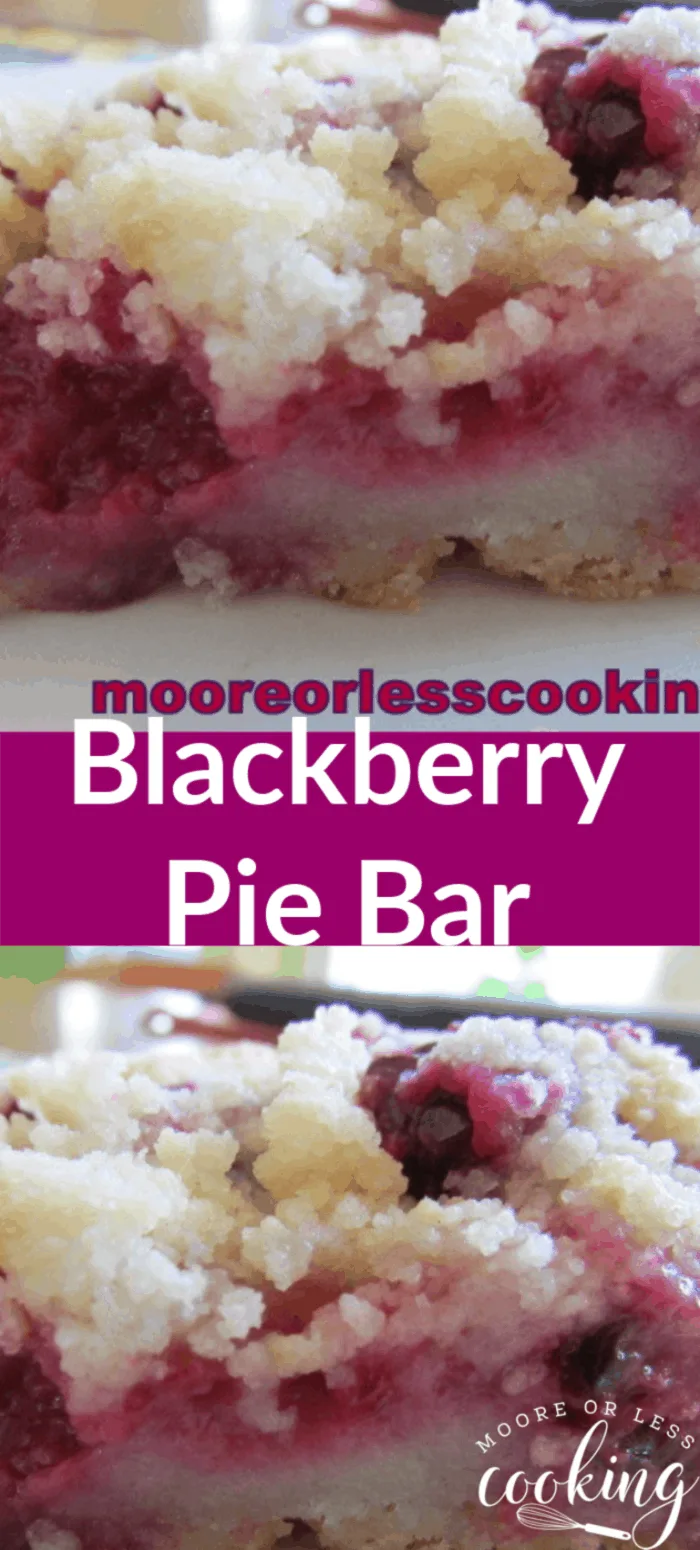 I had to try a couple of these bars, I just couldn't believe how delicious they are. So excited when a recipe works out this well. This is going to be a favorite summer bar. I can imagine blueberries or peaches or strawberries would be amazing too.
Making pie crust look pretty is not one of my strong suits, so I am thrilled with this simple and very pretty Blackberry Pie Bar.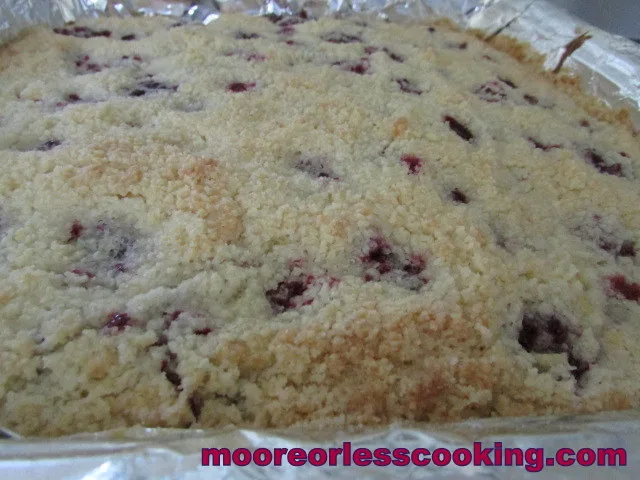 Cover baking pan with foil, spray the pan with Pam.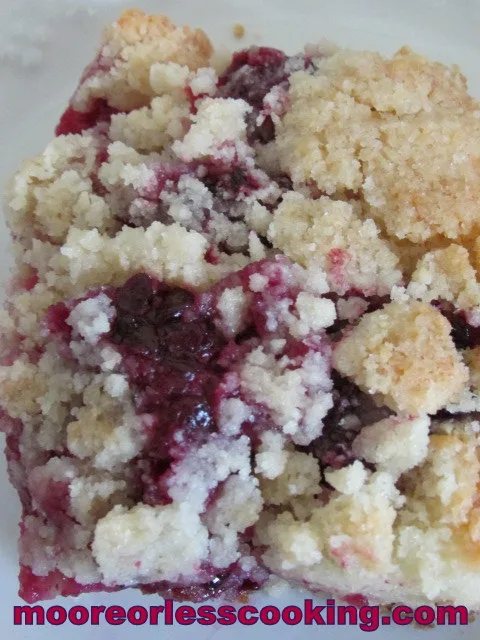 Pie bars are such a delicious dessert to make, much easier to make than a pie, you will love these bars.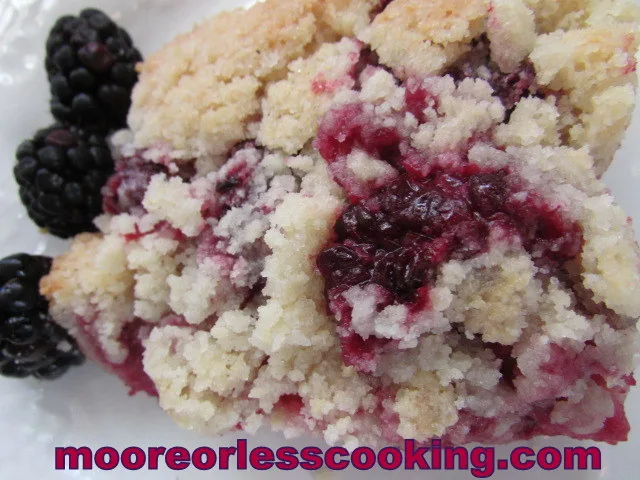 What is a Blackberry Pie Bar?
These easy blackberry pie bars are extra delicious with their thick buttery pie crust and blackberry filled bites.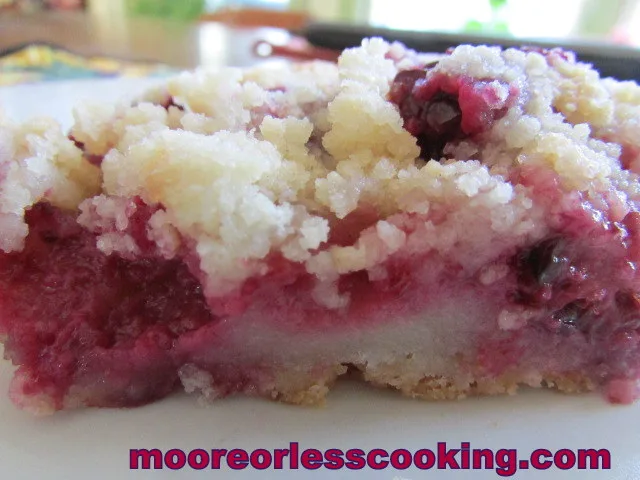 They certainly look very impressive, they are so easy to whip together and get into the oven.
You can use any kind of berries like strawberries, blueberries, raspberries, whatever you have on hand or even a mixture of berries for these pie bars, the flavor can be easily changed!
Like pie, they are also amazing if you serve them warm with a scoop of ice cream to really take them over the top! Imagine with a berry ice cream on top?!
How to Make the Blackberry Pie Bar Dough?
The best way to make this pie dough is by using a food processor, Cuisinart.
If you are doing it by hand and cutting the butter into the flour with a fork and it will take a lot more work. But it's possible!
Just like the classic pie dough, we use cold butter cut into squares to make the pie bar dough. With a food processor, this just takes a few minutes. Easy Peasy!
Can I make these Pie Bars using Different Fruit?
Yes! You can use any berry with the same results, except strawberries.
Strawberries have to be sliced and are juicier, they become more liquidy when cooked. However, they do still work, with just a little different result.
If you want to do a different spin with strawberries, I really recommend you check out my Strawberry Cheesecake Puffs
However, I personally find these pie bars to be the best when made with the following:
Blackberries
Raspberries
Blueberries
or a mixture of those three!
These Blackberry Pie Bars are delicious and don't require you to roll out perfect pie dough.
The burst of fresh blackberries with a delicious butter pie crust surrounding them is absolute perfection.
If you love this recipe, you will also love my family recipe for Blueberry Skillet Cake that requires no pie crust and tastes delicious with blueberries. If you like Pie Bars, try my Apple Pie Bars.
More desserts:
Old Fashioned Coconut Cream Pie
Favorite Oatmeal Raisin Cookies
Pineapple Upside-Down Cupcakes
Nettie is a wife and mother who is passionate about cooking and baking… especially when easy meals are involved! With five children, Nettie insists that all meals, snacks, and desserts come together quickly! You will find a wide variety of easy yet scrumptious recipes on her very popular website Moore or Less Cooking
Be sure to follow me on Instagram and tag #mooreorlesscooking so I can see all the wonderful recipes that YOU make from this site!
Check out my YOUTUBE with a free email subscription HERE and please share on FACEBOOK and on PINTEREST
Follow Mooreorlesscooking on FACEBOOK | TWITTER | PINTEREST | BLOGLOVIN |INSTAGRAM|
Did You Make This Recipe?
I would love for you to leave a rating and a comment below! How'd you do?!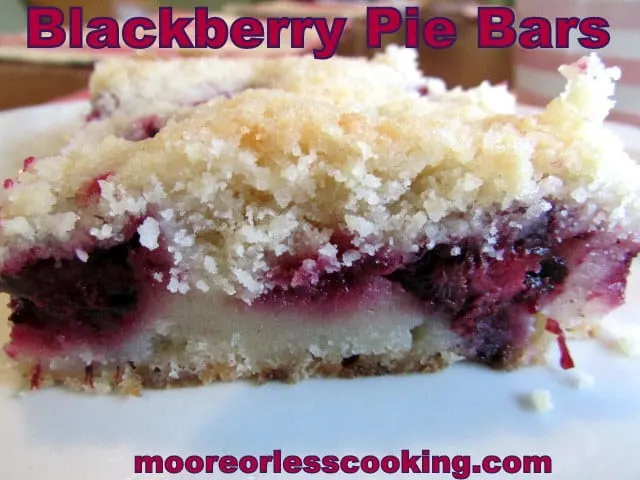 Yield:

12 bars
Blackberry Pie Bars
Blackberry Pie Bars are a summertime favorite and make a perfect afternoon snack or simple dessert. Juicy blackberries have the perfect sweetness for a bar dessert.
Ingredients
Crust:
All-Purpose Flour - 1 1/2 Cups
Sugar - 3/4 Cup
Salt - 1/8 Teaspoon
Unsalted Butter, Very Cold, Cut Into Small Cubes - 3/4 Cup (1 1/2 Sticks)
Filling:
Large Eggs - 2
Sugar - 1 Cup
Sour Cream - 1/2 Cup
All-Purpose Flour - 1/4 Cup Plus 2 Tablespoons
Salt - Pinch of
Fresh Blackberries - 16 Ounces
Instructions
Preheat oven to 350 degrees.
Line an 8X8 baking pan with aluminum foil, allowing the foil to extend a couple of inches on two opposing side. Spray with nonstick cooking spray
Make the crust by adding to the bowl of a food processor the flour, sugar and salt. Pulse for about 30 seconds to combine ingredients. Add the cubed cold butter and pulse until the butter pieces are about the size of peas.
Remove 3/4 cup of the mixture to use as a topping and set aside until needed. Pour the rest of the crumb mixture into prepared pan and press into pan. Bake for 12-15 minutes or until the edges begin to turn golden. Cool completely.
Make the filling by mixing together, in a medium bowl, the eggs, sugar , sour cream, flour and salt until well combined. Spread the berries in a single layer on the cooled crust. Spoon the filling batter over the berries.
Evenly spread the reserved crumb mixture on top of the filling. Bake for 45-55 minutes, or until the filling is just beginning to turn golden and is set.
Cool bars completely on a baking rack then refrigerate if desired.
Recommended Products
As an Amazon Associate and member of other affiliate programs, I earn from qualifying purchases.
Nutrition Information
Yield
12 bars
Serving Size
1
Amount Per Serving
Calories

240
Total Fat

4g
Saturated Fat

2g
Trans Fat

0g
Unsaturated Fat

2g
Cholesterol

41mg
Sodium

78mg
Carbohydrates

47g
Fiber

3g
Sugar

31g
Protein

4g