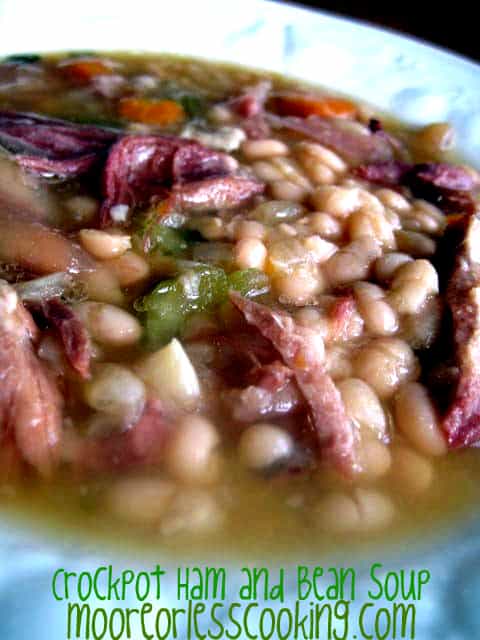 I love these simple Crockpot meals that you can throw together without having to measure and use what you have on hand. Soups are easy that way, using aromatics: Onion, Garlic, Celery, Carrots, what ever spices you have on hand, beans and a meat or not. Today, I decided to use my big meaty ham bone to make some delicious ham and bean soup.
Slow Cooker Ham and Bean Soup
Serves approximately 8 – 10
1 – 2 teaspoons extra virgin olive oil
1 large onion, diced
3 – 4 ribs celery, diced (about 1 cup)
3 – 4 carrots, unpeeled and diced (about 1 1/2 cups)
4 cloves garlic, minced
1 pound dried white beans, soaked overnight
2 – 3 sprigs of thyme
Ham bone with meat, plus any of the solid juices in the pan. Discard any fat.
6 – 8 cups liquid
(I used water this time but you can use half vegetable stock if you have it on hand)
Freshly ground black pepper
Heat the olive oil in a large saute pan over medium heat (or in your slow cooker insert, if it is safe to use on the stove). Add the onion, celery, carrots, and garlic. Saute until tender, for about 10 minutes. Transfer the sauteed vegetables to your slow cooker, and stir in the soaked beans, Toss in the thyme, stems and all. Add the ham bone to the slow cooker, and add the liquid. Be sure to add enough liquid to mostly cover the ham bone. Cover, and cook on low for about 8 hours, until the beans are tender.
Remove the ham bone and the sprigs of thyme from the slow cooker, and use an immersion blender to partially puree the soup if you like, I prefer a chunky soup. You can puree as much or as little as you like. Cut the meat off of the ham bone, chop into small pieces, and return to the soup. Season to taste with salt and pepper before serving. Since there is ham in this soup, I prefer not adding salt, it tastes salty enough to me.
This post has been linked up to these fabulous blogs! Nettie